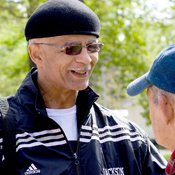 In the wake of Ward 2 Councilman Leslie McLemore's decision not to seek re-election, eight candidates are vying to replace him. They offer similar views of the ward's needs but disparate visions of how to address them.
Ward 2 encompasses much of Northwest Jackson, including Tougaloo College and many of Jackson's more affluent black neighborhoods. City council candidates have, for the most part, struck a balance between trumpeting the ward's resources and promising to serve all segments of their constituency.
"We have to be very careful about talking about elite places in the city, because that kind of mentality also separates us in the ward," civil-rights attorney Chokwe Lumumba told residents at a March 26 forum. Lumumba and other Ward 2 candidates agreed that neighborhoods like Queens and Presidential Hills deserve as much attention from city government as higher-income neighborhoods like Woodlea and Woodhaven.
"I think it's important that we work for Ward 2, understanding that we have to have unity with other wards and uplift the economic growth for the whole city, not just Ward 2," Lumumba added.
In his first run for public office, Lumumba is touting his history of social-justice activism and community organizing. At the center of his platform is the "People's Assembly," a regular open meeting to connect citizens with city officials. Lumumba promises to continue the assemblies, which he has held during his campaign, after the election. He also advocates a "Jackson-first" stance that would favor businesses within the city when granting city contracts and seek out appointees to city agencies who actually live in Jackson.
"We can't keep getting involved in schemes which ship money out of town, by bringing businesses in town, to build things downtown and then to leave town with the money," Lumumba told forum attendees.
Clarence Bolls, co-owner of Gloria's Kitchen, is another newcomer to city politics, although he says that he has watched City Council closely for the past 10 years. Bolls is an outspoken supporter of Mayor Frank Melton and protested outside the federal courthouse during the mayor's recent trial. Unlike many other Ward 2 candidates, the outspoken Bolls is quick to criticize McLemore.
"I've felt like I've been held hostage by the leadership that we have in Ward 2," Bolls told forum attendees in March.
Bolls says that Jackson's tax dollars are being misspent and that he is tired of being given "lip service" by city leaders, especially on issues like crime and deteriorating roads in his ward. He pledges to work for his constituents and says that he will try to make city council a full-time job.
"How can you effectively run a city working two days a month?" he asked.
Donald Beard, the director of juvenile services for the state Department of Public Safety, offers a more measured approach to city leadership. Beard has not held public office, but he says that his strong ties to the community and his 18 years of experience in government qualify him for the Ward 2 seat.
In detailing his plans for the city, Beard places special emphasis on quality of life. Homeowners associations and city code enforcement are key players in improving the image of Ward 2 and the city, Beard says. He wants to bring banks and health-care facilities to the ward, as well as staff the Jackson Police Department with more than 600 officers, as recommended by the city's Maple-Linder study.
"We can't represent you if we're not knowledgeable about the city," Beard told Ward 2 residents, adding that he had thorough knowledge of the city.
Attorney Tom Stingley is also playing up the value of government experience in his campaign. Although now in private practice for Frascogna Courtney PLLC, Stingley spent time with Jackson's city government, in code-enforcement and grant-writing, and with the state Department of Transportation and the attorney general's office. The even-keeled Stingley promises to be a "voice of reason" on the city council.
"You have to have a relationship with these folks to get some of the things you need done," Stingley said at Peaches Café in March. "Jackson can't live in a vacuum any more. Jackson can make it if we have help from the county, state and federal governments."
Vance Siggers is, at 31, the youngest candidate in the field, but he casts himself as the closest thing to an incumbent. For nine years, Siggers served as McLemore's administrative assistant, a position that he says taught him the inner workings of city government and established his close ties to Ward 2 community groups. He touts his accessibility to residents and ability to negotiate over specific policy ideas, and pledges to work "tirelessly" to address citizens' concerns, like low wages for city workers.
"We can't wave a magic wand and give everybody raises," Siggers told the Jackson Free Press in March. "What we can do is make this a business-friendly community."
Businessman Wydett Hawkins brings an understanding of land use and development to his campaign. He has served as president of Jackson's Planning and Zoning Board and organized neighborhood associations in Woodlea and around Lake Hico. Hawkins believes that five city institutions—its churches, homeowners' associations, law enforcement, schools and businesses—must cooperate for Jackson's improvement. His work to develop property around Lake Hico is an example of his ability to achieve that kind of cooperation, he says.
"I've been with you all the time," Hawkins told residents at the March forum. "I can hit the ground running for you."
Stacey Webb, a real-estate appraiser, also claims a close knowledge of potential development opportunities in the ward. Webb, who ran an unsuccessful challenge to state Rep. Cecil Brown in 2007, believes that business growth in Northwest Jackson will, in turn, help the city address its other needs. Speaking in March at Peaches, Webb highlighted several buildings and lots around the ward that he thought were ripe for redevelopment.
"I want to be an active salesman to bring economic development to Ward 2," Webb said.
First-time candidate Verna White teaches special education at Northwest Jackson Middle School. She translates her work experience into a strong concern for the effects of crime on at-risk youth. A greater and more visible police force would help deter crime and improve quality of life, White told forum attendees. Jackson police officers also deserve a pay raise, she said.
"I'm willing to do anything I can in order to make Ward 2 work," White said.
More like this story
More stories by this author
Like independent media outlets around the world, the Jackson Free Press works hard to produce important content on a limited budget. We'd love your help! Become a JFP VIP member today and/or donate to our journalism fund. Thanks for considering a JFP VIP membership or one-time support.