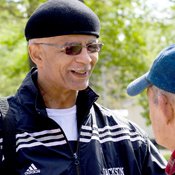 Civil-rights attorney Chokwe Lumumba wants to apply his background as an organizer and activist on the city council.
Stories this photo appears in:
Politics
Instead of pushing for an investigation of Council President Frank Bluntson's use of city employees during last night's Jackson City Council meeting, Ward 2 Councilman Chowke Lumumba defended his push ...
Mississippi Immigrants Rights Alliance legal counsel Patricia Ice will appear before the Jackson City Council Tuesday at 6 p.m., to call for an anti-racial and immigrant-profiling ordinance.
Politics
In the wake of Ward 2 Councilman Leslie McLemore's decision not to seek re-election, eight candidates are vying to replace him. They offer similar views of the ward's needs but ...