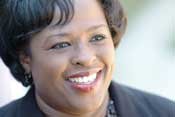 Former Hinds County District Attorney Faye Peterson confirmed this morning at a press conference that she will drop out of the mayoral race due to family concerns. She endorsed former Mayor Harvey Johnson Jr., one of the front runners in the race to unseat Mayor Frank Melton. "The city's finances are stampeding out of control, and I believe that other than myself, he's the only other candidate who has the experience to stop the stampede," she told the Jackson Free Press afterward. "I firmly believe he can take office and immediately make decisions based on his experience and judgment. He has the skills, and it needs to happen fast. There are huge problems because of mismanagement and bad fiscal decisions by the current administration. We don't have the time for guessing."
She added that on Johnson's watch—and hers—the crime situation was much better in Jackson than under the current administration. "I had the pleasure to work with him when I was district attorney. As he was leaving, the crime rate was going down. In 2004, we had a 100 percent conviction rate on homicides, and they had a 100 percent closure rate on homicides." She said she doesn't know who he would hire as police chief, but that he understands responsibilities of a police chief, and how that differs from the job of being mayor. "The mayor sets the policy; he doesn't have to hit the streets."
Johnson, she said, knows how to get the resources needed to fight crime, and did that as mayor. "He was seeking a lot of grants and money to help the police department. He knows the mayor's role—to have resources available for police officers to do their job. If they don't have what they need, they can't do their job." For instance, she said, police officers won't get raises "until finances are totally under control first. And he can do that," she added.
As for her reasoning for dropping out of the race: "I made my decision to withdraw from the race for my kids. I did not realize the effect the campaign would have on them. Also, the possibility of how it would impact their life if I were to win." Her daughter is starting high school next year, and her son is about to graduate; Peterson is divorced. "The demands of a campaign and my private practice are overwhelming to them."
Peterson began her own practice after Robert S. Smith defeated her for district attorney in 2007.
Four years ago, Melton defeated Johnson, the city's first black mayor. He served two terms.
Previous Comments
ID

145765

Comment

Ahhhh...........Now I understand why she jumped in. Oh, well, such is politics!

Author

Razor

Date

2009-04-10T10:16:47-06:00
ID

145768

Comment

I believe if Peterson would've entered the race much sooner, she could've made herself a formidable candidate. However, I know she was somewhat unpopular as a DA, especially after failing to get convictions in the Grayhead gang trials (which Melton's interference played a huge factor) and the first Melton trial. That would've been a huge liability for her.

Author

golden eagle

Date

2009-04-10T10:44:55-06:00
ID

145769

Comment

and she lost by a couple of votes golden eagle, Some white folk in this community is just gullable and bought everything frank said about her. I supported her and will support harvey.

Author

NewJackson

Date

2009-04-10T10:54:49-06:00
ID

145770

Comment

It's not just the white folks. The black folks bought into it too. You could argue that she had stronger support among blacks than with whites, though.

Author

golden eagle

Date

2009-04-10T11:30:54-06:00
ID

145773

Comment

She is just like Harvey she wont bow down and people want black leaders in jackson to bow down, look at robert smith he was a kiss booty he won and frank promised to control all the thugs in jackson he won, appeasement to a small population of citizens but i dont blame it on northeast jacksoninans people have a right to vote for whoever they want. I blame it on my black brothers and sisters in the inner city that didn't get out and vote.

Author

NewJackson

Date

2009-04-10T11:54:28-06:00
ID

145788

Comment

Ms. Peterson and Mr. Johnson probably made a deal. Faye threw her support behind Harvey in exchange for Harvey naming her as City Attorney or City Prosecutor if he wins. Most likely City Attorney as that is the most prestigious and highest paying position. The buzz from all of this may be enough to ensure Harvey that he will advance in runoff.

Author

Powerman

Date

2009-04-10T22:52:35-06:00
ID

145803

Comment

I agree that Moore had a good plan when it came to reducing crime stats while Johnson was mayor. But I think the stats don't tell the whole story. My wife's car was stolen while Moore and Johnson were in office, and my wife had some irreplaceable family papers in the car. I saw the car on Lamar Street one day, so I knew in which neighborhood the guy who stole it hung out. I canvassed the neighborhood with flyers and went door-to-door speaking with people. I searched storm drains, empty lots, crack houses, any place where worthless stolen items could be discarded. By the end, I knew the guy's first name, I had spoken to the guy's friends to let them know I needed the papers and didn't really even care about the car, I knew what he looked like, and I knew his game (selling weed). And I had chased him three times through Jackson. The last time I chased him, I had actually found the car just off Mill Street. I stopped, called the police, described myself, the car I was in, my stolen car, and my location, and then stood on the corner of Mill Street waiting for a cruiser to arrive. The guy walked right past me, I said what's up and he did likewsie, then he walked right up the street, got in the car, and drove back towards me. I got back in my car, pulled in front of him, and about this time an officer showed up. I pulled catty-corner across the street and began waving her down, he went over the curb around me, through the stop sign, and sped off down Mill Street going 100 mph with me in pursuit and she just sat there and watched us go by. I called 911 and was relaying my location all along the way as he took me down to West Street, then on into Fondren, and I remember saying to the 911 dispatcher "okay, I'm going north on North State Street at 100 mph, and .... I JUST PASSED YOUR PRECINCT OFFICE." That's when I just gave the hell up. I went back to the spot where the car had been sitting, and the officer hadn't moved an inch. All this time I had been feeding this information to a detective who kept saying "yeah, I'm going to go check that out." I finally called Harvey Johnson's office and told them the story, and they retrieved the car the next day. Adding insult to injury, they charged me quite a fee to come retrieve my car from impound. WTH ... I should have sent them a bill for my investigative work in finding the car. Moore was a good guy who used to take his granddaughter to the same playground as my kids. But in speaking to him, you could tell he thought the PR end of the Jackson crime game was a silly exercise. I realize that certain crimes take priority and that Jackson has more serious issues than finding a single car in a haystack, but what I went through goes way way beyond a PR issue ... something is fundamentally broken and Moore appears to have been hiding behind the improving statistics rather than addressing the problem.

Author

tonygunter

Date

2009-04-13T09:05:22-06:00
ID

145804

Comment

Tony, I don't agree with you about Moore and PR, having dealt with him directly on that end. He had weekly press briefings and stood up there and took questions for an hour, even as The Clarion-Ledger and others were openly twisting what he was saying (like the "perception" myth). We haven't had a chief since then willing to tell as much to the public. Unfortunately, much of what he said never got reported. And he was blamed by people who should know better (like media) for existing conditions that he was starting to fix. As for the urban legend about doctoring stats (which, presumably, people mean property crimes when they say that, as it's pretty easy to track violent crimes and know, for instance, how much murder has gone up recently): We looked into that backward and forward. You'd hear people kick and scream on talk radio, but the "evidence" never panned out. Yes, in every administration you will get lazy police officering, and just plain bad cops. And we have long had problems with both corruption and plain lazy in certain aspects of our force. I know that Moore was making progress cleaning up many of those areas, but wasn't given enough time to finish the job. And I know that you know that individual cases of mishandling does not a conspiracy make, as frustrating as they make be to the victims of them. The media's treatment of Robert Moore was shameful, considering that actual crime really was dropping on his watch and transparency was increasing. The Clarion-Ledger led the way on that, back when they thought they were invincible and that sensationalism would keep that profit margin going higher. It's one reason I don't feel sorry for them. One of many. And it's no wonder we have such a hard time getting a good police chief. Who would want to deal with such dumb-ass media as has been covering the city here for so long?

Author

DonnaLadd

Date

2009-04-13T10:06:20-06:00
ID

145879

Comment

That's not a deal, it's called planning... As a candidate, you have to have some idea or concept of who will make up your administration. SO WHAT if Johnson told her that he might appoint her as the city's attorney, Faye is a good attorney that could do a good job - she has already proven that... Her jump into the race was ill-planned and I think she finally realized that.

Author

lanier77

Date

2009-04-14T10:41:27-06:00
ID

145900

Comment

Lanier......I never said one way or the other if the deal was a positive or negative move. I simply said that was probably what happened. I don't know why the need for the so what comment. Other than you must be a sensitive Johnson or Peterson supporter. Relax I have nothing against either of them. Although if the polls hold true, they will be watching to see whether to congratulate Mr. Chrisler or Mr. Melton in the runoff election.

Author

Powerman

Date

2009-04-14T15:06:10-06:00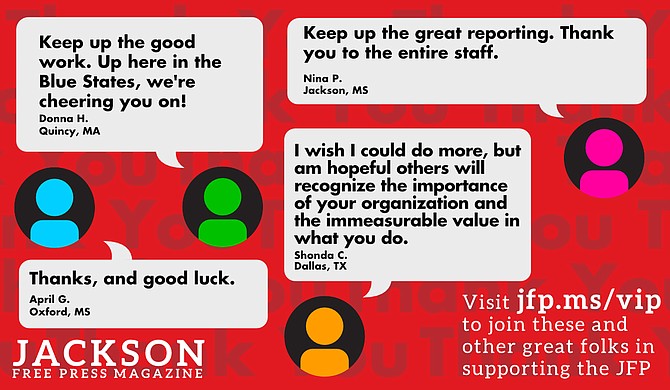 Thanks to all our new JFP VIPs!
COVID-19 has closed down the main sources of the JFP's revenue -- concerts, festivals, fundraisers, restaurants and bars. If everyone reading this article gives $5 or more, we should be able to continue publishing through the crisis. Please pay what you can to keep us reporting and publishing.