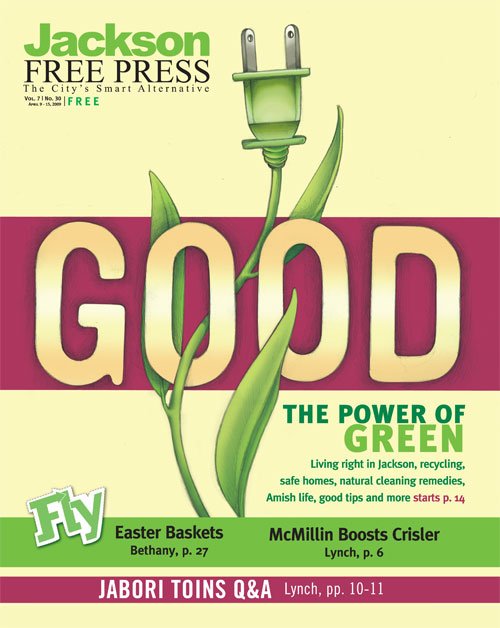 When I moved to Jackson from the San Francisco Bay Area, I wondered if I could continue to lead a relatively green lifestyle. The Bay Area is well known for its wealth of organic, locally grown foods and initiatives to reuse and recycle. I'd grown to expect these options and was conscious of giving up my neighborhood natural foods cooperative and the many vintage clothing stores in San Francisco.
I wanted to find out what green options I'd be gaining in Jackson, so I set out on a community scavenger hunt, to search for businesses that could meet my everyday needs in the greenest way possible. I thought of "green" as avoiding waste and sustaining life, and building an interdependent sense of community.
Although I visited places that locals will be familiar with, I tried to delve below the surface and discover what even native Jacksonians don't know. I asked local business owners about new and little-known services, and I listened to them speak passionately about how their services help make Jackson a greener place. What I found during my quest made me proud to call myself a Jacksonian.
Eat, Drink, and Be Green
Although I live on a modest budget, I make it a priority to buy organic food, as well as green cleaning and beauty products. I consider this an investment in my health and the well-being of my community. I know that my vegetables aren't leaving cancer-causing toxins in my body and that my dish detergent isn't polluting my neighborhood's drinking water.
I'd been to Foodies (5050 Interstate 55 N., 601-978-7878) gourmet shop and restaurant several times for lunch and found myself drooling over its deliciously healthy choices. On a recent visit, even though I arrived 10 minutes before closing, owner Ken Crotwell was pleased to tour me around.
The first of its kind in the state, Foodies opened nearly two years ago in Deville Plaza. Inspiration for the business struck Owner Ken Crotwell after one of his sons' Little League games finished late at night in Jackson. Unhealthy fast food was the only option, and as a man who had "always fought weight," he wished there were a restaurant that served healthy, convenient meals to go. Soon after, he decided to open Foodies so that customers could "stop by before they go to the ball field and have something at home that's good, wholesome, healthy food for their family to eat."
Crotwell, who had studied under a Swiss-trained chef, customized the concept of a gourmet foods shop for the Jackson population. He created lighter versions of traditional southern dishes like chicken tetrazzini, using little oil.
Although the palates of native Mississippians have been known to crave butter instead of rosemary-infused olive oil, Crotwell has seen increasing interest in fresh, healthy eating. He said that the popularity of media like The Food Network has helped raise the national consciousness about diet.
Foodies offers a selection of fresh salads and sandwiches, and a daily plate lunch. Crotwell tends to cook with fresh vegetables, grilling them instead of frying.
"I try to let squash be squash," he said.
He also grows fresh herbs in planters outside Foodies to use in main dishes or on sandwiches. In the summer, he likes to frequent the local farmer's market, buying locally and in season when he can.
Crotwell introduced me to each of the gourmet-food aisles displaying tempting curiosities like cranberry shallot relish. He pointed out the meals-to-go, chilled or frozen portions of foods served at the deli, including sugar-free pies and local Sugaree's cakes.
Foodies also caters and has a personal chef service. Crotwell and his staff have accommodated some challenging special orders for clients with dietary restrictions. He's made a frosted yellow cake for a diabetic with a wheat and nut allergy, and a chicken dish with zero sodium—a nearly impossible task—for a client with cancer.
After my tour of Foodies, I left with a clear sense of Crotwell's passion and knowledge of simple gourmet cuisine, and the firsthand knowledge that he treats his customers with the same care as his menu.
Foodies Tips:
• If you're short on time but want a home-cooked meal, pick up a prepared meal in the deli or frozen section at Foodies.
Coming Soon to Foodies:
• A selection of organic produce.
• Crotwell hopes to begin using compostable containers instead of Styrofoam, as they're becoming more affordable for merchants.
Broad Street Bakery (4465 Interstate 55, 601-362-2900) has been one of my favorite places to eat lunch since I moved to Jackson. Each time I eat there, I'm overwhelmed by the selection of fresh sandwiches, salads, soups and breads.
"Everything we make is from scratch," said Manager Michael Thomas. "We don't use anything that's already processed. We order from a produce company here in Mississippi for all our vegetables."
One of the most popular breads at Broad Street is the Sugar Busters bread that contains 100 percent wheat flour, which provides "the best nutrition for the person who's dieting," Thomas says. Vegan or lactose-intolerant coffee drinkers can also order their lattes with soy milk.
Broad Street bakes its bread and pastries fresh and on-site every day. What it doesn't sell, it donates to Gleaners (359 N. Mart Plaza, 601-981-4240), a local social-services agency.
Broad Street Tips:
• After 6 p.m., all baked goods sell for half off. Customers can also buy day-old assorted pastries for $5.25 a bag.
• Between 4 p.m. and 6 p.m. daily, Broad Street offers a 15 percent early-bird discount on any meal. Go right before 6 p.m. to take advantage of both the early bird and baked goods discounts.
New at Broad Street:
• At the beginning of March, Broad Street replaced its counter service with full table service
I found it a bit more challenging to find green options at the Maywood McDade's (1200 E. Northside Drive, 601-366-8486) when I visited. The shelves of the cleaning products aisle held green versions of a few mainstream products, like Cheer Free & Gentle detergent and Clorox Greenworks cleaner.
Manager Eddie Prosser later oriented me to the products that I hadn't seen during my first visit. He said that McDade's has a section of all-natural and organic foods across from the salad dressings, and customers can find its Clearly Organic brand throughout the store. There are several organic options in the dairy, frozen and cleaning aisles, too. Some organic produce is available, and the store tries to buy from local growers when it can.
McDade's also carries local honey from Pennington Farms. Agriculturists say that eating honey from within a 100-mile radius can help build up an immunity to allergy-causing pollen.
Next door to the main store, McDade's Wine and Spirits (1220 E. Northside Drive, 601-366-5676) offers several organic vodkas in the $20-$30 range, and a rack of organic wines in the $14-$17 range. According to sales clerk Don Flood, organic wines are usually made without chemical fertilizers or added sulfites as preservatives. When farmers grow organic grapes "biodynamically," they incorporate vineyards into the natural ecosystem instead of disrupting it.
McDade's Tips:
• You may find green versions of well-known cleaning products in even mainstream stores.
• Consider buying organic wines and spirits that are better for the earth and your health.
Coming Soon to McDade's:
• In honor of Earth Day, April 22, McDade's is printing reusable bags, which they will sell for 99¢ each. It will also advertise its eco-friendly products that week.
Because Rainbow Natural Grocery Co-Op (2807 Old Canton Road, 601-366-1602) is so well-known in the community, I set out to discover what people don't know about it. Rainbow is one of the only natural-foods store in Jackson, and it boasts a great vegetarian restaurant and organic salad bar. It also has the biggest selection of natural beauty products and supplements. Rainbow doesn't have a profit motive because its members own it, so it sells only products that are healthy for the public and the environment.
Stephanie Kelly, an enthusiastic woman with a bubbly laugh, said that when customers ask her questions in the cosmetics section, she makes a point of finding the answers. She thinks that while many consumers are starting to consider what they put in their bodies, they may continue to choose products with toxins because they are too busy to read the labels, or are concerned about cost.
Stores "can charge less for a product with the bad stuff in it," she said, but "I'll pay a few extra dollars to keep chemicals out of my skin."
I explored Rainbow's health resources: the rows of vitamins and natural remedies, and the herbs in jars, for just about any ailment. Customers can ask the knowledgeable staff to recommend products, or search through an electronic information kiosk.
Rainbow CEO Luke Lundemo said that sustainable practice is central to Rainbow's mission.
"If we buy strawberries from California, each strawberry is about seven calories, but it takes 500 calories worth of energy to bring each of those to Jackson," Lundemo said. "If they can be grown within a few miles, it just makes more sense."
For this reason, Rainbow tries to buy products that come from within 150 miles of Jackson. It also has made strict commitments to the well-being of its customers and doesn't sell products containing high fructose corn syrup and genetically modified ingredients.
Rainbow isn't strictly a vegetarian store and sells organic and all-natural meats, poultry and fish. The deli and bakery offer fresh soups, salads and bread.
Rainbow is also the hub of the green community in Jackson and draws together several significant ventures:
Recycling Program: Rainbow recycles all of its own cardboard, plastic, and aluminum, and it invites the public to drop off recyclables at the bins behind the store. Rainbow is the only location in Jackson that recycles glass, in conjunction with a program through the city of Jackson that transports glass to Pearl.
Grocery Cooperative. You can shop at Rainbow whether or not you're a member, but membership has clear advantages. It's more cost-effective than you might expect: free for students and senior citizens, $25 per year for an individual, and $40 per year for a family. This investment will usually pay for itself within a few months, given the regular member discounts.
Community Garden: Through a partnership with Tougaloo College, Rainbow runs an organic community garden and orchard. On Wednesday and Saturday mornings, members of the public can work in the garden and learn from master gardener Michael Gentry. Working a certain number of hours entitles them to a certain share of the produce once it's ready for harvest. The Tougaloo garden sells produce to High Noon and the college food service. It has even inspired a school garden at Casey Elementary. To get involved, contact Gentry at 601-573-7529.
High Noon Café: Jackson's only vegetarian restaurant uses the same organic ingredients sold at Rainbow and features a fresh daily special.
Computer Co-Op: The Co-Op recycles electronics like computers, cell phones, CDs and ink cartridges. It also sells refurbished computers and invites the community to use its computer lab and high-speed wireless Internet free of charge.
Other resources for organic and local foods, or green household products: Best of Health (4500 Interstate 55 N., Suite 235, 601-981-2838); Greater Belhaven Market (English Village parking lot on Fortification Street, call 601-501-2848); Kats Wine Cellar (921 E. Fortification St., 601-354-9181); Kroger (4910 Interstate 55 N.; 601-366-1411); Jackson Farmer's Market (929 High St., 601-354-6573); Ro' Chez Fine Dining (204 W. Jackson St., Ridgeland, 601-503-8244)
Rainbow Tips:
• Reusing is even more energy-efficient than recycling, so drop your clean paper and plastic grocery bags with a Rainbow employee for other customers to reuse.
• Avoid waste from individual packaging. Bring your own containers and shop in the bulk bins at Rainbow for your granola, flour or trail mix.
• Check out the bulletin boards in the hallway outside Rainbow, and post something yourself.
• Bring your laptop to High Noon Café and connect to the building's free wireless while you enjoy a veggie burger and blueberry iced tea.
Coming Soon to Rainbow:
• This spring, Rainbow Green Services will open in Fondren Traders' former space, offering consulting on how to green your lifestyle and your business. The retail section of the expanded area will sell international fair-trade handicrafts like baskets and textiles.
• The Conscious Living Project, a nonprofit organization, will also be moving into Rainbow's new space. Rainbow Green CLP educates the public about sustainable ways of living and offers a variety of projects and services, including: a lending library with more than 2,000 books and other media, and films and community talks on green issues.
Vintage Style: New to You
I've always liked shopping for vintage clothes because they're much less expensive than new ones. Buying vintage clothing is also Earth-friendly because there's no need to use resources to produce anything new. Donating your old clothes in return is also helpful to those in your community. The jacket that you rarely wear could keep someone else warm.
Jackson has a great selection of vintage clothing stores where you can find anything from a Halloween costume to a cocktail dress. For trendy and designer clothes at reasonable prices, check out The Orange Peel (3026 N. State St., 601-364-9977), nestled on the corner of Duling and State streets in Fondren.
The Orange Peel is a stylish vintage store that sells clothes and accessories, and will soon begin offering furniture. Jackson residents can bring in their used items, and the staff will choose items to take on consignment, splitting the profits 50-50 with clients if their items sell.
Because The Orange Peel is selective about its inventory, it's easy to find fashionable clothing there. During a recent Fondren After 5 event, I gathered a whole armful of outfits. I even stripped a mannequin of its strapless sundress, covering it with another dress so it wouldn't be indecent. I settled on a pair of dark jeans ($10) and a tailored button-down shirt ($7) and couldn't believe how reasonable the prices were compared to Bay Area vintage stores.
Owner Kristin Tubb said that The Orange Peel encourages people to recycle, "instead of throwing away their clothes or accumulating more and more." If consigned items don't sell and clients don't want them back, the store donates them to Stewpot Community Services. Tubb said that many of the clothes go to "people who are starting off in a new life and going to job interviews."
Other vintage clothing stores: N.U.T.S. (114 Millsaps Ave., 601-355-7458); Salvation Army (110 Presto Lane, 601-982-4881); Bargain Boutique (5070 Parkway Drive, 601-991-0500); Goodwill (2 Twelve Oaks Circle, 601-922-3916); Kids Kloset (587 Highway 51, Suite B, Ridgeland, 601-853-6930); Repeat Street (626 Ridgewood Road, Ridgeland, 601-605-9393); Hudson's (379 Highway 51 N., Ridgeland; 3528 Highway 80, Pearl, call 601-371-0037 for all locations).
Something Old Among the New
When I need furniture, I look for the used before the new, browsing online classifieds and thrift stores first. My reasons until now have been purely to save money, but my scavenger hunt gave me a new reason to buy vintage: living green. Buying items that already exist doesn't require any new materials or energy consumption, and it makes use of an item that might otherwise end up in a landfill. This goes not only for furniture, but also for raw building materials as well. Instead of buying new wooden planks at Home Depot, for example, look first for materials reclaimed from old homes. That way, you don't cut down any new trees, and you may find that the old materials are sturdier and more charming than their modern equivalents.
For furniture and housewares, visit Jackson's antique stores and thrift stores. For raw materials, stop in at Old House Depot (639 Monroe St., 601-592-6200).
As I walked into Old House, a large warehouse off High Street, I was in awe of the variety of reclaimed building materials in the architectural salvage. I felt like a child exploring an attic full of curiosities as I stepped carefully around stained glass windows and passed shelves full of dozens of doorknobs.
"Where did these white columns come from?" I wondered. "What about the wooden ship's wheel?"
Jim Kopernak, owner of Old House, which opened in November 2006, told me that the columns are from a Jackson home that was demolished, and the wheel came from a ship in Asia.
Kopernak says that Old House harks back to an earlier time "when people built things to last. The new mentality is that things will be thrown away."
"There's a Chinese cart that's completely made out of wood with no metal in it," he said. "It's probably rolled 100,000 miles, but it's as good as new. We don't have people walking around that could even build one of these things."
Using old materials makes sense for both environmental and economic reasons. Antique cypress, Kopernak said, is "extremely insect resistant and going to last another 100 years." It's not possible for farmers today to duplicate pre-1900 growing conditions of long leaf pine, so old pine is sturdier than the modern version found at hardware stores like Home Depot.
Kopernak said that in his experience, the price for well-made old items is comparable to those of flimsier new ones. And even if you were to pay a bit more up front, you would save money in the long run because you wouldn't have to replace it.
The Old House staff often deconstructs old buildings for clients, salvaging the raw materials and keeping them out of landfills. Depending on the value of the raw materials, the staff may simply exchange the materials for completing the deconstruction, or they will pay a fee for the privilege of deconstructing the building.
Old House seeks its eclectic mix of salvage and antiques not only from Jackson, but also from countries all over the world. The store's clientele includes local artists, business people in construction or design, and regular folks looking for accents or antiques for their homes. Customers enjoy incorporating old pieces into their modern spaces because "there's something warming about this sense of connection you have to the past." Each piece has a story, and it often reminds people of their own personal or family history. According to Kopernak, the Ramey Agency included cypress planks from a Delta plantation house in the walls in their Fondren office, "and it's just gorgeous."
A visible remnant of the past is a subtle reminder for people to conserve, Kopernak said. He thinks it taps into an instinct hard-wired into human beings.
"Despite the ease of the throw-away culture," he said, "everyone has a sense of conservation."
Kopernak intends for Old House to be a community hub for local artists, and he keeps a list of those who might want to connect to his clients and each other. He encourages business people to leave their cards and flyers on the front counter.
I discovered more than used building materials and furniture at Old House. I walked away with a fascinating history lesson and a reminder to take the long view when making decisions about my lifestyle.
Other vintage resources for the home: High Street Antiques Mall (806 Larson St., 601-354-5222); Antique Shops of Jackson (4245 Interstate 55 N., 601-982-1881); The Antique Market (2009 N. State St., 601-982-5456); St. Martin's Gallery (2817 Old Canton Road, 601-362-1977); The Orange Peel; Goodwill; The Salvation Army; N.U.T.S.; Hudson's; http://www.freecycle.org; Jackson Free Press Classifieds.
Old House Tips:
• Browse the online inventory of Old House to see a representation of their stock, and then come in and ask one of the knowledgeable staff members for recommendations.
• Before throwing away old materials or antiques, see if they interest the Old House staff. They don't take many pieces under 50 years old, however, unless they're particularly interesting.
New at Old House:
• Custom furniture design by local artist Emily Baker. Baker will walk with you around Old House as you select the pieces you'd like incorporate into your home. She will then produce a series of three-dimensional drawings of the furniture and either construct the piece herself or contact a local craftsperson to do so.
Buy Local, Buy Green
After spending several days on a scavenger hunt for the greenest of Jackson, I'm even more excited to live here. In investigating what people may not know about local businesses, I discovered many that help increase the quality of life in the Jackson community, now and in the future.
As we feel the pinch of economic challenges, we may base our buying solely on cost. It's important to remember that supporting local businesses with green practices also supports a healthy community and planet. The wood you purchase at Old House Depot means fewer trees destroyed. Recycling your ink cartridges at the Computer Co-Op means less trash in our landfills.
Buy from local merchants who have the best interests of the community at heart. You're likely to find the kind of authentic expertise, passion for the craft and customer care that's often lacking at big chain stores. Each time you shop, remember to invest in the businesses whose practices line up with your values. Each dollar you spend is a stimulus for the local economy and a vote for the kind of world you want to live in.
Do you know of any local green businesses that aren't mentioned here? Spread the word by commenting on this story on our GOOD blog.
Good Tips
No-Hassle Recycling In Jackson
Green, Happy Home
Building A Better Easter Basket
What's In Your Cleaning Agents?
Amish Paradise
Getting Rid of Stuff the Green Way
What Difference Does It Make If I'm Green?
Previous Comments
ID

145729

Comment

Thanks for spreading the word about old house. sounds like a great find!

Author

Lindsey

Date

2009-04-09T09:00:52-06:00
ID

145772

Comment

High fructose corn syrup may have a complicated-sounding name, but it's actually a simple sweetener, made from corn, that is nutritionally the same as sugar. The American Medical Association in June 2008 helped put to rest misunderstandings about this sweetener and obesity, stating that "high fructose syrup does not appear to contribute to obesity more than other caloric sweeteners." Even former critics of high fructose corn syrup dispel long-held myths and distance themselves from earlier speculation about the sweetener's link to obesity as the American Journal of Clinical Nutrition releases its 2008 Vol. 88 supplement's comprehensive scientific review. Many confuse scientific research about distinctly different sweeteners, treating studies involving pure fructose as if they involved high fructose corn sweetener, which they do not. Peer reviewed research has shown that high fructose corn syrup and sugar are handled similarly by the body and have similar metabolic effects. High fructose corn syrup is not sweeter than sugar; and high fructose corn syrup, sugar and honey all contain the same number of calories (four calories per gram). Like table sugar and honey, high fructose corn syrup contains no artificial or synthetic ingredients or color additives. Consumers can see the latest research and learn more about high fructose corn syrup at www.SweetSurprise.com. Audrae Erickson President Corn Refiners Association

Author

Cornrefiner

Date

2009-04-10T11:48:00-06:00
ID

145774

Comment

Y'all, whenever I wonder about a topic such as this I've always found Dr. Andrew Weil's site to be a really good resource. Check out this answer on his site, where he mentioned that AMA decision but still I think offers a balanced picture on the concerns that remain regarding high fructose corn syrup.

Author

Todd Stauffer

Date

2009-04-10T12:01:09-06:00
ID

145775

Comment

I have yet to get to Old Home Depot, but it sounds fun to browse.

Author

Ironghost

Date

2009-04-10T12:03:12-06:00
ID

145776

Comment

[quote]Center for Science in the Public Interest[/quote] Oh, nevermind then. I've never found anything useful or rational coming from this bunch of nuts. I wouldn't trust them if they said the sun would come up in the morning.

Author

Ironghost

Date

2009-04-10T12:05:50-06:00
ID

145777

Comment

I wouldn't trust them if they said the sun would come up in the morning. You should, because the sun will come up in the morning. Meanwhile...what the hell are you talking about? I don't know the CSPI for Adam, but here's what they say their mission is: CSPI is now working to: * Get junk foods out of schools nationwide; * Rid the food supply of partially hydrogenated oil, the source of artificial trans fat that promotes heart disease; * Reduce sodium in processed and restaurant foods;. * Improve food safety laws and reduce the incidence of foodborne illness; * Advocate for more healthy, plant-based, environmentally-friendly diets; * Ensure accurate and honest labeling on food packages; * Require basic nutrition labeling on chain-restaurants' menus and menu boards; * Provide responsible information about the benefits and risks of agricultural biotechnology; * Obtain greater federal funding for alcohol-abuse prevention policies; and * Expose industry influence over the scientific process and in government policy-making. You're right -- completely ridiculous. Bunch 'a wackos. ;-P

Author

Todd Stauffer

Date

2009-04-10T12:50:45-06:00
ID

145778

Comment

Dr Weil, in his article against High Fructose Corn Syrup, quotes the CSPI. I've been reading on those people for years, and they are by far less interested in actual science and more interested in forcing a Vegetarian diet on everyone. They are like PETA, in that they love to issue scary press releases condemning all sorts of food. They love to seize one one report, usually written by a board member, and Hype it to the Heavens. Once in the public eye, they've won. What's lost often is the truth.

Author

Ironghost

Date

2009-04-10T13:12:02-06:00
ID

145779

Comment

Regarding high-fructose corn syrup (HFCS), it's also worth noting that industrial corn production--er, farming--depends upon spraying an ungodly amount of atrazine and other herbicides that then pollute the water supply. About one-third of amphibians are endangered, and atrazine is a major contributor to their decline. The fact that HFCS and honey contain the same number of calories is a neat way of sidestepping the growing evidence that HFCS contributes to diabetes. It's like ExxonMobil bragging that oil is cleaner than coal. True, but ...

Author

Brian C Johnson

Date

2009-04-10T13:15:10-06:00
ID

145780

Comment

Here is one of many, many studies linking HFCS and obesity / diabetes. Is John Hopkins a good enough source for you, Iron?

Author

Brian C Johnson

Date

2009-04-10T13:22:46-06:00
ID

145781

Comment

@Iron: Actually (a.) the article is not "against" HFCS but rather takes a nuanced approach to discussing the possible concerns. As a doctor, it's clear that Weil is recommending against over-consumption of HFCS, which is a good idea regardless of the corn producer lobby's position on these other items. (b.) He doesn't "quote" CSPI: As far as HFCS being "natural," this was a recent FDA decision based on whether or not HFCS constituents come into contact with a synthetic fixing agent during manufacturing. If not, the FDA said, products containing HFCS can be labeled "natural." The other side of this argument, advanced by the sugar industry and the Center for Science in the Public Interest, a consumer group, is that HFCS can't be considered "natural" because its chemical bonds are broken and rearranged during manufacturing. I don't much care if it's called natural or not; it's not good for us. Note that he's not *quoting* anyone, but he's simply reporting their opposition (along with the "sugar industry") to calling HFCS "natural." Again, as far as I know the CSPI could be every bit as bad as you say they are; but your condemnation of Weil, based on this flimsy guilt-by-association argument, is misplaced.

Author

Todd Stauffer

Date

2009-04-10T13:41:53-06:00
ID

145783

Comment

Ironghost is right, to a degree. CSPI is a bit of a scary bunch, but at the same time, you can't say that their claims are wrong. They're like PETA: technically, they're doing a good thing by fighting against animal cruelty, but the outlandish things they do turns me off.

Author

golden eagle

Date

2009-04-10T15:17:11-06:00
ID

145784

Comment

Y'all should know that the corn refiners are putting millions of marketing and lobbying dollars into a campaign to convince the American people that HFCS is just fine and dandy. The letter above is a pro-forma response to anything that pops up on their radar. Another of the JFPs freelancers, Brandi Hererra Phrem, received one of their PR e-mails when she did a story about healthy eating last December. When she sent it to me I did some research and then wrote this story about it, citing an investigation CBS News did into the refiner's claims. Here's part of what CBS wrote in October of last year: Of the six studies CBS News looked at on the association's Web site that "Confirm High Fructose Corn Syrup [is] No Different From Sugar," three were sponsored by groups that stand to profit from research that promotes HFCS. Two were never published so their funding sources are unclear. And one was sponsored by a Dutch foundation that represents the interests of the sugar industry. Pepsi funded one study, so did a D.C. based lobbying group that gets their money from food, chemical and drug companies. And the American Beverage Association gave a grant for another. One researcher who was involved in three of the studies, Dr. James M. Rippe, a cardiologist and founder of the Rippe Lifestyle Institute says there is no link between HFCS and obesity and calls contrary evidence "accusations" and "speculation." Rippe's ties with industry are no secret. Pepsico, Tropicana and Quaker among others are all listed as Rippe Health Partners on his Web site along with this quote: "The RLI research team conducts multiple studies of mutual interest to RLI and PepsiCo North America in topics such as short-term energy regulation response to high fructose corn syrup. I wrote then, and stand by my statements, that the corn refiners' argument is marketing spin at best, disingenous and misleading at worst. Is saturated fat from beef "healthy" because it's no less dangerous than saturated fat from lamb? Is rattlesnake venom "healthy" because it's no worse than cottonmouth venom? Remember that "nine out of 10 doctors" once recommended smoking, too. In my response, I defied the corn refiners to provide even one example of a refined food "product" that is healthier than its natural or organic equivalent. To date, they have not responded. Refined foods have ingredients that nature never intended, are processed using dangerous, polluting chemicals, and are loaded with empty calories. There's no question that the American public's appetite for junk food contributes to the country's obesity epidemic and all the fun stuff that comes with it--diabetes, heart disease, stroke, etc. Recently NPR did a piece where they looked at obesity statistics in other countries. They made a direct correlation between the onset of highly processed foods' availability into societies and the onset of obesity and the related rise of weight-related disease. (I'll try to find it and will post a link when I do.) So, even if HFCS is not any more dangerous than other refined sugars, a statement that remains challenged in the medical community, I'll argue all day long that HFCS is far from healthy. HFCS is not found in nature. It is one of many pseudo-foods developed by mega corporations to extend the "usefulness" of their product and the shelf life of other processed foods. There was not one iota of thought given to this "product" as to its benefits or detriment to humanity or the planet. All of us should be far more skeptical of any lobbying group pushing for greater acceptance of HFCS than of CSPI.

Author

Ronni_Mott

Date

2009-04-10T17:51:46-06:00
ID

145785

Comment

Ironghost is right, to a degree. CSPI is a bit of a scary bunch, but at the same time, you can't say that their claims are wrong. They're like PETA: technically, they're doing a good thing by fighting against animal cruelty, but the outlandish things they do turns me off. Which is great, except that Ironghost used the mention of CSPI to suggest that it discredited Weil, which is ridiculous, because Weil doesn't rely on CSPI for any evidence in his argument. "Oh, nevermind then." - Ironghost, 2009 That's what I disagree with. For instance, I think the Manhattan Institute is peopled by nut jobs, but that doesn't mean that quoting them in an article as being "against trial lawyers" would speak to my credibility in other assertions in the piece. They are.

Author

Todd Stauffer

Date

2009-04-10T17:53:49-06:00
ID

145786

Comment

You know, this is just one topic that I refuse to argue about.

Author

DonnaLadd

Date

2009-04-10T18:56:37-06:00
ID

145787

Comment

Even putting aside the issue of HFCS for a second, does anybody think that public schools should be feeding kids carbonated syrup mixes by the quart if reducing obesity is in the public interest? Particularly when most kids don't get enough calcium or vitamin C?

Author

Tom Head

Date

2009-04-10T19:06:31-06:00
ID

145789

Comment

Tom, I really don't see how they can in good conscience. The people designing the menu in schools are supposed to know something about nutrition aren't they? And being employed in that position it would seem to be obvious that the health of the students, where diet is concerned, would be their main charge. I know they have to balance nutrition against what kids will actually eat and it does no good to load a kid's lunch plate with healthy foods if they just throw it all away at the end of the lunch line. I would think someone with a little creativity could balance the two concerns with tasty solutions. I think even above poor nutrition, which I'm not discounting, kids don't get enough exercise. Even in school where they should have to turn off all their electronic distractions there is not enough time set aside for physical activity. That would go at least some of the way to counter acting those empty calories that they will consume whether they get them at school or otherwise.

Author

WMartin

Date

2009-04-11T10:05:56-06:00
ID

145790

Comment

The letter above is a pro-forma response to anything that pops up on their radar. Kudos to y'all at the JFP for getting all up in everyone's radar. I don't make any bones about the fact that I think it should be an individual's choice to make the decisions about what they consume, even if it's not the healthy choice, but good decisions can only be made when you have all the facts.

Author

WMartin

Date

2009-04-11T10:28:23-06:00
ID

145793

Comment

I just love how those commercials touting the harmlessness of HCFS say "It's fine in moderation." Problem is, it's hard to have HCFS in moderation because it's in practically EVERYTHING. They conveniently left that part out.

Author

andi

Date

2009-04-12T11:49:25-06:00
ID

145936

Comment

I wonder if Iron trusts the corn syrup association on this? What is so scary about CSPI? Do they throw syrup during protests?

Author

FreeClif

Date

2009-04-15T15:25:43-06:00
ID

145939

Comment

If you can prove there is any actual, peer reviewed science behind the CSPI, I'll debate. Otherwise, I'm not wasting time digging up rebuttal after rebuttal when it won't do any good. The CSPI has an agenda. It's called "Natural is Best, and we'll force it on everyone". All their efforts are focused on that.

Author

Ironghost

Date

2009-04-15T15:51:39-06:00
ID

145940

Comment

I don't know what you're asking, Iron. CSPI backs it's reports with a multitude of independent research, everything from the Centers for Disease Control, USDA, GAO, Harvard School of Public Research, etc. Just go to the endnotes or resources in any of their reports. You might not like their presentation or their tactics, but they're not making up the science.

Author

Ronni_Mott

Date

2009-04-15T16:33:16-06:00
ID

146013

Comment

I love this article. I only wished that Jackson would take up the cause of going green on a serious level! The city could create untold kinds of jobs in doing so and rehab old areas into while saving money and resources. Good work Melia!

Author

von_anderson

Date

2009-04-17T08:43:52-06:00
More like this story
More stories by this author
Support our reporting -- Become a JFP VIP.
The news business has changed dramatically in the past year, and we need your help more than ever to keep bringing you important stories about Jackson and the Metro. Become a JFP VIP with an annual membership or you can Sign up as a monthly supporter. Thanks for anything you can do to empower our journalism!