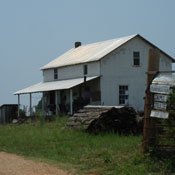 On a dreary morning 10 miles south of Pontotoc, my silver 2002 Acura, a gas-guzzling machine filled with empty McDonald's bags and assorted clutter, is sharing the road with a one-horse-driven wagon. The driver kindly waves and nods his full-bearded head. If Dorothy was riding with me, she would say: "We must be in Kansas again, Toto."
Randolph, Miss., is home to one of the South's only Amish communities. Across five square miles of rural, undeveloped property, 30 young men and women tend to their gardens and livestock, and on Sunday, meet at the top of a small hill to worship and pray. Each household boasts a hand-painted sign posted at the entrance to their driveway listing the products they have for sale, or as my grandmother would say, their "trade." The products include air fresheners, candles, saddles, peanut brittle and chickens—live chickens.
As I pass, staring straight through the dark windows of their inconspicuous white houses, hoping to spot the silhouette of a resident, I formulate advertising campaigns this community could use to bring in droves of gawking tourists. Think of the T-shirt design slogans: "My parents went to Randolph, Miss., and all I got was this T-shirt made out of sheep's wool." Revenue would be up 100 percent.
But in the age of industrial companies raking in billions of dollars while pillaging the Earth of its resources, some people have chosen a different way of life. The residents of this small community, stretched along Oak Forest Road, live simply. With no telephone poles or power lines in sight, these folks choose to create their own reality. Absent is the influence of mass media and mass communication and the massive appeal to "make it rain." Pop culture is unheard of, literally.
A young lady—roughly 25 years old and the spitting image of the woman in Grant Wood's "American Gothic"—looks at me with a blank expression when I ask if she considers herself "environmentally conscious." In her attempt to explain that she is unaware of the word "environmental," I realize there are many words absent from her vocabulary.
Though she is unwilling to tell me her name, she is happy to showcase her merchandise resting in an antique cabinet on her front porch. I purchase an apple pie-scented candle in hopes that my interest in her cache of trinkets will generate interest in why I am standing on her front porch.
Instead, she nervously says, "Thank you," and tiptoes back into her house.
This mysterious woman is not "environmentally conscious," nor are her neighbors. They are not left-wing or right-wing. In fact, they would not align themselves with any political party. They worship God and believe that the Earth will bless them and keep them. We may tour their community with our digital cameras and binoculars in tow, feeling sympathy for the poor souls who live in such a "backward society," but they are far more progressive than any society that ignorantly continues to poison and mar the ground they walk on.
As the proprietress of handmade candles sits in her home waiting patiently for her next customer, I have no doubt that the sympathy she feels for me surpasses the sympathy I feel for her.
More stories by this author
Support our reporting -- Follow the MFP.