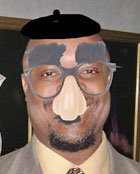 Rudy McBride: "A wave of great concern looms over this nation and world. The shining prince has turned into a drab-colored frog. Cinderella's diamond-studded slippers and fancy, horse-drawn coach have turned back into a pair of house shoes and a pumpkin. Rich people's financial fantasies of frivolous folly melts like a chocolate ice cream éclair exposed to blinding sunlight. And, yes, the finance pimps got their houses back; but now they are broke, and need $700 billion worth of help from the 'Mack Daddy' federal government.
"And while Eddie Murphy and Dan Aykroyd trade places with Mortimer and Randolph Duke, the law of karma provides us with this lesson in the form of a profound quote by Dr. Martin Luther King Jr.:
ӑThe ultimate measure of a man is not where he stands in moments of comfort and convenience, but where he stands at times of challenge and controversy.'
"Therefore, the staff and management of the Let Me Hold Five Dollars National Bank want to measure up to the financial needs of our broke, busted and frustrated financially challenged customers. So we decided to develop the I.A.G. (I Ain't Got no money) Bail Out Loan—not to be confused with the financially embattled A.I.G. insurance company.
"Since poor folk on Main Street may have to pay for what happened on Wall Street, the L.M.H.F.D. National Bank will bail out financially challenged customers by letting them hold five more dollars during this unfortunate financial crisis.
More stories by this author
Support our reporting -- Follow the MFP.