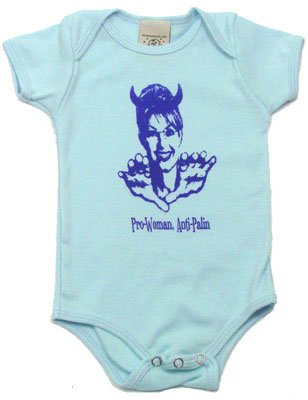 Leave it to Portland ... (verbatim): With less than two months to go in a hotly-contested, too-close-to-call race for president, the creators of the popular "President Poopyhead" and "I Already Know More Than The President" baby t-shirts are hitting the presses again, this time in support of the Democratic ticket. Fans of Baby Wit's hip political gear can choose from five original styles of Election 08 t-shirts now available at http://www.Babywit.com. The "Obamarama" tee features the democratic contender in a Tony Manero disco-fever suit (starting at $26), the "What Would Obama Do" tee stars Obama as Jesus Christ (starting at $26), the "Team Obama" tee sports a 70s-inspired, distressed logo screen printed on a soft, heather-grey gym tee (starting at $21), and "Obama, Baby!" is a close-up of the democratic hopeful (starting at $21). Obama tees are available in sizes for baby, toddler, women, and men. "Pro-Woman, Anti-Palin" baby one-pieces featuring a devilish Sarah Palin are available in both pink and blue (starting at $26).
Unlike other popular t-shirt companies who sell to both sides of the aisle, Baby Wit only offers products supporting the progressive left. Baby Wit believes in responsible business practices in a global economy, using eco-friendly materials and buying locally in the USA (no sweatshops or kids making clothes for other kids).  For each "Pro-Woman, Anti-Palin" baby one-piece sold, 25% of the profits go to the Planned Parenthood Action Center, a nonprofit committed to ensuring family planning and reproductive health care services are available to everyone who wants and needs them.
 
About Baby Wit
Baby Wit has sold its unique  line of baby and toddler clothing since 2003, offering  rock (The Clash, Sonic Youth), art (Damned Dollies, Cole Gerst), political (Obamarama, President Poopyhead), funny (My Mama Drinks Because I Cry, He Thinks He's My Daddy), and pop culture (Hitchcock, Bukowski) transfers printed on American Apparel t-shirt and one-pieces.  Baby Wit original graphic tees are hand dyed with low impact dyes and screen printed using earth-friendly, water-based inks.
# # #
Support our reporting -- Follow the MFP.