Salon is reporting that Sarah Palin shocked Wasilla when she spent $50,000 from a city highway fund to re-do her mayoral office:
[T]he ambitious Palin won the Wasilla mayor's office -- after scorching the "tax and spend mentality" of her incumbent opponent. But Carney, Palin's estranged former mentor, and others in city hall were astounded when they found out about a lavish expenditure of Palin's own after her 1996 election. According to Carney, the newly elected mayor spent more than $50,000 in city funds to redecorate her office, without the council's authorization. "I thought it was an outrageous expense, especially for someone who had run as a budget cutter," said Carney. "It was also illegal, because Sarah had not received the council's approval."
According to Carney, Palin's office makeover included flocked, red wallpaper. "It looked like a bordello."
Although Carney says he no longer has documentation of the expenditures, in his recollection Palin paid for the office face-lift with money from a city highway fund that was used to plow snow, grade roads and fill potholes -- essential municipal services, particularly in weather-battered Alaska.
Carney confronted Mayor Palin at a City Council hearing, and was shocked by her response.
"I braced her about it," he said. "I told her it was against the law to make such a large expenditure without the council taking a vote. She said, 'I'm the mayor, I can do whatever I want until the courts tell me I can't.'"
"I'll never forget it -- it's one of the few times in my life I've been speechless," Carney added. "It would have been easier for her to finesse it. She had the votes on the council by then, she controlled it. But she just pushed forward. That's Sarah. She just has no respect for rules and regulations."
Previous Comments
ID

135841

Comment

That's Sarah. She just has no respect for rules and regulations." She really, really sounds more Meltonian by the day.

Author

DonnaLadd

Date

2008-09-17T18:17:35-06:00
ID

135849

Comment

This is interesting, but highly suspect with no documention of the expenditures and only the "recollections" of someone with an ax to grind.

Author

kudzuking

Date

2008-09-18T07:32:46-06:00
ID

135851

Comment

kudzuking, click the link and read the much longer story. The above is only a snippet.

Author

Ronni_Mott

Date

2008-09-18T08:33:30-06:00
ID

135852

Comment

I think she's more like a republican than Melton. Ain't no telling what kind of unusual freaky-sneaky-deaky nature Sarah has. After all, she's a modern-day republican. The words bordello and Sarah in the same story, paragraph , sentence or line? I can see that!

Author

Walt

Date

2008-09-18T08:55:37-06:00
ID

135853

Comment

I don't have anything against Palin though. Everyone needs to work somewhere.

Author

Walt

Date

2008-09-18T09:11:59-06:00
ID

135854

Comment

I take back my comments above. They show poor taste against a person running for one of the highest offices in America. I'm a wann-be humorist and couldn't resist playing with this story a little bit.

Author

Walt

Date

2008-09-18T09:21:58-06:00
ID

135858

Comment

It's Melton all over again - big show for the cameras, no respect for laws relating to the city - and no respect for any other person who does not roll over and play dead. NExt thing you know Palin will be driving behind this other city member mentioned in the story and bumping his car at a stop sign, you know, just as a "joke" arrrrrrgh

Author

Izzy

Date

2008-09-18T10:16:53-06:00
ID

135860

Comment

Maybe her witch doctor hunter saw the future and told her to remodel: http://timesonline.typepad.com/uselections/2008/09/palin-linked-el.html

Author

FreeClif

Date

2008-09-18T10:45:21-06:00
ID

135863

Comment

Well, the honeymoon seems to be waning, as all of her baggage comes out of the closet, and McCain has rolled around in the dishonest mud to try to cover for her lies. I really don't think the American public wants to spend the next four years in constant drama, which the Palins are sure to bring to Washington. Not to mention more battles to hide public information and probably ethical hearings.

Author

DonnaLadd

Date

2008-09-18T11:02:42-06:00
ID

135866

Comment

From ANNE LAMOTT A call to arms: How to handle the fury brought on by this election? Register voters, hit the streets, pray. Stop talking about her. Talk about Obama. By Anne Lamott. 9.16.08 I had to leave church Sunday morning when it turned out that the sermon was not about bearing up under desperate circumstances, when you feel like you're going crazy because something is being perpetrated upon you and your country that is so obscene that it simply cannot be happening. I sat outside a 7-Eleven and had a sacramental Dove chocolate bar. Jeez: Here we are again. A man and a woman whose values we loathe and despise -- lying, rageful and incompetent, so dangerous to children and old people, to innocent people in every part of the world -- are being worshiped, exalted by the media, in a position to take a swing at all that is loveliest about this earth and what's left of our precious freedoms. When I got home from church, I drank a bunch of water to metabolize the Dove bar and called my Jesuit friend, who I know hates these people, too. I asked, 'Don't you think God finds these smug egomaniacs morally repellent? Recoils from their smugness as from hot flame?' And he said, 'Absolutely. They are everything He or She hates in a Christian.' I have been in a better mood ever since, and have decided not to even say this woman's name anymore, because she fills me with such existential doubt, such a sense of impending doom and disbelief, that only the Germans could possibly have words for it. Nor am I going to say the word 'lipstick' again until after the election, as it would only be used against me. Or 'polar bear,' because that one image makes me sadder than even horrible old I can stand. I hate to criticize. And I love to kill wolves as much as the next person does. But this woman takes such pride in her ignorance, doesn't have a doubt in the world about her messianic calling, that it makes anyone of decency feel nauseated -- spiritually, emotionally and physically ill. I say that with love. As we say in Texas. (Also, we say, 'Bless her heart.') We felt this grief and nausea during the run-up to the war in Iraq. We felt it after the 2004 election. And now we feel it again. But since there are still six weeks until the election, and since the stakes are as high as the sky, which should definitely not be forced to endure four more years of the same, we have got to get a grip. There are millions of people to register to vote, millions of dollars to be raised. We really cannot go around feeling flat and defeated, with the need to metabolize the rotten meat that this one particular candidate and the media have forced upon us. One of the tiny metabolic suggestions I have to offer -- if, like me, you choose not to have her name on your lips, like an oozy cold sore (I say that with love) -- is to check out a Web site called the Sarah Palin Baby Name Generator. There you can find out what she and her husband would have named you if you had been their baby. My name, Anne, for instance, would be Krinkle Bearcat. John, her running mate, would be named Stick Freedom. George would be Crunk Petrol. And so on. First of all, go find out what your own name would be. Then for one day refuse to use the name of these people who are so damaging to earth and to our very souls -- so, 'I don't have to understand anything, it's all fuzzy math. Trust me. I'm the decider.' From now on, when working for Obama, talk about Obama, talk about his policies, the issues, the economy, the war in Iraq, poverty, the last eight years, Joe Biden. You don't have to mention Crunk Petrol, or his sidekick, Shaver Razorback. And you sure as hell don't have to mention Claw Washout -- she is absolutely, hands-down the most ludicrous person ever to be nominated. She's a 'South Park' character. There was a mix-up. Mistakes were made. Everything you need to know about how to bear up during these two months is already inside you. Go within: Work on your own emotional acre. Stand still, and hurt, and feel crazy. Then drink a lot of water, pray, meditate, rest. Rest is a spiritual act. continued in next entry....

Author

thevicarofblue

Date

2008-09-18T11:10:02-06:00
ID

135867

Comment

continued from the rant of author ANNE LAMOTT: Now, I am a reform Christian, so it is permissible for me to secretly believe that God hates this woman, too. I heard God slam down a couple of shooters while she was talking the other night. Figure out one thing you can do every single day to be a part of the solution, concentrating on swing states. Money, walking precincts, registering voters, whatever. This is the only way miracles ever happen -- left foot, right foot, left foot, breathe. Right foot, left foot, right foot, breathe. The great novelist E.L. Doctorow once said that writing a novel is like driving at night with the headlights on: You can only see a little ways in front of you, but you can make the whole journey this way. It is the truest of all things; the only way to write a book, raise a child, save the world. As my anonymous pal Krinkle Bearcat once wrote: Laughter is carbonated holiness. It is chemo. So do whatever it takes to keep your sense of humor. Rent Christopher Guest movies, read books by Roz Chast and Maira Kalman. Picture Stick Freedom in his Batman underpants, having one of his episodes of rage alone in one of his seven bedrooms. Or having one of his bathroomy little conversations with Froth Moonshine. (Bless their hearts.) Try to remember that even Karl Rove has accused him of being a lying suck. Reread everything Molly Ivins and Jim Hightower ever wrote. Write down that great line of Molly's, that 'freedom fighters don't always win, but they're always right.' Tape it next to your phone. Call the loneliest person you know. Go flirt with the oldest person at the bookstore. Fill up a box with really cool clothes that you haven't worn in a year, and take it to a thrift shop. Take gray water outside and water whatever is growing on your deck. This is not a bad metaphor to live by. I think it is why we are here. Drink more fluids. And take very gentle care of yourself and the people you most love: We need you now more than ever. -- By Anne Lamott submitted by The Revd. Canon oonagh Ryan-King The Inclusive Celtic Church

Author

thevicarofblue

Date

2008-09-18T11:11:07-06:00
ID

135870

Comment

What is the link for this, vicar? You can't post a full piece; you need to post a bit and link to it. Give me the link, and I'll fix it.

Author

DonnaLadd

Date

2008-09-18T11:13:32-06:00
ID

135872

Comment

You gotta be kidding me. Yellow journalism at its finest. There is NO basis for this story other than some chump who wants his name in the spotlight. Using the word "Bordello" in the title just plain reeks.

Author

QB

Date

2008-09-18T11:16:19-06:00
ID

135873

Comment

Re the Palin honeymoon: Folo has a good post summarizing the various polls that show the McCain-Palin bounce over, and that the polling has returned to about where it was before the conventions. And they show that people aren't buying that Palin is a good choice, other than the "base" zealots. Also check out Obama's progress with women (probably attributable to the fact that the hockey mama scares the hell out of most of us, and we're not fooled by her cuteness holding a gun) as some men seem to be: McCain's way-obvious play for women's votes makes the word from that demographic notable. Obama leads 54-38 among all women, with a 2-point edge among white women: a 21-point pro-Obama swing in a week. McCain has older white guys in a headlock, though, which isn't a surprise: Among other groups, [says NYT] Mr. Obama had a slight edge among independents, and a 16-percentage-point lead among voters ages 18 to 44. Mr. McCain was leading by 17 points among white men and by the same margin among voters 65 and over. Before the convention, voters 65 and older were closely divided. In the latest poll, middle-age voters, 45 to 64, were almost evenly divided between the two.

Author

DonnaLadd

Date

2008-09-18T11:17:34-06:00
ID

135874

Comment

It's a quote, Harry. And this source is no less credible than Palin or anyone else. I suspect you just don't like that the "reformer" who is supposed to save McCain's campaign is anything but, when it comes to her own devices. Oh, and the fact that she had a tanning bed installed in the governor's mansion is simply priceless. You can't make that stuff up. I can't wait to see what Tina Fey does with it. This is going to be a wacky page in the history books.

Author

DonnaLadd

Date

2008-09-18T11:20:55-06:00
ID

135882

Comment

Donna, here's the Anne Lamott link: http://www.salon.com/mwt/feature/2008/09/16/anne_lamott/. I also went to the blog mentioned in the article with the Sarah Palin Baby Name Generator. I knew I would regret it. My name would be Fog Piles Palin.

Author

LatashaWillis

Date

2008-09-18T11:52:45-06:00
ID

135898

Comment

Palin needs that tanning bed. It shrinks that wolf's tail and the claws she's trying to hide. If she allows everything or anything to grow naturally, it wouldn't be long before we see the the three sixies on her forehead or the real beast from within. A tanning bed and bordello pad or crib? What kind of governing were she planning on doing. I bet lobbyists, money changers, big-money-spenders and rogues were running over each other trying to do business with Alaska or Sarah.

Author

Walt

Date

2008-09-18T15:53:42-06:00
ID

135904

Comment

Seriously, folks, does she lie every time she opens her mouth? She and her husband have even told three different stories about when/if they told their kids that she was considering becoming the veep nominee. I mean, why lie about stuff you don't even need to? Meltonian, I tell you. (So is the whole I'll-lower-my-salary-except-when-I-don't schtick. Click on that link I just posted.)

Author

DonnaLadd

Date

2008-09-18T17:46:43-06:00
ID

135905

Comment

I did my Palin baby name a couple days ago on that, L.W. It had the word "ammo" in it, but I forget the other word. ;-) I love me some Annie Lamott. I quote her all the time in my writing classes. Read her books on faith if you haven't. Wonderful.

Author

DonnaLadd

Date

2008-09-18T17:48:04-06:00
ID

135906

Comment

I doubt she's antichrist, Walt. Calm down. I think she's just am ambitious woman with an over-inflated confidence that she is ready to lead the world. Without knowing anything about it, of course. She knows very little about energy in her own state, and that's supposed to be her expertise. Did she see that today she referred to a "Palin-McCain Administration."

Author

DonnaLadd

Date

2008-09-18T17:50:20-06:00
ID

135907

Comment

Palin lefta trail of legal billswith sports complex in Wasilia.

Author

golden eagle

Date

2008-09-18T17:52:39-06:00
ID

135908

Comment

You're right, Donna. I was joking. A bad joke. J. Leno styled. No, I didn't see anything today on her. I have actually been trying to avoid paying too much attention to her. It's hard though. She looks kind of good! That can't be denied. I like how Tina Fey did the flash or modeling bit on her - the side to side pose, the smiling, the phanton kiss, body thrust, et al. I was kind of digging her until she butchered Obama needlessly and offered no substance at all.

Author

Walt

Date

2008-09-18T18:00:24-06:00
ID

135909

Comment

re: Anne Lamott and we're only gonna talk about Obama, Biden, etc... Ms. Ladd I received the Anee Lamott thought from someone who sent me ONLY her comments, so I had no link and today was too crazy for me to get to salon.com. so thanks to the person who found it. and thank you very much. my brain fog is very cloudy today. I DO want to thank you for the job you do. I was here (am a MS native, of Attala Co--yeah Kosy with Oprah and James Meredith) when the kudzu was alive and thriving....

Author

thevicarofblue

Date

2008-09-18T19:15:01-06:00
ID

135910

Comment

Two things that bug me: 1. I didn't know there was such a job as a "city manager." So she basically hired someone to do her job as mayor? Frank-like, indeed! 2. Her nickname, "Sarah Barracuda" -- why not shorten it to "Sarahcuda"? Much more creative! :p

Author

andi

Date

2008-09-18T20:01:26-06:00
ID

135913

Comment

Andi- some towns use the Council-Manager form of gov't. You have a mayor,council and city manager. The mayor in these systems is usually just a ribbon cutter and the council and city manager do all real work. Grenada uses this form of city gov't.

Author

BubbaT

Date

2008-09-18T23:07:16-06:00
ID

135917

Comment

Anne Lamott did some beautifully advisory and opinionated writing on this piece as I imagine is the usual for her. I'm taking her advice and turning the channel or cutting off the television every time I see Palin's face. I saw Palin briefly as she was interviewed by the real anti-Christ, Sean Hand-Me-That-Black-Man-So-We-Racists-Can-Destroy-Him.

Author

Walt

Date

2008-09-19T07:08:01-06:00
ID

135918

Comment

I didn't know that Bubba -- in that case, Palin has no business talking about all her "responsibilities" and "executive experience" if someone else was really doing all the work in her small town.

Author

andi

Date

2008-09-19T07:10:14-06:00
ID

135919

Comment

According to BlackAmericaWeb, Michelle Obama asked voter to not vote because they like a guy or think a woman is cute, and to instead vote based on records, capabilities and issues. Palin isn't really cute unless you admire the look and danger of a rattlesnake from a distance. Once you get closer and start that last walk into the bordello of hell the fangs and deadly countenance sprout to poison and devour you. We would be wise to stay away from Palin. Besides, if she's so fine, capable and put together why couldn't she do better in a mate than Todd the secessionist and freeloader. Could it be that any man or person with some sense and something going for him personally wouldn't want her. Just wondering?

Author

Walt

Date

2008-09-19T07:34:58-06:00
ID

135920

Comment

Obama's back up in the poll of polls so yall can relax and stop the vicious attacks on Mrs. Palin.

Author

QB

Date

2008-09-19T07:58:02-06:00
ID

135922

Comment

Ain't nobody attacking Palin who spent her first prime time moments or acceptance speech crucifying Obama instead of seting forth a plan to help the country. All she told us about her was that she's a pig with lipstick. We wanted to know more so we could decide if she was worthy of our votes. Then we learned that not only did she not have a plan, she didn't know either Bush's or McCain's plan. All she knew was she could see Russia from Alaska. I din't know that, but I know she doesn't need to know where the gouvment's botton to unleast the nuclear arsenal is.

Author

Walt

Date

2008-09-19T08:14:26-06:00
ID

135924

Comment

A tanning bed is hardly anything to be outraged about. Harry, as much vicious, unfounded and downright racist crap that has been put in the right-wing blogosphere for months about the Obamas I can't blame the left-wing for responding in kind about the new "darling" of the Hard Right. And much of this stuff about Palin is true, even if some of the liberal's outrage about it is faux. Obama's numbers are rising again because the bloom has finally fallen off the Palin rose and people are getting turned off by the nonsense coming from the McCain camp.

Author

Jeff Lucas

Date

2008-09-19T08:42:43-06:00
ID

135926

Comment

It is not "vicious" to point out her record and her spending habits when it comes to the governor's mansion and her mayoral office. Or, the things that concern a possible future present of the United States (like a tanning bed). What you and others are doing, Harry, is trying to turn legitimate concerns about Palin into "attacks"--it's a classic red-herring tactic, (and a talking point for y'all), and it won't work. If she is going to run for this office, she has to be scrutinized like anyone else. It is misplaced chilvalry on your part. Don't insult her by turning people's concerns about her into "attacks." If she can handle this office, she must be handle to handle criticism and scrutiny. And it would be absurd to only criticize a candidate for one of these offices when someone is up or down in the polls. Don't insult us with such an assumption. Palin is still on the ticket and deserves vigilance from the American people, especially since she was an unknown until two weeks ago. There is a lot of catching up to do on her. So far, that isn't going well for her. McCain could have chosen someone without so much baggage, but that was his choice, not the fault of voters who are shocked by her baggage and past choices and hypocrisy. Of course, now the fast-and-furious lies of both of them are horrifying. The addition of her to his ticket has dragged McCain in the gutter. But you can't feel sorry for him because he sold out the American people for a cheap political trick. He, thus, showed how poor his judgment is, and how far he will stoop, and how many lies he will tell, to try to cover his own mistakes. It's very telling.

Author

DonnaLadd

Date

2008-09-19T09:37:04-06:00
ID

135927

Comment

Now don't get me wrong, I'm on neither the left or right because I don't believe in any such fiction or concoction as left or right by wrong-wing people. Such ideas are bullcrap to me. I've explained my position on this before. I don't talk about Democrats and republicans equally because no one can compete with the nefariousness and vileness of republicans. I used to talk about self-appointed masters, rulers, despots, autocrats, monarchs, kings, barons, czars, moguls, magnates, authoritarians, martinets and all until I learned about republicans. Once I discovered republicans were worse than all of them I knew my talents must be soon pointed in the correct direction. It's the fraud about her record and capabilities that has me riled up. We didn't need Bush and we don't need Palin and McCain, and that's the double truth.

Author

Walt

Date

2008-09-19T09:41:19-06:00
ID

135928

Comment

One caveat: many of Walt's posts are vicious. Which is sad, being that she is so easy to criticize without stooping to "pig" comments. Thus, my edits to his last post. Walt, lose the silly personal swipes.

Author

DonnaLadd

Date

2008-09-19T09:44:08-06:00
ID

135929

Comment

Alright, but I don't understand why I can't say and build on what she said. No one would have ever mentioned that without her bringing it up first.

Author

Walt

Date

2008-09-19T09:46:48-06:00
ID

135931

Comment

She didn't call herself a pig. Obama didn't call her a pig. And you shouldn't call her a pig. It's just a cheap insult and is beneath you.

Author

DonnaLadd

Date

2008-09-19T09:59:53-06:00
ID

135932

Comment

I promise to never say anything about her not based on facts again. I can't stand her which explains why I show so little respect for her. However, that comment she made was for a purpose. It painted an image of her calculated to be positive and forceful, if not vicious, in my view. Her whole speech was a vicious attack on Barack. It is clearly wrong to throw stone for stone, as I'm told often by many people. I've learned not to throw the first stone but I'm still rassling with not throwing the next ten. I couldn't run for office and have anyone do things to me that I wouldn't return in kind to a grown person with the possible exception of physical violence, at least for a period of time. I agree with you on the nature of my posts and I'll be kinder, gentler and factual.

Author

Walt

Date

2008-09-19T10:12:51-06:00
ID

135933

Comment

I agree that Palin viciously attacked Obama. And I believe she was put there to help get more people to vote against a black man (and she may not even know it). But stooping to the same level never works. Meantime, she is an ambitious one. She's calling it the "Palin and McCain administration" and referring to him as *her* "running mate." Uh, Gov. Palin, *you* are *his* running mate. *He* is the nominee. It's always been this way. The nominee is not a running mate. You ought to climb off your high horse for a minute and get some coaching on the rules of how this stuff works. I swear, it's as if she just fell off the turnip truck into a $2,500 Valentino jacket. Meantime, the scariest part of all this, really, is that the McCain campaign is meddling heavily in Alaska's business. Talk about an abuse of power. Who can stop this? And just imagine what it foreshadows from a Palin-McCain administration that simply breaks laws that might get in their way. That is so Cheney-Bush that it's not funny. At all. It reminds me so much of the Bush machine rolling into Florida to make sure all the votes weren't recounted. Republicans are only state's-rightists when it suits their agenda.

Author

DonnaLadd

Date

2008-09-19T11:21:47-06:00
ID

135962

Comment

Meantime, Alaskans are getting p.o.-ed about the McCain campaign takeover of state government affairs, per the Los Angeles Times and the Anchorage Daily News: Jerry McCutcheon went to Sarah Palin's office here last week to request information about the firing of former Public Safety Commissioner Walt Monegan, the scandal that for weeks has threatened to overshadow the governor's role as Republican presidential candidate John McCain's running mate. McCutcheon was given a phone number in Virginia to call: the national headquarters of the McCain-Palin campaign. Why, he wanted to know, did he have to call a campaign office 4,300 miles away to find out what was going on in Alaska government? The longtime civic activist phoned his local state representative, Les Gara, who quickly filed a protest. These days, many such queries about Monegan -- or anything else involving Palin's record as governor -- get diverted to McCain staffers. A former Justice Department prosecutor from New York flew in recently to advise the governor's lawyer and field reporters' calls about Monegan. Soon after, Palin's willingness to cooperate in the Legislature's probe of the affair ended. A recent call to John Cramer, the head of the state Department of Military and Veterans Affairs -- who clashed with Palin during her years as mayor of Wasilla -- was returned by a McCain campaign operative who had just arrived from Washington, D.C. "John who?" she asked. In stubbornly independent Alaska, the sudden intrusion of a political campaign into so many corners of state government -- not to mention Wasilla, where a dozen or more campaign researchers and lawyers have also begun overseeing the release of any information about Palin's years as mayor -- has touched a raw nerve. McCain staffers have even been assigned to answer calls for Palin's family members, who have been instructed not to talk. "Why did the McCain campaign take over the governor's office?" the Anchorage Daily News demanded in an editorial Saturday. "Is it too much to ask that Alaska's governor speak for herself, directly to Alaskans, about her actions as Alaska's governor?" [...] "Is this going to dilute her image as a maverick who will clean out the rascals from their perches of power, when she herself cannot tolerate questions into her behavior, investigations into the firing of a public safety commissioner?" said Gerald McBeath, political science professor at the University of Alaska in Fairbanks. Palin, he said, is "still popular" in Alaska, "but she is not beloved. And there's a difference between the two. She's getting a lot more criticism at the state level as a result of her vice presidential candidacy."

Author

DonnaLadd

Date

2008-09-22T12:10:08-06:00
ID

135963

Comment

And even conservatives are mad about it. This is further down in the same piece: "This Palin VP thing has Alaskans all stirred up. Much like Palin divided the Republican Party, she has managed to divide the state over her national candidacy," conservative talk-show host Dan Fagan complained in a commentary last week. "My fellow conservatives, remember how frustrating it was when Bill Clinton committed perjury and liberals looked the other way. As conservatives, we are no better unless we demand full disclosure from our governor," he said. " . . . No politician is so popular and charismatic that they should be above accountability and telling the truth."

Author

DonnaLadd

Date

2008-09-22T12:11:50-06:00
More like this story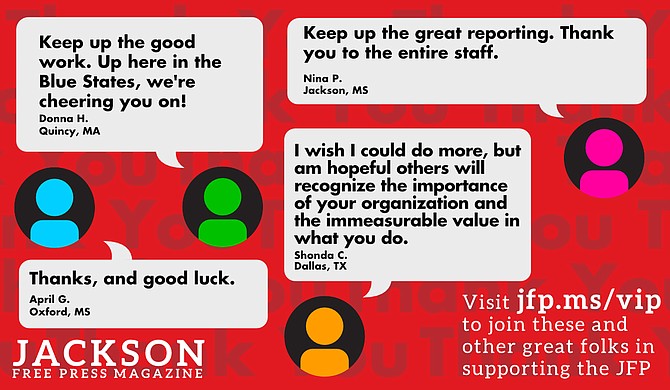 Thanks to all our new JFP VIPs!
COVID-19 has closed down the main sources of the JFP's revenue -- concerts, festivals, fundraisers, restaurants and bars. If everyone reading this article gives $5 or more, we should be able to continue publishing through the crisis. Please pay what you can to keep us reporting and publishing.