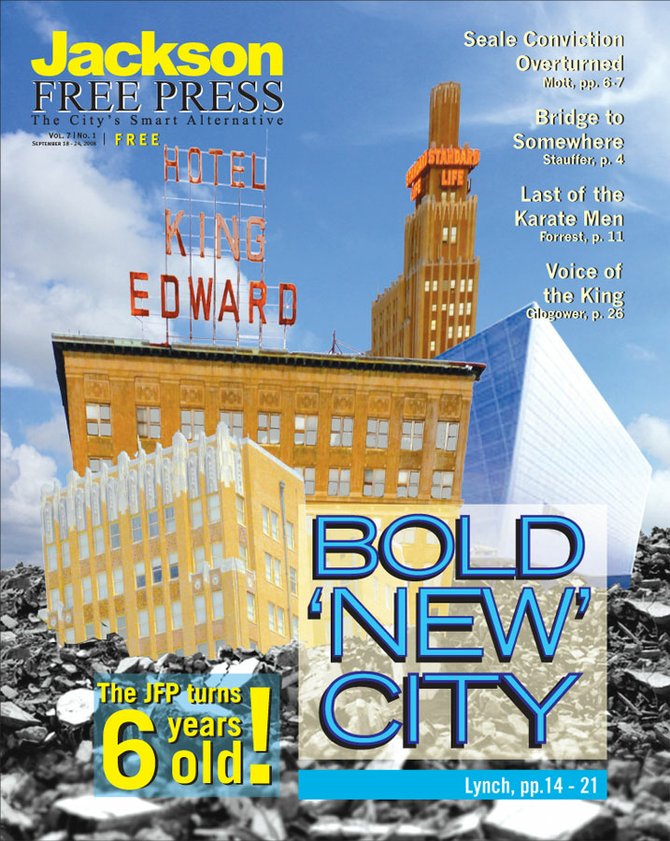 Cheerleaders for development in Jackson are kicking into overdrive these days. For decades, the municipality has gone the way of many other U.S. cities, with low gas prices allowing inhabitants to flee to grassier spots in the suburbs. Deep racial tension aggravated the decay of the tax base as "white flight" overcame the city's populace during the 1970s and 1980s.
But Jackson has joined the urban redevelopment trend sweeping the nation, with younger people, professional couples and retirees alike tiring of cul de sacs, lawn mowers and long, costly commutes, and choosing a city lifestyle instead.
In the last six years, the idea of mixed-use development has caught on in Jackson, as has the desire for an entertainment district that would rival Beale Street in Memphis and attract patrons from inside and outside the city. The cities of Madison and Flowood likely would not allow such a strip of sin as the Farish Street Entertainment District promises, with bars selling cocktails like the infamous "Call Me A Cab" daiquiri. Ridgeland barely managed to harbor popular nightspot The Dock for more than a handful of years. So, driven by a more youthful attitude toward thrill-seeking, and fatigued with traffic and cookie-cutter development, many younger Mississippians are feeling the pull of city life, and are leaving their parents to age quietly in the suburbs.
Unless the parents grab up the newest loft space first.
Finally Feeling Farish?
The Farish Street Entertainment District is a long-awaited linchpin of downtown nightlife. But Jackson Mayor Frank Melton has repeatedly dogged Memphis-based Performa Entertainment on its slow work of turning the historic Farish Street into a glitzy entertainment venue. Farish Street was once a cultural center for African Americans in the state, and many affluent black families trace the beginnings of their wealth to the district, where black doctors, pharmacists and tailors plied their trade within sight of a hotel, the King Edward, which would not admit them.
When state-mandated segregation ended, however, so did the artificial box containing Jackson's black elite, and many followed their white neighbors to the outskirts of the city. They also started shopping elsewhere, taking their purchases out of the area to many white-owned or corporate businesses once the law cleared the way, ironically hastening the collapse of Farish Street businesses.
Performa CEO John Elkington saw a historic charm in the area similar in scope to the musical and cultural roots of Beale Street and felt those same roots could lend credibility to entertainment venues like the B.B. King Blues Club and Wet Willie's Daiquiri Bar.
Jackson Developer David Watkins, who took on the project from Performa in June, said the project is estimated to cost around $50 million, comparable in price to the downtown King Edward and Standard Life redevelopment projects. But the money isn't coming easily, and certainly not all at once. Entertainment suffers in economic downturns, and Performa Vice President of Development Cato Walker said people aren't spending as much as they used to on Beale Street. More than one movie theater has closed its doors in downtown Memphis, but Walker said he expected the venues would catch on well in Mississippi.
The economy has chipped away at Performa's financial stability, and local banks are either not big enough or are unwilling to broker a deal for the final stages of Farish. But Watkins, who is deeply engaged in the metamorphosis of the King Edward and Standard Life projects, has a natural interest in the future of his nearest neighbor across Capitol Street.
"It was a labor of love," Watkins said. "This city has to move forward, and I believe Farish Street will be another important aspect of that."
Elkington handed over his company's paperwork to Watkins and, after a couple of deep breaths, Watkins began forking over personal funds for assessment and planning. He told the Jackson Free Press that his focus will begin with the entertainment aspect of the street and an initial investment of $12 million to $15 million on the first block, followed by the addition of a boutique hotel.
The developer insists Farish will not be another Beale Street, though. "We want more than that. We want music; we want restaurants; we want clubs and people to be able to come down and have a good time and be fully entertained with all the different emphasis on blues, jazz and gospel," Watkins said.
Watkins is taking the music emphasis seriously, with a $15 million museum dedicated to gospel music, similar to the B.B. King Museum and Delta Interpretive Center in Indianola. The museum, a five-year project that may not begin for another year, could be on the west side of the Alamo Theater, east of Mill street.
In addition, Watkins wants art and antique galleries, and a low-watt radio station with a glass front directly on the street, which will partner with the convention center to promote activities while convention attendees are in town.
"During the daytime, this is going to be a very family-friendly street," he said.
City residents and local officials want the district to have a sound residency component. "No area will stay alive without some form of permanent residency," Jackson developer Leland Speed told the Jackson Free Press in 2006. Speed considered residency important enough to make the building of apartments a requirement on a state-backed loan to Performa to develop Farish.
Elkington agreed that the area needs residents to be viable and transferred that aspect of the project to Minnesota-based Hope Development. The organization did not return calls, but Watkins will convey land to the builder and said he believes it will construct a 120-unit apartment complex, with 60 middle-income units and 60 high-end units.
Hope Development could eventually include 20 market-rate townhouses close to Farish, across the street from the bordering Mississippi College School of Law.
No residential units will occupy the famed first block, however. That will be reserved for the likes of B.B. King Blues Club, King Biscuit, Wet Willie's and Red Rooster Bar and Music Hall—a Beale Street dance club targeting the under-40 crowd.
Four-and-a-half buildings between Amite and Griffith Streets are ready, but the developers want everything to open at the same time next summer.
Gov. Haley Barbour is putting his weight behind the development, too. When Mississippi College School of Law renovated a building and stretched a little further into the district, it put some of the incoming bars in violation of a state law dictating the proximity of liquor sales to students. Barbour inserted a special session bill in July creating a variance specifically for Farish Street.
A Home Near the Heart
Farish patrons will need places to live, and Watkins and others are investing everything in meeting their needs outside the district.
The King Edward has long been the unheralded face of Mississippi politics. The rooms of the 1920s-era hotel often served as the site of political back-room deals that either made or broke legislation during the early part of the last century. The hotel closed in 1967, killed by integration. Watkins said the politicians moved out the day after the hotel's first black patron checked in.
Since 1967, the building has stood as a crumbling testament to racism's corrupting effects on Mississippi. Ironically, New Orleans Saints player Deuce McAllister, an African American, partnered with Watkins and HRI Properties of New Orleans to get the place re-opened.
Cutting out the rot in the King Edward wasn't cheap, starting at an estimated $54 million in 2006. Good thing developers called that figure an "estimate," because the actual figure jumped to $89 million thanks to the rising costs of building materials and numerous production delays.
The city fell through on critical HUD financing at one point, forcing Watkins to make a desperate call to Barbour for a state loan to get the project moving. The money arrived in 2007, much to Watkins' relief.
The hotel is slated to be complete on Labor Day 2009. It will have 186 rooms, and still feature a ballroom and meeting space, a coffee shop, restaurant and cocktail lounge. But it will also contain 64 luxury apartments aimed at a class of residents who probably don't have to think too much about their kids' college loans.
Watkins' sister downtown endeavor is the neighboring Standard Life Building. Sitting like a needle in the Jackson skyline, the building is old enough to defy fire codes with its narrower-than-recommended stairwell. It housed the Jackson Police Department during the construction of the current department building, but only after exhaustive asbestos removal.
Watkins, HRI, McAllister and Jackson entrepreneur LeRoy Walker will have to widen the stairwell during renovation—work estimated to cost $34 million. When it's all said and done in 2009, however, they expect the building to house 58 one and two-bedroom apartments with rents from $750 to $1,250 a month.
Downtown Jackson Partners President Ben Allen said the downtown area needs residents for business additions to remain stable and permanent.
"There's nothing good about having everybody go home at the end of the day and the streets be completely empty after 5 o'clock," Allen said. "You can't look at all that emptiness and call it a complete success."
The Standard Life's $34 million price tag almost jumped another $7 million last week, with HRI barely meeting its renovation goal. Developers want to tie the Standard Life to the King Edward in order to exploit tax credits—something they wouldn't be able to do if they didn't complete the project in 2009.
Money was short last week, though, and developers approached the Jackson City Council with the proposition of delaying their full $1 million payment for the cost of the building for 10 years, with only an initial payment of $100,000 up front.
Five out of six council members agreed to the plan, though Ward 2 Councilman Leslie McLemore balked at the agreement, arguing that city taxpayers shouldn't have to support the developers.
"The city's budget is obviously very tight this year and the taxpayers of Jackson cannot afford to give developers money," McLemore said. "... If the developers need $1 million from city taxpayers to save this project, then it's not worth the paper it's printed on."
Allen, a former council member, said he was pleased with the council's generosity.
"The thing is, investors need to know the city is thoroughly behind a project before they put their own money into it," Allen said. "That was a problem in New Orleans recently when the city pulled support from one big project they had going on down there. Investors saw that, and the project just withered up after that."
Allen is likely referring to the proposed New Orleans World Trade Center. Jackson native Carlton Brown was working with Goldman Sachs to finance the project, but due to the national credit crunch, the lender asked the city to apply more money to the public/private partnership. When New Orleans backed off, so did Goldman Sachs, essentially killing the deal.
Lofty Aspirations
Allen isn't the only one arguing that living quarters will be necessary downtown. Entertainment of the type sported by the Funny Bone Comedy Club and King Biscuit Café demands a populace that can get back home on nothing more than its knees, and some Jackson personalities are working hard to make that happen.
The Plaza Building, on the corner of North Congress and Capitol streets, was one of the early mixed-use buildings to see the light of day in Jackson. It is one of a baby of developer Mike Peters, who forked over the almost $7 million in renovation costs, producing 14 high-end apartments, as well as office space and restaurants on the ground floor. Peters boasted to have found takers for many of the apartments before they were even finished.
Peters' luxury flats are hot, but loft apartments are fast becoming the rage of modern city living. Jackson is filled with abandoned warehouses and manufacturing buildings, the leavings of dried-up industry that ran off to China and other off-shore locations.
Architect Robert Polk is one of the personalities looking to capitalize on those leftovers. The Dickies Garment Factory on President Street inspired curiosity in many Jackson City Council visitors who had business in the council's temporary President Street headquarters a few years ago. Lights were on in the building, though most of the city knew the place had closed its doors in the 1990s. Turns out it was working on opening its doors to an entirely different kind of business.
The factory building, which sits on long-buried railway lines, now sports upper-level loft apartments, and will eventually contain 14 apartments by early 2009.
"It's just a neat, old building," Polk told BOOM Jackson, a city development magazine published by the Jackson Free Press. "I love all the glass. It's just unique."
Pat Pigott, a developer with a thing for blowtorches, is looking to make a killing on the city's changing trends. Pigott bought the Mississippi Foundry Building on South West Street to house his metalworking studio, but made way for some talented arty types who also had a thing for blowtorches, and hammers and hand saws to boot. Over the last two years, the Foundry has blossomed into 17 loft apartments, with hardwood floors, original brick walls and enough artistically placed cogs and wheels to be the envy of steam-punks the world over.
Pigott also has an eye for mixed usage, and wants to reserve the ground floors of the building for businesses.
Developer Ted Duckworth is also joining the legions of sellers looking to make space for the incoming crowd. The Duckworth Realty president is fresh off the development of the Electric 308 Building, formerly the Lampton Electric Building, and looking to create more of the same on State Street, just across the street from the Eudora Welty Library.
Duckworth's new project is the former site of the library, before it hopped across the street to become the new library. The building was the city's one-time "whites-only" library and the site of a historic "read-in" by nine Tougaloo College students during the Civil Rights Movement.
Duckworth bought the building from the city in 2007 after outbidding the Mississippi Center for Justice. He intends to fill the building with 16 loft-style apartments and an office suite. He also wants to capitalize on the building's past with a special exhibit commemorating the read-in. He'd planned to include the building as a visitation spot on a future Jackson historic tour, and was one of the many Jackson businessmen who advocated the construction of a civil rights museum in the downtown area to add to the experience. The museum is slated for a north Jackson location near Tougaloo College, however.
The Library Lofts are sitting empty, though. Duckworth says he has no plan to release the property, but said organizing the plans for the $4.5 million project is slower than expected.
"We're having to make some design changes to the first floor, and that's setting us back a little, but we don't see this delaying the project too much," said John Micheal Holtmann, brokerage associate with Duckworth Realty Inc.
Duckworth also is building another mixed-use development at the former Mississippi School for the Blind. The state opted to lease the land the school sat on to developers like Duckworth, who view the property as a prime real estate.
"We're still in the design phase with that project," Holtmann said. "We're talking with tenants and various people about that. We have not formally rolled out that project just yet. It's a very dense project, when you're talking about a half-million square feet on 23 acres. Design and phasing the project is where we are there. We'd love to start construction in a year and a half with a delivery date of spring 2011, but there's no solid given date right now."
The Question of Balance
Hinds County Administrator Vern Gavin was one of the members of a foundation formed to monitor the development of the Farish Street Entertainment District during the later part of the 1990s and early 2000s. Gavin told the JFP earlier this year that he feared the blingy glitz of the project would desecrate the real memory of Farish Street, displacing what was actually once a stable community filled with families with a uniform strip of clubs.
Gavin said in June that development in the area needed to be mindful of the communities already living there, and encouraged the construction of affordable housing to preserve or entice new middle-class residents.
Many Mississippians would not view the condominiums planned for the King Edward or Standard Life, for example, as affordable. The loft-style apartments cropping up in the area come with an average price around $1,000—well out of reach of current neighboring communities along Farish and Mill streets.
Watkins admits he gears his incoming living space to people of a certain income. Polk told BOOM Jackson that he had tried to aim his development of the Dickies factory toward artists, but failed due to money problems.
The price of a square foot of space in the downtown area is more expensive than a square foot in West Jackson, or even a square foot in the city's more affluent northern territory. The steep prices translate quickly into high rent, which in Mississippi often pans out as the removal of people of color and most people under the age of 30—the ones who would most appreciate city living.
Jackson businessman Socrates Garrett said he was surprised at any question regarding gentrification at this point. "That's a question that is way out in front of any concern that I have at this stage in Jackson's growth," said Garrett, who is black. "The fight between black versus white in the development of Jackson is something that has to go away. We have to be of one accord and not at the expense of downtown development."
Garrett said that development in downtown, with its upper-income emphasis, should not be the standard for the whole city.
"Development in downtown should have nothing to do with development in west Jackson. We just have to get developers over in west Jackson who have the vision and are willing to re-invest. ... People move away for better schools and a better quality of life, and our top priority should be getting a handle on that. I think gentrification is a ploy of the media. They're creating an additional problem that we don't need."
Former Mayor Harvey Johnson Jr. said the city was too early into its re-development for population displacement to be an issue. "Gentrification, in the traditional sense, where you're wiping out entire neighborhoods to bring in higher-income households is not happening in Jackson at this point," Johnson said. "There may be an emphasis upon higher-income housing in downtown Jackson, but that housing isn't really replacing a lower-income population. That type of thing has been happening in Harlem, but that's not really a problem here. Right now we're converting commercial property to residential property. No displacement there, yet."
All that growth is sending shockwaves into the surrounding black communities, however. Looking to preserve the safety of incoming residents and business employees, the city has put an emphasis upon cleaning up the downtown area, with particular attention on downtown's Smith Park. Vagrants are finding themselves pushed out after sundown. Their next preference, according to one business owner, is Poindexter Park, between downtown and Jackson State.
Lee Harper, co-owner of Koinonia Coffee House on Adams Street, said the presence of vagrants could be affecting her business.
"My biggest concern is what they're doing to the entire west side of Gallatin Street," Harper said. "Sometimes I think whatever decision planners make, they think less of what the impact would be on anything west of the Gallatin community, but most of the people here wonder where is the thought given to the longtime residents of this area."
Harper also campaigned to prevent the arrival of a new homeless shelter on Capitol Street, not far from her business.
Allen, who supported the curfew in Smith Park, agreed that the high vagrant population in Poindexter Park could only discourage business growth. "We were touring the park the other day, and we counted 24 there, drinking beer. A couple of them were making out on the bench there. I don't know what to do," Allen said. "One of the biggest problems we're having are churches encouraging more vagrants by coming to downtown Jackson to feed the homeless. We would love to encourage churches looking to open shelters to open them on their own property."
Allen said DJP was focusing on security in Smith Park, specifically because of the emerging growth in the area, and encouraged the city to expand the monitoring to Poindexter.
Making Way for Growth
All the new living space, affordable or not, may not be enough to handle the rest of the development heading down the pike. The $48.5 million Pinnacle at Jackson Place, an eight-story office building of glass containing 194,000 square feet, is slated for completion in early 2009. The brainchild of Parkway Properties, the company is making a habit of investing heavily in Jackson via the City Centre Parking Garage (parking garages, as a rule, rarely make a profit) and other projects.
Beyond the Pinnacle, Parkway wants to jump on at least three other projects, dealing with parking, shopping and living space. The names, appropriately, are Parking at Jackson Place, The Shops at Jackson Place and (you guessed it) the Residences at Jackson Place.
The city is contemplating the possibility of transforming its one-way streets back into two-way streets, rendering the area more pedestrian- and business-friendly.
"We must get this done in our capital city," Allen wrote in an e-mail supporting the council's recent decision to approve a study for the downtown area. City advocates like the Brunini Law Firm, local lobbyists Southern Consultants, and Washington lobbyist Winston & Strawn LLP are chasing investment funding for the project from both state and federal sources.
"Congress has approved $3 million so far," Allen said, adding that the DJP estimates the project to be at least $8 million. "Conversion of Capitol Street from one-way to two-way alone will open 199,500 feet of retail opportunities, with stunning ad valorem and sales tax possibilities."
The city became a one-way-street downtown during the 1970s, but the idea of two-waying the streets are not exactly new. The city of Jackson had actually financed a $100,000 study in 2003 weighing the possibility of improving the downtown district. The Jackson Strategic Capitol City Plan, orchestrated under then-Mayor Johnson and conducted by Atlanta planning team Cooper Carry Inc., demanded hard investment in projects such as King Edward, the convention center, the Telecommunication and Conference Center, the Pinnacle and the development of the area slated for the Old Capitol Green Project, as well as the two-laning of some streets, including Capitol.
Cool School Growing
Johnson is now director of Jackson State University's Center for University-Based Development, and plans for the university to serve as a gateway to the remarkable downtown growth. The university, which has the ability to write bonds for itself under the name of the Jackson State University Development Foundation, has spent $200 million on development, and sees plenty more growth in the near future.
"The university is the major economic engine in the area. We've had a lot of development on campus, but the next step is to try to improve the neighborhood off campus. What's good for the community is good for the campus," Johnson said, explaining that the school wants to develop about 50 acres in an area just northeast of the campus.
"It will be primarily residential development," he said. "The first project (University Place of Jackson) will be a mixed-use development on the corner of Dalton and Lynch streets. About 22,000 square feet on the first floor of the building and on the next three floors will be about 75 or 80 apartments."
The university also has plans for the pristine Metro Parkway joining JSU with downtown Jackson, with 50 or 60 single-family units and about 30 town homes. JSU President Ronald Mason Jr.'s eagerness got him in trouble with community residents during the legislative session, when legislators attempted to change state law allowing the university to rapidly take homes through eminent domain. Outraged neighborhood associations and public opinion drove legislators to pull the bill. Johnson said the university is currently negotiating with landowners over purchase prices and suggested the project could begin in earnest next spring.
In addition, the school will invest about $100 million in redevelopment on the Lynch Street corridor and in the Washington Addition neighborhood.
Johnson said the neighborhood will be a draw to residents seeking a middle-income neighborhood with close proximity to the campus and downtown activity: "People affiliated with the university or who want to be in that kind of educational environment will have an attraction to it, as well as people wanting to be a few steps away from the vibrancy of downtown."
Of Arts and Green
The co-founder of Full Spectrum of New York will be working the east end of downtown, even as JSU hammers away on the west side. Carlton Brown, the same developer recently forced to relinquish the New Orleans World Trade Center, described the process of assembling the Old Capitol Green project similar to "watching grass grow."
"We've completed the master plan, meeting with institutional leaders in Jackson, understanding their visions of the city, meeting with the property owners and getting their vision for it and then developing a master plan that passes muster with the financial institutions with which we're working," Brown said.
Old Capitol Green, a mixed-use neighborhood that will sit on the natural bluff overlooking the Pearl River, is a long-term goal. By 2016, Brown expects the $1 billion-plus community to contain more than 4,000 homes. Full Spectrum is not a sole developer, but depends on an assortment of people with big ideas to kick in with their own smaller projects to comprise the whole.
The $75 million to $100 million conversion of the Arts Center of Mississippi to a mixed-use facility is another project making waves. Its enormous footprint will rival that of the incoming Jackson Convention Center.
Roy Decker of Duvall Decker Architects said the building, which he wants to finance through a public/private partnership, would include a theater, dance and art studios, as well as retail space and living quarters. "By the city providing the land on the back and on the front of the building for private development, apartments and office space can generate both tax dollars and income to, in part, pay off the construction financing and can contribute to the operating expenses," he said.
Decker said it would take between a year and 18 months to pool the money, with a possible completed project within five years.
The appearance of the Arts Center means the disappearance of the city's only planetarium, however. "A city of this size needs a planetarium, but that planetarium is outdated. Simply to renovate it would cost $5 million," Decker said. "We've done a study, based on census information, that suggests that no city known as a tourist destination city is successful until approximately 2 percent of its usage is designated to cultural arts or entertainment functions in its downtown area. Right now, Jackson is at less than 1 percent."
Memphis, Little Rock and similar cities conform to the 2 percent rule, which allows their downtowns to offer enough culture to prove a draw for visitors. Anything less, Decker says, won't cut the mustard, and dooms the few cultural centers that do exist to failure.
Not Just Downtown
Development doesn't stop at downtown, of course. Ask Clarence Chapman, president of Oxford-based Chartre Consulting, Ltd. His company is working to expand the south Jackson neighborhood near Forest Hill High school by 325 homes by Dec. 31.
"We're breaking our leg trying to get them finished before year's end," Chapman said.
Some South Jackson residents originally fought the $240 million development covering almost 400 acres, arguing that the first project is using federal tax credits to create a 15-year leasing program that could discourage any real sense of ownership for the inhabitants. Residents argue that the "renter's mentality" of the their new neighbors will encourage neglect, but Chapman argued that his company will be overseeing the condition of the property during that 15-year period.
The Fondren District is another city spot growing out of its britches. Peters had already invested heavily in the district, having opened the wildly successful Fondren Corner Building in 2003. Fondren Corner has become a focal point in Fondren, mixing restaurants, retail, business offices and loft apartments. That focal point position is under threat today, however, by another one of Peters' ideas.
Peters joined forces with Mattiace Development to create Fondren Place, a collection of three different projects. The first phase of the development lies at the corner of State Street and Duling Avenue. Businesses such as the Ramey Agency, Cooke Douglas Farr Architects and BankPlus are already moving into the multistory building, with assorted retail space available along Duling Street. The converted Duling School building, formerly under the auspices of Jackson Public Schools, will contain an indoor mall and a restaurant in the school's old auditorium.
The eastern-most building, bordering Old Canton Road, will feature a four-story, 100-room Indigo Hotel, complete with underground parking.
The total cost of the Duling School project, according to Peters, is $30 million.
Watkins is muscling in on Peters' territory, though, with his plan to build another mixed-use facility along State Street, within spitting distance of Fondren Place, replacing a number of small storefronts across the street from Fondren Corner.
Watkins' Whitney Place is in the very earliest of planning stages, and has yet to make a solid promise on its existence. "We've slowed down because of environmental issues," Watkins said. "We haven't purchased the land due to those issues. We have a contract to purchase it, but we haven't closed the sale on it."
Watkins said the plan is in its design stages, with construction at least a year away, but his eyes still glaze over when speaking on it. "We've added some more stuff to the design," he said. "The new buildings on the streetscape are going to be fabulous. We've got a lot of green space, fountains and so forth. It'll be a very classy development."
Watkins believes it could eventually contain half a million square feet of development, with three or four floors dedicated to commercial property and four floors for residential property, not to mention the underground parking.
"By the time you've got all that, you're talking about some pretty serious money," Watkins said.
Whitney Place is still too far off for the developer to offer design details, but the project will likely require at least $2 million for land acquisition, and another $50 million to $75 million for construction. Like the Capitol Green project, Whitney Place will most likely be a creation wrought in phases, with some phases stretching over areas already occupied by businesses.
Development comes in pieces because banks, due to the nation's credit crunch, are becoming stingy.
Getting Greedy
Brown, for instance, relies on sources outside of Jackson to foot the cost of Capitol Green. He says the local banks either don't have the mass or the inclination.
"By and large, we're not dealing with local banks," Brown said. "... I've talked to other developers and the local banks don't really dive in. The financial services industry is getting creamed, so they're not going to do a lot."
Trustmark Bank Jackson Metro President Harry Walker told the JFP in June that his bank had not ruled out working with Watkins on the Farish Street project. "As far as our organization is concerned, we're still positive about Farish Street. We've done some pretty good-sized projects down there," he said, and praised the combined efforts of the MDA, the city, developers and the Central Mississippi Planning and Development District for pushing the project forward.
Trustmark is noticeably absent from Farish Street, however. The bank is also a no-show for both the King Edward and Standard Life projects, despite local governments and entities investing heavily in Trustmark. Jackson Public Schools, for example, often uses the bank for its depository needs.
Watkins complained that all the other banks in the area were either too small or too indifferent to the community: "We don't have any large local banks except for Trustmark, and Trustmark has turned into one of the most conservative banks in the area. Banks don't believe in Jackson, and they're not making an investment in Jackson until it's proven as profitable as Houston and Madison."
The issue is complicated in that bigger lending agencies like Goldman Sachs pay close attention to the generosity of local banks before throwing their own cash into a deal.
"The first thing they want to know is, where's the local money. If there's a local institution willing to go along with the project, that's kind of like a stamp of approval, because local folks know best. ... That's unfortunate because we only have one big bank, so when they look and see no local participation they pass on it," Watkins said.
"If I didn't have an established relationship with an out-of-state developer like HRI (which has a long-standing relationship with Capitol One), neither the King Edward nor the Standard Life would work."
Local bank stinginess could be at fault for the stalling of a number of projects around town. The council agonized for months over a re-zoning measure last year that allowed the existence of a mixed-use neighborhood near the Jackson Medical Mall. That project has effectively stalled, according to more than one developer formerly connected to it.
Developer Michael Smith, who planned to fund Livingston Village through federal GO-Zone tax incentives, has not returned calls on the project. Carl Allen, who worked with Smith on pushing the project through the council, is now working with David Watkins on the more lucrative Farish Street project, and could not speak on whether or not his old project still had wheels.
Southern Consultants President Susan Lunardini, who helped design the Livingston Village concept and advocated for the new urbanism foundation of the village, said she has not heard from Smith in weeks, and fears money problems bogged the endeavor.
Harper, still addressing the issue of Adams Street's vagrants, said she believed a host of problems—including the neighborhood's homeless—would not be so daunting if banks and businesses would invest back into the community that supports them. "If businesses would plant in this part of town, maybe we wouldn't see as many homeless, or blight, or a lot of things that hurt the area," Harper said.
Still, Brown said Jackson had an advantage over places like New Orleans in the form of its government's single-minded focus on the importance of growth. "In spite of everything you hear about Jackson or the state of Mississippi, this state is a business-friendly state. ... [E]veryone is willing to find a way to do things," he said. "... Jackson wants new players in the deal because they know maybe the rest of the country has gotten a head start on us, and we've got a little catching up to do.
Previous Comments
ID

135855

Comment

Great job Adam - you never disappoint me....and that's not so easy to do! Kudos!

Author

Queen601

Date

2008-09-18T09:42:08-06:00
ID

135864

Comment

Loved it, Adam. Everything's summed up in one neat little package. Jackson still has a lot of challenges ahead, but we've made some big steps forward. All we need to do is finish the journey.

Author

LatashaWillis

Date

2008-09-18T11:04:38-06:00
ID

135879

Comment

Great article all around. I'm glad that people are not fooled by the specter of gentrification, as there are no low-income residents being pushed out of downtown Jackson. For years, the Governor was the only person even living downtown.

Author

QB

Date

2008-09-18T11:28:32-06:00
ID

138511

Comment

Great article. I wish there were more articles floating around about the developments in downtown Jackson, Fondren, and other nearby areas. Keep the spotlight close, I feel like a kid in a candy store!

Author

chip

Date

2008-10-02T10:11:16-06:00
ID

138516

Comment

There was a story on WAPT this morning about the idea of getting a new arena in downtown for events like concerts and sporting events. There was to be a meeting today at the Telecom Center to address this need with local businessmen and developers. We need this one desperately.

Author

golden eagle

Date

2008-10-02T12:21:35-06:00
ID

138522

Comment

I have heard of the idea for a downtown arena for years, and I think it's a great idea on paper. It's a shame that we have had three large parks constructed around Jackson, yet none within walking distance of downtown.

Author

chip

Date

2008-10-02T13:16:32-06:00
ID

142937

Comment

I hope that Jackson and the rest of Mississippi would enjoy learning more about the natural world on Earth, besides local items. I wondered would the state be happy about having more museums and gardens that have exhibits from around the world, supermarkets that people can afford fresh food, and movie theaters. I know that the state of Mississippi will be blessed. M Reed Chicago, IL

Author

Michael (Chicago)

Date

2009-01-15T18:22:10-06:00
ID

149287

Comment

Channel 16 aired a news story on the status of the King Edward renovations last night. Thanks Scott for keeping your eye on this for the public. The King Edward will be completed on October 20, 2009 (THIS YEAR!) and we expect to have a temporary certificate of occupancy from the city on that date. We will have a 30-40 day period following that day for punch list work and a "shake-down cruise" to make sure that everything is in perfect working order before opening our doors to the public. [color=red] We expect to be fully operational in December. [/color] Big party plans are in the works! see King Edward story David Watkins CEO, Watkins Partners

Author

Pops

Date

2009-07-03T09:04:23-06:00
ID

149289

Comment

Yeah Pops i saw it, was the story designed to downplay expectations because it had a real cross your fingers aspect to it. I thank you and wapt for showing the public all three projects last night. I just beleive the king will prosper and i was shocked at the angle of the story thats all. When will the king have a job fair?

Author

NewJackson

Date

2009-07-03T12:19:16-06:00
ID

149292

Comment

Actually, everything is fine! We're very upbeat about ALL of the projects. I was also a little surprised at the slant, but not troubled. It's a "news" report and not a stockholders report! The King is slightly behind schedule, ONLY because of the delays caused by the National Park Service over the approval of the acoustical design of the windows. It is not a significant issue. We get the building on Oct 20, rather than September 1st. The King will be blowing and going in December and will make a dramatic difference to all of downtown Jackson. Farish Street is fine! Yes, it has been a real challenge to complete in the midst of the worst financial market in nearly a century, with credit being squeezed and banks going out of business, in the midst of the auto industry doing a belly flop, and with everybody being skiddish about opening new businesses, particularly in the entertainment and hospitality sector. Who in their right mind would try to develop an entertainment venue (or how about 12 at one time) at a time like this!!! And, yes, we've had some major bureaucratic delays with some government entities that have just about driven us over the edge. However, we're working through those issues and we're close to the finish line and, sadly, those are not issues unique to Farish Street. Do you think any of this has deterred us from continuing with the project? Not a bit! Please remember that, instead of rushing around to get some cheap facade put up or to do a "lipstick on a pig" job, we are working on a 100-year sustainable development for Farish Street, with 1st class tenants, historically correct and sound structures and closely coordinated sub-developments. We want it to be done right, the first time. I'd rather be a few months late and have a successful project, than take some shortcuts and cripple the chances of long-term success. IT'S ALL GOOD!!! I told you King Edward would happen; it did. I told you Standard Life would happen; it is. I'm telling you Farish Street will happen; and it will! So, sit back and relax; and don't believe the negative junk out there. If you have a question or a problem, I am very accessible and I'd like to hear from you. Have a good weekend. David Watkins CEO, Watkins Partners

Author

Pops

Date

2009-07-03T15:12:39-06:00
ID

149293

Comment

King Edward Help Needed While I'm at it, there is a new blog we've set up about the King Edward and we need your help. We're soliciting personal stories that you might have about the King Edward, whether yours or that of a family member or friend. We're trying to capture a bit of the "living history" of experiences people had when the King was previously open and even during the period it has been closed, while people are still around to remember them. If you have a story or know somebody who does, we'd appreciate your sharing it. go to King Edward Story Blog

Author

Pops

Date

2009-07-03T15:24:03-06:00
ID

149298

Comment

thanks pop for your response, i do have a story my grandmother used to live on pearl street back in the late 80's when i was a little boy right beside the blues lounge where the marker is now. As a little boy pigeons used to fly in the back of the blues lounge, I dont know if they came from the King edward or not but what other place in Jackson has a large pigeon population. I remember the king edward towering empty as i looked up pearl street towards downtown. This is my memory of the king edward and to see it come to life is amazing. Thanks pops.

Author

NewJackson

Date

2009-07-03T16:01:51-06:00
ID

149305

Comment

Thanks for the WAPT link because I missed the report. There is a tinge of doom and gloom in the report, but I still have hope. The economy is cyclical, so the recession will not last forever. There will be a steady stream of income since apartments are included, and as the word gets out about the hotel, business will gradually pick up. Patience will be the key.

Author

LatashaWillis

Date

2009-07-03T22:19:18-06:00
More stories by this author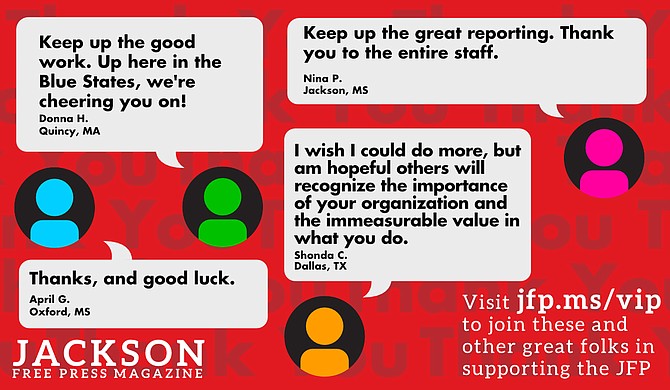 Thanks to all our new JFP VIPs!
COVID-19 has closed down the main sources of the JFP's revenue -- concerts, festivals, fundraisers, restaurants and bars. If everyone reading this article gives $5 or more, we should be able to continue publishing through the crisis. Please pay what you can to keep us reporting and publishing.