Humanity, in general, is like a germ. it comes along, consumes all that is consumable, makes more of itself, leaves a bad smell everywhere, then moves on to repeat the process in a new unspoiled area. It's the human way. We see it in action all the time. How many countless cow pastures and serene woodlands outside every corner of Jackson have been covered over by thrown-together cookie-cutter houses good for falling to pieces after 20 years? Reversing a behavior that's so deeply engrained in the human subconscious is no easy matter, but people in Jackson are trying to come together to do it. The revitalization doesn't stop with the Convention Center that's to be voted on this November. There are many other projects, small and large, either underway or slated for development soon.
Earth to TelCom
The convention center proposal was preceded by the Mississippi Telecommunications and Training Center, which is already under construction in the heart of downtown Jackson. The center, a 74,000-square-foot structure, combines cutting-edge technology with versatile meeting spaces meant to make the most technology-demanding presentations a success. The building will boast impressive amenities such as DS3 Backbone, CAT 6 or 62.5/125 um multi-mode fiber connections and 10/100 mb Cisco switches, as well as satellite downlink/uplink abilities with KU & C Band and rebroadcast capabilities with the building using fiber-optic technologies. The TelCom Center is clearly your best place to either hold a spectacular conference or orchestrate a planetary take over.
All Aboard for Downtown
An impressive, and completed, project is the restored $19 million Union Station Depot on Capitol Street. The city hopes the 73-year-old building will house restaurants and shops, and is already serving as a transfer facility for JATRAN. Even though the construction is recent, the design retains the old charm of train stations past. No ugly nouveau-suburban-Americana architecture here. Now if those shops and restaurants will hurry up.
This is the real thing.
Joining Union Station in recapturing the past is the much-ballyhooed renovation of Farish Street. This historic street, long neglected and abandoned, was once the economic hub of African-American trade in the early-to-mid 20th century. The end of legal apartheid in Mississippi also brought a sad end to the area's influence as a focal point for black business—helped along by some questionable downtown urban-renewal efforts—black money soon followed white money to other retailers.
Though long in coming, Jackson Mayor Harvey Johnson has touted his work on the district, which now sports a brick road and elegant cast-iron benches and streetlights. Johnson says this renovation is only the beginning, while political rivals like current mayoral hopeful Frank Melton and past mayoral hopeful C. Darryl Neely have complained that the renovation doesn't extend far enough down the street. Follow the brick road too many steps, and the trail doesn't stay very pretty.
This will change, according to John Lawrence, director of Downtown Jackson Partners, who says that Performa Entertainment Real Estate is soon to be installing an entertainment area in Farish Street. "They did Beale Street in Memphis and the Red River District in Shreveport, La., but as part of their project they're planning to build 70 apartments either along Griffith or Hamilton Streets," Lawrence said.
Tossed around have been ideas of adding a city movie theater to the district, making it the only theater actually inside the city limits. Lawrence said, however, that it is improbable that a theater could successfully operate there—at least not the mega-bistro architecture of 20 or more screens that is so popular with theater construction these days.
Bon Air ... Under Budget
Other neighborhoods slated for improvement include the $5 million neighborhood redevelopment project along Calhoun Street in the Bon Air community. The Bon Air project is a complete revitalization effort sponsored by the city of Jackson. Chief players are the Jackson Metro Housing Partnership as project manager as well as CivilTech Engineering, the Mississippi School of Architecture. The Bon Air project is about six streets along West Capitol Street, but the first phase is on Calhoun. "We've gone in and acquired some 50 or so properties in severe substandard condition," said Terri Lee, deputy director for the city's Office of Housing and Community Development. "We've demolished them, and right now we're working on infrastructure improvements, including repaving the existing streets and the construction of a new street and curbs and gutters. We anticipate about 40 new homes constructed for home ownership purposes. We've taken an area that was severely populated with renters, and we're turning it into a home ownership zone." Lee said that homes renovated in the area appraise at about $70,00 to $75,000. Newly constructed homes in the area appraise at about $80,000 to $85,000.
Of particular note: Lee reports that the original $5 million price tag of the project is overestimated. It has been approved for about $3 million.
It's Belhaven's Turn
Before too long, city residents will notice major renovation along Fortification Street in Belhaven. Why does a posh place like Belhaven—already filled with charming residences and families, dogs and baby strollers at dusk—require city attention, you ask? Because it needs more mixed-use businesses to be a viable city neighborhood—and it needs fewer potholes.
"The street really isn't conducive to the development of business," said Greater Belhaven Association Director Virgi Lindsey. "Fortification Street, as it stands today, has become terribly blighted over time, and a lot of that is because of the sheer design of the roadway, which was done in the 1960s. The plan is to redesign the road so that it is pedestrian-friendly and certainly a lot more developer-friendly to encourage better use of the property along the road. If this road is not improved and we don't say that it's time to truly make it a gateway to the entire central business district, it's never going to look any better."
Lindsey says wider sidewalks and narrower traffic lanes to slow down traffic comprise the kind of street-scaping that's being planned. Because the shrinking street lanes will be forking over the space to widen the sidewalks, there will be no requirement for additional land from homeowners already cuddled precariously close to the street, she adds.
Once the foundation is laid, or re-laid, then Belhaven hopes to attract more charming businesses where people can stroll and shop, much as has happened in Fondren recently. In fact, developer Mike Peters, who owns the Fondren Corner building, has purchased the old Jitney 14 building (now the Winn-Dixie) hoping to do some more urban magic.
Jackson's Mardi Gras
Street work alone isn't enough. A city's revitalization requires commitment from locally owned businesses.
Mary Grace Brown, mother of Joel Brown (owner of Brown's Fine Art and Framing), speaks highly of her family's impending investment in downtown, known as Mardi Gras.
"We're renovating it as we speak. It's the old Fowler Buick Building on the corner of Silas Brown and South State Street, directly across the street from Stuart C. Irby and Co.," Mary Grace Brown says. "It's a restaurant, and it'll be fashioned after the French Quarter in New Orleans. And we're going to have a jazz piano bar and a dance club and a dance studio. The 18,000 square-foot building is going to have those four venues in it. The doors will open in November." Brown said Fondren and Madison were the original considerations for the location, but neither came with adequate price or parking.
True Corporate Citizens
Joining the crowd of downtown development is City Center, the former offices of Skytel, which is now up to 96 percent leasing capacity, thanks to the work of Parkway Properties, the No. 1 performing real estate and investment trust in the country—which just happens to be headquartered in Jackson. Parkway Properties put two and two together and concluded that parking was going to eventually be a problem with all the impending development downtown, and took on the cost of constructing a 517-space parking garage.
This doesn't happen very often, according to John Lawrence, who praised the effort.
"Surface parking lots are a real detriment to parking in the downtown area. It takes up valuable development property. To have somebody come in and say 'we're not going to do easy surface parking; we're moving to construction parking,' that's a big statement for a company like Parkway to privately fund it. They're not profitable facilities. Parking garages barely break even," Lawrence said. "They're expensive to build. This is them stepping up very big to be true corporate citizens. I can only think of one other privately funded parking garage that's been built outside of New York City and other big cities like that, and Parkway did it in Memphis."
Lawrence said he's especially proud of the business moving into the area. Some 30 new retailers, service brokers and restaurants have moved into the downtown area—but what really gets Lawrence drooling is the prospect of people moving in to live.
"The No. 1 thing we can do is build the residential population. We're begging the city, state, local authorities to put publicly owned land in the hands of private developers for residential projects. So far, everyone's being real cooperative. We've got a pent-up demand for about 1,400 residential units in downtown if we can put the land together and get the financing together to get them built," Lawrence said.
In August 2003, Ted Duckworth, president and managing broker of Duckworth Realty, revealed his plans to renovate the Electric Building, at East Pearl and West streets, into apartments and retail space. The $14.8 million project should be complete in 2005. Also, Lawrence announced more residential space envisioned for a building at 507 Capitol Street. He explained that "they're going to make the bottom two floors commercial space and the top floors living space, I think about 10 units."
Joining this are some other small projects: IMS Engineering, for example, is renovating the Atkinson Hardware building on Amite and at the corner of Amite and Farish into offices. "We have a half dozen different developers looking at residential properties, ranging from eight unite to 300 units," Lawrence said.
Need for Speed
The Metro Parkway's $20 million funding is set aside, with the bulk of it awarded from the state in 1995. The parkway has already put a very big footprint into Jackson State University turf, with residents like Hezekiah Watkins praising the smooth architectural beauty of the development. Other community personalities, however, such as former Sen. Henry Kirksey, have voiced objections from residents who say they were unfairly evicted by the construction. There are also concerns that the design of the parkway will pay too much homage to the need for speed and not enough respect to the needs of the neighborhood it is cutting through. There's support for this theory. Building a limited-access parkway—cutting neighborhoods off from one another and forcing pedestrians to dart across the street—through a residential neighborhood is usually a mistake. Don't be surprised if traffic-calming measures are on the 2025 budget for the Metro Parkway.
Also worthy of mention is the $96 million federal courthouse, to be located in a parking lot area near the downtown Medgar Evers Post Office and the $10 million I-220 interchange slated to help the city take full advantage of the commerce sparked by the Nissan plant in Canton.
Other projects, however, still haven't quite cleared the trees. The city has been struggling with the estimated $30 million renovation of the King Edward Hotel ever since the place closed its doors in the late 1960s—supposedly killed by desegregation, according to Kirksey. The hotel is abnormally structurally sound—almost to a fault. Tearing it down will not come cheap.
Unfortunately, renovation is also proving problematic. One deal with a developer just recently caved, though Johnson says other developers are still mulling around in the wings, waiting for a deal.
Previous Comments
ID

77785

Comment

What a beautiful article.... I recently got to hang out with a friend of mine, a Jackson-area native, who is currently living in the Southwest. He was in town last week, and we went driving around and he was amazed at all the progress. It's a far cry from the mid-90's, when nothing seemed to be happening in Jackson proper at all. The Mardi Gras restaurant sounds pretty cool. That part of State street is in dire need of some revitalization...hopefully, that's a step in the right direction.

Author

millhouse

Date

2004-09-23T20:56:48-06:00
More like this story
More stories by this author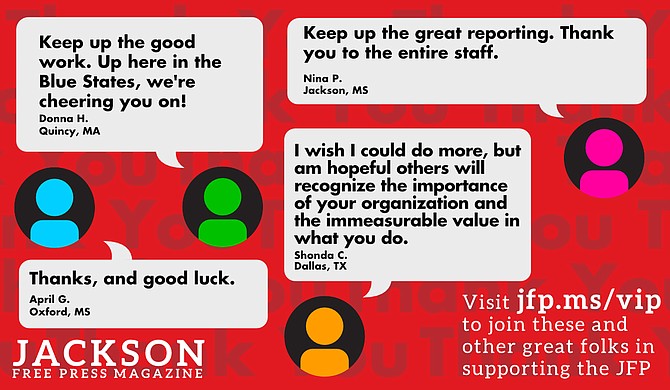 Thanks to all our new JFP VIPs!
COVID-19 has closed down the main sources of the JFP's revenue -- concerts, festivals, fundraisers, restaurants and bars. If everyone reading this article gives $5 or more, we should be able to continue publishing through the crisis. Please pay what you can to keep us reporting and publishing.