When Ira Murray moved to Jackson from Nashville four years ago, he knew the city was poised for metamorphosis. A vice president with the United Way of the Capital Area, Murray, 29, is pleased with the progress he has seen in the city, but he has adjusted his expectations to the sometimes-frustrating pace of Jackson's development. "It's moved a little slower than I thought it would," Murray said.
Projects like the Farish Street entertainment district are heartening, but Murray retains a skeptical edge. "The people I've talked to who have been here longer than me say, 'We've always been waiting on Farish Street,' " Murray said.
In spite of a global economic recession, development marches on in Jackson, but at a more leisurely pace. Major projects downtown are nearing completion, but the respite from the furious pace of urban renewal and a new, if familiar, face in the mayor's office offer an opportunity to reconsider what Jackson needs.
As members of one of the most culturally and economically productive demographics, young professionals like Murray are a primary target of development, especially downtown. New residential development—lofts, condominiums and luxury apartments—are luring some members of the "creative class" downtown, but they'll need more than just living space if they're going to stay.
Old Favorites
As the Great Recession has slowed progress, two large-scale developments of old downtown landmarks are approaching the finish line. The historic King Edward Hotel will open before the end of the year, says David Watkins, CEO of Watkins Partners, which is handling the project along with Deuce McAllister and HRI Properties of New Orleans.
The historic Capitol Street building once housed state legislators and major performers passing through the city, but it fell into disrepair after desegregation and the 1970s and 1980s white flight. Now the King Edward will house a Hilton Garden Inn with 186 rooms on its bottom floors. In addition to a ballroom, coffee shop and rooftop pool, the King Edward will also hold 64 luxury apartments on its top floors.
Watkins Partners is also part of the Farish Street Group, which in June took over the $50 million redevelopment of the Farish Street Historic District from Memphis-based Performa Entertainment. While Watkins had initially hoped to open the first block of Farish by this fall, he has reluctantly pushed back the project's opening to late April or early May 2010. Restaurant earnings tend to drop dramatically after the winter holidays, which would have further complicated an ambitious launch.
"It doesn't make sense to open up at the height of the worst recession in years, and also at the worst time of the year," Watkins said. "I'm kind of dragging my feet kicking and screaming, but it's the best thing for the project."
Brad "Kamikaze" Franklin, a community activist (and JFP columnist) that Watkins hired last year to promote the Farish Street development, says Watkins will be "starting construction in about three weeks."
"There was a lot of paperwork that Performa had not performed that we're finding every day that threw us off the timetable," he said. "We're starting on the building housing B.B. King and the building housing the Subway. Our projection dates had been pushed back, but two of the tenants that we had did not want to open until May, anyhow."
But some younger Jacksonians are concerned about the surrounding areas. "I don't know how you can have a vibrant, viable Farish Street, and you've got a run-down community on the next block," Murray said.
Still others are concerned that the glitz (and higher rents) of "gentrification" may force long-time residents out.
Franklin said any concerns about gentrification of the neighborhood are overblown, though, and he outlined a plan to turn over building ownership to some long-standing businesses along the street.
"Within five to 10 years, we're going to turn over ownership to the people who own businesses on this street, including Peaches restaurant," Franklin said. "Peaches has been here for 48 years and has never owned its building. That is a travesty. ... Nobody's going to be displaced, gentrified, nothing's going to be moved. Nobody's going to be eminent domained."
He added that Watkins Partners is "in talks with the city" to lock down zoning requirements for the Farish district in the name of preservation: "We want to make sure that nothing can be put in that does not jive with the feeling of that street.
Ditching the Car
After the King Edward opens, Watkins will turn his attention to what he calls "little-bitty odds and ends." He wants more restaurants, a wine store, and places to buy groceries and other sundries in the area. Despite their small scale, these businesses would have an outsize impact, moving downtown toward being a fully self-sufficient community.
"I don't think we have enough people downtown yet to support a full-fledged Walgreen's-type operation," Watkins said.
Instead, Watkins hopes to attract a New York-style corner store that could offer a meat counter and limited produce, along with a farmer's market selling primarily organic produce to residents and downtown restaurants.
With the addition of such services, downtown becomes a place where people can live without relying on a car. And a truly walkable downtown will entice the coveted "creative class." These are the young, open-minded professionals that popular sociologist and economist Richard Florida credits with powering the economies of successful cities.
Matthew Brantley, a freelance photographer living in Fondren, is in many ways the embodiment of the creative class. Brantley, 28, moved back to Jackson in April after spending the four years in Chicago. Cheap rent and a break from big-city life drew him back, he says. What could keep him here, though, is a thriving downtown.
"It would be great if you could live downtown with all the amenities, and not have to get in your car," he said. "I'm thinking grocery stores, drugstores, businesses that stay open a little later that aren't bars and clubs."
Young creative types like Brantley can provide the economic fuel for a city's nightlife scene, but sooner or later, they need to buy milk and cereal just like everyone else. Brantley's attraction to a vibrant, pedestrian-friendly city center is typical of the creative class in Jackson, just as in other parts of the country. When Leigh Pourciau moved to Jackson from Columbus, Miss., in September 2008, she expected to live here for only a year before heading to New Orleans.
"Jackson was just supposed to be a pit stop for me," Pourciau, 23, said. Instead, she stuck around and just started his first year as a middle-school teacher in Madison.
Along with her friends, part of what has kept her here is her Congress Street neighborhood. "It's like a microcosm of Jackson," Pourciau said.
With the 930 Blues Café, the Eudora Welty Commons, the Mississippi ACLU headquarters and Two Sisters Kitchen all within walking distance, Pourciau's neighborhood is a classic example of "mixed use."
Recalling other southern cities with vibrant downtowns, Pourciau says she would like to see developers give more thought to pedestrian access.
"I think that's the only way that you can bring a positive population into downtown," Pourciau said.
Like many other young Jacksonians, Pourciau mourns the lack of green space downtown. Ira Murray remembers heading after work to the grassy area at the corner of Lamar and Capitol streets, which Parkway Properties transformed into the Pinnacle Building in 2007.
"It really hurt me," he said. "I understand why they did it, but I used to love that green space. That was pretty much the only place in downtown you could just go and hang out on the lawn."
Jackson native Andy Hilton, 30, makes custom concrete countertops and is an outdoor enthusiast, having explored much of the city by bike while he was growing up. "If you look at an aerial shot of Jackson, you'll see that a good a bit of it is wooded, but there's no access to that," Hilton said. "Our whole east border is nothing but really healthy forests, beautiful sandbars and cool swamps and stuff, but besides Lefleur's Bluff (State Park), I can't think of single legal place to get to it."
Hilton notes that the city's abandoned railroad lines would make natural right-of-ways to transform into a network of trails.
"People move into the suburbs for a reason," Hilton added. "They like to have a yard. And if people are going to live in the condominiums and apartments, they have to have something to replace that yard."
All Mixed Up
It may seem like common sense to locate retail and residential developments within walking distance of each other, but city leaders have only recently made a conscious effort to embrace the practice.
The city's comprehensive plan, which the City Council adopted five years ago, sought out mixed-use development as an ideal for future land use, a far cry from the car-dependent development along major arteries that ruled for the past couple of decades. The textbook example of mixed-use is Fondren, where a range of retail outlets, from necessities like a grocery store to clothing and art, are clustered within walking distance of each other, business offices and residential neighborhoods.
While downtown's nighttime entertainment options are growing, many young professionals still think that downtown can't match Fondren's retail attractions.
"When people think of shopping, they don't think of downtown," Belhaven resident Rachel Hicks says. "You have to have retail in a downtown area in order to draw people who don't necessarily live or work downtown."
Shopping malls are still young Jacksonians' first recourse for retail, Hicks, 26, acknowledges. With the Metrocenter Mall fallen on hard times, young professionals looking to shop are increasingly drawn past the Jackson city limits to shopping areas. But Hicks and her peers are ready to spend money downtown, if given the opportunity.
Over the 11 years Kass Welchlin has lived in West Jackson, he has watched Metrocenter Mall's slow decline with sadness. The mall's struggles have intensified even as the neighborhoods around Jackson State University show signs of renewal. The prospect of smaller local businesses opening downtown has him excited, though.
"I worry sometimes about losing Metrocenter, but if I had my choice, I'd definitely take downtown," Welchlin, 32, said. "I'd rather have a smaller amount of retail downtown than a big mall over here."
Welchlin shouldn't have to choose, though, according to Corinne Fox, the city's interim director of planning and development. The city's comprehensive plan calls for the development of "mixed-use nodes of activity" around existing commercial centers.
"I think we could look more strongly at other areas of the city—around the Medical Mall area, around Metrocenter—places like that that have the potential for mixed-use development," Fox told the Jackson Free Press.
Fox has worked in conjunction with former planning and development head Carl Allen and MPI Center LLC, in Starkville, for the development of a mixed-use neighborhood near the Jackson Medical Mall. The project, called Livingston Village, is on hold until further notice due to financing issues following national market troubles.
Spreading It Out
The city's concern for development outside downtown is welcome news to Ira Murray. "I've been in cities where it's moved a little faster," he said. He lived in North Jackson until this spring, when he moved to Ridgeland, where his fiancee already owned a house. Still, Murray is bothered by the lack of geographic diversity in the city's development, especially in terms of entertainment and retail options for young professionals.
"In Jackson, it seems like everything's concentrated in the Fondren area or within a two-mile radius of downtown," he said. "It seems like other parts of the city don't really get as much attention. The Highway 80 corridor should have been more of a priority over the time I've been here than it has been, because it's already got a strong infrastructure."
Highway 80, which once served as a major entrance to the city and boasted a bustling commercial strip, is now an eyesore and source of worry for South Jackson residents. Mayor Harvey Johnson Jr. has commissioned a year-long study of the area, which, he emphasizes, will prescribe specific strategies for revitalizing the area.
"I think downtown is moving at a pretty good clip," Johnson told the Jackson Free Press, "but we also have areas that have been a challenge to us in the past. We need to look outside of downtown next, at corridors."
Progress is visible on some corridors. West Jackson, which saw the beginnings of redevelopment with the Metro Parkway, will gain another project soon with the groundbreaking of a four-story mixed-use building adjacent to the Jackson State campus.
The $14 million project is financed through the New Market Tax Credit program, using a $9 million loan from Trustmark Bank. The building's 20,000 square-foot first floor will be dedicated to retail, while the top three floors will house 80 apartments, primarily for JSU's graduate and married students.
The building, which is still on the drawing board, was proposed by the Jackson State University Development Foundation Project. The structure has no name yet, but is slated by planners to sit directly across from the new Student Center, near Lynch Street.
JSU's Development Foundation is also close to securing funding for a mixed-income development between Lynch and Olin streets and the Metro Parkway, said Vice President for Finance and Operations Troy Stovall. Part of the University Place development, the site will contain 40 homes that, thanks to New Market Tax Credits, the Foundation will be available to people making $25,000 per year.
The university's development efforts attracted vocal opposition in 2007, when JSU lobbied state legislators for a bill allowing it to "quick take" adjacent property through eminent domain, causing loud community outcry against the plan. Stovall says that he has learned from that mistake.
"You don't want to get in front of that train again," Stovall said.
On a far more massive scale and longer timetable, Ted Duckworth of Duckworth Realty is negotiating with Secretary of State Delbert Hosemann to lease a 21-acre property on the site of the old Mississippi School for the Blind—a project Downtown Jackson Partners President Ben Allen says is "moving forward." The mixed-use project, to be called the District at Eastover, would feature 200,000 square feet of retail space, including a movie theater, a 30-room hotel, 400,000 square feet of residential space and 320,000 square feet of office space. Duckworth estimates the project's cost at $150 million and a possible completion date in early 2012.
Sharing The Wealth
Jackson's revitalization is not only lacking in geographic diversity, however. Murray also worries that development is still primarily a closed game in the city. He remembers listening to a major developer in the area speak at a young professionals luncheon three years ago. Murray asked the presenter for advice on starting a business downtown. "His suggestion for me was to just start something on the outskirts of downtown," Murray said. "Don't try to start anything downtown. It's like, I guess you're telling me I'm not in the club; I'm not invited to the party. It just seems like it's so centralized in the hands of a few folks."
Even though a stroll through downtown reveals many seemingly empty spaces, John Gomez, associate director of Downtown Jackson Partners, says only an average of 10 percent of business space downtown is actually available for rent or sale, though new space is opening in the Regions Building over the next few months.
"Space runs about $18 per square foot in the central business district, whereas Highland colony runs $19, Lakeland Drive is $17, while space along Interstate 55 is also just a little more than us," Gomez said, adding that the next few months is the time to try to work out a deal. "In six months, we'll have some office space opening up. We've got two firms moving out, so the owners are having to back-fill that space. There are some storefronts available, but that will take some commitment with landlords."
City incentives for moving in are limited, Gomez said, but argues that a spot in a downtown office offers incentives all its own: "There are some city incentives like typical tax abatements and TIF money for some businesses, as well as some block grants for new businesses setting up shop, but the downtown area has no specific incentives like other cities have. I wish we had. But what we do have is a central location. You can get anywhere you need to in Jackson within 10 minutes, and you can either get lunch without having to get out of your car or walk to a host of incredible restaurants.
In some cases, though, developers appear to be addressing Murray's frustration and looking to empower a newer, more diverse business class in the city. The Farish Street Group, which includes Watkins Partners, plans to divest its stake in the entertainment district after roughly 10 years, turning ownership over to the operators of the street's clubs and restaurants. David Watkins estimates that it will take roughly a decade for Farish Street businesses to establish themselves and for the district to stabilize.
"Certainly, it would be in our best interest financially to hold on to this as long as we can," Watkins said.
Nevertheless, he hopes to hand over ownership to build a more resilient network of owners with ties to the community.
"We're trying to leverage this opportunity so that we can create some more wealth in younger folks, and more African American wealth, particularly," Watkins said.
"One company owning 15 or 20 restaurants on the street—that to me does not represent the best long-term business strategy that we ought to have for a healthy viable district. I would rather have 20 or 30 families own all the local restaurants on the street."
"I want to just be sitting back, watching younger folks do this," Watkins added.
In Fondren, developer Mike Peters has had success nurturing young business owners in his mixed-use Fondren Corner Building, despite feeling somewhat out of touch.
"I'm not this young, hip guy. I've had to learn that they do things differently. Sometimes stuff that might bother me, I have to turn my back and let it go," Peters said.
Peters attracted artists and designers to Fondren Corner with low rents and shorter-term leases, knowing that not all of his tenants would succeed.
"As they grow, we give them a place to grow and breathe and build themselves into what they want to be," Peters said. "I hope that people understand that if they're successful, they're going to grow into bigger homegrown businesses. You're almost developing feeder tenants for you in the future."
Artist Josh Hailey, owner of Josh Hailey Studios in Fondren, said he had no fear of prices creeping out of his range of affordability.
"I wouldn't say I'm worried about it at this point," Hailey said. "There will always be low-rent options in Fondren. At least there'd damn well better be. If they throw the artists out, the place is going to suck."
It's The Kids, Stupid
When creative young professionals turn to procreation, like all parents, their priorities change. While they still cherish an urban, walkable environment, quality public schools often vault to the head of their must-have list.
Rachel Hicks is committed to Jackson. In October 2008, she founded a public policy organization, Mississippi First, and the organization's advocacy work on behalf of public schools at the state Capitol will keep her in the city for the foreseeable future.
Hicks calls herself "determined" to place any children she may have in Jackson Public Schools. But Hicks also realizes that not every prospective parent will share her allegiance to the public school system, or her confidence in her neighborhood schools.
In Jackson, "the people you see who live (downtown) tend to be young professionals, singles, who don't have kids, who have expendable income and can take some risks with where they live and be on that edge of development," Hicks said. "But when you really come to a developed city, you have people with families who live downtown."
For Kass Welchlin, the cost of private education for his two children looms in the future. "As a family, one of our biggest issues is having a Montessori program that goes K-12," Welchlin said. "That's the only thing in Jackson I feel confident leaving my children in. I'm going private once the Montessori program's done."
Jackson has Montessori programs at two JPS elementary schools, McWillie and Van Winkle.
Welchlin is frustrated, too, by the dearth of inviting park space in his neighborhood. Poindexter Park is close but so inundated with homeless people that he feels unsafe taking his children there.
Leigh Pourciau shares Welchlin's trepidation. While she loves her neighborhood and others in the city, she worries about the quality of the education her children would receive in Jackson's public schools.
"I'm not willing to put them there," she said. "Honestly, that's what keeps me from committing to be here long term, from buying a house and all that," she said.
What About Culture?
The fast pace of residential and hotel development downtown has some young Jacksonians feeling like the city is leaving other sectors behind, most notably the arts and culture. Downtown boosters suffered a major loss in 2008 when a commission awarded a planned Mississippi Civil Rights Museum to Tougaloo College over a downtown site.
For Welchlin the loss of such a powerful cultural attraction was inexcusable.
"I think the city's planners really dropped the ball," Welchlin said. Meantime, the funding for the museum at Tougaloo is lagging, leaving the question open of whether it will actually happen there.
Jackson native Lorenzo Gayden, 35, opened Sanaa Gallery, which specializes in African American art, last year as a conscious effort to add diversity to the city's art scene. He argues that the arts have not figured prominently enough in development across the city.
"If you're trying to attract people that are going to expand your tax base, you've got to have a long-term vision that includes a serious focus on the arts," Gayden said.
Failing to accommodate cultural activities in downtown could cripple the city, says architect Roy Decker. Decker's firm, Duvall Decker, is helping the Greater Jackson Arts Council with its plans for an Arts Center of Mississippi in downtown Jackson that would expand the site of the old Mississippi Museum of Art building, which the Arts Council is now managing on behalf of the city. The project, as envisioned, would bring in both market-rate housing to the building, as well as create space for artists and arts organizations.
This focus on the arts downtown is vital to the success of the city's Renaissance, Decker argues. "We did a market study of cities that are known as having succeeded as Renaissance cities," Decker told BOOM Jackson, a business magazine published by the Jackson Free Press. "All of them that are successful have at least 2 percent of their downtown uses devoted to cultural, arts or education uses. All of them that are starving, that have no interest downtown, have less than 1 percent."
Jackson is currently only at 0.8 percent, Decker noted. "We've not invested enough in our cultural identity and our cultural heritage, our cultural capital, to draw people to see who we are," Decker said.
Former Council President Leslie McLemore argued that the city had incredible potential regarding its cultural heritage. He said the city's vibrant history could easily be capitalized on by any willing developer. Developers, like Duckworth, are already moving along those lines. Duckworth is working to transform the old downtown library—the site of a Civil Rights sit-in—into a combination of business suites and condominiums that comes with a dash of history.
"This city enjoys a huge cultural advantage over other cities in this state," McLemore told the Jackson Free Press earlier this year. "This is the place where history was made. This is the place where the (Civil Rights) Movement moved. There is incredible potential here for growth. And at this point, it's all just a matter of organization and cooperation."
Additional reporting by Adam Lynch.
Entergy continuing move to Jackson
Dish with Fran Howze
More stories by this author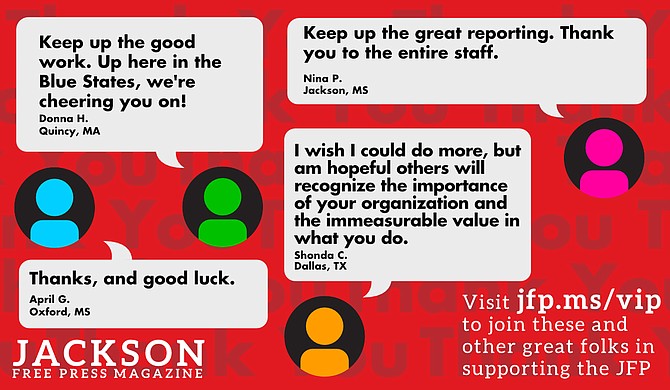 Thanks to all our new JFP VIPs!
COVID-19 has closed down the main sources of the JFP's revenue -- concerts, festivals, fundraisers, restaurants and bars. If everyone reading this article gives $5 or more, we should be able to continue publishing through the crisis. Please pay what you can to keep us reporting and publishing.