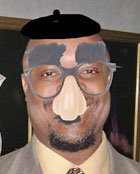 Brett Starrchild: "It's the final round of Ghetto Science Television's new game show 'Living on a Promise.' In the first and second rounds, celebrity judge Nurse Tootie McBride asked three contestants (Miss Wanda, Philmo Jones and Lil' Tiny Bit) some general questions.
"In this final round, a representative of the celebrity panel will ask each contestant a question to determine who is living on a promise. The winning contestant will win a hot bowl of qweemy, Queem-O-Wheat and a Bubba Robinski Soy Protein Sausage Biscuit, courtesy of the Queem-O-Wheat Senior Citizens Foundation and Bubba's Kids Foundation."
(Nurse Tootie has been chosen to ask the questions.)
Nurse Tootie McBride: "Brett, if you don't mind, I want Miss Wanda, Philmo and Lil' Tiny Bit to answer this thought-provoking question."
Brett Starrchild: "OK."
Nurse Tootie: "Contestants, it's time to vote for a new president. When you go to the polls to cast your vote, and practice your right full of hope, will you have any confidence that the person you elect will end an eight-year era of price-gouging, home foreclosures, health-care issues, etc.?"
Miss Wanda (humbly): "I don't know. I pray everything will be all right."
Philmo Jones (sobbing): "I just want my corporate job back, that's all!"
Lil' Tiny Bit (enthusiastically): "Yeeeeeeeah! OK!"
Nurse Tootie: "Brett, I think all three should win a qweemy bowl of Queem-O-Wheat and a sausage biscuit, because they are living on a promise!"
More stories by this author
Support our reporting -- Follow the MFP.