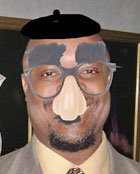 Mr. Announcement: "Ghetto Science Television presents the final episode of the short-lived reality series 'Kunta the Unruly Y'all Mart Employee.'
"During the past 12 weeks, viewers have witnessed the struggle of a financially challenged employee who hates his job. A Y'all Mart store manager has decided to terminate Kunta. An employee termination proceeding and exit interview are now in progress."
Store Manager: "Mr. Kunta, according to our records, you showed great promise as a Y'all Mart associate. Over the past year, your performance and productivity have dropped drastically. Your file is like a 250-page biography, filled with write-ups, action notices, letters of complaint, etc. What do you have to say for yourself?"
Kunta: "I remember when I lost my mind. There was something familiar about that place. It was the time my wife was really sick, and I needed to leave work to take care of her. The shift manager wrote me up for insubordination. Then he asked me, 'You would forsake your job for your wife?'
"That's when I went craaaaaazy! I gave that shift manager a good beat down with a marked down store item and left the store. Therefore, I believe the shift manager's moment of insensitivity—plus other petty write-ups for being 30 seconds late—triggered changes in my behavior."
Mr. Announcement: "Two weeks later, a CEO from the corporate office asked the store manager about forsaking his job for his family. One can only guess what happened.
More stories by this author
Support our reporting -- Follow the MFP.