For information on how to protect your vote, please visit Jackpedia.com.
In a recent Army Times poll of active-duty National Guard and reserve personnel, Republican presidential contender John McCain outpaced Democrat Barack Obama nearly three to one, with McCain garnering 68 percent of the respondents, while 23 percent said they would vote for Obama. The only clear exception to the overall Army Times poll numbers was African American soldiers, who supported Obama by 79 percent, with 12 percent for McCain.
It's a familiar refrain: Soldiers respect McCain's family tradition of military service—his father and grandfather were four-star Navy admirals—his own time in uniform as a navy flier, and his five and a half years as a prisoner of war in Vietnam.
"I was never shot down in a plane, but I can get his story," Vietnam veteran Tom Clark told the San Jose Mercury News at a McCain rally in early October. "He's a man like me. There are similarities."
During the first presidential debate in Oxford, McCain talked about his support for veterans through clenched teeth.
"I know the veterans," McCain said. "I know them well. And I know that they know that I'll take care of them. And I've been proud of their support and their recognition of my service to the veterans. And I love them. And I'll take care of them. And they know that I'll take care of them. And that's going to be my job."
McCain's indignation rose when Obama disagreed with him on the issues of the military and veterans' affairs within the context of the economy.
"There has never been a country on Earth that saw its economy decline and yet maintained its military superiority," Obama said. "So this is a national security issue. We haven't adequately funded veterans' care. I sit on the Veterans Affairs Committee, and … I meet veterans all across the country who are trying to figure out, 'How can I get disability payments? I've got post-traumatic stress disorder, and yet I can't get treatment.Ҕ
On the Record
Active duty personnel serving overseas seem to agree that McCain isn't their guy, donating to the Obama campaign six to one over a hawkish McCain regardless of what the Army Times poll indicates. And, despite his status as a veteran, McCain consistently gets a grade of "needs improvementԗat best—from veterans groups.
The non-profit, non-partisan Iraq and Afghanistan Veterans of America Action Fund put McCain on their short Senate "D" list for the 110th Congress—one of only four senators ranked with a D or an F.
In contrast to McCain's "D," the IAVA gave both Sens. Barack Obama and Joe Biden a "B" for their voting records, while giving the 110th Congress an overall A+.
Of the candidates who are members of the 110th Congress, only McCain did not co-sponsor post-Sept. 11 veterans' legislation. He was also absent from six of the nine key bills identified by IAVA, which partially accounts for his low ranking for the session. However, his record on votes supporting veterans in the 110th Congress is consistent with his overall record; in the 109th Congress, the Disabled American Veterans gave McCain a score of only 20 percent, while giving Biden a score of 75 percent and Obama 80 percent.
The DAV, the Veterans of Foreign Wars, the Paralyzed Veterans of America and the Vietnam Veterans of America (all non-profit and non-partisan organizations) use a ranking system that looks at each piece of congressional legislation related to veterans' issues and provides a "voted with us/voted against us/not scored" format for each congressional member throughout his or her career, through 2004.
Democratic vice-presidential nominee Sen. Joe Biden has overwhelmingly voted with veterans, supporting their initiatives 97 percent, for 29 out of 30 bills; Obama, with a shorter career, voted with vets in 94 percent of his votes, 17 out of 18 times. In contrast, McCain supported roughly 40 percent of veterans' initiatives, voting with veterans groups only 11 out of 27 times. Most of the bills called for increased funding for veteran's health care programs.
Veterans' issues center on several broad categories, and become more specific based on the conflict of the advocacy group. Health care looms large for most vets, and includes funding of military and Veterans' Administration hospitals, mental health initiatives (such as post-traumatic stress testing and treatment) and care for homeless veterans.
More Survivors, Different Needs
Advances in medical care and armaments have resulted in far fewer deaths during the current conflicts than in previous wars, but doctors are seeing more wounded soldiers coming home with more serious wounds than in the past. While the total killed as of Oct. 4 in Iraq is 4,169 American soldiers, the total wounded in action is 30,702, with another 34,426 soldiers suffering from "non-hostile" wounds or disease. Afghanistan adds another 622 dead to the tally, bringing total American casualties in the two wars into the 70,000 range.
For fiscal years 2007 and 2008, Congress passed two budget increases for veterans' health care totaling $10.3 billion. For 2008, the bill included $2.9 billion for mental health and $130 million for homeless vouchers. All the candidates supported the budget increases.
In March 2007, Biden introduced an amendment supplementing war funding by $1.5 billion for 2,500 Mine Resistant Ambush Protected vehicles, in response to an ongoing threat to active-duty personnel from improvised roadside bombs. The amendment passed the Senate unanimously, and again, all of the candidates supported it.
Regarding veterans' benefits, the 110th Congress focused mainly on tuition for college educations, apprenticeships and on-the-job training programs, and extended medical benefits. After three votes, the Senate passed a new Fair Education for Veterans bill on June 26 with a 92-6 majority, with even the majority of Senate Republicans voting in opposition to President Bush, who did not support it. The bill offers new veterans the same kind of educational opportunities provided to World War II vets, increasing tuition payments, scholarship matching, living allowances and providing a book stipend.
Obama and Biden were two of several co-sponsors of the Fair Education bill. McCain was absent for all three votes.
Too Generous?
"I respect Senator John McCain's service to our country," Obama said on the Senate floor in May before the final vote for the Fair Education bill. "But I can't understand why he would line up behind the president in opposition to this G.I. Bill. I can't believe why he believes it is too generous to our veterans."
McCain shot back from the campaign trail, chiding Obama—who chose to sit on the Senate Veterans' Affairs Committee, while McCain has never served on it—for his lack of military service.
"I take a backseat to no one in my affection, respect and devotion to veterans," McCain said in a statement. "And I will not accept from Senator Obama, who did not feel it was his responsibility to serve our country in uniform, any lectures on my regard for those who did."
But McCain's poor voting record on veterans' issues does not support his claim of "devotion." Regardless, the McCain-Palin Web site declares: "John McCain has always been a leader on veteran's issues, and Congress has often looked to him, particularly during times of conflict and war." The site goes on a great length about how McCain has supported veterans in the past, mostly in such vague, conflated terms that make checking his claims against his 26-year Senate career arduous, if not impossible. Statements such as this fill the page on veterans issues: "John McCain has voted consistently to increase funding for veterans' benefits, recognizing that the people who serve our country should get priority over the disgraceful amounts of spending on corporate subsidies and wasteful pork barrel spending."
In contrast, the Obama-Biden site outlines specific problems—health care, budget shortfalls, bureaucratic red tape, and the lack of PTSD care—and then details solutions. Obama promises to fully fund the Veterans Administration, for example, and expand the number of claim workers. He also promises to recruit more mental health professionals, and establish standards of care for traumatic brain injuries.
How Vets See McCain
Certainly, not all veterans stand foursquare behind the Republican candidate; veterans (as opposed to those on active duty) consistently poll in favor of Obama.
In October, retired general and former Secretary of State Colin Powell gave his endorsement to Obama, stating, "I strongly believe that at this point in America's history we need a president that will not just continue—even with a new face and with some changes and with some maverick aspects—will not just continue basically the policies that we have been following in recent years."
Powell said he believes Obama would be better able to repair international relations with American allies that have suffered under the Bush administration, and criticized the Republican Party—his own party—for their focus on "irrelevant" personal attacks over the issues.
Carl R. Morrow, a Vietnam veteran and winner of the Silver Star, two Bronze Stars and a Purple Heart lent his personal experience with McCain to the public.
"Since 1973 I've followed John McCain's career," Morrow wrote on the Vet Voice Internet blog on Oct. 22. Vet Voice is a project of the non-partisan, non-profit VoteVets.org, which works to put veterans into office and advocates for veterans on Capitol Hill. "I was in D.C. advocating for POW/MIA families when McCain, on the Senate Select Committee for POWs, virtually single-handedly sealed the records on still-unaccounted-for missing soldiers. It was devastating. … such a slap in the face from someone that we should have been able to trust— I just lost heart."
"[M]y questions for Sen. McCain—Lt. McCain, POW—how can he not have used his tremendous influence better, to help fellow servicepeople [sic]?" Morrow added. "How can he question the patriotism of Barack Obama, who's been so much more supportive of both veterans and active duty soldiers? McCain's worked instead for corporate friends. Whatever respect he earned as a POW, and because of it, this is hypocritical and dishonorable. The American people deserve to know, instead of believing the image he projects and the accusations he makes. They need to know before they give him authority to send more of their sons and daughters into war.
More like this story
More stories by this author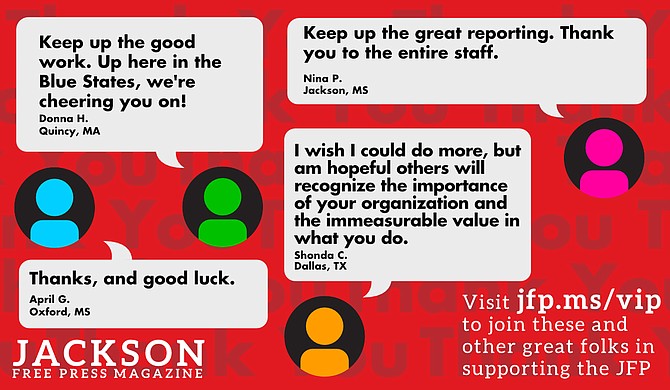 Thanks to all our new JFP VIPs!
COVID-19 has closed down the main sources of the JFP's revenue -- concerts, festivals, fundraisers, restaurants and bars. If everyone reading this article gives $5 or more, we should be able to continue publishing through the crisis. Please pay what you can to keep us reporting and publishing.