I don't want to say "I told you so," but Sarah Palin had drama queen—or small-town "diva"—written all over her since the day she was appointed. (The tanning bed in the governor's mansion was a very good clue.) But don't listen to me: Listen to John McCain's campaign staff, who are accusing her of being a "diva" and "going rogue" on the campaign. CNN is reporting:
With 10 days until Election Day, long-brewing tensions between GOP vice presidential candidate Gov. Sarah Palin and key aides to Sen. John McCain have become so intense, they are spilling out in public, sources say. Several McCain advisers have suggested to CNN that they have become increasingly frustrated with what one aide described as Palin "going rogue."
A Palin associate, however, said the candidate is simply trying to "bust free" of what she believes was a damaging and mismanaged roll-out.
McCain sources say Palin has gone off-message several times, and they privately wonder whether the incidents were deliberate. They cited an instance in which she labeled robocalls -- recorded messages often used to attack a candidate's opponent -- "irritating" even as the campaign defended their use. Also, they pointed to her telling reporters she disagreed with the campaign's decision to pull out of Michigan.
A second McCain source says she appears to be looking out for herself more than the McCain campaign.
"She is a diva. She takes no advice from anyone," said this McCain adviser. "She does not have any relationships of trust with any of us, her family or anyone else. "Also, she is playing for her own future and sees herself as the next leader of the party. Remember: Divas trust only unto themselves, as they see themselves as the beginning and end of all wisdom." [...]
But two sources, one Palin associate and one McCain adviser, defended the decision to keep her press interaction limited after she was picked, both saying flatly that she was not ready and that the missteps could have been a lot worse.
They insisted that she needed time to be briefed on national and international issues and on McCain's record.
Schmitt came to the back of the plane Saturday to deliver a statement to traveling reporters: "Unnamed sources with their own agenda will say what they want, but from Gov. Palin down, we have one agenda, and that's to win on Election Day."
Yet another senior McCain adviser lamented the public recriminations.
"This is what happens with a campaign that's behind; it brings out the worst in people, finger-pointing and scapegoating," this senior adviser said.[...]
With the presidential race in its final days and polls suggesting that McCain's chances of pulling out a win are growing slim, Palin may be looking after her own future.
"She's no longer playing for 2008; she's playing 2012," Democratic pollster Peter Hart said. "And the difficulty is, when she went on 'Saturday Night Live,' she became a reinforcement of her caricature. She never allowed herself to be vetted, and at the end of the day, voters turned against her both in terms of qualifications and personally."
Ultimately, this is all the best indicator imaginable that McCain is a bad leader and manager; his campaign is coming across at the seams in a public trailer-park drama kind of way. It's a train wreck.
Previous Comments
ID

139721

Comment

Maybe this is the ultimate October surprise? McCain's veep starts working against him in order to build her own future. Remember: If something happens to him, and it may well after all this stress, the "diva" will be president. Meditate on that.

Author

DonnaLadd

Date

2008-10-25T16:03:48-06:00
ID

139723

Comment

It's not even Halloween yet. Palin in 2012? Truly scary stuff there.

Author

tombarnes

Date

2008-10-25T21:32:57-06:00
ID

139725

Comment

She has certainly started looking out for self since it's clear winning the election is an uphill battle. She can probably have a great career as an entertainer of some sorts since she's internationally famous now no matter how the election goes. She clearly have much appeal despite so little of it being in the intellectual arena, but you don't need to be a genius to be famous and rich beyond measure. Fox News would love her too, to as some kind of anchor or host.

Author

Walt

Date

2008-10-26T09:49:32-06:00
ID

139726

Comment

For clarity sake, let me say one time only, that I know Palin isn't a dummy. She wouldn't have gotteen this far if so. Howerver, I personally think we need very smart and responsible people - critical thinkers rather than mere opportunists - holding important jobs like the presidency and vice-presidency. Because of Palin's obvious great appeal, good or bad, I'd probably tune in from time to time to see whatever she does after this run.

Author

Walt

Date

2008-10-26T10:00:05-06:00
ID

139729

Comment

I wonder if Palin will return the favor for McCain in 2012 or will she even remember his name? If I were her though, I would refocus on keeping her governorship in Alaska when this is all over. If she is not re-elected, her political career is pretty much over.

Author

lance

Date

2008-10-26T13:13:04-06:00
ID

139739

Comment

I think Palin is smart, attractive and tough, and as Governor of Alaska she is *qualified* to be VPOTUS. But she's also remarkably unfit to lead our great nation (or be a heartbeat away from the POTUS) given her tendency to be intellectually lazy (like G. W. Bush) made worse by her appeals to emotion and bigotry over reason to gain favor with the conservative base. This is my only real criticism of her.

Author

Jeff Lucas

Date

2008-10-27T06:59:03-06:00
ID

139740

Comment

I can't buy the smart part since I'm yet to see any evidence of that. A truly smart person would have done so many things in so many different ways no matter the advice given. She might be lazy as well though. Entertainment is where she belongs.

Author

Walt

Date

2008-10-27T07:40:58-06:00
ID

139743

Comment

Speaking of divas, I finally saw a live interview of the black female who beat Palin. She had a very pleasing personality and face. If the rest of her was anything like I saw then I see why she won. I kept hoping she would stand up or walk away so as to be able to better appraise her talents and intellect for Miss. Alaska.

Author

Walt

Date

2008-10-27T08:53:55-06:00
ID

139744

Comment

Jeff, you're contradicting yourself. First you say Palin's "qualified to be" v.p., then in the next breath you say she's "unfit" to be president or to be a heartbeat way from the presidency. You can't have it both ways. The main purpose for the v.p. slot (other than acting as the Senate tie-breaker) is to step in as president if necessary. If Palin is unfit to be president, she's unfit to be vice president. Your criticisms (intellectual laziness and appeals to hatred and fear) say a mouthful.

Author

Ronni_Mott

Date

2008-10-27T08:57:30-06:00
ID

139745

Comment

No, I'm not contradicting myself. She is Constitutionally *qualified* by age and citizenship. Being a state governor is a plus. She is *unfit* IMO by her poor grasp of issues and the other criticisms previously stated. But that is subjective.

Author

Jeff Lucas

Date

2008-10-27T09:18:12-06:00
ID

139748

Comment

I can't buy the smart part since I'm yet to see any evidence of that. A truly smart person would have done so many things in so many different ways no matter the advice given. I guess I was giving her credit for having managed to be elected to 2 offices. Then again, I know a couple of entrenched politicians who I think are complete dumbasses despite a college education so that may not be saying much. Perhaps I should have said 'ambitious' rather than 'smart'.

Author

Jeff Lucas

Date

2008-10-27T09:39:02-06:00
ID

139749

Comment

Jeff, OK, I get your drift. I took "qualified" as a pretty strong endorsement, because it implies that a person has some type of necessary expertise. For the sake of clarity, consider saying she's eligible to run (e.g., I'm eligible to run a marathon but hardly qualified).

Author

Ronni_Mott

Date

2008-10-27T09:54:11-06:00
ID

139752

Comment

Both Y'all is so smart. Mott wins, however. Down goes Lucas! Down goes Lucas! LOL.

Author

Walt

Date

2008-10-27T10:07:56-06:00
ID

139771

Comment

Ann Telnaes is nailin' Palin in her cartoons-with-audio: See today's about the sign sabotage.

Author

DonnaLadd

Date

2008-10-27T12:38:37-06:00
ID

139779

Comment

Palin and the Republicans are fighting like cats and dogs over Fashion-Gate and about everything else, it seems. She says they're not her clothes—uh, but she took the gift, didn't she? And she's going to have to pay hefty taxes on them their pricey rags. CNN reports on the idiocy: Ensuring that news of the Republican National Committee's sartorial spending spree will remain in the headlines for at least one more news cycle, Sarah Palin on Sunday sounded off on the $150,000 wardrobe that was purchased for her in September, denouncing the report as "ridiculous" and declaring emphatically: "Those clothes, they are not my property." A senior adviser to John McCain told CNN's Dana Bash that the comments about her wardrobe "were not the remarks we sent to her plane this morning." Palin did not discuss the wardrobe story at her rally in Kissimmee later in the day. [...] "Those clothes, they are not my property. Just like the lighting and the staging and everything else that the RNC purchased, I'm not taking them with me. I am back to wearing my own clothes from my favorite consignment shop in Anchorage, Alaska. You'd think — not that I would even have to address the issue because, as Elisabeth is suggesting, the double standard here it's — gosh, we don't even want to waste our time." Seems Mitt Romney's people are behind some of the "diva" leaks: ROMNEY ANTI-PALIN Former Mitt Romney presidential campaign staffers, some of whom are currently working for Sen. John McCain and Gov. Sarah Palin's bid for the White House, have been involved in spreading anti-Palin spin to reporters, seeking to diminish her standing after the election. "Sarah Palin is a lightweight, she won't be the first, not even the third, person people will think of when it comes to 2012," says one former Romney aide, now working for McCain-Palin. "The only serious candidate ready to challenge to lead the Republican Party is Mitt Romney. He's in charge on November 5th." [...] Some former Romney aides were behind the recent leaks to media, including CNN, that Governor Sarah Palin was a "diva" and was going off message intentionally. The former and current Romney supporters further are pushing Romney supporters for key Republican jobs, including head of the Republican National Committee.

Author

DonnaLadd

Date

2008-10-27T12:57:10-06:00
ID

139858

Comment

This dogfight gets worse by the day: Palin keeps bringing Fashion-Gate up, ensuring that it stays atop the news cycle. And then there's this, per Politico: Palin backers' counterattack on John MCCain's staff over Sarah Palin's wardrobe flap continues, as Weekly Standard executive editor Fred Barnes, echoing Bill Kristol, demanded today that a McCain staffer step up and take blame for buying Palin the expensive clothes. He blamed a specific, female staffer for the mess. "The person who went and bought hte clothes and, as I understand it put the clothes on her credit card, went to Saks and Neiman Marcus...the staffer who did that has been a coward," he said, for failing to take responsibility for the distraction, and alllowing Palin to take the hit. He then said was talking about McCain advisor Nicolle Wallace, who has been a focus of Palin's admirers' ire. Wallace fired back in an email to me that Barnes is "incorrect" that she charged the clothes to her card, and "incorrect that I went to any stores." I'm sure no political operative, but I'm pretty confident that petty internal squabbles are not the way to win a political race. Where I'm from, this is plain ole trailer-park drama. It's clear why Obama has a "no drama" rule, eh?

Author

DonnaLadd

Date

2008-10-27T21:17:57-06:00
ID

139859

Comment

ABC's Nightline tonight (in a few minutes): The McCain campaign is definitely demoralized right now. The blame game has begun. George Stephanopoulos discusses the closing days of the election. There is no question that there is a rift between Sarah Palin's camp and that of John McCain inside the Republican campaign, sources tell ABC News. Watch George Stephanopoulos on "Nightline" tonight at 11:35 p.m. ET on ABC And you are seeing people within the McCain campaign starting to look to the future. Not only Palin, but many of the McCain staffers, as well, are circulating their resumes and pointing the finger. Whenever people in the campaign are starting to worry more about their own reputations rather than whether they're going to win in seven days, there is a significant problem.

Author

DonnaLadd

Date

2008-10-27T21:29:27-06:00
ID

139861

Comment

The McCain campaign is blaming the RNC, and—you guessed it—the RNC is blaming the McCain campaign. Per Politico: RNC Chairman Mike Duncan throws back the blame for Sarah Palin's wardrobe by telling MSNBC that the McCain campaign asked for the RNC to pay for the clothes, and it came as part of the coordinated campaign. This comes after a McCain advisor had said that it was entirely the RNC's call to purchase the clothes (at around the 2:45 mark), and Palin blamed it on party bureaucracy. What. Ever. All y'all screwed up. The RNC paid for the clothes. Palin wore them. McCain was too clueless to know what was going on in his administration, er, campaign. We got it.

Author

DonnaLadd

Date

2008-10-27T21:47:39-06:00
ID

139863

Comment

McClatchy on just how much Sarah Palin is dragging down John McCain's chances: Sarah Palin has become a drag on the Republican presidential ticket, the first time in recent political history that a running mate has made such a difference. Among many independents and moderate Republicans, she's raised serious questions about John McCain's judgment, become too much of a national punch line and reinforced concerns about McCain's age and health. "Nice lady, no experience. It's so sad. She's a gigantic drag," said Chris DePino, a Republican consultant based in New Haven, Conn. The Alaska governor does help the ticket somewhat by energizing hard-core Republicans, but polls suggest that overall "she's hurting John McCain," said Andrew Kohut, the president of the Pew Research Center. In a nationwide survey Oct. 16-19, Pew found that 49 percent of respondents had unfavorable views of Palin, while 44 percent saw her favorably. A month earlier, 54 percent had seen her favorably and 32 percent viewed her negatively. Typically, post-election polls find that vice-presidential choices sway about 1 percent of voters. This time, Kohut said, "we'll get a much bigger number." A key reason is that "the Palin choice reflects poorly on Senator McCain's judgment," said vice presidential expert Joel Goldstein, a professor of law at St. Louis University.

Author

DonnaLadd

Date

2008-10-28T06:10:34-06:00
ID

139868

Comment

I took "qualified" as a pretty strong endorsement, because it implies that a person has some type of necessary expertise. For the sake of clarity, consider saying she's eligible to run (e.g., I'm eligible to run a marathon but hardly qualified). It wasn't a full-throated endorsement of her by any stretch, as there were plenty of much more qualified persons McCain could have chosen. I do think as an elected executive she's minimally qualified to be VP, but I'd probably be praying hard every day for "President McCain" to survive all 4 years.

Author

Jeff Lucas

Date

2008-10-28T09:05:34-06:00
More like this story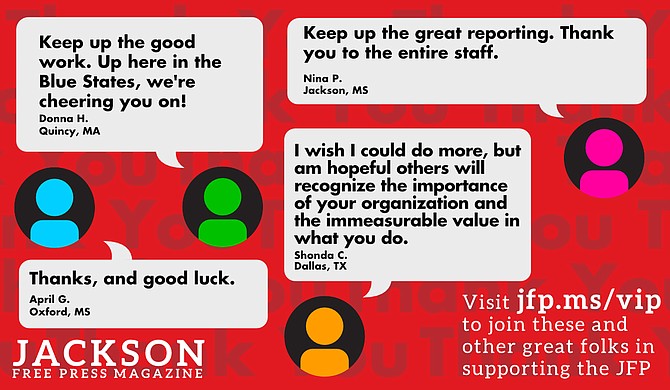 Thanks to all our new JFP VIPs!
COVID-19 has closed down the main sources of the JFP's revenue -- concerts, festivals, fundraisers, restaurants and bars. If everyone reading this article gives $5 or more, we should be able to continue publishing through the crisis. Please pay what you can to keep us reporting and publishing.