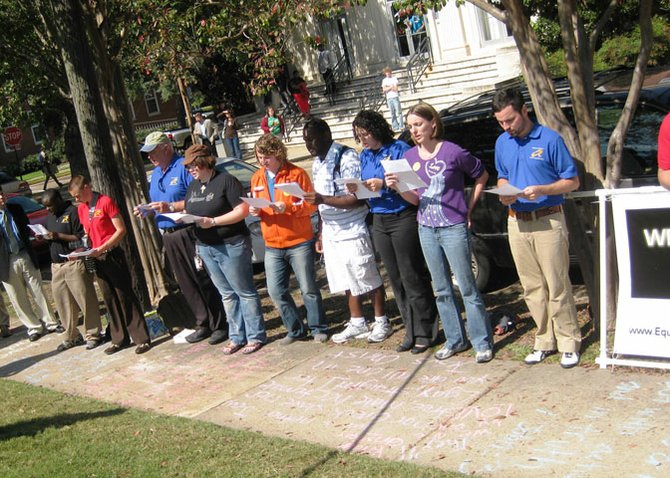 Lined up side-by-side, about 20 people stood on a sidewalk covered in chalk peace signs and messages like "God loves all." In their hands were pieces of paper, from which they read in unison: "I am a current student at Mississippi College, and I live in the closet ...," the group began.
Students, faculty and security scattered across the grassy hill leading to the quad looked down onto College Street as Soulforce equality riders and their supporters read aloud from an anonymous letter.
"Just last week while walking around campus, a group of students started to express their feelings about me behind my back, knowing that I could hear them," the letter read. "One of the students responded, and I quote, 'Man, my gaydar has just skyrocketed. Do you think I should tell this fag that being gay is a sin, and he is going to burn in hell?Ҕ
The letter continued. Students on the hill talked over the voices, but failed to drown out the final sentence: "Stop the hate." The protesters broke their line, and two equality riders joined hands with two MC students. They began their trip up the hill. Asked to step back onto public property—a mere separation of grass and sidewalk—the equality riders declined. They were then detained and subsequently arrested for trespassing.
Some in the crowd applauded.
Soulforce, a non-violent group advocating acceptance of lesbian, gay, bisexual and transgender people in the Christian community, visited Clinton Oct. 19-21. The group was first drawn to MC because of a rule in its student handbook: "Sexual impropriety includes, but is not limited to, participation in or appearance of engaging in premarital sex, extramarital sex or homosexual activities" (p. 61). This year marks the group's second visit to the Southern Baptist-affiliated college.
Zak Rittenhouse, 21, from Ohio and the organizer of this year's stop at MC, originally contacted the school last spring in hopes of putting together a public forum to openly discuss the LGBT community in its relation to Christianity. "They initially wanted no contact with us and said we were essentially not welcome," he said. "The second they heard 'equality ride,' they shut down."
On March 22, 2007, after much resistance from MC, Soulforce riders approached the campus to find armed Clinton police officers up and down College Street. CPD officers arrested five equality riders when they set foot onto campus property.
"We felt like we needed to come back," Rittenhouse said.
However, MC did not agree to allow Soulforce on campus, and informed them that, for the second time, any Soulforce members who crossed campus lines would be met with trespassing tickets, which hold a fine of $250 per person. The school also sent letters to parents of students informing them of the group's presence.
"As a Christian university, we believe in biblical truth. We felt that this group was trying to come onto our campus trying to tell us what we should believe in," said Tracey Harrison, director of public relations at MC. "MC does not allow any group on campus that tries to force their agenda on us. … Their ultimate goal is civil disobedience, and that's what happened today," she said of the two arrests.
Philadelphia, Pa., native Jarrett Lucas, 22, returned to Clinton with Soulforce again this year. When asked about the "agenda" Harrison spoke of, he said: "Our agenda is love, compassion and inclusion. If we come and say, 'Here's what we want to talk about,' and a Christian institution says 'No,' I think that speaks volumes as to where they are in the community. I don't understand that."
Where he stood, the sidewalk was crowded with students and equality riders—marked by Soulforce polos—mingling together, laughter filling the air. In another area, students and equality riders sat Indian-style in a circle, some with their Bibles out, seeming to have a serious conversation.
MarySue Strong, a junior at MC and straight ally, was one of two students who accompanied the two Soulforce members onto campus. During the candlelight vigil held the night before, Strong said she saw a group of students ride by in a black pickup truck yelling "fag" and "homo" out the window.
"That attitude is the entire reason Soulforce is here, whether or not the administration wants to hear it. But what's so dangerous about what they have to say? What's so dangerous about not hating people?"
The two women arrested were Caitlin MacIntyre, 19 of Houston, Texas, and Alex Lundy, 21 of Syosset, N.Y.; both are straight allies. MacIntyre, who is on her first tour with Soulforce, said that MC was a stop she had to do because of the students.
"A lot of students are too scared to come down, so we meet people where they are—which is why we walked onto the campus," MacIntyre said. "Our goal never is to be arrested—it's scary, and on my permanent record! We're here to create dialogue. Soulforce believes in stopping oppression at its root. This is the next generation of Christian leaders, and we want to make sure they hear a different side of the issue."
The two have court dates Wednesday, Oct. 22, where they will plead guilty. Soulforce will continue its 2008 Equality Ride through Nov. 13. They do not yet know if they will return to MC next year.
Previous Comments
ID

139609

Comment

Do these people seek to petition their God for a change in the bible? I wonder if they could get him/her to do something about the fact that everything that tastes so good is so completely terrible for your health? Homosexuality is expressly forbidden in their religion. What good is a religion that has a cafeteria plan for redemption? Where you can pick and choose what is and isn't a sin? Thou shalt not kill, unless the guy is a real jerk. Thou shalt not commit adultery, unless you are in congress and bored in the men's room at the airport. It is beyond me why supposedly educated and by implication "smart" people are so superstitious in the twenty-first century. Wake up people! Free your mind. You are too old for imaginary friends.

Author

WMartin

Date

2008-10-24T06:52:38-06:00
ID

139610

Comment

yes, and slavery is condoned, do you think nothing ever changes in interpretation of scripture??? People used the bible to justify not letting blacks and whites intermarry. It's easy to hide behind scripture rather than face the true civil rights issue of our time. How do you condone rejecting homosexuals as loved by God? It truly stuns me that people use God to justify hate. Jesus said nothing about gay people.

Author

Izzy

Date

2008-10-24T07:18:30-06:00
ID

139611

Comment

You are still stunned? It is one of the oldest motivations there is. The bible is clear on slavery, homosexuality and a whole myriad of other abominations and so far out of touch with today's sensibilities as to almost be funny if it wasn't so sad. The interpretation is exactly what I'm speaking to. If you want to ignore what the text is and go with what you interpret it to be that's fine. But why not just start your own religion? It seems like less contorting and twisting would be necessary.

Author

WMartin

Date

2008-10-24T07:56:53-06:00
ID

139617

Comment

members of the Christian faith were huge movers in the era of the Civil Rights movement. I saw recently a photo from a march against poverty sponsored by Southern Christians, done in that time - hundreds of thousands of people in Washington D.C. In my mind the Christian faith is 1) originally part of a social justice statement and 2) too important a shaping force to dismiss. them's my 2 cents

Author

Izzy

Date

2008-10-24T09:28:57-06:00
ID

139621

Comment

I don't believe we should dismiss how Christian's shaped history. But as thinking people we shouldn't ignore the bad that goes with the good. I would love for everyone to see the Bible for what it is without the spin (interpretation), an outdated book of rules for primitive society that did a wonderful job of helping to civilize barbarous peoples. I would like to believe it is time to write a new chapter in human history. One without the boogey man who's gonna getcha if you are bad. One where people are good and kind because it's just the right thing to do. Maybe I'm the one with too much faith.

Author

WMartin

Date

2008-10-24T09:57:50-06:00
ID

139623

Comment

what is too much faith? I'm curious. By they way, I don't identify myself as a Christian. But I believe, based on the reality of the religious right, that a way to counteract negative influences of self-rightous bigots using God's name is by pushing for a liberal, progressive interpretation of Christianity, one that opens gateways to new global perspectives. I'm cool with that. It's okay with me if you aren't - to each his or her own.

Author

Izzy

Date

2008-10-24T10:25:44-06:00
ID

139624

Comment

i am so excited there are comments on this story.

Author

thetate

Date

2008-10-24T10:31:04-06:00
ID

139630

Comment

Too much faith that people would just have some empathy of their own accord. Too much faith that people would use their own common sense...et cetera. I understand your point of wanting to counter the religious right, but who are you trying to convince? I would say you can't convince a thinking person of anything by using an illogical argument. You can't twist the words of the bible to say what you want without appearing to be stretching the truth. It is obvious that the Christian Bible does not condone, and in fact forbids homosexuality. To try to come up with an alternate interpretation is not going to get you very far except with those who already believe the way you do anyway. So what have you achieved in doing that? What I don't understand is why homosexuals want to be Christian. They are living proof of the fact that the Bible does not speak for God.

Author

WMartin

Date

2008-10-24T11:28:08-06:00
More stories by this author
Support our reporting -- Follow the MFP.