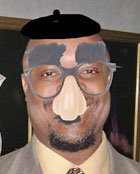 Boneqweesha Jones: "You're watching Ghetto Science Television's popular morning show 'Good Morning Ghetto.' The GMG news team and I have another controversial show for you.
"As the nation approaches a historic election in November, the presidential race is bubbling like a hot pot of grits. You've watched the debates on national television, read plenty of commentary in newspapers and magazines, and listened to all of those morning, noon and nighttime talk radio programs.
"I don't know how my viewing audience feels, but I feel like Dr. King when he said: 'Something is happening in our world. The masses of people are rising up.' And it seems as if the masses want to change history.
"I've said enough. Nurse Tootie McBride provides us with a report on the voter registration drive, held at the Clubb Chicken Wing Multipurpose Complex."
Nurse Tootie: "Qweesha, I'm here with Brother Sylvester, the controversial Christmas Missing Toe Artist, who uses his artistic talent to make a social, political statement in the form of a mural on the brick wall across from Clubb Chicken Wing. Brother Sylvester, briefly describe your latest creation."
Brother Sylvester: "This mural reflects the people, images and statements of the presidential race. The mural's title is inspired by an old Public Enemy rap song."
Nurse Tootie: "Brace yourselves, folks."
Brother Sylvester: "The title is: 'Fear of a Presidential Candidate Who Happens to be Half Black.Ҕ
Boneqweesha Jones: "Oh, my goodness! It's on, Nurse Tootie!
More stories by this author
Support our reporting -- Follow the MFP.