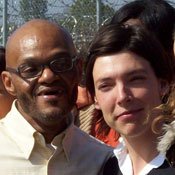 Arthur Johnson, 48, registered to vote this month, after nearly 16 years in prison for a rape he did not commit, and another eight months waiting for Mississippi to officially exonerate him.
"He's really doing well," said Emily Maw, Johnson's attorney and director of the Innocence Project's New Orleans office. "Arthur is just really, really happy."
Despite several alibi witnesses, a Sunflower County jury convicted Johnson of a 1992 rape and burglary based on the victim's identification. Judge Ashley Hines sentenced him to 55 years behind bars in 1993. Prior to his conviction, Johnson had no criminal record, and the prosecution presented no physical evidence of his guilt during the trial.
Maw first petitioned for a DNA test to prove Johnson's innocence in 2005. After two years of delays, the test results conclusively proved Johnson's innocence November 2007. The Mississippi Supreme Court ordered Sunflower County to review the case Jan. 4, 2008, which it did Feb. 25. Despite the evidence of Johnson's innocence in the rape, Hines, again presiding in the Sunflower County Circuit Court, ordered a new trial and levied a $25,000 bail. Sunflower District Attorney Dewayne Richardson said he would retry Johnson, claiming the eyewitness identification was correct.
Mistaken eyewitness testimony, however, has been a factor in over 75 percent of the 220 DNA exonerations since 1992.
Refusing to let Johnson spend another night behind bars, Maw negotiated a refundable $2,500 bond, which Ole Miss law professor George Cochran paid in cash that afternoon. She later requested that Mississippi compare the DNA in Johnson's case to that of convicted offenders in state and federal databases.
Oct. 1, 2008, that comparison revealed the actual perpetrator: a man Sunflower County convicted of a different 1992 burglary and sexual assault. Released in 2002, the man committed another sexual assault for which he is currently serving time in Colorado.
"We're in the process of investigating him," Richardson said. His office is working with the Sunflower County Sheriff's Department and the Mississippi Bureau of Investigation to bring the accused to trial. Richardson, who is part of a task force studying how to improve Mississippi's crime lab, said that DNA evidence has evolved significantly since 1992.
Richardson's office has dropped all charges against Johnson, who has requested a brief court appearance so that Sunflower County can publicly exonerate him. The new trial was scheduled to begin Oct. 14.
"Arthur's been through months, quite frankly, of unnecessary hell," Maw said of Johnson's request for a public hearing. "I think he should go back to court and be publicly apologized to."
"That's up to the judge," Richardson said, when asked whether there would be a public hearing. He added that he doubted the judge would grant such a hearing because the case against Johnson is dismissed and closed.
Maw admitted that the chances of a public apology are slim. But she also credited Sunflower's Clerk of Court Sharon McFadden with saving the evidence that resulted in Johnson's exoneration for 14 years.
"The results of testing show how vital it is that Mississippi legislators pass a law that requires physical evidence in criminal cases be preserved after trial, and that gives convicted prisoners access to DNA testing in the right circumstances," Maw said in a statement. Currently, Mississippi has no laws requiring preservation of evidence after trial.
Johnson, who is visiting his brother in Philadelphia, was unavailable for comment. He is the fourth Mississippi man exonerated with DNA evidence since 2006. The Innocence Project was instrumental in all four cases, beginning with Cedric Willis in March 2006. Noxubee County exonerated Kennedy Brewer and Levon Brooks in January 2008.
Forensic testimony from Dr. Steven Hayne and Hattiesburg dentist Dr. Michael West helped convict Brewer in 1995 for the rape and murder of his girlfriend's 3-year-old toddler. Brewer was sent to death row and spent 15 years behind bars for the crime, which DNA evidence proved he did not commit in 2001. He was not released from prison, however, until Feb. 15, 2008, after the same evidence identified the actual perpetrator. On Oct. 14, Brewer filed an $18 million dollar lawsuit against the two doctors.
Previous Comments
ID

139206

Comment

why is it soooooooo hard for people to say they are sorry when they are proven wrong? Even the jury members should be feeling the appropriate amount of guilt. They obviously didn't do their job either. There would be no point for Mr. Johnson to hold his breath for an apology, but the one thing he can do is VOTE!!! Hopefully, that will be some consolation to him.

Author

savebrettjones

Date

2008-10-16T10:44:11-06:00
ID

139209

Comment

I'd say that being able to vote is the best consolation he could get. :)

Author

LatashaWillis

Date

2008-10-16T10:50:52-06:00
More stories by this author
Support our reporting -- Become a JFP VIP.
The news business has changed dramatically in the past two years, and we need your help more than ever to keep bringing you important stories about Jackson and the Metro. Become a JFP VIP with an annual membership or you can Sign up as a monthly supporter. Thanks for anything you can do to empower our journalism!