Over a month after the JFP story, "Palin and the Fringe," and about 10 days after Sarah Palin launched a vicious "terrorist" smear campaign against Barack Obama, CNN did a long piece today about the Palins' connections to the anti-government patriot movement in Alaska:
Palin praising the Alaska Independence Party this year:
And the party's founder:
Previous Comments
ID

139100

Comment

I think it's say to say that John McCain is not having a good day.

Author

DonnaLadd

Date

2008-10-14T17:55:47-06:00
ID

139101

Comment

First that awful organization [sarcasm off] ACORN, now THIS? William Timmons, the Washington lobbyist who John McCain has named to head his presidential transition team, aided an influence effort on behalf of Iraqi dictator Saddam Hussein to ease international sanctions against his regime. The two lobbyists who Timmons worked closely with over a five year period on the lobbying campaign later either pleaded guilty to or were convicted of federal criminal charges that they had acted as unregistered agents of Saddam Hussein's government. During the same period beginning in 1992, Timmons worked closely with the two lobbyists, Samir Vincent and Tongsun Park, on a previously unreported prospective deal with the Iraqis in which they hoped to be awarded a contract to purchase and resell Iraqi oil. Timmons, Vincent, and Park stood to share at least $45 million if the business deal went through. Timmons' activities occurred in the years following the first Gulf War, when Washington considered Iraq to be a rogue enemy state and a sponsor of terrorism. His dealings on behalf of the deceased Iraqi leader stand in stark contrast to the views his current employer held at the time. McCain has asked for all this, sadly. He went from a man whom the media openly adored to the post-Palin-pick joke who would subject the country to such open ugliness.

Author

DonnaLadd

Date

2008-10-14T18:01:43-06:00
ID

139103

Comment

Meantime, Palin tells Rush she's got nothing to lose: "Rush, I've got nothing to lose in this and I think America's got everything to gain by understanding the differences, the contrasts here between Obama and McCain." Uh, Gov. Palin, McCain has plenty to lose–his legacy, for one. She can go back to Alaska and pal around with the secessionists; they'll love her even more after all this. McCain should dump her nasty butt off his campaign and apologize to the American people. At least he'd go down in history with some dignity left. Lord, I sure am glad she's not from Mississippi. *We* would never hear the end of turning out somebody like her.

Author

DonnaLadd

Date

2008-10-14T18:05:14-06:00
ID

139119

Comment

CNN's Roland Martin is calling on Palin today to answer the tough questions about her family's links to secessionists: She has stoked the crowds by saying, "This is not a man who sees America the way that you and I see America." We all know what that is designed to do: Portray Obama as a foreigner who isn't as American as she. Or you. Or Joe Six-pack, the hockey mom, soccer mom, Wal-Mart mom, NASCAR dad and the other coded words she uses regularly. But what is truly pathetic is that Palin talks tough, but is really scared of facing her own issues. Since she is good at proclaiming that the American people need to know who Barack Obama is -- an attempt to paint him as a shady figure who might occupy the White House -- the American people deserve to hear Palin answer if her husband, Todd, a former member of the Alaska Independence Party, agreed with its founder, who wanted to secede from the union. Is there anything more anti-American than wanting to sever ties with the country?

Author

DonnaLadd

Date

2008-10-15T11:31:13-06:00
ID

139125

Comment

Do only Democrats have to renounce AND denounce their friends for things their FRIENDS did or said in the past? At the least, as Obama had to do with his former friend, Rev. Wright, shouldn't she be required to denounce the Alaska Independence Party and its ties to all those fringe elements? Clearly, she seems to have longstanding ties to AIP members other than her husband.

Author

FreeClif

Date

2008-10-15T13:09:31-06:00
ID

139128

Comment

Whitley you know there are different standards and strokes for different folks. Republicans (nearly all white therefore the white party of the two) can't hardly do any wrongs that count against them no matter the magnitude of actual wrongs committed. The Democratic party which has too many black and brown drops in it is considered the black and brown party no matter there being more whites comprising it than other groups) can't hardly do anything right because of the color stain poisoning and revealing its true nature, curse and limitation. So, to answer your question, yes it is Democrats only who have to renounce their friendships and affiliations. Republicans usually don't have to do it since white is nearly always right and when it's wrong it's still right.

Author

Walt

Date

2008-10-15T13:42:30-06:00
More like this story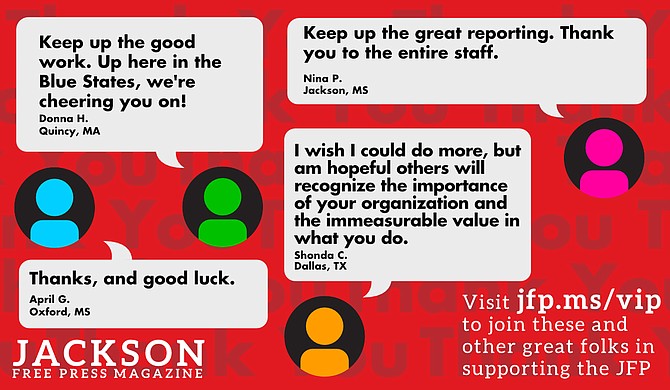 Thanks to all our new JFP VIPs!
COVID-19 has closed down the main sources of the JFP's revenue -- concerts, festivals, fundraisers, restaurants and bars. If everyone reading this article gives $5 or more, we should be able to continue publishing through the crisis. Please pay what you can to keep us reporting and publishing.