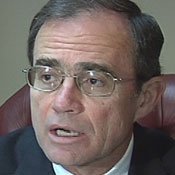 Mississippi Secretary of State Delbert Hosemann just released the number of new voters who have registered in Mississippi since the beginning of the year: 172,787, which means that current registered voters here as of today are: 1,873,740. Hosemann said in a statement: "We are pleased with the large turnout of voter registrations for the 2008 General Election," says Secretary of State Delbert Hosemann. "We would like to continue to encourage every eligible voter in Mississippi to make sure you cast your ballot on Tuesday, November 4th in the General Election.
Previous Comments
ID

138993

Comment

So, any predictions on what a 10-percent increase in voters might do in Mississippi this year? It's funny that Hosemann doesn't sound exactly excited in this press release, huh? I will say this: There are a lot of people watching this time around; Hosemann better not try any more funny stuff to knock qualified people off the voter rolls. It was bad enough that he and Barbour tried to bury the Senate race on the bottom of the law, in defiance of state law. I've said it before; he needs to stop being a partisan Barbour lapdog and start being a public servant and duly elected secretary of state who wants more people to vote, not fewer. He's been such a disappointment. I actually thought that after his campaign guy called over to convince us that he was more progressive than his campaign might have indicated that he might turn out to be more independent of Barbour and his party than he's been so far.

Author

DonnaLadd

Date

2008-10-13T14:09:04-06:00
ID

138995

Comment

You're right about the funny business. As far as him not being excited, conservatives generally do not like high voter turnout because that usually translate well for Democrats. But seeing that many new voters registered is wonderful. While it would be great if every eligible person 18 and older would be registered, it's still great news nonetheless. I also wish Mississippi would offering same-day registration on the day of elections. Other states do it; why can't we?

Author

golden eagle

Date

2008-10-13T14:21:05-06:00
ID

139010

Comment

Folo has an intriguing spot analysis of Mississippi voting trends (done before these registration numbers came out today). They report these numbers for 2004: Bush 684981 60% Kerry 458094 40% Total vote 1143075 ... and then applying "likely" percentages from a recent Rasmussen poll came up with a scenario that says that McCain might only be up by about 90,000 votes based on past "likely voters." Who knows? I do know that polling in Mississippi is very slight and likely isn't hitting all the new registered voters. What an incredible message Mississippi would send the freakin' world were we to vote Barack Obama this November; the world would never look at us the same! (Don't forget that 63 percent of Mississippians under 30 went for Kerry last time. I mean, Kerry!) I sure wouldn't put big money on it happening, but it is possible.

Author

DonnaLadd

Date

2008-10-13T18:14:18-06:00
Support our reporting -- Follow the MFP.