Newsweek's new numbers are in, and show why the McCain campaign is acting so erratic and desperate:
The global financial meltdown has caused a dramatic shift in the 2008 presidential race, according to the latest NEWSWEEK poll. With four weeks left in the presidential campaign, Barack Obama now leads John McCain by double digits, 52 percent to 41 percent among registered voters—a marked shift from the last Newsweek poll, conducted one month ago, when the two candidates were tied at 46 percent. Underlying Obama's surge in support: An historic boiling over of dissatisfaction with the status quo. An astounding 86 percent of voters now say they are dissatisfied with the way things are going in the United States, while a mere 10 percent say they are satisfied. That's the highest wrong track/right track ratio ever recorded in the NEWSWEEK poll. [...]
Obama appears to have broadened his coalition of support and made inroads with groups that have not reliably embraced him over the course of the long presidential campaign. He now leads McCain among both men (54 percent to 40 percent) and women (50 percent to 41 percent). He now wins every age group of voters—including those over 65 years of age, who back him over McCain 49 to 43 percent. Supporters of Hillary Clinton, as many as a fifth of whom had at one point told pollsters they'd support McCain over Obama, now back the Democratic nominee 88 percent to 7 percent.
Previous Comments
ID

138949

Comment

I'm really surprised at Obama's lead with men, especially with it being higher than among women. Rachel Maddow on MSNBC tonight just showed a poll moments ago that shows Obama now leading West Virginia by eight points! This was one state where there were lots of concerns about whites in that state perhaps not voting for Obama. When you're hurting economically (which is historic in WV), it shouldn't matter what color your rescuer is.

Author

golden eagle

Date

2008-10-10T19:30:12-06:00
ID

138950

Comment

In normal times I would be looking for the Republicans to steal it with voter registration chicanery, or electronic voting machine fraud. Or, I would be saying whites will vote differently in the privacy of the voting booth than what they will say publicly to a pollster. But these are almost unprecedented times. We're looking at worldwide financial armaggedon. The Dow has dropped 2,400 points in eight days; banks are failing; the European Union is shaky; GM and Ford are near bankruptcy, the dollar is almost toilet paper, etc...anything could happen.

Author

HardTravelin

Date

2008-10-10T21:13:39-06:00
ID

138952

Comment

Reuters/C-Spans poll says Obama only leads by 4pts. 48% to 44%. http://www.reuters.com/article/newsOne/idUSTRE49911I20081011

Author

BubbaT

Date

2008-10-11T00:33:18-06:00
ID

138953

Comment

somebody else is up late

Author

Izzy

Date

2008-10-11T00:46:13-06:00
ID

138956

Comment

That's the Zogby poll, Bubba, which skews very Republican and, as I understand it, isn't known for accuracy. With any of these polls, what is most interesting is look at how they've trended over recent days, weeks and months. Here's a round-up today: Obama McCain MoE +/- Today Research 2000: 52 (52) 40 (40) 3 Reuters/Zogby: 48 (48) 44 (43) 2.8 Yesterday Battleground: 51 (48) 43 (45) 3.5 Rasmussen: 50 (50) 45 (45) 2 Diageo/Hotline: 48 (47) 41 (41) 3.2 Gallup: 51 (52) 41 (41) 2 Newsweek: 52 (46) 41 (46) 3.7 Fox: 46 (45) 39 (39) 3

Author

DonnaLadd

Date

2008-10-11T07:58:24-06:00
ID

138960

Comment

More from FOX News about their poll: Barack Obama leads John McCain by 46 percent to 39 percent, according to a FOX News national registered voter poll released Friday. Two weeks ago Obama led by 45 percent to 39 percent (Sept. 22-23). Obama's advantage comes mainly from doing better among women, blacks, young voters, those with a college degree, and unmarried voters. He has increased his edge over McCain among women to 16 percentage points, up from a 4-point edge last month (Sept. 8-9). Obama has also improved his standing with his party faithful. A month ago, 79 percent of Democrats were backing Obama. Today it is 86 percent. McCain has consistently received the backing of over 80 percent of Republicans and is backed by 83 percent today. Independents split their vote 34 percent Obama and 32 percent McCain, with 24 percent unsure. That's little changed from two weeks ago when Obama was up by 36 percent to 31 percent and 29 percent undecided. A 61 percent majority of voters believes Obama is going to win the election - more than three times as many as believe McCain will (18 percent). A month ago it was evenly divided: 41 percent Obama and 40 percent McCain (Sept. 8-9). This summer, voters were more likely to say Obama would win: 51 percent Obama and 27 percent McCain (July 22-23). All of the interviews for the poll were conducted after the town-hall style presidential debate held on Tuesday, Oct. 7.

Author

DonnaLadd

Date

2008-10-11T08:57:02-06:00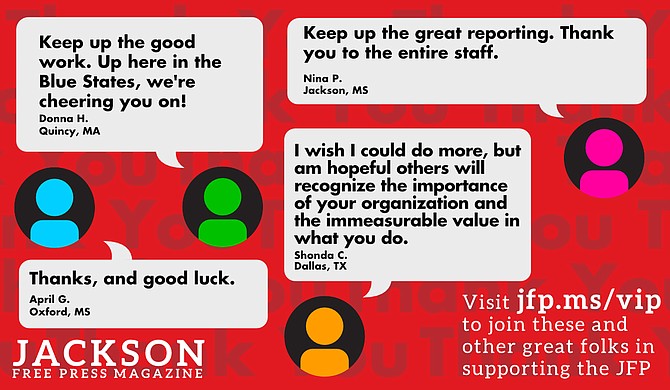 Thanks to all our new JFP VIPs!
COVID-19 has closed down the main sources of the JFP's revenue -- concerts, festivals, fundraisers, restaurants and bars. If everyone reading this article gives $5 or more, we should be able to continue publishing through the crisis. Please pay what you can to keep us reporting and publishing.