Here at the office, I'm referring to today as P-Day. Take that as you will. To celebrate it, we are gathering tonight to watch the vice presidential debate in the Red Room, along with Lawyers for Obama and local Democratic folks. Now, you are welcome as long as you do not mind a room tilted toward Obama. It doesn't matter what party you are (I'm an Independent for Obama, for instance); you are welcome. Word is that the bartenders will look suspiciously like Sarah Palin, and that beehives and glasses will rule the evening. So come on out if you dare. ;-)
Also, bartendress Shannon tells us that tonight you'll be able to order food in the Red Room, rather than going next door for it. So come on out!
Previous Comments
ID

138512

Comment

I can't wait to see this. I hear Palin has been bathing in Smart water the last few days, but after seeing her with Katie Couric; McCain suggested the GOP get some doctors together and feed the Smart water intravenously.

Author

Walt

Date

2008-10-02T11:13:32-06:00
ID

138514

Comment

Seems like the debut of Fondren After Five was not researched thoroughly. Thank China for DVRs.

Author

kaust

Date

2008-10-02T11:56:01-06:00
ID

138515

Comment

All drinks on me tonight! (Well, Todd's credit card, if I can get a hold of his wallet!)

Author

golden eagle

Date

2008-10-02T12:00:48-06:00
ID

138517

Comment

We're doing both—Fondren After Five, then flying downtown for the debate party. It's a gorgeous day to hit Fondren right after work. (Of course, we're already here!)

Author

DonnaLadd

Date

2008-10-02T12:25:41-06:00
ID

138518

Comment

I'll be there after class! maybe by 8, is that time o' grande debate? danke

Author

Izzy

Date

2008-10-02T12:52:19-06:00
ID

138519

Comment

Yes, debate is at 8 p.m. again, I believe.

Author

DonnaLadd

Date

2008-10-02T12:55:24-06:00
ID

138523

Comment

Frankly, I expect Guvner Palin to do alright tonight if she doesn't get asked too many hard questions. My sources are telling me that after the cameras were turned off, Katie and Sarah kept talking. Katie asked her what's with the comments about Russia and Sarah said she could see Russia from her front porch and has frequent impulses to go over there and slap Leonid Brezhnev's face. Katie asked if she knew Mr. Brezhnev died in 1982, and Sarah said "just because someone is dead Katie doesn't mean you can't slap them." Katie smiled, wryly said good answer and left the interview laughing. Hopefully, she will be standing up and the camera men can get some good shots of her. I didn't like her acceptance speech at the Farce on Minnesota, but she was kind of smoking otherwise, if you know what I mean. Smile.

Author

Walt

Date

2008-10-02T13:23:19-06:00
ID

138524

Comment

Did you see that a reporter figured out that the Alaska governor has not gone to the island from where one can actually see Alaska for decades? And it was confirmed with NORAD that Putin has not flown into Alaskan airspace. She really is beginning to remind me of Ross Perot (at the end). And she has reminded me of Frank Melton all the way through with all the repeated rhetoric and propensity to lie even about stuff you don't need to. She is so, so out of her league, and sadly doesn't really realize it.

Author

DonnaLadd

Date

2008-10-02T13:30:41-06:00
ID

138529

Comment

The one I find curious is, "they are trying to cram her head with too many facts, they need to just let her be herself". Ha ha. Obviously, they are afraid that she WILL be herself!

Author

FreeClif

Date

2008-10-02T14:56:16-06:00
ID

138530

Comment

She does lie like Frank! That's fo' sho. Jay Leno and I will be watching tonight for jokes material. Somebody said this morning she's George Bush with hot flashes.

Author

Walt

Date

2008-10-02T15:35:01-06:00
ID

138533

Comment

Here's what I've been saying all week to anyone who would listen: Follow my man Sun Tzu's advice and attack her "strength"—which they say is energy. Put the truth out there that "drill, baby, drill" will yield nothing for nearly a decade, and show how enriching Alaska is not going to solve the nation's energy crisis. Make her play her hand. Apparently, Joseph Romm at Salon agrees with me: On the overall energy issue, Palin is one bullet-point deep, constantly repeating the myth that she and McCain support an "all of the above" energy solution, when in fact the greenwasher from Arizona has an environmental record as dirty as the global warming denier from Oklahoma. Palin is certain to bring up the need for more offshore drilling. When she does, Biden should agree and repeat some version of the response that Obama used successfully in the first debate: And that means, yes, increasing domestic production and off-shore drilling, but we only have 3 percent of the world's oil supplies and we use 25 percent of the world's oil. So we can't simply drill our way out of the problem. What we're going to have to do is to approach it through alternative energy, like solar, and wind, and biodiesel, and, yes, nuclear energy, clean-coal technology ... Over 26 years, Senator McCain voted 23 times against alternative energy, like solar, and wind, and biodiesel. And so we've got to walk the walk and not just talk the talk when it comes to energy independence. Biden should keep repeating the line, "Over 26 years, Senator McCain voted 23 times against alternative energy." Palin can't rebut indisputable facts. In fact, Biden should simply prompt her to talk about energy, because the more she does, the more she is likely to make a mistake, as we've seen again and again. She mistakenly thinks this is one subject area she understands, and because she is supposed to be the country's leading expert on energy, according to McCain, her mistakes on energy are far more damaging to her and the Republican ticket.

Author

DonnaLadd

Date

2008-10-02T16:30:10-06:00
ID

138623

Comment

Tina Fey does it again! The guy playing Joe Biden wasn't so bad either, and I never thought in a million years that I would see Queen Latifah as Gwen Ifill. :)

Author

LatashaWillis

Date

2008-10-05T13:43:49-06:00
ID

138689

Comment

She wants to attack a comedian now. That'll help! (idiot) http://www.suntimes.com/entertainment/zwecker/1203739,CST-FTR-fey05.article Some key McCain staffers are content with Palin joking about the "SNL" routines on the campaign trail -- as when she scribbled "I'm not Tina Fey" on a supporter's cell phone and said she'd dressed as Fey on Halloween. But others -- including the governor herself -- think a return punch on the NBC airwaves is what's needed. I'm hearing some sort of Palin tweak of Fey's American Express commercials is in the works.

Author

Tre

Date

2008-10-07T08:28:42-06:00
More like this story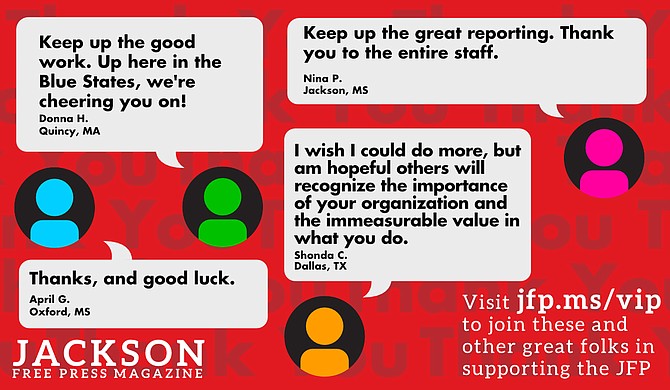 Thanks to all our new JFP VIPs!
COVID-19 has closed down the main sources of the JFP's revenue -- concerts, festivals, fundraisers, restaurants and bars. If everyone reading this article gives $5 or more, we should be able to continue publishing through the crisis. Please pay what you can to keep us reporting and publishing.