Marc Ambinder at The Atlantic says that's what the latest polls show:
As discussed below, the McCain-Palin campaign attributes all of Sen. McCain's gravity in recent polls to the economy. But new Quinnipiac and Pew polls provide evidence to the contrary. Specifically, Pew finds that 51% of Americans now believe that Palin is unqualified, up from 37% after her announcement. (Pew's Andrew Kohut writes: "There is a clear correlation between views of Palin's qualifications and support for McCain, which may be hurting the GOP candidate. Fewer people see her as qualified to become president, and the balance of opinion toward Palin has grown more negative since early September.")
On the other hand, if the McCain-Palin campaign means to set up an "Average Joe" v. "Washington Insider" contrast, they'll be satisfied that seven in ten Americans think Palin is down-to-earth.
Pew's poll has a large landline and cell phone sample -- 1,585, and it asked an extensive battery of questions about the last presidential debate and both candidates' handling of the economy. 72% of respondents labeled Obama's debate performance as "good" or "excellent," compares to less than 32% who saw the same from McCain. Demographically, Obama has gained among Democrats -- he now commands more support from Democrats than McCain does from Republicans -- and from a group that Pew calls "older baby boomers."
The gender gap in Pew's poll is huge -- 17 points among women in Obama's favor, and only four points among men in McCain's. And Obama has a double-digit lead in the swing states.
Quinnipiac's latest set of swing states polls finds Palin with a net negative impression in several states, including Florida, where she's spent quite a bit of campaign time. The numbers in Florida are stunning, in a sense; there's been a net swing of 13 points in Obama's favor during the past two weeks. He's even competitive among white voters, with McCain besting him by only five points.
Previous Comments
ID

138486

Comment

In a different post, Ambinder shares the McCain's camp's justification for Palin ... and then refutes an important part of it where they blame the economy, not Palin, for his loss of support among working-class women: The case they're making is pragmatic; fundamentally, they say, she hasn't hurt McCain, despite the overwhelmingly negative national press that she's seen since her initial introduction. [...] Now -- McCain-Palin officials concede that much of the ground that McCain gained among white working class women since the convention has been lost .... they attribute this to the economy, not to Palin, an assumption that, given Palin's declining favorability ratings, may not be entirely supportable. The thinking in Arlington (most of it, anyway) is that if Palin escapes relatively unscathed Thursday, she will simply cease to be an election issue. It'll be tough; the hope is that Palin comes across as a "doer" and Biden a debater, as a real-world working mother and Biden as a Washington insider. How in hell would Palin cease to be an election issue!?! If McCain is elected, chances are very good that she could become president and appoint a boatload of Supreme Court justices. This is a woman who seems to have no interest in, or particular knowledge about, the world beyond Alaska. We have to be scared, very scared, no matter how she comes across Thursday night.

Author

DonnaLadd

Date

2008-10-01T11:37:33-06:00
ID

138487

Comment

This is probably obvious to anyone by now, but just in case: Palin is helping Obama gain female votes, tremendously. Most women aren't fooled by her. Time/CNN poll today: Propelled by concerns over the financial crisis and a return of support from female voters, Barack Obama has opened a formidable 7-point lead over John McCain, reaching the 50% threshold among likely voters for the first time in the general campaign for President, according to a new TIME poll. Obama now leads McCain 50%-43% overall, up from 46%-41% before the parties' conventions a month ago. Obama's support is not just broader but sturdier; 23% of McCain supporters said they might change their mind, while only 15% of Obama's said they could be persuaded to switch. Among the poll's most dramatic findings: McCain is losing female voters faster than Sarah Palin attracted them after the Republican National Convention. Obama leads McCain by 17 points with women, 55%-38%. Before the conventions, women preferred Obama by a margin of 10 points, 49%-39%. After McCain picked Palin as his running mate, the gap narrowed to a virtual tie, with Obama holding a 1-point margin, 48%-47%.

Author

DonnaLadd

Date

2008-10-01T11:39:19-06:00
ID

138493

Comment

AP today: Barack Obama has surged to a seven-point lead over John McCain one month before the presidential election, lifted by voters who think the Democrat is better suited to lead the nation through its sudden financial crisis, according to an Associated Press-GfK poll that underscores the mounting concerns of some McCain backers. Likely voters now back Obama 48-41 percent over McCain, a dramatic shift from an AP-GfK survey that gave the Republican a slight edge nearly three weeks ago, before Wall Street collapsed and sent ripples across worldwide markets. On top of that, unrelated surveys show Obama beating McCain in Ohio, Florida and Pennsylvania - three states critical in the state-by-state battle for the presidency. Several GOP strategists close to McCain's campaign privately fret that his chances for victory are starting to slip away. These Republicans, speaking on condition of anonymity to avoid angering the campaign, point to several factors: Obama's gains nationally and in traditionally GOP states, no McCain gain from the first debate, McCain's struggles with economic issues as the financial crisis has unfolded and deepening public skepticism about his running mate, Sarah Palin. They said McCain's options for shaking up the race are essentially limited to game-changing performances in the final presidential debates or in Palin's vice presidential debate with Joe Biden Thursday night. Short of that, they said, McCain can do little but hope Obama stumbles or an outside event breaks the GOP nominee's way.

Author

DonnaLadd

Date

2008-10-01T14:59:57-06:00
ID

138498

Comment

Keith Olbermann mentioned a poll tonight that said Palin's favorable ratings are now down to 30%. I don't remember the source right off.

Author

golden eagle

Date

2008-10-01T20:49:37-06:00
ID

138499

Comment

That sounds like the poll among women. Olbermann also mentioned that her approval rating in Alaska went fron 82% to about 60%.

Author

LatashaWillis

Date

2008-10-01T21:10:54-06:00
ID

138510

Comment

Found any links for those polls?

Author

Jeff Lucas

Date

2008-10-02T10:10:15-06:00
ID

138520

Comment

She does have her work cut off for her tonight. Here's the lastest Wash Post/ABC results, just out: Nearly a third of adults in a new poll from the Pew Research Center said they paid a lot of attention to Palin's interviews with CBS News's Katie Couric, a series that prompted grumbling among some conservative commentators about Palin's competency to be the GOP's vice presidential standard-bearer. The Pew poll showed views of Palin slipping over the past few days alone. ad_icon In the new Post-ABC poll, Palin matches the Democratic vice presidential candidate, Sen. Joseph R. Biden Jr., on empathy, one of McCain's clear deficits against Obama, while fewer than half of voters think she understands "complex issues." But it is the experience question that may prove her highest hurdle, particularly when paired with widespread public concern about McCain's age. About half of all voters said they were uncomfortable with the idea of McCain taking office at age 72, and 85 percent of those voters said Palin does not have the requisite experience to be president. The 60 percent who now see Palin as insufficiently experienced to step into the presidency is steeply higher than in a Post-ABC poll after her nomination early last month. Democrats and Republicans alike are now more apt to doubt her qualifications, but the biggest shift has come among independents. In early September, independents offered a divided verdict on Palin's experience; now they take the negative view by about 2 to 1. Nearly two-thirds of both independent men and women in the new poll said Palin has insufficient experience to run the White House.

Author

DonnaLadd

Date

2008-10-02T13:06:34-06:00
ID

138527

Comment

More polling poop: CBS News poll released Wednesday found that Mr. Obama's favorability rating, at 48 percent, is the highest it has ever been in polls conducted by CBS and The New York Times. At the same time, the number of voters who hold an unfavorable view of Mr. McCain — 42 percent — is as high as it has been since CBS News and The Times began asking the question about Mr. McCain in 1999, the first time he ran for president. The CBS News poll showed that Mr. Obama had a nine-percentage-point lead over Mr. McCain — 49 percent to 40 percent. It is the first time Mr. Obama has held a statistically significant lead over Mr. McCain this year in polls conducted by CBS or joint polls by CBS and The Times. And a series of polls taken in highly contested states released by other organizations on Tuesday suggested that Mr. Obama was building leads in states including Florida, Pennsylvania and Virginia.

Author

DonnaLadd

Date

2008-10-02T14:24:29-06:00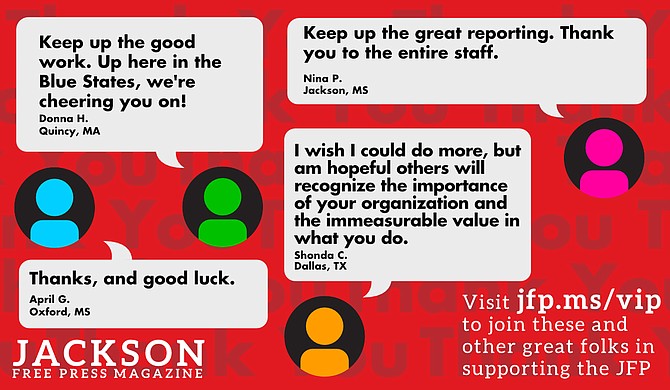 Thanks to all our new JFP VIPs!
COVID-19 has closed down the main sources of the JFP's revenue -- concerts, festivals, fundraisers, restaurants and bars. If everyone reading this article gives $5 or more, we should be able to continue publishing through the crisis. Please pay what you can to keep us reporting and publishing.