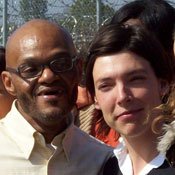 [Verbatim from Innocence Project] Sixteen years after his arrest, all charges were dropped against Arthur Johnson today when it was revealed that the DNA testing that led to his release in February pointed directly to another man who is in prison for sexual assault. Arthur Johnson is the fourth man to be exonerated in Mississippi since 2006. Kennedy Brewer and Levon Brooks were exonerated in January due to post conviction DNA testing. Cedric Willis was also exonerated in Jackson in 2006, but DNA testing in that case was completed before trial. As in this case, in the Brewer and Brooks cases, the DNA tests that exonerated them led to the identification of the real perpetrator.
Arthur Johnson had no prior criminal history when he was arrested for rape and burglary in 1992. Based entirely on the victim's identification of him, he was convicted in Sunflower County in 1993, at age 34, of burglary and rape in a two-day trial and sentenced to fifty-five years in prison. No physical evidence linked Mr. Johnson to the crime. Several alibi witnesses testified that Mr. Johnson was at their house at the time of the crime. Mr. Johnson appealed his case to the Mississippi Court of Appeals, where it was affirmed without an opinion in June of 1995.
In August 2005, Mr. Johnson's lawyer from Innocence Project New Orleans, Emily Maw, sought DNA testing from the Sunflower County Circuit Court. With the agreement of the District Attorney's Office, Circuit Judge Ashley Hines ordered the evidence in the rape kit to be tested by ReliaGene Technologies in New Orleans. On November 30, 2007, the results of the tests were published and they completely excluded Mr. Johnson as the source of the seminal fluid collected from the underwear worn by the victim when she was raped. In February, the Sunflower County Circuit Court vacated Mr. Johnson's conviction on the basis of new DNA test results and ordered a new trial.
The Sunflower County District Attorneys' Office planned to re-try Mr. Johnson in spite of the DNA test excluding him, claiming that the eyewitness identification was accurate. Attorney's for Mr. Johnson requested that, before he was re-tried, the unknown DNA profile generated from the victim's underwear be run through the state and federal databases of convicted offender profiles.
After much delay, the unknown profile was run through the state database and on Friday it was revealed that it matched a man who was convicted of burglary and sexual assault in Sunflower County in 1992, the same year as the crime occurred for which Mr. Johnson was convicted. This man was sent to prison, released in 2002 and went on to commit a sexual assault out of state, for which he is currently incarcerated. The Sunflower County District Attorney's Office subsequently dropped the charges against him. Mr. Johnson is asking the Sunflower County District Court for a brief court appearance at which he can be publicly exonerated in open court.
Mr. Johnson was wrongly imprisoned for 15 ½ years. He has five children grew up with their father in prison for a rape he did not commit.
Since 1989, 220 individuals have been exonerated in the United States by post conviction DNA testing. Mississippi still has no law to enable prisoners in Mr. Johnson's position to apply for testing if they cannot pay for a lawyer or find an organization like the Innocence Project to represent them for free. Mississippi also has no law requiring evidence be preserved after a person is convicted. This means that law enforcement cannot benefit from cases such as this, where the real perpetrator is identified by testing years after a conviction. Emily Maw, Director of Innocence Project New Orleans and Arthur Johnson's lawyer, said:
"It is due to Sharon McFadden, the clerk of court in Sunflower County, that Arthur Johnson has been exonerated and reunited with his family, and the real perpetrator has been identified. Ms. McFadden kept the evidence in this case for 14 years. The results of testing show how vital it is that Mississippi legislators pass a law that requires physical evidence in criminal cases be preserved after trial and that gives convicted prisoners access to DNA testing in the right circumstances. If we do not act, we will never know how many Arthur Johnsons there are waiting to be found in Mississippi's prisons."
As in Mr. Johnson's case, over 75% of thee 220 DNA exonerations have involved mistaken eyewitness identification. DNA has shown us that mistaken eyewitness identification is in fact the leading cause of known wrongful convictions. Of the 172 DNA exonerations in sexual assault and rape cases since 1989, 139 (81%) have involved a mistaken eyewitness identification of the rapist.
Previous Comments
ID

138502

Comment

16 years, people, 16 years. Go Innocence Project. Go Emily Maw. You're one of my heroes.

Author

DonnaLadd

Date

2008-10-01T21:27:45-06:00
ID

138503

Comment

she is exactly right in this comment ! " If we do not act, we will never know how many Arthur Johnsons there are waiting to be found in Mississippi's prisons." DNA being available to help this man is a blessing and the outcome is even more so the same! Congratulations to Mr. Johnson. There are others, and one it right here in Pearl MS. DNA is not available to help the female inmate convicted of murder, the whole nasty bunch involved in her case should be put under a jail in Starkville MS. It will all come around one day! Thanks for posting this information Ms Ladd.

Author

msearp99

Date

2008-10-01T22:06:45-06:00
ID

138513

Comment

this story is so intense, makes me want to turn away. the look in his eyes - happy, and also so wearied. what a world. I'm feeling blessed that he was finally exonerated.

Author

Izzy

Date

2008-10-02T11:27:35-06:00
ID

138625

Comment

People can make all the negstive comments they want about the Innocence Project, but to me, it is a blessing. I hope that anyone that does like the organization doesn't ever have to ask them for help. This sort of thing could happen to anyone.

Author

LatashaWillis

Date

2008-10-05T21:48:13-06:00
ID

138629

Comment

L.W. Very good point to be made. Thank you. These inmates have an opportunity to appeal their own cases via resources at their facility. Isn't it amazing that they themselves never get fair consideration when doing this own their own? anyone have thoughts on that process of unfairness also that exists, then they just sit until someone with an innocence committee helps them?

Author

msearp99

Date

2008-10-06T08:29:43-06:00
Support our reporting -- Follow the MFP.