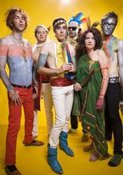 Of Montreal - "Skeletal Lamping"
2 of 5 stars
Referring to Athens-based musicians Of Montreal as a pop band is a bit misleading. Though often catchy and cheery, the band's discography is more complex, inaccessible and frequently more pretentious than most pop music. Arguably best known for the Beatlesque pop on—and subsequent Outback Steakhouse commercial tune inspired byדThe Sunlandic Twins," Of Montreal's last album, "Hissing Fauna are you the Destroyer," was a series of knotty, complex constructions. But where "Hissing Fauna" was a controlled exercise despite its difficulty, the band's October release, "Skeleton Lamping," is frustratingly schizophrenic, manic and just plain weird. Shouts, screeches and other non-human vocalizations add to the eccentric landscape , and the overt sexual references further alienate serious-minded listeners. Occasionally, the ideas coalesce, and a few songs are worth noting: "Nonpareil of favor" is heavily distorted, easily blending new wave and early '60s rock styles; and "ID engager" presents an enjoyably heightened, disco-filled side of the band.
One can't help but wonder—with the band's propensity for highly performative shows with elaborate makeup and frequent costume changes—if "Lamping" is just the band's acid-induced parody of itself.
Lykke Li - "Youth Novels"
3 of 5 stars
Swedish pop star Lykke Li's been riding a wave of increasing popularity ever since her stateside debut, "Youth Novels," was released in mid-August. The light, tropical shades of "Little Bit" can be heard in the background of a Victoria Secret commercial, and since the album's debut Lykke's hit most of the nighttime talk show circuit to enthusiastic receptions. While it would be easy to dismiss the music's commercial appeal as just another vapid pop album, "Youth Novels" is more than that. The album's good-natured presentation and danceable rhythms make it accessible for broad audiences and a subtle complexity that could rejuvenate even the most pretentious audience's interest in pop.
"Breaking it Up" is the album's most contemporary track and an immediate standout, boasting an anthemic feel and aggressive energy to go with its club-ready bass. But it's the spare, "Dance, Dance, Dance," that has staying power. In the song, a softly shuffling percussion joins shy, staccato vocals and an unusual yet effortless melody that stays in your head for days without growing old. "Dance, Dance, Dance" is representative of the album's unique charm, exuding a simplicity and grace that enables the song and album to be both light and visceral, intimate and universal.
Crystal Stilts - "Alight of Night"
4 of 5 stars
My music player categorizes Brooklyn-based band Crystal Stilts as "noisy pop." I suppose that's apt for those who have any idea what this means. Crystal Stilts rides the line between experimental and mainstream, injecting haziness and distortion over what is essentially retro-rock revival. Ranging from doo-wop to Beach Boys-influenced surf rock to music whose closest relative is post punk, the band's first full-length, "Alight of Night," manages to create something fresh and resonant out of abandoned aesthetics. Despite the surface-level accomplishment, the noise (or roughing up/dirtying) plus classic-pop formula is one that's been played out many times, and Crystal Stilts only occasionally find a distinct voice. It's when the band embraces the dream-like and introspective nature of their music that they create exciting music. "The dazzled" and "Departure" are both excellent and markedly similar. In both tracks, the drums and shading are consistent with the rest of the album, but the guitar is more jangly and angular, and the somewhat numb vocals are hazy, giving the song a kind of detached and disoriented feel. Even if post-punk angst isn't your style, there's plenty of stylish pop rock to go around in this impressive debut.
More stories by this author
Support our reporting -- Follow the MFP.