Now, it seems, we're going to hear all about the woman who helped McCain lose the election. A Newsweek story out today starts telling the rest of the story:
NEWSWEEK has also learned that Palin's shopping spree at high-end department stores was more extensive than previously reported. While publicly supporting Palin, McCain's top advisers privately fumed at what they regarded as her outrageous profligacy. One senior aide said that Nicolle Wallace had told Palin to buy three suits for the convention and hire a stylist. But instead, the vice presidential nominee began buying for herself and her family--clothes and accessories from top stores such as Saks Fifth Avenue and Neiman Marcus. According to two knowledgeable sources, a vast majority of the clothes were bought by a wealthy donor, who was shocked when he got the bill. Palin also used low-level staffers to buy some of the clothes on their credit cards. The McCain campaign found out last week when the aides sought reimbursement. One aide estimated that she spent "tens of thousands" more than the reported $150,000, and that $20,000 to $40,000 went to buy clothes for her husband. Some articles of clothing have apparently been lost. An angry aide characterized the shopping spree as "Wasilla hillbillies looting Neiman Marcus from coast to coast," and said the truth will eventually come out when the Republican Party audits its books.
And:
At the GOP convention in St. Paul, Palin was completely unfazed by the boys' club fraternity she had just joined. One night, Steve Schmidt and Mark Salter went to her hotel room to brief her. After a minute, Palin sailed into the room wearing nothing but a towel, with another on her wet hair. She told them to chat with her laconic husband, Todd. "I'll be just a minute," she said.
And:
Palin launched her attack on Obama's association with William Ayers, the former Weather Underground bomber, before the campaign had finalized a plan to raise the issue. McCain's advisers were working on a strategy that they hoped to unveil the following week, but McCain had not signed off on it, and top adviser Mark Salter was resisting.
H/t Huff Post.
Previous Comments
ID

140322

Comment

She came out in a towel before strangers. If I were a mean person I'd add appearing in a towel to posing, strutting, arching, licking her lips, winking, et al, to my sex shooter description, but I'm nice and won't even go there. Poor McCain showed flashes of his brillance again last night during his concession speech. I wish he'd come on over to the Democratic side. I'd give up Liberman any day after his spectacle the last 2 years.

Author

Walt

Date

2008-11-05T14:16:07-06:00
ID

140363

Comment

More from The New York Times from the "Wasilla Hillbillies" and their war with the McCain campaign: As late as Tuesday night, a McCain adviser said, Ms. Palin was pushing to deliver her own speech just before Mr. McCain's concession speech, even though vice-presidential nominees do not traditionally speak on election night. But Ms. Palin met up with Mr. McCain with text in hand. She was told no by Mark Salter, one of Mr. McCain's closest advisers, and Steve Schmidt, Mr. McCain's top strategist. On Wednesday, two top McCain campaign advisers said that the clothing purchases for Ms. Palin and her family were a particular source of outrage for them. As they portrayed it, Ms. Palin had been advised by Nicolle Wallace, a senior McCain aide, that she should buy three new suits for the Republican National Convention in St. Paul in September and three additional suits for the fall campaign. The budget for the clothes was anticipated to be from $20,000 to $25,000, the officials said. More from NYTimes.com Racial Barrier Falls as Voters Embrace Call for Change McCain Loses as Bush Legacy Is Rejected Democrats Widen Senate Edge to Solid Majority For Many Abroad, an Ideal Renewed A Time to Reap for Foot Soldiers of Civil Rights External links Instead, in a public relations debacle undermining Ms. Palin's image as an everywoman "hockey mom," bills came in to the Republican National Committee for about $150,000, including charges of $75,062 at Neiman Marcus and $49,425 at Saks Fifth Avenue. The bills included clothing for Ms. Palin's family and purchases of shoes, luggage and jewelry, the advisers said. The advisers described the McCain campaign as incredulous about the shopping spree and said Republican National Committee lawyers were likely to go to Alaska to conduct an inventory and try to account for all that was spent. Ms. Palin has defended her wardrobe as the idea of the Republican National Committee and said that she would give it back. "Those clothes, they are not my property," she said. "Just like the lighting and the staging and everything else that the R.N.C. purchased." [...] One of the last straws for the McCain advisers came just days before the election when news broke that Ms. Palin had taken a call made by Marc-Antoine Audette. Mr. Audette and his fellow comedian Sebastien Trudel are notorious for prank calls to celebrities and heads of state. Ms. Palin appeared to believe that she was talking to President Nicolas Sarkozy of France, even though the prankster had a flamboyant French accent and spoke to her in a more personal way than would be protocol in such a call. At one point, he told Ms. Palin that she would make a good president some day. "Maybe in eight years," she replied.

Author

DonnaLadd

Date

2008-11-06T10:16:34-06:00
ID

140373

Comment

The LA Times reports that: Ha Ha. I will miss her jokes.

Author

FreeClif

Date

2008-11-06T13:17:12-06:00
ID

140374

Comment

The upcoming Newsweek includes an interesting insight on Palin's incendiary effect: "The Obama campaign was provided with reports from the Secret Service showing a sharp and disturbing increase in threats to Obama in September and early October, at the same time that many crowds at Palin rallies became more frenzied. Michelle Obama was shaken by the vituperative crowds and the hot rhetoric from the GOP candidates. "Why would they try to make people hate us?" Michelle asked a top campaign aide."

Author

FreeClif

Date

2008-11-06T13:29:36-06:00
ID

140376

Comment

I read the 6 page "How He Did It" article (in Newsweek) and I highly recommend the whole series they have coming up on the "insider" view of both campaigns. Its very illuminating. What I find very interesting is how much info concerning Palin the McCain camp kept from McCain himself fearing it would "upset" him. He's a 72 year old man who spent five years in a POW camp...I think he can handle reports concerning the knowledge base (or lack thereof) and spending sprees of his running mate. And that towel thing? Freaking BIZARRE.

Author

Lori G

Date

2008-11-06T14:00:56-06:00
ID

140380

Comment

Lori G, I hadn't read the "how he did it" piece until after you mentioned it. It is a GREAT article. I thought I would have learned everything possible about Obama already, but I did get some new perspective. I like the idea of a man who would cry uncontrollably due to missing his wife and children! Love won over hate.

Author

FreeClif

Date

2008-11-06T15:47:02-06:00
ID

140383

Comment

Each episode of "The Wasilla Hillbillies" is better than the last: Per the LA Times, The Republican Party is sending an attorney to Alaska to retrieve any of the clothes she took home with her: Sarah Palin left the national stage Wednesday, but the controversy over her role on the ticket flared as aides to John McCain disclosed new details about her expensive wardrobe purchases and revealed that a Republican Party lawyer would be dispatched to Alaska to inventory and retrieve the clothes still in her possession. [...] The campaign has said that many of those clothes were returned. But McCain aides said Wednesday that spending on Palin's wardrobe continued well after the convention, with one custom-made outfit showing up around the time of her "Saturday Night Live" appearance on Oct. 18. As first reported by Newsweek on Wednesday, McCain aides said some of that money was spent on clothing for Palin's children and husband, Todd, who may have received between $20,000 and $40,000 in wardrobe purchases. The money also included thousands of dollars in shoes. Several aides also said the items included jewelry, but a Palin aide disputed that. Top McCain aides Schmidt, Rick Davis and Nicolle Wallace were flabbergasted by the magnitude of the spending as the receipts began trickling into the Republican National Committee, aides said. Wallace had arranged for a stylist to shop for Palin before the convention because the Alaska governor did not have a chance to return home after she was selected as McCain's running mate. Aides familiar with the campaign's internal discussions said Wallace and other top aides authorized the purchase of three outfits for Palin to wear during convention week and three ensembles for the campaign trail. But cost was to be kept to no more than $25,000 to $35,000. When Schmidt learned that Palin's staff was putting clothing purchases on personal credit cards, aides said he called them to stop it. Palin aides tell a different story. Several close to the governor said Wednesday that Palin was outraged by the amount of money being spent on her clothing and that she was naive about what the clothes cost. "The very first day of shopping, there was a $14,000 price tag and . . . she was absolutely shocked," one of the Palin aides said. Palin was not pleased by what had been selected for her, the aide said, adding that "a lot of that stuff that was purchased was never worn by her -- that was by her choice."

Author

DonnaLadd

Date

2008-11-06T17:25:35-06:00
ID

140385

Comment

This can't be true. She is fiscally responsible and a maverick. She was going to stop the irresponsible spending in Washington. Surely she was going to stop it at home too.

Author

Walt

Date

2008-11-06T17:53:14-06:00
ID

140387

Comment

Those pranksters could have fooled anybody. When you know you got it going on as Sarah Palin knows she does, why be surprised if Churchhill, Kohl, Thatcher, Jefferson or somebody else calls you. Everybody wants to talk to you. What's wrong with not knowing Africa is a continent. She probably figures it shouldn't be one or it got the title or position due to affirmative action or handouts. I bet she wonders too why we're called African-Americans instead of Africans who should be sent back home. Some people thinks Palin will assume or get appointed to Ted "Shakedown" Steven's position as the lil man heads off to jail where he belongs.

Author

Walt

Date

2008-11-06T18:21:21-06:00
ID

140397

Comment

Reasons Stevens WILL be expelled: 1) He's a convicted felon; 2) The Republicans do not want the embarrassment of being seen with one of their own who is a felon; Reasons he might not be expelled (slim odds): 1) Sarah Palin would be the likely replacement because she would get to choose and it would keep her in the national spotlight for 2012 and that would be another ongoing soap opera for the Republicans. The Republicans will likely opt for a beautiful (though uninformed) frontier woman over a wily/knowledgeable convicted felon (joke).

Author

FreeClif

Date

2008-11-07T08:55:43-06:00
ID

140442

Comment

Turns out that, beyond the $150,000, Palin spent $40,000 on the First Dude, including for silk boxer shorts and spray tanners. This getting grosser by the day. Washington Post: On top of the $150,000 first outlined in Federal Election Commission filings, Palin spent "tens of thousands of dollars" on additional clothing, makeup and jewelry for herself and her family, including $40,000 in luxury goods for her husband, Todd, our colleague Michael Shear reports. The campaign was charged for silk boxer shorts, spray tanners and 13 suitcases to carry all the designer clothes, according to two GOP insiders. "The shopping continued after the convention in Minneapolis, it continued all around the country," one source said. "She was still receiving shipments of custom-designed underpinnings up to her 'Saturday Night Live' performance" in October. Sources said expenses were put on the personal credit cards of low-level Palin staffers and discovered when they asked party officials for reimbursement.

Author

DonnaLadd

Date

2008-11-07T17:33:14-06:00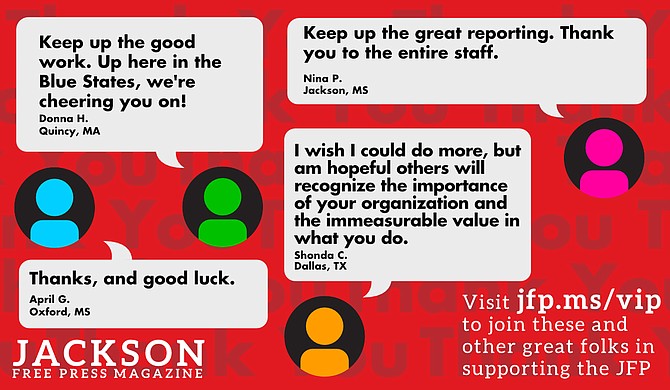 Thanks to all our new JFP VIPs!
COVID-19 has closed down the main sources of the JFP's revenue -- concerts, festivals, fundraisers, restaurants and bars. If everyone reading this article gives $5 or more, we should be able to continue publishing through the crisis. Please pay what you can to keep us reporting and publishing.