What is it you need to say about the presidential election? Let 'er rip!
Previous Comments
ID

140186

Comment

Someone needs to do prison time for this: A George Mason University student forwards over a pair of emails that went out to the student body of the Virginia school: -----Original Message----- From: ANNOUNCE04-L on behalf of Office of the Provost Sent: Tue 11/4/2008 1:16 AM To: [email protected] Subject: Election Day Update To the Mason Community: Please note that election day has been moved to November 5th. We apologize for any inconvenience this may cause you. Peter N. Stearns Provost

Author

DonnaLadd

Date

2008-11-04T11:52:48-06:00
ID

140190

Comment

Karl Rove is predicting an Obama landslide! Though I must caution myself: does Rove really believe that or is he playing propaganda games?

Author

golden eagle

Date

2008-11-04T12:11:41-06:00
ID

140193

Comment

this is one time when I really wish I had TV!! most days I'm truly glad I don't watch that stuff. Tried for streaming CNN but plug-in is all messed up.

Author

Izzy

Date

2008-11-04T12:24:47-06:00
ID

140200

Comment

Been meaning to post this: Peter Beinart predicts an end to the culture wars in The Washington Post. Hope like hell he's right: Why has America turned on Sarah Palin? Obviously, her wobbly television interviews haven't helped. Nor have the drip, drip of scandals from Alaska, which have tarnished her reformist image. But Palin's problems run deeper, and they say something fundamental about the political age being born. Palin's brand is culture war, and in America today culture war no longer sells. The struggle that began in the 1960s -- which put questions of racial, sexual and religious identity at the forefront of American politics -- may be ending. Palin is the end of the line. This won't be the first time a culture war has come to a close. In the 1920s, battles over evolution, immigration, prohibition and the resurgent Ku Klux Klan dominated election after election. And those issues played into that era's version of the red-blue divide, pitting newly arrived, saloon-frequenting, big-city Catholics against old-stock, teetotaling, small-town Protestants. In 1924, the Democratic convention split so bitterly over prohibition and the Klan that it took more than 100 ballots to nominate a candidate for president. [...] Something similar is happening today. Our era's culture war also began in prosperity. It was in the late 1950s and early 1960s, the high point of America's postwar boom, that African Americans took to the streets in vast numbers to demand equal rights. And it was in the early 1960s, as a result of the vast increase in postwar college enrollment, that students began challenging the conformity of American life. In 1962, the Port Huron Statement spoke of a generation "bred in at least modest comfort." It was those middle-class baby boomers who sparked the movements for women's rights and gay rights and the rise in blue-state secularism, all of which helped touch off this era's culture war[...] Today, according to a recent Newsweek poll, the economy is up to 44 percent and "issues like abortion, guns and same-sex marriage" down to only 6 percent. It's no coincidence that Palin's popularity has plummeted as the financial crisis has taken center stage. From her championing of small-town America to her efforts to link Barack Obama to former domestic terrorist Bill Ayers, Palin is treading a path well-worn by Republicans in recent decades. She's depicting the campaign as a struggle between the culturally familiar and the culturally threatening, the culturally traditional and the culturally exotic. But Obama has dismissed those attacks as irrelevant, and the public, focused nervously on the economic collapse, has largely tuned them out. Palin's attacks are also failing because of generational change. The long-running, internecine baby boomer cultural feud just isn't that relevant to Americans who came of age after the civil rights, gay rights and feminist revolutions. Even many younger evangelicals are broadening their agendas beyond abortion, stem cells, school prayer and gay marriage. And just as younger Protestants found JFK less threatening than their parents had found Al Smith, younger whites -- even in bright-red states -- don't view the prospect of a black president with great alarm.

Author

DonnaLadd

Date

2008-11-04T12:40:52-06:00
ID

140205

Comment

Voter docs found on Tampa highway Thousands of pages of voter information were found lying along the shoulder of Interstate 4 this morning. The papers, all with information about Hillsborough County voters, have been cleaned up and taken to a Department of Transportation maintenance facility for now, but voting officials still don't know where they came from. Transportation workers spotted the nine bags of documents on their traffic cameras along a ramp off I-4 and I-275. The Hillsborough County supervisor of elections says it did not come from his office, but looks like it may have come from a campaign office or a grassroots effort which drives voters to polling paces. The documents contain names, addresses, phone numbers, and party affiliation, and if the voter needs a ride. I'm glad they weren't registration forms, but I still would like to know how all those voters' personal info ended up out there.

Author

LatashaWillis

Date

2008-11-04T13:01:24-06:00
ID

140209

Comment

Look at this:

Author

DonnaLadd

Date

2008-11-04T13:14:00-06:00
ID

140212

Comment

I got a dumba$$ text message last night from some number I didn't know that said all Democrats vote on November 5th. I texted back "Who is this?" but they didn't answer.

Author

Lori G

Date

2008-11-04T13:39:37-06:00
ID

140213

Comment

Obama looked better as the other or former fellow. McCain looks better as the new guy because it makes him a Democrat instead of a republican, which would take that pit bull with lipstick off his back. I'm out and back to the polls. Cheers. Lawd please don't let us lose because I don't know if I'm up to the challenge of hearing all the bull the repugs will be spewing.

Author

Walt

Date

2008-11-04T13:41:11-06:00
ID

140214

Comment

What was the phone number, Lori!?!

Author

DonnaLadd

Date

2008-11-04T13:47:36-06:00
ID

140216

Comment

Hey all, go play this fun word game, and click to see the difference between the Obama-McCain supporters' words.

Author

DonnaLadd

Date

2008-11-04T13:56:00-06:00
ID

140218

Comment

Donna, I saw the picture on CNN and laughed my head off!

Author

LatashaWillis

Date

2008-11-04T14:39:46-06:00
ID

140219

Comment

Is that John Edwards hair on Obama?

Author

Tre

Date

2008-11-04T14:45:43-06:00
ID

140225

Comment

"I got a dumba$$ text message last night from some number I didn't know that said all Democrats vote on November 5th. I texted back "Who is this?" but they didn't answer." - Lori Was a BS SMS going around -- more as a joke than anything serious from what I can gather. I got it about Republicans and Democrats... Laughed a little and knew it was BS since the person wasn't even registered to vote.

Author

kaust

Date

2008-11-04T15:16:49-06:00
ID

140227

Comment

Posted on DailyKos, verbatim: National Call Team, Barack needs your help right now -- our data indicates that the results will be very close in many states. I can't emphasize enough how urgent this message is. Please go to our website and start calling as soon as you can. We are not going to hit our goal of 500,000 calls for today by 3pm Central, unless we get at least 2,000 more people calling for the next hour. Can you call now and continue for as long as you can manage?

Author

DonnaLadd

Date

2008-11-04T15:35:00-06:00
ID

140230

Comment

From Politico re: the "Black Panther" story: ONE FOOTNOTE: The McCain camp also sent out, and Drudge is driving, the story of Black Panthers allegedly intimidating voters at a Philadelphia poll site. The story is disputed; indeed, it's such a heavily Democratic precinct (90% in 2004) that it wouldn't make a huge amount of sense for Obama backers to intimidate anyone there. But more broadly, I wonder what the goal of pushing that one is (regardless of its details, which will likely be untangled tomorrow in the Philadelhipa press). On one hand, the idea that Democrats are up to dirty tricks may energize the Republican base; on the other, I'm not sure warnings of physical danger are the best way to get marginal Republicans to the polls. Funny. I remember white people spreading the tumor that the Black Panthers were going to be outside my school, Neshoba Central, when they integrated in 1970. Uh, it wasn't true then.

Author

DonnaLadd

Date

2008-11-04T15:43:17-06:00
ID

140233

Comment

I saw the news reports on Fox. They were outside the polling place purposely acting like a fool to the "Black Panter" guy and he was just telling them they couldn't be in there with a camera and the anchor was acting like a baby saying they had the right to be there. It was a very African American precinct. The anchor was TRYING to start sh!t.

Author

Lori G

Date

2008-11-04T16:17:22-06:00
ID

140234

Comment

I would like to add. The "Black Panther" guy wasn't intimidating VOTERS. He was telling the Fox news guys to back off with their cameras. It was ridiculous. RE: Ladd, I finally figured out the number was from some guy that dates a girl that I work with who was just being stupid.

Author

Lori G

Date

2008-11-04T16:20:30-06:00
ID

140236

Comment

Good, Lori, we were about get that guy indicted of something. ;-) Re Black Panther scare ... Talking Points Memo has an update.

Author

DonnaLadd

Date

2008-11-04T16:33:17-06:00
ID

140238

Comment

The guy had a billy club; how is that not intimidation?

Author

QB

Date

2008-11-04T16:56:54-06:00
ID

140242

Comment

It sounds like he may have been there to intimidate Obama voters. Maybe he needs some of what they're giving Ashley Todd. Seriously, Harry, the point is that FOX News is overblowing an incident in which he flipped them off, and they are trying to turn it into a national race incident. Just as they did with Ashley Todd. In its more desperate moments, FOX has never been more dangerous.

Author

DonnaLadd

Date

2008-11-04T17:21:30-06:00
ID

140248

Comment

Bill Ayers finally speaks–to The New Yorker today: Ayers has avoided reporters ever since he became an election talking point, scratch pole, and general sensation. But now he answered the door of his three-story row house, and I joined the discussion. Ayers is sixty-four and has earrings in both ears. He wore jeans and a Riley T-shirt–Riley the kid from "Boondocks." The day was fall-bright and 50th Street was filled with fallen gold leaves. Ayers waved to neighbors and kids as they went by on the sidewalk. He was, for the first time in a long while, in an expansive mood, making clear that, in all the months his name has been at the forefront of the campaign, he and his wife, Bernardine Dohrn–ex-leaders of the Weather Underground and longtime educators and activists in the community–have been watching a lot of cable television, not least Fox. One night, Ayers recalled, he and Dohrn were watching Bill O'Reilly, who was going on about "discovering" Ayers's 1974 manifesto, "Prairie Fire." "I had to laugh," Ayers said. "No one read it when it was first issued!" He said that he laughed, too, when he listened to Sarah Palin's descriptions of Obama "palling around with terrorists." In fact, Ayers said that he knew Obama only slightly: "I think my relationship with Obama was probably like that of thousands of others in Chicago and, like millions and millions of others, I wished I knew him better." Ayers said that while he hasn't been bothered by the many threats–"and I'm not complaining"–the calls and e-mails he has received have been "pretty intense." "I got two threats in one day on the Internet," he said, referring to an incident that took place last summer when he was sitting in his office at the University of Illinois-Chicago, where he has taught education for two decades. "The first one said there was a posse coming to shoot me, and the second said they were going to kidnap me and water-board me. This friend of mine, a university cop, said, 'Gosh, I hope the guy who's coming to shoot you gets here first.'" Ayers seemed curiously calm and cheerful about the way he had been made an issue in the campaign. He seemed unbothered to have been part of what he called "the Swiftboating" process of the 2008 campaign. "It's all guilt by association," Ayers said. "They made me into a cartoon character–they threw me up onstage just to pummel me. I felt from the beginning that the Obama campaign had to run the Obama campaign and I have to run my life." Ayers said that once his name became part of the campaign maelstrom he never had any contact with the Obama circle. "That's not my world," he said.

Author

DonnaLadd

Date

2008-11-04T18:46:35-06:00
ID

140258

Comment

Guess all that hate-pushing in Pennsylvania backfired. They're saying the suburban vote repelled by Palin.

Author

DonnaLadd

Date

2008-11-04T19:38:10-06:00
More like this story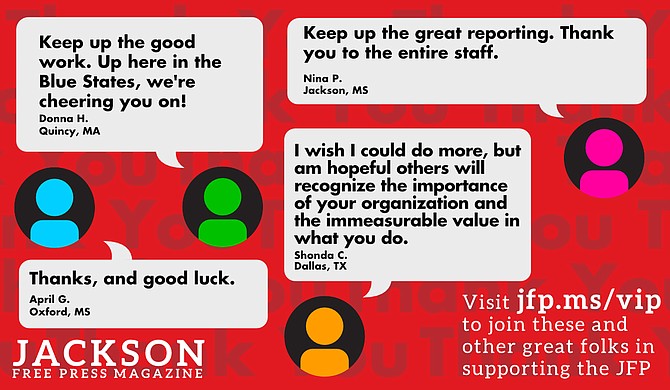 Thanks to all our new JFP VIPs!
COVID-19 has closed down the main sources of the JFP's revenue -- concerts, festivals, fundraisers, restaurants and bars. If everyone reading this article gives $5 or more, we should be able to continue publishing through the crisis. Please pay what you can to keep us reporting and publishing.