The following e-mail went around the Sunday before the March 11 primary. When one of the JFP writers got it (through an account for an organization he volunteers with), it had the sender's name listed, as well as a list of other e-mail addresses it went to, including many people who work at a bank in Brookhaven and members of the local business press. We are seeking a comment from the sender.
From: [e-mail missing]
Date: Sun, 9 Mar 2008 22:14:07 -0700 (PDT)
Subject: Send to your Republican friends all across MS
Continue the chaos for the Democratic party by voting for Hillary Clinton on Tuesday. I know this will be hard for you, but it is more fun watching the Democrats implode. John McCain has secured the Republican nomination, and everyone is predicting that Obama will win MS easily. Don't let this happen. Keep the madness going for this party by voting for Clinton.
Forward this on to all of your Republican friends across MS!
Previous Comments
ID

99692

Comment

As a Republican, I am insulted by this letter. If anyone is crossing party lines to vote for one person just to upset the other, then stay home. You obviously don't understand the first thing about voting, and if you are that stupid, we don't need your input. I proudly voted for Obama in the primary, because I want to see him win. We are lucky in MS to have this option: in states with closed primaries, you can't cross party lines. Vote your conscience. Don't just blindly follow the other sheep. Use your vote wisely.

Author

Lady Havoc

Date

2008-03-24T09:31:31-06:00
ID

99693

Comment

I don't blame you, Lady. Wish all Republicans were like you. Of course, the really dumb part is that none of them can vote in the Republican congressional run-offs. Guess it was more important to "continue the chaos." Would probably have been more fun HAD THE DUMBA$$ STRATEGY WORKED.

Author

DonnaLadd

Date

2008-03-24T09:35:43-06:00
ID

99694

Comment

For the record, Dems in this state play these kinds of games, too. And it's one reason they are not in power. They try to fool people into voting for them, or voting against the candidate they don't like. If they'd make it real, the sky would be the limit. Of course, now the Repubs are going to face that same issue, and "real" is different than it used to be in this state. It is rather fun watching the world shake under both parties' leadership in the state, though. It remains to be seen which one will adjust the quickest. I truly wouldn't be surprised to see the Republicans here become more progressive over the longer haul. But they are going to have to lose the bigots (real or feigned) that have had so much power in the past. And be willing to risk losing the voters who come with them.

Author

DonnaLadd

Date

2008-03-24T09:39:04-06:00
ID

99695

Comment

It would have been more fun to read about, at least. :) When I vote, I have to balance it out and go with the candidate that I feel most strongly about. In this case, I honestly didn't care about the possible run-offs. I felt that Obama would remember us when he got to the White House. It is obvious Clinton doesn't care about Mississippi due to her remarks, and McCain didn't even bother. So why should we care or bother with either one?

Author

Lady Havoc

Date

2008-03-24T09:40:54-06:00
ID

99696

Comment

McCain didn't bother because he didn't need to. He had the nomination locked up. He *will* bother to visit prior to the General Election.

Author

QB

Date

2008-03-24T09:56:48-06:00
ID

99697

Comment

Will Rush Limbaugh Be Indicted for Voter Fraud? While this all makes for great talk radio and sounds like fun, there is one catch: What Limbaugh encouraged Republican voters to do in Ohio was a fifth-degree felony in that state, punishable with a $2,500 fine and six to 12 months in jail. That is because in order to change party affiliation in Ohio, voters have to fill out a form swearing allegiance to that party's principles "under penalty of election falsification." On Thursday, March 20, the Cleveland Plain Dealer reported that the "Cuyahoga County Board of Election has launched an investigation that could lead to criminal charges against voters who maliciously switched parties for the March 4 presidential primary." According to the report, "One voter scribbled the following addendum to his pledge as a new Democrat: "For one day only." "Such an admission amounts to voter fraud," the report continued, attributing that conclusion to BOE member Sandy McNair, a Democrat. The report said the four-member board -- two Democrats and two Republicans -- had yet to vote on whether it would issue subpoenas, although Ohio's secretary of state, Democrat Jennifer Brunner, is empowered to cast tie-breaking votes when the BOE is deadlocked.

Author

LatashaWillis

Date

2008-03-24T10:40:50-06:00
ID

99698

Comment

I'm guessing that Stupid-Ole-Rush is also a fan of voter ID to, er, ensure the integrity of elections? What a phony fool.

Author

DonnaLadd

Date

2008-03-24T10:48:20-06:00
ID

99699

Comment

I don't believe McCain will bother before General Election.

Author

Lady Havoc

Date

2008-03-24T11:22:01-06:00
ID

99700

Comment

My God. Amazing, isn't it? I didn't realize stupidity ran that deep. I used to love listening to Rush, too. I hope he is indicted for this little mess.

Author

Lady Havoc

Date

2008-03-24T11:25:15-06:00
ID

99701

Comment

Some readers at Alternet don't believe Ohio officials have the guts to indict Rush.

Author

golden eagle

Date

2008-03-24T12:21:58-06:00
ID

99702

Comment

Saddly there is always play like this. Also, a republiucan co-worker of mine voted for Obama because he didn't want Hilary to have a chance. We had words - basically vote because you want someone in office not because you want someone not to win.

Author

Puck

Date

2008-03-24T12:52:10-06:00
ID

99703

Comment

Thank you, Puck!

Author

Lady Havoc

Date

2008-03-24T13:03:45-06:00
ID

99704

Comment

I want to see the red on their faces when Obama wins the nomination and general election. The Republicans are more afraid of Obama than they are of Clinton, so that's why they want Clinton to win the nomination.

Author

golden eagle

Date

2008-03-24T13:06:57-06:00
ID

99705

Comment

It's not that their afraid of Obama, it's just that he's vastly more liberal.

Author

Ironghost

Date

2008-03-25T12:33:05-06:00
More like this story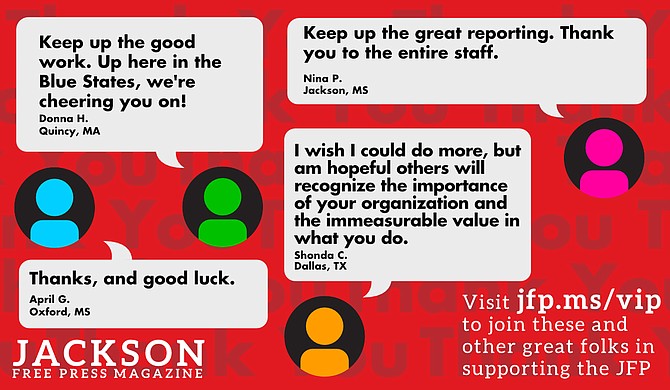 Thanks to all our new JFP VIPs!
COVID-19 has closed down the main sources of the JFP's revenue -- concerts, festivals, fundraisers, restaurants and bars. If everyone reading this article gives $5 or more, we should be able to continue publishing through the crisis. Please pay what you can to keep us reporting and publishing.