Phelps Dunbar attorney James Craig released the following statement about the appeal of death-row inmate Dale Bishop:
Dale Bishop was convicted of capital murder and sentenced to death for the homicide of Marcus Gentry. However, all parties – including the State of Mississippi – agree that Bishop's co-defendant, Jessie Johnson, was the man who actually killed Mr. Gentry. There is no direct evidence that either Bishop or Johnson planned or intended for Marcus Gentry to be killed. Johnson was convicted of capital murder but was sentenced to life without parole.
Today, lawyers for death row prisoner Dale Leo Bishop (Jim Craig of Phelps Dunbar and Glenn Swartzfager and Stacy Ferraro of the Mississippi Office of Capital Post-Conviction Counsel) filed papers asking the Mississippi Supreme Court for permission to file a new appeal on Bishop's behalf. The new appeal presents three arguments: (1) that Bishop's trial lawyers failed to defend him properly, by missing the major fact that Bishop has had lifelong psychiatric problems which should have been presented to a sentencing jury; and, because they did not know about Bishop's mental illness, they should not have allowed him to decide to waive his right to a jury and be sentenced by a judge instead; (2) that the evidence shows that Dale Bishop had no intent that Mr. Gentry be killed, and therefore he cannot be executed under Supreme Court precedent; and (3) Mississippi's Protocol for lethal injection presents an unconstitutional risk of serious harm, including the infliction of excruciating pain and suffering.
What are these new papers about? It starts with the trial – Bishop was tried before Johnson. After the guilty verdict was returned, Bishop waived his right to a jury sentencing and presented no mitigation evidence. The question immediately arises for any experienced capital defense attorney – why did Bishop pull the plug on his defense? Why did his trial counsel let him do so? Why, after the trial, did Bishop then resume fighting his case, allowing his direct appeal, post-conviction, and federal habeas counsel make efforts to prevent his execution? It simply doesn't add up.
"Post-conviction relief" is the name of the process that is used after conviction and appeal to determine if a defendant's trial lawyer failed to provide the assistance of counsel guaranteed by the Constitution. The State of Mississippi has established and funded the Mississippi Office of Capital Post-Conviction Counsel (MOCPCC) to handle these cases. MOCPCC was assigned to take Dale Bishop's case.
But MOCPCC did not file anything that explained why Dale Bishop was part of this killing, or why he would waive all his rights at trial. Instead, they filed papers alleging that Bishop was mentally retarded. But the exhibits attached to MOCPCC's papers showed that Bishop's IQ was 90 – far over the line for mental retardation. The Mississippi Supreme Court denied Bishop's post-conviction appeal, pointing out that there was no evidence showing he should be re-tried.
But we now know that the prior Director of MOCPCC had evidence – witnesses and documents – proving that Bishop suffered from a chronic mental illness (bipolar depressive disorder, formerly known as "manic depression") that adversely affected his capacity to make rational decisions at trial and that Bishop had undergone horrific trauma when he was young.
This investigation showed that Dale Bishop has suffered from serious mental illness, with signs beginning when he was four. Bishop's elementary school records from Texas have many references to these problems, and to evaluations that showed that Dale Bishop needed serious help. His mother took him to a psychiatric hospital, but they could not afford the cost of in-patient treatment. Dale Bishop was not diagnosed until he was sent to death row. The Miss. Dep't of Corrections medical staff has diagnosed him as suffering from lifelong bipolar depressive disorder.
Also, Dale Bishop's father was an abusive alcoholic who beat his wife and children – including Dale Bishop – on a weekly basis. The family was incredibly poor. When Dale was an infant, the family had no running water, no indoor bathroom, and no money.
This is evidence that almost surely would have required a new trial, where Dale Bishop could present his case for a life sentence, giving a jury the background about his youth and illness, and letting the jury weigh those facts and the fact that Dale Bishop was not the killer of Marcus Gentry.
But for reasons that make no sense to experienced death penalty lawyers, the prior Director of MOCPCC did not use any of this evidence. He "fired" the volunteer investigators who found the evidence, and never followed up on their leads. Instead of bringing out the true facts of Bishop's mental illness and abused childhood, he filed the papers claiming that Bishop was mentally retarded while attaching documentary evidence which proved he was not.
It is very rare for the courts to look back into the prior post-conviction proceedings. But we are hopeful they will in Dale Bishop's case. Bishop was incarcerated at Parchman when the State assigned the MOCPCC to his case. He didn't have any choice about his lawyer. If the death penalty is going to be anything more than just a lottery, it's not fair for some prisoners to lose appeals just because their State-paid lawyer discarded valuable, relevant evidence.
We expect the Mississippi Supreme Court to give the Attorney General a deadline for filing any response to these papers. And we have asked the Mississippi Supreme Court to hold off on any execution date until they have reviewed what we filed today. We are shocked and sickened by what happened in this case, and we think the Supreme Court will see it the same way.
Previous Comments
ID

131788

Comment

Update: The Mississippi Supreme Court has just set the execution date for bishop as July 23. They have not, though, ruled on the motion discussed in the statement above.

Author

DonnaLadd

Date

2008-07-01T15:22:28-06:00
ID

131789

Comment

Please know that the Office of Capital Defense Counsel was not Bishop's trial lawyers.

Author

Walt

Date

2008-07-01T16:32:09-06:00
ID

132227

Comment

Dale Bishop is obviously a sick, demented form of human life. However, he is, unfortunately, a human being, which means that his life is covered by "Thou shalt not kill." If the allegations presented by Jim Craig regarding Bishop's original defense team are true, Bishop is unfortunately due another shot--at our (taxpayers') expense, of course. However, just because Craig accuses Robert Ryan (former director of the MOCPCC) of "lack of performance" does not mean it is true. Craig's slanderous statements are especially ironic considering that he represents a client in a slander lawsuit in which he did not bother to ascertain the facts before proceeding with litigation. Craig's statement that Bishop's case is "just another situation where the quality of justice you get is dependent on whether you have any money" seems to be in line with his philosophy of suing anyone who has insurance instead of contributing to society in a positive manner.

Author

notmuch

Date

2008-07-18T15:07:39-06:00
More like this story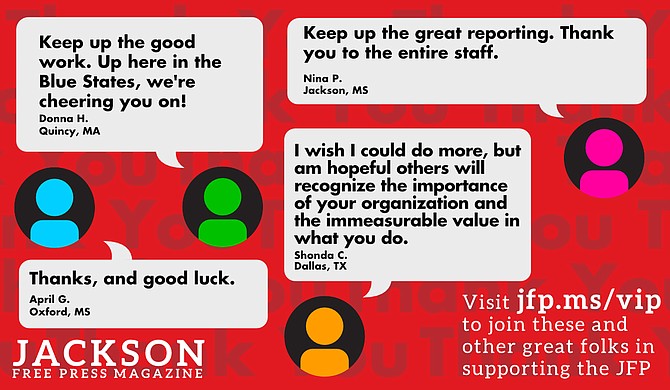 Thanks to all our new JFP VIPs!
COVID-19 has closed down the main sources of the JFP's revenue -- concerts, festivals, fundraisers, restaurants and bars. If everyone reading this article gives $5 or more, we should be able to continue publishing through the crisis. Please pay what you can to keep us reporting and publishing.