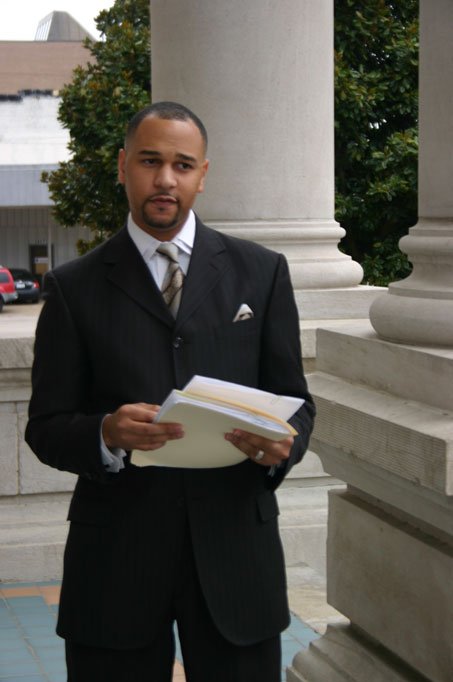 Amid pressures from his department, Greenwood police officer Casey Wiggins resigned from the police department on May 16. Since a 2006 incident at Greenwood High School in which Wiggins, then a trainee, scuffled with then-student James Marshall, Wiggins said he has been persecuted by the department, which looked for ways to get him off the staff.
Wiggins first came under fire on Dec. 6, 2006, while detaining Marshall without a supervising officer, pulling a gun on him twice. According to Mississippi state regulations, trainees "shall not have the authority to use force, bear arms, make arrests or exercise any of the powers of a peace officer unless under the direct control and supervision of a law enforcement officer."
In July 2007, simple assault charges against Wiggins were dismissed; however, a $2 million federal civil trial on the case begins Jan. 12. Former Greenwood Police Chief Henry Harris, the Greenwood Police Department and the Greenwood School District are named as defendants in the civil case.
Wiggins told the Greenwood Commonwealth that he was tired of working for GPD and couldn't take the stress. He also said the department used "unfair disciplinary write-ups" in hopes to find grounds to terminate him.
"I believe Casey (Wiggins) is truthful in that he says that the department is trying to build a solid case against him to get rid of him," Marshall's attorney Carlos Moore told the Jackson Free Press. "They were intent the whole time … to get rid of him."
On May 16, Wiggins was given the option of resigning before a scheduled termination hearing because of three on-duty automobile accidents. Though not required, the department has the option to fire an officer after three wrecks. Wiggins had his third accident on May 13 when he ran into a concrete pole on Park Avenue in Greenwood. In another accident, Wiggins' car rolled down a hill and hit a fire hydrant while he pursued a suspect. Wiggins said the accident was not his fault and should not be counted against him.
"There were three accidents total in a year and nine months, but technically two accidents is what it would have been, should have been," Wiggins said to the Greenwood Commonwealth.
Wiggins' attorney in the hearings, Mitchel Creel, believes Wiggins' resignation is not out of the ordinary.
"It goes on every day. I see it everywhere," he said, adding that Wiggins' decision was not related to the incident with Marshall. "Let bygones be bygones," Creel said.
More stories by this author
Support our reporting -- Follow the MFP.