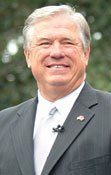 July 31, 2008 - Following are verbatim remarks by Gov. Haley Barbour at the Neshoba County Fair today in Philadlphia, Miss.:
It is great to be back at the Fair. And I'm grateful for this cold snap – only 93 in the shade! As a lot of you have already noticed, this is my first time at the Fair in more than 25 years without my trophy wife, Marsha. On Monday, Marsha underwent surgery to remove an enlarged thyroid gland. Everything went well; no malignancy and an excellent prognosis, but her recovery means she can't be here today.
So Marsha's been in bed recovering, and she's been doing a lot of laughing. Have y'all seen the Democrat Senate Campaign Committee ad describing Ronnie Musgrove as a budget conservative? What a joke! Everybody here knows Kirk Fordice turned the state treasury over to Musgrove in the best financial condition in history; with a record unallocated surplus. And in four years Musgrove not only squandered it all, he left the state in the deepest budget hole in history...a $720 million budget shortfall.
When they claim Musgrove was great on the budget, the National Democrat Party must think Mississippians are ignorant or that we have amnesia. Next they'll try to tell you how Mississippi gained a lot of jobs during the Musgrove Administration.
But it is the political season, and there is no better place to talk politics than here at the Neshoba County Fair.
From Ronald Reagan in 1980 to Phil Bryant eight minutes ago; our great senators Roger Wicker and Thad Cochran yesterday; and a bunch of outstanding candidates and elected officials today; this is the place for campaigning and politics.
I wish John McCain were here; my candidate for President, and I hope yours, too. McCain is a genuine American hero. If you saw him in Meridian a few weeks ago, you know he has deep Mississippi roots and shares our values as well.
Frankly I wish Senator Obama were here, too, because I believe the more people learn about Obama's record, the better McCain will do. In his incredibly brief three year career, Obama has the most liberal voting record in the U.S. Senate, and that is saying something. To the left of Hillary Clinton; left of Teddy Kennedy; left of John Kerry. Barack Obama's voting record is to the left of Senator Bernie Sanders of Vermont, who runs on the Socialist ticket; so Obama's left of the Socialists.
But give Obama credit. While he's far Left, he is a tremendous performer. He could sell Fords to Chevrolet dealers. And his turn of a phrase is really something: like, "Yes, we can."
Great slogan, "Yes, we can."
You gotta admire Obama's nerve. Today fuel prices are the toughest issue for America; $4 gasoline is killing Mississippi families; and it is seriously damaging our state's economy.
For decades the Democrats in Congress, joined on the left by newly minted Senator Obama a couple of years ago, have had a consistent policy against increasing domestic production of oil and gas.
- Drilling off shore to increase the supply of gas; No, say the Democrats.
- Drilling to produce billions of barrels of oil in ANWR; No, say Obama and friends.
- Lease federal land to produce oil and gas from shale; No, says the Left.
- Build more refineries; No, say the Liberals.
- Build nuclear power plants; No, say the Greens.
- Increase domestic production and reduce our reliance on foreign oil; No, again from Obama and the Democrats.
And out of that series of No's, Obama created the slogan, "Yes, we can." And the news media swoons for it.
Amazing as politics can be, we can't let politics get in the way of doing the people's business, your business.
I've shot straight with you about state government and your business.
A whole lot of good has happened.
Record employment, after losing nearly 40,000 net jobs under the Musgrove administration; replacing low skill, low wage jobs with higher skilled, better paying jobs, so per capita income in Mississippi went up 26% during the last four years; tort reform; record increases in funding for every level of education between 2004 and 2008; and we bore the brunt of the worst natural disaster in American history along the way.
After Katrina the spirit and character of Mississippians shone through brightly, and America and the world liked what they saw in our people. The Coast is coming back, bigger and better than ever, but there is still much to do.
Now we have to recognize, after very strong economic growth in our state for the last few years, $4 gasoline and the national credit crunch have begun to slow our economy down. We're not immune to the problems of the national economy, especially the damage done by $4 gasoline and skyrocketing electric bills, which hurt our state more than most.
That's why it is so important that this Legislature filled the state's Rainy Day fund to its legal amount. Mississippi is prepared if our economy slows, and revenue falls below the predicted level. Solid conservative work by folks like Phil Bryant and Tate Reeves means we've protected our citizens from major budget cuts, and we've done it the right way: without raising anybody's taxes.
And, on the energy front, Mississippi is doing more than its share to increase America's domestic energy supply in order to bring down gas prices.
The outer continental shelf off our state is a major part of Gulf of Mexico oil and gas production. Chevron's largest U.S. refinery is at Pascagoula, and compared to two years ago, it gets 10% more gasoline out of the same amount of oil. A billion dollar liquefied natural gas terminal is being built next to the refinery. Mississippi Power has announced a $2.4 billion coal gasification, electric generating plant over in Kemper County: the first commercial facility in the U.S. that will capture carbon and sequester it. Entergy has received its early site permit for another nuclear power plant at Grand Gulf; and a $3-plus billion coal to liquids plant is planned for Natchez to make diesel fuel out of coal. An ethanol plant is being built in Vicksburg; a biodiesel plant is open near Greenville; and Mississippi is producing more oil this year than last because of a series of injected CO2, tertiary recovery projects in old oil fields around the state.
And the premier environmental, energy efficient car in the world, the Prius, will be built by Toyota in Blue Springs, Mississippi.
We take energy policy seriously in Mississippi, just like Thad Cochran and Roger Wicker take it seriously in the Senate. If you want to bring down the cost of something, increase the supply. That's why our energy policy is "more energy."
Let me close by mentioning Medicaid, a subject that has been in the news a lot lately.
There is a $90 million shortfall in the state's portion of the Medicaid budget. As you probably remember, the State Senate passed a fair, permanent, sustainable method to fill this $90 million hole and fully fund Medicaid for years to come. The Senate passed it way back in May, by an overwhelming, bipartisan vote of 41-7.
Well, the House has failed to pass any fair, permanent or sustainable method of fully funding Medicaid. The House leadership's failure has left the Medicaid budget in an enormous deficit situation, compounded by the fact that, for every dollar the state puts up for Medicaid, the federal government matches it three-to-one. So this $90 million state funding shortfall results in a $375 million total Medicaid spending deficit.
And as you've probably read, state law and our Constitution don't allow deficits, and there is a specific statute that requires the Governor to make cuts necessary to balance the Medicaid budget.
You may know that earlier this month I said I would obey the law, and the Division of Medicaid gave notice on July 11 of $375 million of cuts to Medicaid providers…cuts that would be awful for our health care system …cuts that would cost caregivers jobs and jeopardize quality care not only for Medicaid recipients but for all Mississippians.
Announcing these cuts was about as unpleasant and distasteful as anything I've had to do as Governor. I hated it, but I took an oath to obey the Constitution and the laws of our state, and I will keep that oath.
Before the fiscal year ended, I'd hoped the House leadership would choose to stop the cuts from going into effect, by joining the Senate in passing a fair, permanent, sustainable plan to fully fund Medicaid. Frankly, I was surprised and saddened when that didn't happen.
So in recent days my administration has been in discussions with the U.S. Department of Health and Human Services and its Center for Medicare and Medicaid Services, or CMS, which oversees Medicaid.
We are working together on a way to make the required cuts and not hurt the health care system nearly as much as Medicaid's original plan, which was proposed on July 11.
We are making progress. I am proud of the leaders and staff of the Division of Medicaid for the work they are doing to develop a solution, and I thank the staff at CMS for the cooperation and assistance they are giving the state. CMS doesn't want to harm our health care system or Medicaid recipients either.
I expect a public announcement of a revised proposal to be made by the time the Legislature returns Monday.
It's always great to be here with you. Thank you.
Previous Comments
ID

132682

Comment

This is funny -- from Patsy Brumfield at the Daily Journal about Hood's speech at the Fair today: Hood takes issue with Barbour prisoner release Jim Hood, in his second term as attorney general, asked Neshoba's fairgoers Wednesday to call Gov. Haley Barbour if they disagree with his decision last week to suspend the life sentence of a convicted killer. Hood was talking about his office's work and how the U.S. Supreme Court has broken its legal jog-jam to states' carrying out their death sentences. It reminded him that last week Barbour pardoned four men convicted in death cases and suspended the sentence of another, his first such actions since becoming governor in 2004. It's hard enough to get convictions, but then to have the governor turn some of them out - it needs reconsidering, Democrat Hood said to a largely Republican crowd, which wasn't quite sure what to do - applaud the death penalty or stick up for their Republican governor. So, what are tough-on-crime red-meat eaters to do?!?

Author

DonnaLadd

Date

2008-07-31T11:25:10-06:00
ID

132684

Comment

Did you mean Phil Bryant 8 months ago as opposed to 8 minutes ago i paragraph 6? I don't know! Go Obama!

Author

Walt

Date

2008-07-31T11:37:23-06:00
ID

132685

Comment

Barbour is such a friend of women. In the midst of a scandal for freeing/pardoning at least three men who killed wives/girlfriends in recent weeks, he is joking about his jab last year at opponent John Arthur Eaves' wife for being a "trophy wife." This guy is just filled with tricks, eh?

Author

DonnaLadd

Date

2008-07-31T11:38:35-06:00
ID

132687

Comment

My bad. I think I'm mistaken.

Author

Walt

Date

2008-07-31T11:40:55-06:00
ID

132689

Comment

That's Barbour's verbatim speech, Walt, as provided by this office. Any mistakes are his own. I guess he hasn't gotten the memo about how many conservative Christians are getting on the environmental wagon, eh? It's really sad to watch these guys go to this fair of another generation and rely on political rhetoric of the past, even as the world changes behind them. It's even worse than watching the Ledger and Sid Salter act as if the Fair still matters politically for much more than political entertainment. The Fair symbolizes the worst of Mississippi politics. It has never been a forum for a variety of ideas; it's always been a big old conservative, and historically racist, gathering to cheer on people who use coded race phrases and boo those who don't. I know. I grew up there, and played with the Neshoba Central band every year while listening to this crap. Can you tell I'm not a fan? That's why I'm in Florida today, and not there. I've never planned my schedule around that sweat-fest. (Adam is probably there today, although he didn't go yesterday. He has his own agenda to catch certain politicians who have been avoiding him, at least, not make a big deal out of useless speeches made to people who think they, and their views, own the state. Alert: They don't.) Meantime, Obama is registering voters in Mississippi this week. I'd hazard to guess which political activity is likely to be more meaningful this year, at least on the state level.

Author

DonnaLadd

Date

2008-07-31T11:43:52-06:00
ID

132691

Comment

I know Donna. I grew up next door and remember hearing the N-word prounounced so repeatedly and with such loudness followed by great applause that I could hear it in nearby Louisville and Noxapater. I've never seen the place, but I know its legacy lives on.

Author

Walt

Date

2008-07-31T11:53:06-06:00
ID

132692

Comment

These days, I think you see more rebel flags there than you did the old days. I know progressives who like the fair, but maybe they've trained themselves to be blind to the realities there. And I think it's less diverse than it was getting when I was growing up (except for people working at the horse stables). That probably has something to do with all those flags. I'm no romantic about the fair (clearly). And it always divided the haves (a cabin) from the have-nots (a cabin). No wonder Barbour is so popular there—it's filled with people who are proud of rebel flags and have the money and resources to build and move into little camp houses once a year. that isn't to say I dislike all of those people -- I adore personally many people who like the fair and have cabins -- but I can't join in the hoopla about how great it is. And to watch Salter now blog from his fair cabin about how his life has revolved around the fair quite literally cracks me up. That would explain a lot about why his newspaper is so out of touch with and irrelevant to so many Mississippians. And it's always been a drunkfest, including those people who pretended in church on Sunday that they didn't drink as if God couldn't see into the fairgrounds during the week. I'm not criticizing drinking a tad, but I'm not a fan of self-righteous hypocrisy.

Author

DonnaLadd

Date

2008-07-31T12:05:31-06:00
ID

132693

Comment

There are some interesting facts to counter Mr. Barbour's argument. It's curious to think that he spent as much of his speech as he did trying to suggest that national Republicans can lead us on energy independence. My thought: ORLY? You gotta admire Obama's nerve. Today fuel prices are the toughest issue for America; $4 gasoline is killing Mississippi families; and it is seriously damaging our state's economy. However... Drilling for oil in the Arctic National Wildlife Refuge and on the Outer Continental Shelf could help lower gas prices quickly. FALSE. It would take almost a decade before significant oil production could occur in either place, and even then it would have a marginal impact. Drilling in the Arctic National Wildlife Refuge, for example, would only shave 4 cents off a gallon of gas by 2026, or $23 per year for the average driver, assuming that other conditions affecting gas prices remain the same. And that's at maximum benefit! Likewise, it would take many years for the oil from new offshore wells to go into production, and even at peak, the additional supply wouldn't reduce energy prices significantly. These numbers are all according to the U.S. government's own estimates. A June 2008 Congressional report makes it clear: "The argument that more drilling means lower gasoline prices ... there is simply no correlation between the two." Check it out. It almost makes it sounds like...just maybe...Haley's not QUITE as interested in solving our energy challenges as he his helping some friends in the oyal biznass? ;-)

Author

Todd Stauffer

Date

2008-07-31T12:29:28-06:00
ID

132695

Comment

Donna's looking back upon the fair now has me looking back too. I remember thinking the fair was a N-word saying contest because the more the speakers repeated the word with deepened hate or talent the louder the applause got. I remember hearing so many distinct pronounciations of it that I wasn't sure of the correct manner it was supposed to be said. Some people were so extremely or expertly talented at saying the word that we almost thought it was a good or special word for a minute. I might add, we thought this long because gansta rappers thought the same thing. Such experts and extreme talents include Senators Bilbo and Stennis. Senator Stennis combined the n-word with Negro to make the pretty word Nigra (similar to that great waterfall in upstate New York). Who knows, maybe he was thinking of the waterfall and not us blacks. Smile. I remember liking that pronounciation better because it at least suggested we were half Negro (human)if not whole. I couldn't ever pick a winner of the contest because I could tell all had received much practice and was equally adept at saying it.

Author

Walt

Date

2008-07-31T13:00:43-06:00
ID

132697

Comment

Why is there not something similar to the Neshoba County Fair that goes on in Jackson? I know that we could do it much better, with less of a Republican bias, and more fairly. It would definitely attract a wider more diverse group of people and ideals.

Author

optimisticaboutNewJackCity

Date

2008-07-31T13:49:41-06:00
ID

132700

Comment

This from the guy who can't raise tobacco taxes? Ha.

Author

Ironghost

Date

2008-07-31T15:32:14-06:00
ID

132702

Comment

this is relatively insignifigant point but I bring it up anyway:the oldest political party in the world has been traditionally referred to as "the Democratic Party" and not the "Democrat Party." Republican aparticheks(sp?)like Governor Barbour know the difference, and intentionally say "Democrat Party" as an intended slur.If you dont believe me, just google the phrase and "slur" and see what comes up.today's speech was not the speech of a statesman;rather what you got today was classic smart ass Ole Miss Delta frat boy,loaded with "southern strategy" catch words delivered in hitman cadence.just holler LIBERAL as loud and often as you can and make sure it sticks. remarkably,the governor contradicts himself in accusing musgrove of running up a deficit and then moments later indicates that the State cant have a deficit and thus the governor is required to impose cuts--which he claims he is now required to do--just like musgrove did on at least one occasion

Author

chimneyville

Date

2008-07-31T16:18:35-06:00
ID

132706

Comment

Optimistic writes: "Why is there not something similar to the Neshoba County Fair that goes on in Jackson?" That is a damn good question.

Author

Tom Head

Date

2008-07-31T19:24:47-06:00
ID

132714

Comment

rather what you got today was classic smart ass Ole Miss Delta frat boy,loaded with "southern strategy" catch words delivered in hitman cadence.just holler LIBERAL as loud and often as you can and make sure it sticks. Isn't that what he always does at the Fair? Really, what a useless political event.

Author

DonnaLadd

Date

2008-07-31T21:10:42-06:00
ID

132726

Comment

**McCain is a genuine American hero. If you saw him in Meridian a few weeks ago, you know he has deep Mississippi roots and shares our values as well.** As for "OUR values": Speak for yourself, Governor! Of course, we all know what that means to that particular audience, huh?

Author

Kacy

Date

2008-08-01T10:40:35-06:00
ID

132729

Comment

What are "our values"?

Author

golden eagle

Date

2008-08-01T11:57:08-06:00
ID

132731

Comment

Optimistic writes: "Why is there not something similar to the Neshoba County Fair that goes on in Jackson?" Ditto!!! Ladd, JFP should sponsor it. I would work for something like this for free (booze) of course. On another note Ladd, thanks for clearing up some of the "un-truthiness" of our dear governor. But almost all of his statements on the enviornment were based in "un-truthiness." Do these Neshobians (Mississippians?!?) not have the internet to google... Prabably not. Not DSL or broadband anyway. I'm from a rural area where the best we could get is dail up. (which is hell if you're trying to download porn.) Which leads me to one of the issues we could discuss at our local political forum: "free high speed internet in rural MS to acess porn and other important stuff quickly"

Author

dd39203

Date

2008-08-01T12:12:53-06:00
Support our reporting -- Follow the MFP.