One of the saddest things about society-condoned bigotry--these days against illegal immigrants--is that is always leads to violence, especially among young people who hear their elders spouting ignorance about certain groups, and then act on it. We've seen it over and over again in this state. The sad part is how hard it is to learn from our own recent past.
Three white teens were charged Friday in what officials said was an epithet-filled fatal beating of an illegal Mexican immigrant in a small northeast Pennsylvania coal town. Brandon J. Piekarsky, 16, and Colin J. Walsh, 17, were charged as adults with homicide and ethnic intimidation in the July 12 attack on Luis Ramirez.
A third teen, Derrick M. Donchak, 18, was charged with aggravated assault, ethnic intimidation and other offenses. All are from Shenandoah, where the attack occurred.
Additional charges are expected in the case that has roiled Shenandoah, a small, economically depressed town where police have reported friction between whites and a growing Hispanic population.
The suspects played football at Shenandoah Valley High School; Donchak, now enrolled at Bloomsburg University, was the quarterback last season.
[...]According to a police affidavit, the defendants and three 17-year-olds encountered Ramirez, 25, and a teenage girl in a park the night of July 12.
The youths goaded Ramirez and the girl, saying, "You should get out of this neighborhood" and "Get your Mexican boyfriend out of here," documents said. After Ramirez and the girl began walking away, someone yelled an ethnic slur at him, court documents said. He responded, "What's your problem?"
A fight ensued, during which police said Walsh punched Ramirez in the face. The victim fell and hit his head on the street, leaving him unconscious, after which Piekarsky kicked him in the head, police said.
All three suspects used ethnic slurs during the fight, which ended with Ramirez in convulsions and foaming at the mouth, authorities said. The attackers fled the scene; Ramirez underwent surgery but died July 14 of head injuries.
Previous Comments
ID

132474

Comment

Awful. And the sad thing about it is that this will certainly not be the last we hear about such incidents. I bet something like this is happening somewhere as I speak, but has not been reported yet. Those attackers are also cowards. They waited until their victim was walking away before escalating the incident even further and they couldn't fight the guy mano a mano.

Author

golden eagle

Date

2008-07-27T12:18:50-06:00
ID

132485

Comment

No excuse for this. None.

Author

LatashaWillis

Date

2008-07-27T19:48:18-06:00
ID

132498

Comment

i bet this won't make it on fox news, but let one "illegal" immigrant drive drunk and hit somebody and it'll be a topic of conversation for a week on o'reilly...

Author

eyerah

Date

2008-07-28T10:21:36-06:00
ID

132499

Comment

I just wish somehow that innocent victims such as this guy and his girlfriend would somehow be packing some kind of machine or multiple-firing gun and could kill a whole bunch of terrorists like this at one time in obvious self defense and not have to go to jail or get deported. Such an unlikely event just might deter further crimes of this sort.

Author

Walt

Date

2008-07-28T10:49:22-06:00
ID

132516

Comment

http://www.cnn.com/2008/CRIME/07/24/road.rage.killing.ap/index.html?eref=rss_latest Hmmm.... racism indeed.

Author

LawClerk

Date

2008-07-28T17:31:30-06:00
ID

132517

Comment

Just for the record, Walt, illegals can't own guns in this country.... Now, I don't agree with that policy, and if it were up to me, I'd let people carry to defend themselves. Period. If the first, fourth, fifth and sixth apply to illegals, shouldn't the second?

Author

LawClerk

Date

2008-07-28T17:33:35-06:00
ID

132520

Comment

As much as I dislike illegal immigration, Ramirez was a human being who didn't deserve to be murdered by these 3 racist thugs.

Author

Jeff Lucas

Date

2008-07-28T19:38:08-06:00
ID

132544

Comment

Speaking of racism, Donna, are we going to have a follow up meeting to the race discussions we started some months back?

Author

Queen601

Date

2008-07-29T08:07:15-06:00
ID

132551

Comment

Lawclerk I'm glad to see you're still around. You, Kingfish and IG were a good team of republicans to spar with. Believe it or not, I like y'all's personalities. You see, it is possible to like people yet totally disagree on almost everything with them. I don't know what to do with myself without any repubs to fight and kick around anymore. Bush and Cheney are too remote. Some people would ask is it alright to kick a man when he's down. All I know is you don't have to raise your foot as high if you kick them while they're down.

Author

Walt

Date

2008-07-29T08:42:07-06:00
ID

132635

Comment

Racism = Hate Crime = Terrorism

Author

optimisticaboutNewJackCity

Date

2008-07-30T18:00:29-06:00
More like this story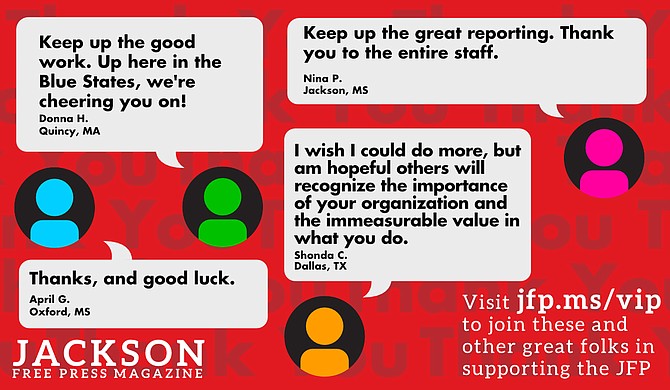 Thanks to all our new JFP VIPs!
COVID-19 has closed down the main sources of the JFP's revenue -- concerts, festivals, fundraisers, restaurants and bars. If everyone reading this article gives $5 or more, we should be able to continue publishing through the crisis. Please pay what you can to keep us reporting and publishing.