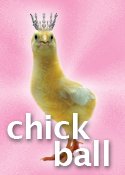 The JFP Chick Ball is finally here. Join us from 6 to midnight Saturday night at Hal & Mal's Red Room to raise money to buy a Freedom Van for the Center for Violence Prevention—and have a great time! Only $5 will get you in to hear Chick music, enjoy free food from area restaurants, bid on tons of silent auctions items, play games and have your photo taken at a "photo booth" set up by friends of the late Heather Spencer. The silent auction will run from 6 p.m to midnight. Event is age 18+. Call Sage Carter-Hooey at 601.362.6121 ext. 2 to make last-minute donations today! (So far, we've raised about $6,500 toward the van. Please help us; every dollar counts!)
Center for Violence Prevention.
Previous Comments
ID

132190

Comment

Two things: You can dress however you want–although it is your chance to get shiny and wacky. There will be lots of bling in the house, and special (secret) judges will award prizes for Blingiest and Best Arm Candy! And, yes, men are welcome. I mean, more than welcome. And you will have items to bid on, too–like that $1,000 watch from Carter Jewelry for your sweetheart and the Saints football signed by Deuce. Also, guys, if you call Sage today and give $50 (or drop by the office), we'll make you a Rooster sponsor and give you two tickets. I mean, what better way to impress the chick in your life!?!

Author

DonnaLadd

Date

2008-07-18T08:00:40-06:00
ID

132191

Comment

Also, if you missed the debut of the fabulous BOOM Jackson magazine last night at the Telcom Center, you can get copies at the Chick Ball. BOOM, there she is. Big week at our shop. ;-)

Author

DonnaLadd

Date

2008-07-18T08:05:13-06:00
ID

132192

Comment

Kudos to Queen. She was magnificent on Mississippi Edition this a.m. She is as powerful as her story. She's no where near a victim:-) They big-uped the Chick Ball too! Its gonna be niiiiiiice!

Author

Kamikaze

Date

2008-07-18T08:21:25-06:00
ID

132196

Comment

Yeah to Queen, Sandy and the Chief-Sheriff! Here's a link to the show. And cheers to all the media helping us get the word out about this vital issue and the Chick Ball this weekend!

Author

DonnaLadd

Date

2008-07-18T09:10:00-06:00
ID

132199

Comment

(Cool interview with David Banner at the end of that segment, too. somebody get Banner to the Chick Ball!)

Author

DonnaLadd

Date

2008-07-18T09:23:37-06:00
ID

132240

Comment

"Holy chicktinis, Batman! That was one heck of a party!" "Yes, Robin. Yes, it was! I believe that was what the young people refer to as 'kick ass.'"

Author

Tom Head

Date

2008-07-20T00:25:26-06:00
ID

132247

Comment

Folks, I'm in the process of going to Chicago -- but I must chime in say: WHAT A GREAT CHICK BALL! We had an amazing turnout, even in the first hour. Thank you, Jackson. Oh, and for an unofficial tally of what we've raised so far toward the Freedom Van: a conservative estimate shows us at $13,500 and growing! If you haven't contributed, yet, we would love to get your contribution this week. In appreciation for a conbribution of $15 or more, we'll send you a free 2008 Chick Ball CD (and you can hear what you missed if you weren't there!) just be in touch with Sage at sage (at) jacksonfreepress (dot) com to arrange the trade! Make all checks out to Center for Violence Prevention. Thank you, everyone. Thank you. Thank you.

Author

DonnaLadd

Date

2008-07-20T16:59:17-06:00
ID

132249

Comment

This was my first Chick Bal, and I had a nice time. Next time I go, I will NOT wear high heels. My feet were killing me! :-P Tom, it was nice to meet you!

Author

LatashaWillis

Date

2008-07-20T17:36:39-06:00
ID

132252

Comment

Thanks, Latasha--it was so awesome to meet you too! And this time we didn't even have to pass notes across the room! ;o)

Author

Tom Head

Date

2008-07-20T18:00:21-06:00
ID

132253

Comment

I definitely recommend buying the CD to anyone who wasn't able to go Ballin', BTW, and to anyone who was for that matter!

Author

Tom Head

Date

2008-07-20T18:02:31-06:00
ID

132255

Comment

wow - $13,500!!! that's almost twice what we got in 2007! Go Chicks! what a lovely, fun & inspiring party. wheeeeee! I had such a good time. The singers were fantastic, Natalie Long, Lizz Strowd, Caroline Crawford - lots of great music. hooray.

Author

Izzy

Date

2008-07-20T18:13:17-06:00
ID

132256

Comment

The singers were fantastic! Where has Natalie Long been? I love her voice! And then there was that rockin' Laurel Isbister woman, who started off the set with an acapella thingie from Bulgaria then caught us off-guard, and blew us all away, with "Girls Just Wanna Have Fun"... Speaking of having fun, this photo makes me giggle uncontrollably every time I see it... Anybody missing a canary? I think I ate it. ;o)

Author

Tom Head

Date

2008-07-20T20:03:22-06:00
ID

132262

Comment

I agree - Natalie Long rocked the house with those powerhouse vocals - all her fans agreed. I think we had just amazing talent this year. I hope everyone had a good time.

Author

Izzy

Date

2008-07-21T09:09:00-06:00
ID

132263

Comment

Tom, I teach a 9 year old guitar lessons right now. Last week I asked her if she had heard the song "Girls Just Wanna Have Fun." She hadn't, so I played some of it for her. And she said, well, that's right, we DO want to have fun. It was so cute.

Author

Izzy

Date

2008-07-21T10:18:10-06:00
ID

132264

Comment

Phewf! I can't believe we made it! I am so thankful to all of you who came out and supported. I am blown away by the JFP Nation right now. And I think I may have incurred a knee injury while doing some celebration dancing at the end of the night. All for a good cause though! Special thanks to the JFP army of interns who did all the walking around, poster hanging, phone calling and heavy lifting to make it such a great night.

Author

sage

Date

2008-07-21T10:33:33-06:00
ID

132265

Comment

I had such a good time the other night! I think this was the best Chick Ball yet, and it can only get better from here! I am admiring my silent auction win at work this morning, it is hanging on my wall. Donna and I had fun fighting over it! Sage you did a fantastic job coordinating everything, and you rocked that crown! It was so good to be working with such an awesome group of women. I can't wait for next year.

Author

andi

Date

2008-07-21T10:38:44-06:00
ID

132269

Comment

Congrats Andi on that win...you were determined! Sage you party hard chic! I love it. Ditto to Andi....you did a fantastic job. To Sandy, I just wanted to say it was a pleasure doing the radio show with you. And to everyone else, she is a pleasure to talk to and she made me feel so comfortable and secure when I was talking about my life as a victim of this violent act. She was very reassuring and just wonderful. I could hear her passion for the children and the victim when she spoke at the Chickball and during the interview. I am elated to have met her and proud to have been able to contribute to the Chickball, even in such a small capacity. To Donna, the interns and everyone else at JFP...you guys ROCK!!!!! Keep up the good work. INFINETE....I NEED A CD...with the quickness! Anyone who knows how to contact Infinete please pass on this request! This was my first Chickball too. Next time, I will be dressed more comfortably too L.W.

Author

Queen601

Date

2008-07-21T11:22:59-06:00
ID

132270

Comment

I have a Dred Bred CD for you Queen. And I think you are fantastic. Next year, you are getting up on stage :)

Author

sage

Date

2008-07-21T12:48:09-06:00
ID

132271

Comment

yeah, Sage, you deserve to take a day off, soak your feet & bask in the glory of your post-chick ball glow. cheers to all the women!!!

Author

Izzy

Date

2008-07-21T13:14:39-06:00
ID

132273

Comment

I also want to give a shout out to all of the guys who showed up for the event - the wonderful men who supported the cause. There were several awesome guys up on stage, backing Rhonda, and playing with Natalie, Lizz and Caroline hooray for the guys, as well

Author

Izzy

Date

2008-07-21T14:05:52-06:00
ID

132274

Comment

Laurel, that is so cute! :o) Your voice was a perfect fit for the song--Cyndi Lauper would have been proud of both the performance and the context!

Author

Tom Head

Date

2008-07-21T14:36:07-06:00
More like this story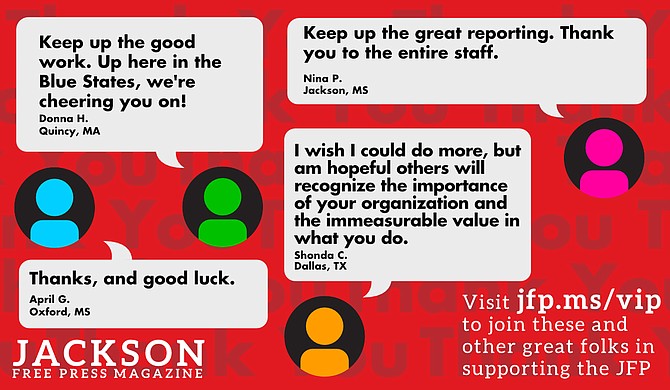 Thanks to all our new JFP VIPs!
COVID-19 has closed down the main sources of the JFP's revenue -- concerts, festivals, fundraisers, restaurants and bars. If everyone reading this article gives $5 or more, we should be able to continue publishing through the crisis. Please pay what you can to keep us reporting and publishing.