The Clarion-Ledger edit-boyz suffered a bit of reading miscomprehension when they wrote this false statement last night for their editorial today saying that Frank Melton should resign:
The federal indictment says several young men were carried to the house in the city police Mobile Command Unit and were ordered out at gunpoint.
Actually, the federal indictment—which they could have read posted on their own damn Web site—says that Wright ordered the occupants of the house out at gunpoint—not the kids. Melton ordered them out of the Mobile Command Center, but not at gunpoint:
The group allegedly drove to a home on Ridgeway Street, where Officer Wright "ordered the occupants of the home outside at gunpoint." This is old news.
Sheesh. Wipe the sleep out of y'all's eyes, Ledger boyz. This is just not that hard, and your errors are the ways rumors are spread. Going to run a prominent correction on this one quickly?
Previous Comments
ID

131981

Comment

See, it doesn't take long for false rumors to spread; I did a Google blog search, and this popped up, apparently sourcing the Ledger on the bad information: It seems that in his zeal to curb drug crime, Melton forced some local youngsters at gunpoint to take a sledgehammer to a private residence that Melton claimed was a drug house. Sigh, Ledger. Learn to read.

Author

DonnaLadd

Date

2008-07-10T07:22:57-06:00
ID

131983

Comment

Pathetic. Are they outsourcing their editorial production to India now? Anyone who is at all familiar with the incident on Ridgeway should have read that sentence and pulled the emergency brake. It's much, much worse than a typo, or some lapse on an obscure matter of law. Part of what is disturbing about the Ridgeway incident is that Melton used minors as an extra-legal demolition crew. Who could forget the witness testimony that the kids chanted, "Look at what Frank has us doing. We're Wood Street tearin' up Virden. We're tearin' sh*t up." In fact, two different witnesses testified that the kids chanted words to that effect. Similarly, who could forget Wright bursting into the house with a flashlight and a submachine gun, shouting, "What the f*ck are you doing here?" This according to witness Lawrence Cooper Jr. Supposedly, the people writing editorials are well informed. Supposedly, they have been--you know--paying some attention to Melton's criminal trials over the last three years. Pathetic! Worst. paper. ever.

Author

Brian C Johnson

Date

2008-07-10T07:54:00-06:00
ID

131985

Comment

Agreed. The irony is that they do so little of substance, and then they start scrambling to make up for it and make ridiculous errors that accuse more than is in the documents. I don't know if you've been following the whole R.J. saga, but Chris Joyner, I believe it was, wrote a big piece saying that a witness had accused Melton in a deposition of essentially putting Sharrod Moore up to the murder. Guess what? It doesn't say that. It says that the witness saw Melton and Moore talk ahead of time. And that wasn't the only over-characterization. I've noted now that a different reporter, Jimmie Gates, is on that story, and he is making a point of saying that the deposition did not accuse Melton of putting Moore up to it. I just don't know where they find this stuff. It's as if they sleep for months, then take a bunch of No-Doze and start making sh!t up all in one night. There is no way that the indictment gave the impression that Melton held the gun on the kids. Simply moronic.

Author

DonnaLadd

Date

2008-07-10T08:03:52-06:00
ID

131992

Comment

We all remember a few years back when California Governor Gray Davis was recalled from office by a petition don't we? Well, if only there were such a thing here in Jackson. Not in politics may I add, but a recall petition to ditch every so-called Clarion Ledger writer, editor, edit boy, etc. at that farce of a paper and install a real journalist, Donna Ladd, to straighten out and clean that place up. They need a swift kick in the you-know-what over there, and Donna is just the girl to do it.

Author

blu_n_a_redstate

Date

2008-07-10T11:00:48-06:00
ID

131993

Comment

That's kind of you, blu. I'm happy right here, but I do wish we had their resources. Man, what we could get done in this state! That's the part that kills me; it's one thing to be a bad newspaper; it's another to be a wealthy one.

Author

DonnaLadd

Date

2008-07-10T11:10:53-06:00
ID

131996

Comment

...I do wish we had their resources. Man, what we could get done in this state! Amen, Sister! You would blow the roof off the state of Mississippi and the universe! I can see it now, the deep-pocketed crooks(to silence you)would come after you and create lies to throw you in jail for not revealing your sources. I say this jokingly, but I do believe those who dislike your penchant for reporting the truth and exposing criminals would try something like that. We, your readers, got your back though. We'd give them H#$% until they let you go. :)

Author

blu_n_a_redstate

Date

2008-07-10T14:07:53-06:00
ID

132012

Comment

I'm going to hold you to that, blu. ;-) Editorial not corrected, yet, by the way.

Author

DonnaLadd

Date

2008-07-11T10:10:58-06:00
More like this story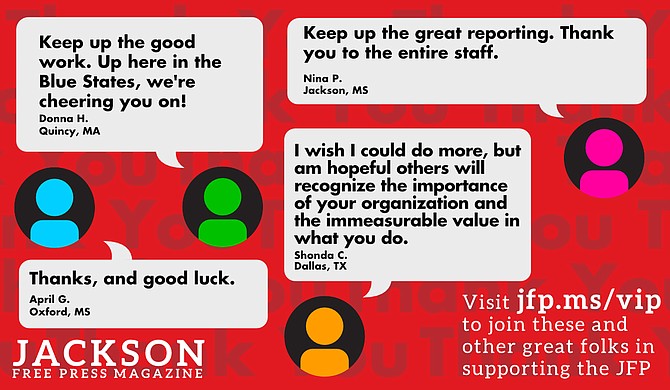 Thanks to all our new JFP VIPs!
COVID-19 has closed down the main sources of the JFP's revenue -- concerts, festivals, fundraisers, restaurants and bars. If everyone reading this article gives $5 or more, we should be able to continue publishing through the crisis. Please pay what you can to keep us reporting and publishing.