I'm no fan of the NYT's David Brooks, but this column analyzing the Kennedy embrace of Obama, and the larger implications, is breathtaking. Per Brooks:
"Kennedy went on to talk about the 1960s. But he didn't talk much about the late-60s, when Bill and Hillary came to political activism. He talked about the early-60s, and the idealism of the generation that had seen World War II, the idealism of the generation that marched in jacket and ties, the idealism of a generation whose activism was relatively unmarked by drug use and self-indulgence.
Then, in the speech's most striking passage, he set Bill Clinton afloat on the receding tide of memory. "There was another time," Kennedy said, "when another young candidate was running for president and challenging America to cross a New Frontier." But, he continued, another former Democratic president, Harry Truman, said he should have patience. He said he lacked experience. John Kennedy replied: "The world is changing. The old ways will not do!"
The audience at American University roared. It was mostly young people, and to them, the Clintons are as old as the Trumans were in 1960. And in the students' rapture for Kennedy's message, you began to see the folding over of generations, the service generation of John and Robert Kennedy united with the service generation of the One Campaign. The grandparents and children united against the parents.
How could the septuagenarian Kennedy cast the younger Clintons into the past? He could do it because he evoked the New Frontier, which again seems fresh. He could do it because he himself has come to live a life of service.
After his callow youth, Kennedy came to realize that life would not give him the chance to be president. But life did ask him to be a senator, and he has embraced that role and served that institution with more distinction than anyone else now living — as any of his colleagues, Republican or Democrat, will tell you. And he could do it because culture really does have rhythms. The respect for institutions that was prevalent during the early '60s is prevalent with the young again today. The earnest industriousness that was common then is back today. The awareness that we are not self-made individualists, free to be you and me, but emerge as parts of networks, webs and communities; that awareness is back again today.
Sept. 11th really did leave a residue — an unconsummated desire for sacrifice and service. The old Clintonian style of politics clashes with that desire.
Note the bolded passage; I believe he is right, and I can see that, at the very core, this is why I don't like the Clintons. They are way too me-generation, even if they parade it in progressivism. They are dated; their time has passed. I believe this more every day as I watch them lash out and play ugly politics.
Previous Comments
ID

116647

Comment

I'm hopeful too, but unconvinced as of yet. We will see!

Author

Ray Carter

Date

2008-01-29T10:04:38-06:00
ID

116648

Comment

One thing we're forgetting in the fight with Hilary and Obama is that Hilary has been out debating Obama at the last few debates. He had better learn real soon to calmly and keenly debate the issues and his platform else he's going to start looking less able than her no matter how he makes people feel.

Author

Ray Carter

Date

2008-01-29T17:48:18-06:00
ID

116649

Comment

I wouldn't give the Kennedys the chance to crown anyone.

Author

Ironghost

Date

2008-01-31T15:10:55-06:00
ID

116650

Comment

The last debate before the Super Bowl and Super Tuesday is tonight. I hope both Obama and Hilary the best, and I need Obama to show us what he really has tonight. It's Harvard versus Yale. If Hilary cries tonight I expect Obama to step up and say, "Look here, baby, I ain't falling for none of that sh1t this evening. You need to debate like a person running for president and who knows where the button is. This crying show didn't stop Bill and it won't stop me. Let's Rock." Let the better person win, and most of all don't do anything that would cause the repugs to win again. McCain ain't nothing but a Bush in a different corpse. If the repugs win again I' heading back to West Africa to the "door of no return" and declaring I'm back home.

Author

Ray Carter

Date

2008-01-31T15:26:57-06:00
ID

116651

Comment

I saw the debate last night between Hilary and Obama. Man, I tell you they were excellent. Made me proud to be an American. That is unless we can't keep the repugnants from ever holding a major office again. Hopefully, the country will do the right thing in November and send the repugnants back to hell where Karl "Chucky, Roves has already returned. Hilary was president of the debate team at Welleley. Now I know why she debates well. If Obama can't beat her hopefully he will be the vice president and vice versa.

Author

Ray Carter

Date

2008-02-01T17:00:21-06:00
ID

116652

Comment

I'm still hoping for an Obama/Napolitano ticket myself, but last night had me thinking Clinton might not be a bad VP. It was a really good debate.

Author

Tom Head

Date

2008-02-01T18:12:23-06:00
ID

116653

Comment

After doing a search on Napolitano since I didn't know who that was (), I found an article about her Obama endorsement, and I don't think she'll be giving up her governor's seat: Obama hinted at a possible role for Napolitano in his administration if he wins. "I think she is enormously talented, and I think anyone would be happy to have her working for them," he said. Obama's sentiment figures to fuel talk of a potential Cabinet position for Napolitano or even a spot on the presidential ticket. But Napolitano was brushing aside such speculation Friday, reminding reporters that her term as governor runs until 2010. If she vacated the seat, Secretary of State Jan Brewer, a Republican, would serve the rest of the term.

Author

LatashaWillis

Date

2008-02-01T18:57:14-06:00
ID

116654

Comment

Latasha, I didn't know about Brewer. Ouch... So no Obama/Napolitano ticket, in all likelihood. Maybe Kathleen Sebelius?

Author

Tom Head

Date

2008-02-03T05:09:51-06:00
ID

116655

Comment

BTW- People have been asking me why I endorsed Obama, so I wrote this... Friends, Romans, countrypersons -- I think Barack Obama should be the next President of the United States because: - He comes primarily from an activist background rather than a political background. No president in my lifetime has taught constitutional law, much less for over a decade; no president in my lifetime has served as a full-time civil rights attorney, much less for over a decade; no president in my lifetime has transitioned so seamlessly from the world of issue activism to the world of politics. - He energizes a new bloc of voters. When Ronald Reagan won in 1980, carrying 49 states, it wasn't just a victory for Reagan--it was a victory for the four million evangelical voters who showed up in 1980, and have played a crucial role in Republican victories ever since. Now Barack Obama, to a degree far greater than that of Howard Dean four years ago, has energized young progressive voters to show up at the polls--voters from the post-second wave, post-desegregation era, voters who represent a generation that is as skeptical of government as it is radically inclusive of all persons, regardless of race, gender, sexual orientation, or national origin. And just as the Reagan Revolution changed politics for the previous generation, the Obama Revolution can change politics for the next generation. - He has the most humane approach to universal health care. Mandates are great in theory, but look at what's happening in Massachusetts--where people are paying punitive fines willingly because they can't afford health insurance. If universal health insurance ever loses some of its subsidy funding under a future president, then a universal health insurance mandate fine will amount to a tax on the poor. - He has the most humane approach to Iraq. As someone who has written full-time for eight years, I know a little bit about deadlines. And I know that open-ended deadlines are the worst kinds of deadlines to have, because then nobody knows when the project will actually come to an end. If Obama says 16 months, come rain or shine, then the U.S. government and Iraqi government and the Iraqi people know when U.S. forces will be leaving, and appropriate measures can be taken to ensure that everybody who needs to be evacuated can be evacuated on schedule. If Hillary Clinton says maybe less than a year, maybe much longer, then how will charities know when to evacuate their workers? How will private contractors? How will the Iraqi government know when they will have to have their own forces ready to take over? If we are going to have an intentional withdrawal policy--and I think that point can be debated--then the only way to enact that policy is to establish a clear timetable for withdrawal. - He has the most humane approach to immigration. One issue that has come up recently is his unpopular stance in support of immigrant driver's licenses. While the idea of giving driver's licenses to undocumented immigrants may sound radical at first, consider the alternative: If undocumented immigrants don't have driver's licenses, then they can't get auto insurance. If they can't get auto insurance, then all of the safety benefits that come with universal auto insurance are eliminated for millions of people, which doesn't do anyone any favors. If undocumented immigrants are here and driving (and they are on both counts), then licenses are a must. I know that not everybody will agree with me on this endorsement, and I respect that. We're fortunate to have an exceptionally strong crop of candidates this year. But I don't believe in doing things quietly, so this is my characteristically public endorsement of Barack Obama as the 44th President of the United States. Here's hoping.

Author

Tom Head

Date

2008-02-03T05:10:14-06:00
ID

116656

Comment

I've been wondering where old Howie Dean has gone. I feel like I'm being forced to chose between Cthulhu and Hastur this time around. Neither of the pairs leading either party really thrill me.

Author

Ironghost

Date

2008-02-04T13:49:05-06:00
ID

116657

Comment

Ironghost, you really are an excellent example of the "Mind of the South."

Author

justjess

Date

2008-02-04T14:17:59-06:00
ID

116658

Comment

Ghost wants Bush to win again!

Author

Ray Carter

Date

2008-02-04T19:10:05-06:00
ID

116659

Comment

IG, I'm seeing weird dynamics in the parties this year--where it seems like everybody is really enthusiastic about either Clinton or Obama on the D side, to the point where it's causing some pretty deep divisions, or very disenchanted with both McCain and Romney on the R side, to the point where all of the campaigns are strapped for cash. That doesn't bode well for the Republican come November, from where I sit, but McCain deserved the nomination 8 years ago and I for one am very happy to see him get a crack at it now. He appears to be a genuinely good, intellectually honest person--and there aren't very many of those in politics.

Author

Tom Head

Date

2008-02-04T23:35:29-06:00
ID

116660

Comment

I honestly don't know who I would vote for this year. I see just as many negatives with each of the frontrunners as I do positives. Since I'm an independent I don't get to decide who the party nominees will be, but I can easily see myself sitting this election out in November if it comes down to a Clinton v McCain showdown.

Author

Jeff Lucas

Date

2008-02-04T23:45:00-06:00
ID

116661

Comment

McCain scares me to death! His strong point is his obsession with the war, in my opinion. He says that the surge is "working" and that he will send more troops into Iraq. He admits that under his watch as President, the war will go on for "years." America can not continue this war. It is a lost cause: Fought for all of the wrong reasons and predicated on a bunch of lies. This country is borrowing money to finance this mission and pretty soon, we will be taking orders from China. Just as GW wanted to even the score with Sadam whom he said, "Wanted to kill my daddy." McCain has to get his revenge for being a prisoner of war. Please, let's end the war and STOP any candidate who wants to continue Bush's mission.

Author

justjess

Date

2008-02-05T10:00:16-06:00
ID

116662

Comment

Tom Head, I just scrolled up and read your post on Feb. 3 5:10am. This is so well thought out and gives reason for your endorsement of Obama. I agree totally and hope that he is victorious. That young man has impressed a lot of people and I must admit that I share your thoughts.

Author

justjess

Date

2008-02-05T10:08:02-06:00
ID

116663

Comment

It's weird, isn't it Tom? There are times I wish Huckabee had a better chance, but I know that's not going to happen. I don't know much about Romney, and McCain's Open Borders mania is a turn-off. On the other side of the fence, I know I won't stand for another Clinton in the white house.

Author

Ironghost

Date

2008-02-06T14:26:05-06:00
ID

116664

Comment

Not even an innocent Clinton in the White House, Ghost? What about Chelsea Clinton. Is a second Clinton in the White House worse than 12 years of Bushs. Ironghost, didn't you vote for daddy once and son twice? Yet you weren't appalled by that enough to recoil or change voting styles!. Go figure. Sounds like contradictions and confusion to me.

Author

Ray Carter

Date

2008-02-06T14:36:36-06:00
ID

116665

Comment

Chelsea isn't running for President, Ray. Hillary is, and I don't trust her any farther than I do Slick Willy. Also, how do you know if I voted for the Bushes? I could have simply abstained from voting for Shrub, you know. :D

Author

Ironghost

Date

2008-02-06T17:10:28-06:00
ID

116666

Comment

Ghost, Bush has set the bar so low that no one could do worse.

Author

Ray Carter

Date

2008-02-06T17:19:09-06:00
ID

116667

Comment

[quote]Ghost, Bush has set the bar so low that no one could do worse.[/quote] Shh... someone might try. :) We do have a Clinton running for office...

Author

Ironghost

Date

2008-02-06T17:26:14-06:00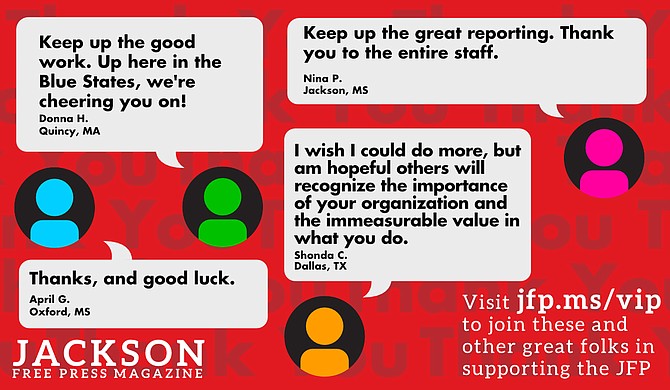 Thanks to all our new JFP VIPs!
COVID-19 has closed down the main sources of the JFP's revenue -- concerts, festivals, fundraisers, restaurants and bars. If everyone reading this article gives $5 or more, we should be able to continue publishing through the crisis. Please pay what you can to keep us reporting and publishing.