George Packer has a compelling essay in The New Yorker this week about the motivations behind Obama and Clinton's run for the White House. It ends:
"Hillary needs to connect two things," Myers said. "What's in her heart and what she wants to accomplish and why. There are many reasons to think she'd be a good President. She knows what she wants to do, she understands how the process works, she's shown an ability to work with Congress, she's become more incrementalist. But the Presidency isn't all that powerful, except as the bully pulpit. It comes down to your ability to get people to follow you, to inspire. You have to lead. Can she get people to come together, or does she remain such a polarizing figure? That's what the campaign will be about." In other words, winning the Presidency might require Clinton to transcend her own history.
Previous Comments
ID

116482

Comment

Clinton, Obama engage in bitter debate Looks like things are getting nastier. Fortunately, there was a laugh in there somewhere: With the holiday honoring the Rev. Martin Luther King Jr., as a backdrop, the candidates also addressed questions of racial equality. Clinton and Edwards compared their records on helping to alleviate poverty, while Obama was asked if he agreed with the famed black novelist Toni Morrison who dubbed Bill Clinton "the first black president." Obama praised the former president's "affinity" with black people but also drew laughs. "I would have to investigate more, Bill's dancing abilities and some of this other stuff before I accurately judged whether he was, in fact, a brother," Obama said. "I'm sure that can be arranged," Clinton joked.

Author

LatashaWillis

Date

2008-01-21T22:21:07-06:00
ID

116483

Comment

Just saw that on 16. Getting quite heated.

Author

golden eagle

Date

2008-01-21T22:22:12-06:00
ID

116484

Comment

I TiVo'd the debate and watched it before bed expecting fireworks and I wasn't disappointed! I'm glad Obama didn't make the mistake of stepping over to Clinton or else we'd never hear the end of the media crapping on him "invading her space" and "being too aggressive" like that kid who ran against her for Senate. Edwards appeared above the fray by default last night and made a few good points that should help him Saturday, but I still think Obama will win S.C. with Edwards 2nd a percentage point or two above Billary.

Author

Jeff Lucas

Date

2008-01-22T08:12:06-06:00
ID

116485

Comment

I am the parent of all boys. As young kids, I would say, "DON"T HIT GIRLS." They were getting their butts kicked left and right. When I say the Debate last evening, I thought about what I grew into saying to my young boys, "Don't strike first but, sometimes you just have to defend yourself. This is the position that Obama found himself in and he was able to say, "Bill Clinton, the President, didn't tell the truth." I like Hilary, Obama and Edwards. I hope that the debating of issues - not personalities, will carry this country to the beginning of the healing process. Believe me, our crap stinks all over the world and we will need a super, duper do-do scooper to clean it up.!

Author

justjess

Date

2008-01-22T11:55:33-06:00
ID

116486

Comment

Believe me, our crap stinks all over the world and we will need a super, duper do-do scooper to clean it up.! ROTFL! I'm watching Letterman, and he joked that after the debate, you could hear Hillary backstage yelling, "Don't tase me, bro!" Tee hee...

Author

LatashaWillis

Date

2008-01-22T22:50:57-06:00
ID

116487

Comment

we will need a super, duper do-do scooper to clean it up.! The chicks are in the house tonight, and y'all are cracking me up. Of course, I'm punchy as well. We're sitting here trying to finish up THE BIGGEST ISSUE OF THE JFP IN OUR HISTORY. Pop the corks, doll-girls. (And get ready for the party. We sure are!)

Author

DonnaLadd

Date

2008-01-22T22:56:57-06:00
ID

116488

Comment

Try to get some rest in the midst of your punchiness, Donna. :-P

Author

LatashaWillis

Date

2008-01-22T23:13:37-06:00
ID

116489

Comment

Yeah, I was getting a tad wacky last night. Sorry: 14-hour days do that to you! The issue rocks, though. ;-)

Author

DonnaLadd

Date

2008-01-23T10:44:09-06:00
ID

116490

Comment

Hey, I'm sure 14-hour days is enough to make anyone loopy. Take care of yourself.

Author

LatashaWillis

Date

2008-01-23T11:00:43-06:00
ID

116491

Comment

The Hilliary-Obama fight is basically how politics go. Its not a racial or gender thing to me because I believe(I know) that the Clintons would be going after Edwards if he was the top contender. There are a lot of people that want to make it into a racial fight so they can peel off some African American support from the Democratic Party. You listen to talk radio and they are salivating over the idea of the Clintons getting into a battle with a "black" guy. Like the Clintons would not be trying to win and playing dirty(if you call it that) whomever the opponent was. It is going to be the same thing regardless of who we see go up against the Republican candidate.

Author

Goldenae

Date

2008-01-23T13:15:14-06:00
ID

116492

Comment

I'd love to see gender and race left out of this race, but with potentially the first woman or African American getting the POTUS nomination, the media isn't going to let that happen, even if the candidates did their best to avoid the issue. Sure the Republicans are salivating at the ultimate race/gender war among the Democrats, that's a given. But I've talked to a few brothers who NEVER listen to right-wing radio who are increasingly irritated by the bickering between Clinton and Obama. A few of them see some of the criticism of Obama as hidden racism on Clinton's part, especially BJ's "fairytale" remark a couple of weeks ago, that a black man would dare to challenge his wife and actually keep her from winning the nomination. I don't agree with all of that, but I do think it illustrates that the Clintons will cut down anyone to get back into power, and they aren't afraid to play on the fears of white Democrats who believe Obama is unelectable or would be a disaster as president but won't admit it openly.

Author

Jeff Lucas

Date

2008-01-23T15:58:07-06:00
More like this story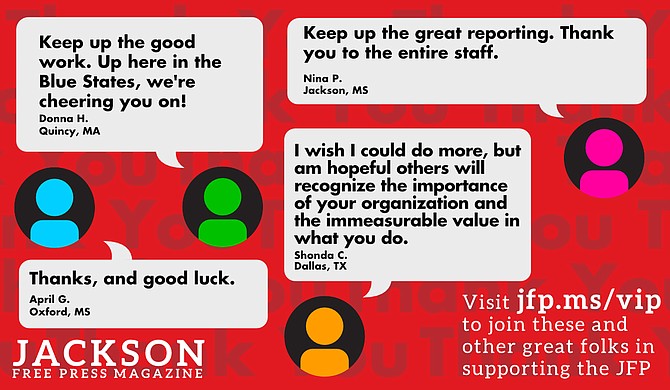 Thanks to all our new JFP VIPs!
COVID-19 has closed down the main sources of the JFP's revenue -- concerts, festivals, fundraisers, restaurants and bars. If everyone reading this article gives $5 or more, we should be able to continue publishing through the crisis. Please pay what you can to keep us reporting and publishing.