Raw Story is reporting that George and Laura Bush's new neighborhood in Dallas barred non-whites (except servants) until eight years ago:
Until 2000, the neighborhood association's covenant said only white people were allowed to live there, though an exception was made for servants. Enacted in 1956, part of the original document reads: "Said property shall be used and occupied by white persons except those shall not prevent occupancy by domestic servants of different race or nationality in the employ of a tenant."
Click to view a PDF of the covenants. The white restriction is No. 11 on the second page.
Previous Comments
ID

142099

Comment

Can you imagine what the long-time property owners there must be like? Ick.

Author

DonnaLadd

Date

2008-12-08T10:54:51-06:00
ID

142103

Comment

I guess the cost of the houses weren't enough to bar us. I'm reminded of a story discussed a couple of years ago on the Tom Joyner Morning Show about having your ashes flown to the moon at some astronomical cost. Comedienne Ms. Dupri retorted rich white folks will finally be free of us black at last, as she doubts any blacks with money will follow that trend considering the cost and practicality of the matter.

Author

Walt

Date

2008-12-08T11:29:58-06:00
ID

142108

Comment

Walt, I am amazed at you - and the way you can always throw a joke, even something as nasty as this. Shows you have a tough skin and a really strong will & to laugh. Cheers to ya!

Author

Izzy

Date

2008-12-08T13:13:09-06:00
ID

142111

Comment

Thanks Laurel. That covenant barring blacks was likely illegal or against public policy, but probably went unchallenged for years because no blacks wanted to live there, could afford to live there or knew about it. Some of this race stuff to me is just plainly stupid. Instead of getting mad, I just laugh and make jokes about it. Jokes about it seem to make many people feel better though the events and incidents aren't really a laughing matter to just as many people. The manner in which people deal with race matters or concerns continue to surprise and anger me. I believe honesty is the best manner to handle it. It's quite freeing to me. Yet I see lawyers and others who have dedicated their lives to aiding the poor and minorites who are so uncomfortable with the subject matter that they can't even talk about it honestly or openly. I can't even say I totally trust people with this dilemma because I think it shows they haven't reconciled or overcome the issue of race themselves. This is so sad and unnecessary, in my view.

Author

Walt

Date

2008-12-08T14:33:20-06:00
ID

142134

Comment

I appreciate the thoughts, Walt. It's right on that people who cannot talk these things through without discomfort probably have some working out of issues left to do. I've found more and more that talking openly of race with people of all kinds is easier than I thought. Each person's unique take on it interests me, as well as how people adapt. I admire people who say, I won't let this get to me and just go for it. This is true for women, too, which is why I love the movie Legally Blonde. BTW, I've wondered for awhile now if Belhaven in Jackson doesn't have some kind of unwritten code like this. I live there and like the lefty, liberal, artistic people, nice neighbors, but why do I almost never see black people living/renting there?

Author

Izzy

Date

2008-12-09T09:23:54-06:00
ID

142137

Comment

I remember back in the 80s when a very prominant black physician tried to buy the home of her colleague' in Belhaven. It didn't matter that she had good credit, was at the top of her game in medicine and lived a law abiding life. Her problem, She is BLACK! I'm sure that she could have filed a law suit and won; however, who wants to live fearing your life on a daily basis? Things might be better now, but, Belhaven was definitely racially charged during that period.

Author

justjess

Date

2008-12-09T09:56:02-06:00
ID

142139

Comment

I think things are different, now, as I saw more Obama signs there than I did many other places. Also ownership of the Fairview Inn changed hands, the previous owners had ties to white only citizen group. I am so sorry the physician didn't get to buy in. Maybe things aren't perfect but they are better now, but am I being naive, what do others think?

Author

Izzy

Date

2008-12-09T10:34:46-06:00
ID

142141

Comment

Izzy, things are what they need to be, but, they are much better than they were. Negative "group think" didn't start overnight and it will not end overnight. This is a process. Just having a person say the things you said and to feel your need for life in Jackson to be fair and equitable is a big deal! It was not so far in the distant past that a White person making those comments would be labeled, "Nigger Lover." They too were ostrasized and often killed.

Author

justjess

Date

2008-12-09T11:15:56-06:00
ID

142147

Comment

thanks Justjess, it's true that what we do now will make it better. the risks are lower now, which could encourage more people to try. for me it is a real issue, in terms of my view of the world (i enjoy all kinds of people and want there to be fairness) and also a kind of "karmic" or family debt. you see, my great-grandparents were slaveowners, my grandad had a plantation with sharecroppers. My mom left MS at age 18 - she hated the way blacks were treated - couldn't stand to be here or be a part of it. I wasn't raised in MS but came back feeling a call. I want to work to heal the place. and also i really just love it.

Author

Izzy

Date

2008-12-09T12:40:30-06:00
ID

142148

Comment

I think I meant great-great-grandparents. My great-grandfather was also on the college board and convinced them to give money to Alcorn. They named a building after him. Then my grandad supposedly was known for being one of the better men to do sharecropping work for. Not a proud history, yet also not completely without merit. The times we're born into do not say as much about us as the way we move and work and act in our times.

Author

Izzy

Date

2008-12-09T13:18:05-06:00
ID

142151

Comment

I love it too, I think Laurel, although my feelings are ambivalent. As soon as I see something or someone I like, I often soon see too many traces of prejudice and racism of the old south lingering in that thing or person. The old and racist things or parts of the old south have to be rejected, in my view, for me to ever fully embrace the south, Mississippi or persons epitomizing the same. For instance, I will never under any circumstances respect the Mississippi flag as it is now. There isn't any point in anyone trying to make me ignore it's presence or obvious message. No amount of bullshit or phony intellect will suffice. I will never trust or fully respect anyone insisting on maintaining that flag just as I know there are many people who will die without denouncing that flag. I refuse to help racists or people insistent on holding to the horrible past succeed in doing so. I beleive part of my purpose for living is to destroy and defeat that which is bad, and old racist and injurious ways certainly fit within that category. I will never like or respect a racist person or institution no matter how much money or power it has. I was just at ole miss university last week for a conference. It's a good school but it holds steadfast to the past and therefore I will never like or respect it to the point of schools that have moved on. It doesn't matter to me that it's located in Mississippi. I will always pull for every school they play to defeat them. I don't care how this offends those beholden to the school. I decide whether I should respect that school, not others for me. However, I readily admit, I enjoyed by brief stay. I have a nephew who is a football star and they're trying to recruit him. I advised him not to go there, but believe he might go anyway. If he does, I will respect the decision and try to be openminded about learning to support him there and to embracing the school if I see something worth embracing. I will be honest in my assessment of what I find to be the truth. I don't blame anyone for the acts of the past, especially the past of their parents, grandparent, relatives or other ancestors. All I expect of everyone is to personally do the right things without regards to race, sex, et al.

Author

Walt

Date

2008-12-09T13:32:45-06:00
ID

142152

Comment

There are a few blacks in Belhaven. I know of one (1) black family that owns a house in Belhaven, and I know of several that rent houses and apartments in Belhaven, including a good friend of mine. But I still can't shake that feeling that I'm being watched whenever I visit. Like me and my girls might break out in hoodies and baggy pants and jack somebody up... plz

Author

lanier77

Date

2008-12-09T13:55:54-06:00
ID

142153

Comment

good post, Walt. it's ongoing, so will look to hear back on the nephew & how it goes

Author

Izzy

Date

2008-12-09T13:57:32-06:00
ID

142154

Comment

Good posts from you too Laurel. That revelation doesn't taint you any in my view. You didn't do any of that. Neither did your mother. Those were the times in which people lived. If your ancestors were humane to their sharecroppers and slaves they were much better than many or most. Even if they had been cruel, I still would judge you by your own merits or demerits, if any. I actually think this history gives you a great perspective to share and has shaped your wonderful state of beings. I liked you the first time I met you, and figured you couldn't have been limited to a southern socialization. Your mental state is too broad, open and embracing of others. Plus I got the distinct impression right off that you were your own person - an individual marching to their own drum beat. I like people bold enough to be individuals. I'm bias too in your favor because I have great kinship to musicians or artistic people. Later, I learned you had spent time out west and other places. "There are good and bad things about the south. Like the black man living across the track, with the white man living on the other side holding him back," so says Junior Walker in the song, Way Back Home, that was written by Glady Knight, Wilton Felder and one other southern musician whose name I cant recall right now. If you get a chance to go and listen to that song. You will hear the same ambivalence that I've expressed but in a more poetic way than I've expressed here and elsewhere.

Author

Walt

Date

2008-12-09T14:21:05-06:00
ID

142190

Comment

My great-grandfather was also on the college board and convinced them to give money to Alcorn. They named a building after him. That's cool, Izzy. My great-great uncle (not sure if that's enough "greats") taught at Alcorn.

Author

LatashaWillis

Date

2008-12-09T17:53:10-06:00
More like this story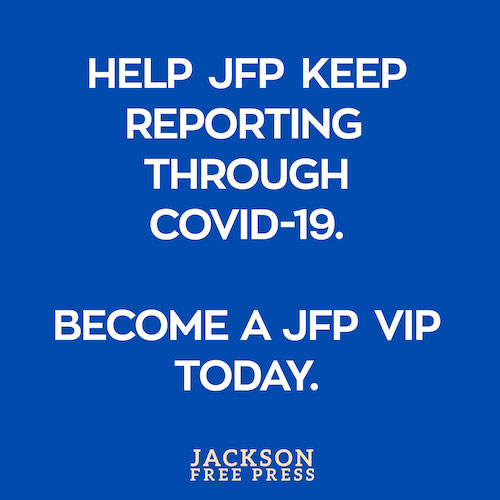 COVID-19 has closed down the main sources of the JFP's revenue -- concerts, festivals, fundraisers, restaurants and bars. If everyone reading this article gives $5 or more, we should be able to continue publishing through the crisis. Please pay what you can to keep us reporting and publishing.