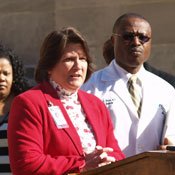 On Tuesday, speakers from the Coalition for a Healthier Mississippi unveiled their plans for the third annual Mississippi Health Awareness Day, scheduled for Jan. 15, 2009.
Community Outreach for Health Awareness CEO Dr. Samuel C. Okoye spoke about the many health challenges facing Mississippi.
"Mississippi is the fattest state in the nation for the third straight year," Okoye said, adding that the state ranks No. 1 in the nation for high blood pressure and diabetes, and is also No. 1 in adult inactivity.
Dr. Warren Jones executive director of the Mississippi Institute for Improvement of Geographic Minority Health and Health Disparities at the University Medical Center said that making an impact on the state's health problems is not easy.
"It takes a lot of vision, ingenuity and energy to take a well-known problem like the health state of Mississippi and to come up with a way to make a meaningful difference in that," Jones said.
Estelle Watts, a consultant with the State Department of Education's Office of Coordinated School Health, highlighted the need for adults to demonstrate good health choices for young people.
"We need to be role models for (children) and help them understand why those choices we make are so important."
On Jan. 15, COHA will have sites all across the state offering education and health screenings. All sites will offer cholesterol, blood pressure, blood sugar and body mass index screenings, with selected areas also offering glaucoma, dental and other health tests. Locally, the Jackson Medical Mall Thad Cochran Center will offer screenings and information.
"We are tired of being the worst. We are ready in health and health awareness to be the first," Jones said.
For additional information, contact Robyn Breland at the Jackson Medical Mall Foundation. 601-982-8467, ext. 41.
Previous Comments
ID

142097

Comment

Good to see a column about we Mississippians being to big or fat. I'm happy to report I'm not eating less, down to one diet now, eating only two real meals daily and very few snacks. My problem is I can't stop eating bread. It's like a drug to me, once I eat one pice I have to have two. Before I know it I've eaten too much. I mean bread be calling me as I try to sleep. Y'all pray for me.

Author

Walt

Date

2008-12-08T10:46:22-06:00
ID

142172

Comment

You can become physically addicted to carbs. I found that out after my doctor told me I had reactive hypoglycemia. When I eat sugar my sugar drops, so I am on a very low carb diet and feeling much better. So after having to reduce my carb/sugar intake I just about went mad trying not to think about bread, cake, and anything else that was full of carbs and sugar. So, I know what you mean about the bread.

Author

caroline

Date

2008-12-09T15:50:16-06:00
ID

142180

Comment

Hey Guys, People have been eating bread and cakes and pies for thousands of years without obese or even fat. Its not the carbs, but the "other ingrediants" our food industry now puts in almost all of our products. Namely: Corn syrup MSG (now known as protein extract, or modified protein) Hydrogenated oils Enriched (i.e. depleted) flour and all that other stuff we can't even pronounce. Eat bread again without guilt or extra-pounds...Get these cookbooks. No fat or oils (unsweetened applsause instead) No suger (only honey or maple syrup) No processed grains (whole wheat and whole rice flour)

Author

FrankMickens

Date

2008-12-09T16:19:11-06:00
More stories by this author
Support our reporting -- Follow the MFP.