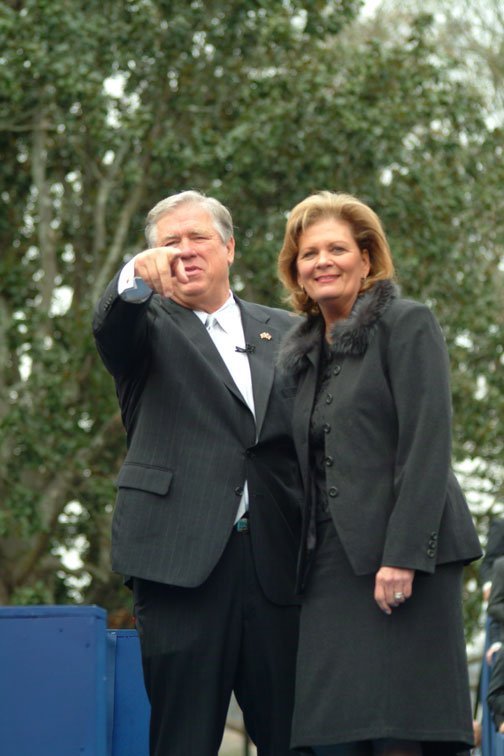 By now, it should be clear who is making the big bucks on Katrina recovery: contractors and consultants. The storm's victims haven't fared so well.
In August 2007, Bloomberg News ran a story titled "Mississippi Governor's Associates Profit From Katrina Recovery."
"Among the beneficiaries (of the federal aid for Katrina recovery) are (Gov. Haley) Barbour's own family and friends, who have earned hundreds of thousands of dollars from hurricane-related business," reporter Timothy J. Burger wrote. And, although no illegal activities were uncovered, the "conflict of interest" specter loomed large.
Barbour's Washington lobbying firm, Barbour Griffith and Rogers, which continues to pay him through a blind trust, has represented at least four firms linked to the recovery, Burger wrote. The firm represents Gulf Coast casino interests and a company formed to provide concrete and stone to the recovery efforts.
Barbour's nephews, Henry and Austin Barbour, also received Katrina funds. They are lobbyists in Jackson's Capitol Resources LLC, representing Government Consultants, Inc., which advises both Mississippi and Louisiana on bond issues. Government Consultants' bond fees ran about $2.4 million in 2006, including nearly a half-million from Katrina-related issues. That same year, the company's fee income was up 125 percent over the 2004, the year it hired Henry Barbour. Henry's personal lobbying fees rose from $150,000 in '04 to $379,000 in '06.
Rosemary Ramirez Barbour, owner of Alcatec LLC and wife of another nephew, Charles Barbour, was a beneficiary. Alcatec received nearly $27 million in federal contracts to manage FEMA trailers.
Earlier in 2007, The Center for Public Integrity reported that "27 percent of FEMA's $8.4 billion in Katrina and Rita contracts were cost-plus-fixed-fee, accounting for nearly 21 percent of the EPA's $212 million and 36 percent of the Air Force's $167 million in contracts awarded through Jan. 31, 2007."
Cost-plus-fixed-fee contracts ensure that contractors make a profit, because the costs are passed directly to the government, which guarantees additional payment for profit.
One of those FEMA contracts was worth $575 million to Bechtel National Inc. for temporary trailers. "[A] Hurricane Katrina task force set up by House Democrats criticized the agency and Bechtel for a delivery process that was "slow," "horribly inefficient" and offered "no incentives to improve efficiency," CPI stated, adding that companies also had no incentive to control their expenses.
Katrina Watch, the project initiated by CPI to monitor news and contracts in the aftermath of Hurricane Katrina ended May 25, 2007.
In April 2006, The Los Angeles Times reported that home and auto-insurance companies posed a record 44.8 billion profit in '05 and raised its surplus cash to $427 billion, though industry executives called it a "fluke." Also in 2006, refinery profits were up by 255 percent, according to The Washington Post. In congressional testimony in May 2007, Bart Stupak, chairman of the Oversight and Investigations Subcommittee, said: "In its spring 2006 study on gas prices after Hurricane Katrina, the FTC found that 23 percent of refineries, 9 percent of wholesalers, and 25 percent of the retailers studied had price increases that 'were not substantially attributable to increased costs.Ҕ
In contrast, a March 2008, MSNBC story said that 56,000 homeowners who have applied for relief, roughly 40 percent of those eligible, have yet to receive a dime. The private company that manages those funds, however, "ICF International of Fairfax, Va., has posted strong profits, gone public, landed additional multimillion-dollar government contracts, and, it was learned this week, secured a potentially big raise recently from the state of Louisiana," MSNBC wrote.
Previous Comments
ID

133682

Comment

Hopefully, the chances of this continuing are about over with. The government is supposed to serve the people not the people serve the government or the people get screwed by the government.

Author

Walt

Date

2008-08-28T11:13:25-06:00
ID

135044

Comment

The company I work for was involved in the Hurricane clean up and we got royally shafted by some of the out of state contractors who came into the state and made a lot of money. They never paid their bills they had with our in state firms and then filed bankruptcy. When I called one of them about payment he flat out told me "We ain't paying, you might as well call your lawyer."

Author

WMartin

Date

2008-09-03T13:22:20-06:00
More stories by this author
Support our reporting -- Follow the MFP.