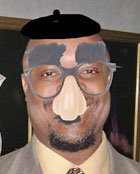 Cholly Bossman: "CEO's log in the year of 2008 and 2/3: A couple of corporate supervisors and I made a surprise inspection of Crunchie Burga World's Food Distribution Warehouse, a place where processed Crunchie Burga World food items and products—such as Crunchie Burgers and Blackened Crispy Fries—are packaged and sent to Crunchie Burga World ghetto franchises nationwide.
"Upon entering the warehouse, we observed a small group of employees—who wanted to keep their jobs—diligently loading the refrigerated trucks. What really disturbed us was a large group of disgruntled and unproductive contract employees, from the We Will Work for Food, Utilities and Rent Money Temporary Agency, holding a meeting in the 15-minute break room. Leroy, the warehouse supervisor, explained the group's insubordinate act."
Leroy: "Mr. Bossman, the workers don't like your five-day mandatory overtime to boost production initiative, especially when they don't have any health care and compensation benefits."
Cholly Bossman: "In the words of that rap group: 'It's all about money! Ain't a darn thing funny.' You contract workers really need a job in this land of milk and honey. Plus, break time is over. You have 10 more hours left to load those refrigerated trucks.'
"As the supervisors and I left Crunchie Burga World's Food Distribution Warehouse, we noticed graffiti-like text written over a Crunchie Burga World logo on the wall. It read, 'Welcome to the Adventures of the Slave Ship Enterprise.'"
More stories by this author
Support our reporting -- Follow the MFP.