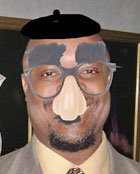 Nurse Tootie McBride: "It's 'The Nurse Tootie Factor' television show on the Ghetto Science Team Cable Network. And you have entered the 'Spin Zone'—plus 'Rinse and Wash' cycles. This is your time to hear what's on my mind! Yeah, I know. Gasoline prices are lower. But what if consumers never gripe, moan and complain?
"Before I close the show, I want to share with the people a couple of e-mail commentaries in response to a controversial segment on last week's show featuring Momma Church Hat's commentary titled 'An Open Rebuke of Oil Companies, Government and Politicians: Standing in the Need of Prayer and a Good Purse Beat-Down.'
"Miss Doodle-Mae, part-time cashier and security guard at Jojo's Discount Dollar Store, sent this comment:
'Thank you, Nurse Tootie, for allowing Momma Church Hat to say what needed to be said and tell what needed to be told. Also, your weekly sound-offs about high gasoline prices paid off. It was like ol' Joshua fighting the battle of Jericho. In 2008, people like you and Momma Church Hat motivated consumers to fight the battle of high-priced oil with constant gripes, moans and complaints, and the prices tumbled down!'"
Nurse Tootie McBride: "And our friends from Operation Corporate Backlash sent this interesting reply:
'Now that gasoline is cheaper, I guess you people have nothing to gripe, moan and complain about.'"
Nurse Tootie McBride: "As if you didn't know, Operation Corporate Backlash, we're not done, yet!"
More stories by this author
Support our reporting -- Follow the MFP.