A journalism professor published interesting column in Seven Days, the alternative paper in Burlington, Vt., about their Gannett daily, ironically (to us) called the Burlington Free Press. The column explores why so many employees are leaving that daily. The paper here has similar problems with turnover; Laura Hipp, who had been covering the Legislature, announced she is moving to Texas this fall. And here in Jackson, Gannett recently stopped giving employees free coffee. Some of this sounds awfully familiar with our own former-newspaper-turned-"information center," eh? (Remember, all Free Press references are to the Burlington daily!)
"What's going on at the Free Press doesn't make any sense," Lake declares — not angrily, but mournfully. "Everything they're doing is the opposite of what they should be doing to produce a great newspaper everyone can trust." The prime problem, in her view, is that the Freeps has "too many products and too few producers." The paper should either reverse its recent expansions or hire more staffers, but it is doing neither, Lake observes.
In the past year, the Free Press has started publishing five free weeklies targeted to Colchester, Essex, South Burlington, Williston and Franklin County. Meanwhile, the paper is enlarging its freestanding weekend section and jazzing up its website with video and interactive elements. At the same time, it has been losing reporters and editors — lots of them.
[...] Gannett, the largest newspaper publisher in the United States, has a reputation within the industry for hypersensitivity to the bottom line. With 23 U.S. television stations and 17 United Kingdom publications also among its holdings, Gannett last year pocketed profits of $1.2 billion on revenues of $8 billion. Not too shabby. But the conglomerate's profit margins have been narrowing in the age of the Internet due to declining revenues from newspaper advertising and circulation. Meanwhile, Gannett's share prices have been tanking on Wall Street as investors fret over the future of old-school media brands. [...]
As a result, the remaining employees are being required to do more work for the same pay. Some argue that their compensation is actually being reduced. The company's recent decision to stop paying for about 100 staff parking spaces is saving the Free Press as much as $100,000 a year, but it is costing employees several dollars a week in garage charges, meter fees and parking tickets.
[...] With fewer reporters and editors expected to generate and process ever greater amounts of content, "It's inevitable you're going to rely more on press releases and wire copy," the same reporter says. "This paper is broken. There's no real desire to improve."
The greatest loss from the new order may be stories that never get written. "There's less in-depth reporting because the paper can't pull anyone off their regular beat and give them a couple of weeks to develop an analytical or investigative piece," says one Free Press reporter. [...]
Short, light and fluffy is now seen as the ideal form of newswriting at the Free Press, according to some reporters. At a newsroom strategy session, one reporter says, Carey held up a copy of People magazine as a model the Free Press should be striving to emulate.
The Freeps' overseers in Virginia don't show much concern for journalistic standards, suggests St. Michael's journalism professor Traci Griffith. "Gannett is a corporation first and foremost," she observes. "It just happens that this corporation does news. It could just as easily produce potato chips."
But potato chip makers don't have the special responsibility to the public that newspapers are supposed to have, Griffith adds. "If journalists want to hold onto all that's said in the First Amendment, we've got to accept the responsibilities that go with it," she declares. Griffith is referring to the press' historic role as a monitor of powerful interests and a champion of the right to know.
[...]Gannett's vision of newspapers as relentlessly localized in their content involves a greater reliance on journalistic technology. The company wants reporters to spend full days in the field, equipped with an array of digital devices that enable them to post stories and pictures directly onto the paper's website at almost hourly intervals. These mobile journalists are referred to as "mojos."
The Free Press has tried to develop its own squadron of mojos, one reporter recounts. "We got trained in shooting video, and we were all given laptops so we could file from wherever. But there's not been much follow-through. The website is getting more and more glitzy, but it's in-house techies who are driving that, not so much the reporters."
Previous Comments
ID

114757

Comment

The "mojo" thing cracks. me. up. I hear they call them that here, too, but that they don't get out of the office much. Maybe that just means they're 'jos. Wacky stuff. You know, I'm pretty much OK with the old-fashioned label "reporter," or "journalist," even for folks who carry newfangled stuff like digital recorders and cameras.

Author

DonnaLadd

Date

2007-09-20T17:47:34-06:00
ID

114758

Comment

"Gannett is a corporation first and foremost," she observes. "It just happens that this corporation does news. It could just as easily produce potato chips." Ouch.

Author

LatashaWillis

Date

2007-09-20T18:46:13-06:00
ID

114759

Comment

I knew they produced news. Too bad they can't report it.

Author

Ironghost

Date

2007-09-21T13:06:50-06:00
ID

114760

Comment

They got their mojo working here! .50 cents day....

Author

pikersam

Date

2007-09-21T13:12:36-06:00
ID

114761

Comment

Oh, the Cupid Shuffle, huh? That was a hit at the family reunion this summer. I do a variation where you wobble your legs when you "walk it out." I've also seen the Mississippi Cha Cha, but that has a lot of steps.

Author

LatashaWillis

Date

2007-09-21T13:21:53-06:00
ID

114762

Comment

There must be a Stiggers column, or a Schwindaman cartoon, somewhere in The Clarion-Ledger Information Center and Potato Chip Factory concept. LOL. I expect those chips would be damn bland.

Author

DonnaLadd

Date

2007-09-21T13:23:39-06:00
ID

114763

Comment

So what would JFP chips be like? Cayenne pepper or sweet heat? LOL

Author

LatashaWillis

Date

2007-09-21T13:29:19-06:00
ID

114764

Comment

Salt & vinegar, baby, salt & vinegar (with a few organic sweet potato chips throw in to cool the heat)!

Author

DonnaLadd

Date

2007-09-21T13:31:51-06:00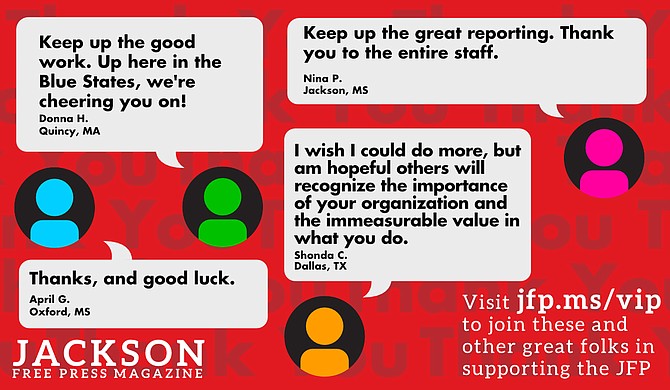 Thanks to all our new JFP VIPs!
COVID-19 has closed down the main sources of the JFP's revenue -- concerts, festivals, fundraisers, restaurants and bars. If everyone reading this article gives $5 or more, we should be able to continue publishing through the crisis. Please pay what you can to keep us reporting and publishing.