I knew New Republic was doing a story on Gov. Haley Barbour, and this one looks like a doozy. There's a lot there, but this part about Capitol Resources, etc., stuck out to me. (Read the whole story here).
In Jackson, Barbour set out to do what Fordice either wouldn't or couldn't: transform the state into a GOP stronghold. Barbour initiated massive fights in the legislature over education funding and Medicaid, ending the cozy bipartisanship that had helped conservative Democrats blur partisan differences and maintain their legislative majorities. "Prior to the convening of the 2004 session, geography, race, and economic status influenced the votes legislators cast on public policy issues," write Jere Nash and Andy Taggart in Mississippi Politics: The Struggle for Power, 1976-2006. "The rules changed when Barbour took the oath of office. Political party began to matter." Barbour also called a special session in 2004 to push through curbs on malpractice lawsuits, even though the legislature had passed a major tort-reform bill just two years earlier. The effect, intended or not, was to deal another blow to state Democrats' biggest source of funding: trial lawyers. (In fairness, Barbour also won bipartisan acclaim for tapping his D.C. connections and steering federal money to Mississippi in the wake of Hurricane Katrina.)
Republicans credit Barbour with making the party a far more effective force than it had ever been. According to several legislators, GOP lawmakers now receive talking points and use legislative sessions to shape their party's message. Barbour's office sends a steady flow of e-mail to instruct Republicans in both chambers on how to vote, even on procedural issues. There is little tolerance for dissent. After Jessica Upshaw, a GOP representative from the Gulf coast, supported an ill-fated bill mandating legislative oversight of Katrina-recovery funds, she was reportedly disinvited from the governor's plane en route to a meeting with Bush. (Of her support for the bill, Upshaw merely says, "I won't say that I felt like I was warmly embraced for it.")
In many ways, Barbour has replicated Tom DeLay's K Street Project in Jackson. After his election in 2003, Henry and Austin Barbour joined Capitol Resources, a lobbying firm just steps from the governor's mansion--much like Barbour Griffith & Rogers overlooks Capitol Hill. The firm shares a number of BG&R's clients, including Northrop Grumman and Lorillard Tobacco Company. Most lobbying shops in Jackson are small, single-person firms, which, while business-friendly, have rarely dominated the legislature the way that Capitol Resources has, with its 15-strong battalion. "They made a habit of going after other lobbyists' clients, saying, If you want anything done in the Mississippi legislature, you better hire us,'" says one Democratic legislator.
One of the advantages Henry and Austin had in this competition was their unusually close access to the governor. Austin, for example, has spent a considerable portion of his expense account on his uncle's employees, according to filings with the Mississippi secretary of state. One night in 2006, he plunked down over $800 at a restaurant called Tico's for a meal with twelve members of the governor's staff. "That is highly unusual," says Mabus, the former governor. "I don't think my staff ever went out with a lobbyist." (Neither Barbour nephew responded to interview requests for this article.)
A recent Bloomberg piece illustrates the problem with the relationship between Barbour and his nephews. In July 2005, a local bond advisory firm called Government Consultants Inc. hired Capitol Resources to represent it in Mississippi. Katrina hit a couple of months later, and, in the aftermath, Barbour appointed Henry as executive director of a state commission overseeing the recovery. One of the commission's mandates was to advise the state on the sale of bonds to fund the rebuilding. When all was said and done, Government Consultants walked away with $2.4 million from the state in fees for 2006, at least $400,000 of which came from bonds directed toward hurricane recovery. The firm, in turn, paid Capitol Resources $65,000 for Henry Barbour's services between mid-2005 and the end of 2006.
As with DeLay's efforts to entrench the GOP in Washington, Mississippi Republicans are integrating lobbyists into their own political machine. Shortly after the Barbour nephews joined Capitol Resources, Henry told the Delta Business Journal, "[W]e're going to assist ... Republican candidates in raising money both nationally and at the state level." (When Haley was chairman of the RNC, it was Henry who had worked to coordinate corporate donations to the party.) In January 2007, Democratic state Senator Shannon Walley switched parties, giving Republicans an official majority in the Senate for the first time since Reconstruction. Campaign finance records show that, a few weeks after Walley switched, he received thousands of dollars in contributions from Republican donors and lobbyists, including two checks from lobbyists at Capitol Resources.
Previous Comments
ID

114726

Comment

This part is pretty interesting, too; they had the blind-trust document as well: But, because maintaining ties to a powerful K Street firm while holding high public office would strain even the most liberal ethics regime, Barbour vowed to put his lobbyist life behind him once he became governor. "I can't have anything that's a conflict of interest," he told the state's largest newspaper, The Clarion-Ledger, two weeks after winning the election. The week he was sworn in, Barbour said, according to the Associated Press, that "he has no ownership or stock in the company he helped found in 1991." Barbour even packed his assets into a blind trust to further defuse suspicion. (Neither step was required by state law.) Barbour announced these things with such homespun conviction that many believed him. The Clarion-Ledger, for one, certified Barbour as having done "all that can be expected of him in setting aside his business interests" just after he took office. But is it possible for a longtime lobbyist to truly leave his former life behind? It's a question worth asking as Barbour runs for reelection this fall amid much chatter about his vice-presidential prospects. [...] And that's where things get interesting. Earlier this summer, The New Republic received a document that appeared to be a copy of Barbour's blind trust agreement. It was dated February 27, 2004--six weeks after he'd become governor--and signed by Barbour and his trustee, a man named S. Griffin Norquist of Yazoo City, Mississippi. What immediately caught our eye were the assets the document catalogued: among them, nearly 50,000 shares of Interpublic Group, which had become BG&R's corporate parent when the partners sold the firm in 1999. This seemed to contradict Barbour's earlier statement. Either Barbour had delayed cutting ties to his firm, or he hadn't really cut them at all.

Author

DonnaLadd

Date

2007-09-17T16:26:23-06:00
ID

114727

Comment

And this ... n August 1997, as Congress was putting the finishing touches on a balanced-budget agreement with the Clinton White House, two sharp-eyed freshman senators spotted something odd. Someone had convinced Newt Gingrich and Trent Lott to slip a $50 billion tax credit for tobacco companies into the bill at the last minute. For a month, the mystery raged across Washington: Who could have engineered such an audacious giveaway? Finally, Time discovered the culprit: Haley Barbour, the former RNC chair cum millionaire tobacco lobbyist. Oh, hell, just go read the whole story for yourself.

Author

DonnaLadd

Date

2007-09-17T16:28:34-06:00
ID

114728

Comment

I did. F R I G H T E N I N G!!!!!!!!!!

Author

justjess

Date

2007-09-18T09:42:37-06:00
ID

114729

Comment

Salter does the Barbourian Shuffle again today on his blog: HINT: The story reveals that Haley Barbour made a bunch of money as a Washington lobbyist before he became governor, that his nephews have made a bunch of money lobbying since he became governor, and concludes that Mississippians will never know whether Barbour "currently" has an interest in his old lobbying firm unless they get inside his blind trust or inside the governor's mind. Oh, yeah, his nephews once picked up a big tab at Tico's for some members of Barbour's staff. If having lobbyists pick up big tabs at Tico's, Nick's, Schimmel's and Char for a few Democratic state legislators I know ever draws the interest of Bloomberg or The New Republic, they'll need a bigger magazine. What Bloomberg, The New Republic and the rest of folks taking shots at Barbour haven't been able to come up with is evidence that he's done anything illegal. If the charge is being a rich Republican lobbyist, Barbour is guilty. Mississippi voters knew that when they elected him in 2003. But then Barbour's rich Democratic trial lawyer opponent John Arthur Eaves Jr. is guilty of the same "crime." Actually, what the stories HINT at is that The Clarion-Ledger printed bad information back in 2004 and haven't admitted it, yet. Bobby Harrison is beating the malarkey out of Salter as a journalist these days. Man. You expect this kind of drivel out of the bloggers out there who wouldn't pick up the phone and ask someone an actual question if their credibility depended on it, but not from someone with Salter's resume. Sad to see him carry so much water for Barbour. It's one thing to ask the real questions, then draw conclusions based on them, as Bobby Harrison is trying to do. But Salter refuses to ask the questions. One does wonder why. He should just go be a lobbyist and make the big money.

Author

DonnaLadd

Date

2007-09-18T10:02:23-06:00
ID

114730

Comment

Amazing that Sid left out the whole immigration angle. The CL has jumped Trent Lott hardily for the immigration bill. They forget that Barbour and his firm was a paid lobbyist, and WELL PAID, for the Mexican government during the NAFTA debates and still take money from the Trucking Association to let Mexican trucks run into the US. They crucified Trent for "abandoning his people", yet ignored Barbor's past and financial connections. Of course there is still the whole funneling money from Communist China into the RNC that Barbour "accidentally" did. Is the magnoliareport going to break this story... no it is one of theirs, JT and Dave on Supertalk, Gallow, Kim Wade, I am calling yall out. Where is the outrage? This is against yall's principles right? Or is it OK if it is a Republican governor?

Author

AGamm627

Date

2007-09-18T23:32:03-06:00
More like this story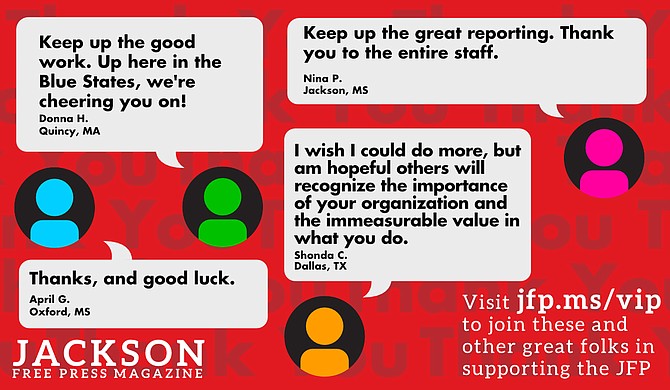 Thanks to all our new JFP VIPs!
COVID-19 has closed down the main sources of the JFP's revenue -- concerts, festivals, fundraisers, restaurants and bars. If everyone reading this article gives $5 or more, we should be able to continue publishing through the crisis. Please pay what you can to keep us reporting and publishing.