Dr. Richard Cooper has difficulty with written language. More than once during his presentation to the Mississippi House Education Committee hearing on Friday, Sept. 7, the dyslexia specialist paused because he caught himself making a common dyslexic error, such as saying one thing while writing another on an overhead slide. Cooper holds a doctorate in education, is director of the Center for Alternative Education in Pennsylvania and is himself dyslexic, which gives him unique insight into screening for and overcoming the disorder.
Friday's hearing was the fourth in a series of legislative task-force hearings on the subject of at-risk children, examining program and funding options for Mississippi schools, led by House Education Committee Chairman Rep. Cecil Brown, D-Jackson. The House Subcommittee on Medically Diagnosable Learning Challenges in Non Special Education Children for Dyslexia recommended $3 million in funding for dyslexia programs in 2007.
Dyslexia is often associated with reversing or scrambling letters in words, making it seem as though the sufferer is seeing words backward or out of order. Not so, Cooper indicated. Dyslexics see the same thing everyone else does, but can't correctly process what they're seeing. It's similar to young children who confuse their left from their right. For a dyslexic, the confusion doesn't go away, leading to frustration and guessing—often incorrectly—at the right answers.
"When a dyslexic looks at the letter 'd' and says 'b,' it's because he can't remember whether a 'd' goes to the right or to the left," Cooper said.
The condition tends to be a downward spiral for learning. "Children who can't read won't become readers," Cooper said.
Repeated wrong guesses are humiliating for children leaving them less likely to try again, and often perpetuating the problem into adolescence and adulthood. Frequently, in an attempt to overcompensate for academic failures and to show they aren't stupid, dyslexics get into trouble, first through petty offenses like shoplifting, and can escalate to serious crimes because they learn that they can be successful in that realm.
At one point, Brown asked Cooper for his estimate of the percentage of dyslexics in prisons, and Cooper responded that some studies estimate as many as 80 percent of prisoners are affected in some way.
As creatures of habit, "human beings learn through repetition," Cooper said.
For example, few, if any of us, learn to tie our shoes correctly on the first try. It is only through repeated attempts that we learn the right way to accomplish the task. For dyslexics, repetition of wrong guesses becomes habitual, making it imperative to teach affected children alternative ways to approach problem solving at an early age. Many dyslexics are able to distinguish and remember complex patterns, for example, that are difficult or even impossible for those of us with "normal" perception. Without the tools necessary to understand and instruct dyslexics in alternatives, however, most teachers simply aren't up to the task.
Dyslexia can also come with a host of other learning disabilities, which only get worse as time goes on. Attention deficit disorder, which Cooper calls "racing mind," is frequently seen hand-in-hand with dyslexia, multiplying issues of inappropriate impulsive conduct and acting out. As teachers and family label dyslexic children "disabled" or "slow learners," they exacerbate social and emotional problems, increasing the child's ostracism from their peers and shame-based, high-risk behaviors.
With early screening and proper instruction, dyslexics can learn to compensate for their differences in perception, Cooper said, leading productive lives as would any person without the disorder. Dyslexia is rarely a reflection of a person's intelligence, he indicated.
The children-at-risk legislative task force will conclude its hearings on Friday, Sept. 14 from 10:30 a.m. to 12:30 p.m. in room 216 of the Mississippi state capitol, and they urge the public to attend. For resources and more information on dyslexia and the Center for Alternative Learning, visit their website.
More stories by this author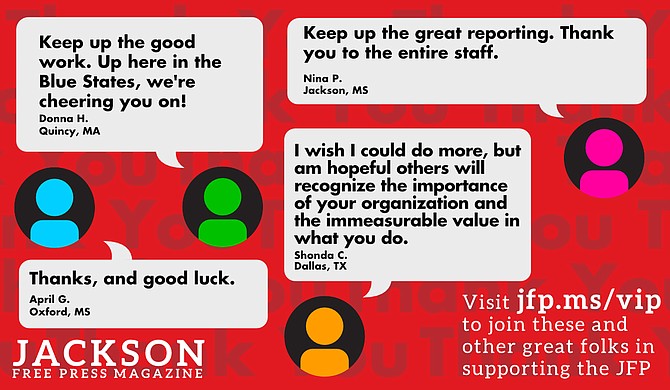 Thanks to all our new JFP VIPs!
COVID-19 has closed down the main sources of the JFP's revenue -- concerts, festivals, fundraisers, restaurants and bars. If everyone reading this article gives $5 or more, we should be able to continue publishing through the crisis. Please pay what you can to keep us reporting and publishing.