OK, so here comes The Clarion-Ledger after the election with a story about Robert Smith and his history, including his getting in trouble in Madison County for calling a law enforcement agent a name:
Smith got himself into trouble a couple of years ago when he called a Madison County narcotics investigator a "racist (expletive)." He was cited for, and later convicted, of contempt of court. He complained that he was arrested because he is black and refused to apologize. Four months later, the conviction was overturned.
Now, it's too bad that the Ledger couldn't be bothered to tell us the name of the investigator, but we'll get it.
Of course, the most glaring omission in this puff story is that the Ledger never mentions that Melton introduced Smith at his victory party, speaking almost twice as long as Smith, making it clear that he was "distancing" himself on purpose and that he was privy to Smith's plans—why couldn't The Clarion-Ledger be bothered to tell its readers that? Was it, Ms. Simmons, that once again the readers don't want to hear it? Meantime, they let Smith spin his relationship with Melton as "rumors" by political enemies.
Ledger, y'all better hold onto your asses because this one, too, is going to bite you.
Previous Comments
ID

114337

Comment

Looks like someone beat me to this critique. This comment is posted under the story: Wow, we get to actually find out the history of this guy AFTER the election. You guys are the greatest at the Clarion Ledger. Not so much. The reader is right: They did no substantive reporting on the candidates or the race before the primary or the runoff; they didn't endorse in the primary; they suddenly endorsed Peterson rather enthusiastically in the runoff, but they hadn't done any reporting to back up their sudden about-face (which I have to guess was based on our reporting). It seems like they do this every election: Do nothing but superficial horse-race reporting during the campaigns; then come back with something ever-more-slightly more informative after an election. Oh, and they always do the blame-the-citizens editorial after giving citizens nothing substantive to base decisions on.

Author

DonnaLadd

Date

2007-09-04T09:37:11-06:00
ID

114338

Comment

In melton's introduction of Smith, he told the public everything that the CL and Channel 3 folks already knew. melton's relationtion with Smith goes back to his high school years and at age 15. The DA election was politically contribed and melton was the engineer. The thing that gets me about melton is his need to brag and smear the faces of even the people who supported this bad choice. The games continue and Jackson suffers.

Author

justjess

Date

2007-09-04T10:04:43-06:00
ID

114339

Comment

Oh, and apparently, David Hampton blogged his disappointment the day after the election, too: However, I do think Peterson was a victim of frustration over crime. I think that frustration as misdirected. Peterson did about as well as she could with the resources she has in a system that is overwhelmed. If Peterson had a fault it was that she had tunnel vision about doing the work of her office, which is true with officials throughout the system. Because all of these offices are independent and elected, there is little leadership looking at the big picture and making the "system" work. Snipe at me aside, I have to agree with the reader who commented under that post: It does make NO SENSE WHATSOEVER for Hampton to wring his hands over the outcome of this election (or Melton's, or Bush's, for that matter), considering that his paper did such insufficient and inaccurate reporting on the candidates leading up to the elections. The Ledger has no grounds on which to blame its readers. The readers are responding to their reporting, or lack thereof. Hampton—maybe a suggestion would be to have a heart-to-heart conversation with Agnew, Hudson and Simmons about what news coverage is. Or ask Gannett Corporate to send down someone to get y'all back on the reak reporting track. As it is, y'all are hurting the community. And then blaming your readers for it.

Author

DonnaLadd

Date

2007-09-04T11:31:14-06:00
ID

114340

Comment

Yes, I find it odd that they so easily forget the past, and then provided this brief "Bio" of Smith after the fact. Then like you point out, they don't even mention the Melton introduction; yet, they will quote Smith in the headline as saying, "he's no puppet." Gee, why would we think he is a puppet if you don't give the reader some context around the quote?

Author

pikersam

Date

2007-09-04T11:38:22-06:00
ID

114341

Comment

It's a perfect way to hide extreme subjectivity within a so-called "objective" frame. The funny part is all they had to do is state what happened on election night factually, get his quotes in response, perhaps some from Peterson, and let the readers decide what they think of it all. Instead, they just gave him a forum to dispute the Melton connection in a flippant way without actually mentioning Melton's "little brother" comments at all. It's weird. Like with McMillin's D.A. endorsement, The Clarion-Ledger decides what people need to know and what they don't. Or, with the Melton fund raiser for Tyrone Lewis. To my knowledge, they never did report it, although they mentioned it in passing in an editorial later, I think. I really fear that they have the attitude, on top of everything else, that if another media outlet breaks something, if they don't report it, not everyone will know that they got beat on it. Of course, that's really bad journalism. I don't take it personally when the Ledger (occasionally) beats us/Adam on a story. I sure the hell then wouldn't pass over the story or not talk about it if it has news value to Jackson readers.

Author

DonnaLadd

Date

2007-09-04T11:45:12-06:00
ID

114342

Comment

A reader just pointed out to me that Hampton is commenting under his post about Peterson that I was right about her. I appreciate his class in saying that, but right here I want to talk directly to David, with all of y'all witnessing. David: I don't want to be right about things like this. I don't want to say "I told you so"—four of my least favorite words, due to what's often attached to them. In fact, we waste a lot of time over here trying to get basic information out there that we could be spending on other things if we had more help from other media. I want the level of reporting to go up in this city so that people are not misled for years about the D.A., the mayor or anyone else. Your newspaper can help change this, but you guys have got to decide to make it happen. There is nothing magical about the JFP's ability to call these kinds of things: we are reporting, talking, listening, analyzing, thinking, looking at archives, just like any other media outlet can. Please, please, please do what you can to get your newspaper to use your vast resources to help us improve the reporting and newsgathering in this city and this state. We want and need the help over here, and the city simply deserves better than what y'all have given. It's just not good enough to blame the readers for not knowing what y'all don't bother to tell them. Not only that, but it's not right. Be the change. Please.

Author

DonnaLadd

Date

2007-09-04T19:04:20-06:00
More like this story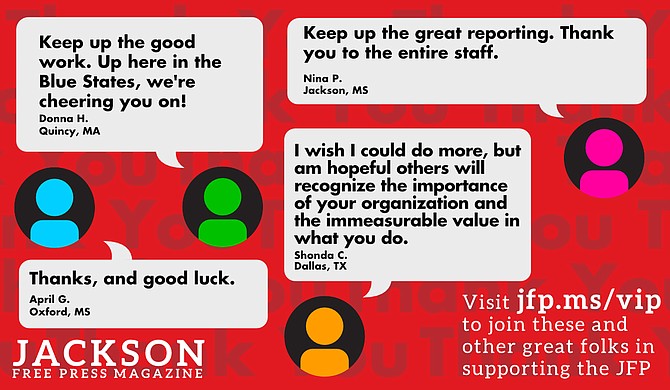 Thanks to all our new JFP VIPs!
COVID-19 has closed down the main sources of the JFP's revenue -- concerts, festivals, fundraisers, restaurants and bars. If everyone reading this article gives $5 or more, we should be able to continue publishing through the crisis. Please pay what you can to keep us reporting and publishing.