[Verbatim from the mayor's office] Mayor Frank E. Melton announced today that Commander Tyrone Lewis has been promoted to the position of Deputy Chief of Training and Standards for the Jackson Police Department. The promotion will be effective immediately. According to Mayor Melton, "Chief Lewis will have ninety days to make a difference in the recruitment, training and retention of officers for the police department."
In his new capacity as Deputy Chief of Training and Standards, Lewis will be responsible for the following:
• Recruitment, training and retention of police officers
• Renovation and upgrade of the Jackson Police Training Academy
• Development and implementation of training programs that coincide with efforts from other law enforcement agencies such as the FBI, DEA, ATF, Hinds County Sheriff's Office and IRS
Mayor Melton said that this administration is working diligently to ensure the safety of all citizens in the City of Jackson.
Previous Comments
ID

96592

Comment

On paper, he is qualified, given that he is a commander, but the closeness with Frank concerns me.

Author

golden eagle

Date

2007-10-30T18:14:59-06:00
ID

96593

Comment

Anybody can look good on paper. The guy has 90 days to complete these task????? Jeez, I have a feeling it won't happen. I'd like to see lil guy melton perfom in that time frame.

Author

JMK

Date

2007-10-30T18:27:59-06:00
ID

96594

Comment

This almost makes me want to stand on that fence post and pray with Eaves. Almost. (As long as I got to kick him in the shins right after the moment passed) Lord Help Us.

Author

Lori G

Date

2007-10-30T18:36:07-06:00
ID

96595

Comment

so, king frank sets him up for failure in the sheriff's race, then "promotes" him to clean up the mess he's made in the dept. With friends like that...

Author

eyerah

Date

2007-10-30T20:01:24-06:00
ID

96596

Comment

So now that he has caused most of this like the reason we can't get or keep officers and the unwillingness to work with other agencies. He just set up his fall guy. What in 90 days it will be Tyrone's fault the we don't have enough officers?

Author

old&tired

Date

2007-10-30T21:20:32-06:00
ID

96597

Comment

What is going on? We "find" 6 million dollars and now Melton is determined to spend all of it setting up his followers in positions. Tyrone may be well-qualified for this position, but can we really afford to promote anyone else right now? And can someone tell me how many deputy chiefs/assistant chiefs do we really need? Is this a new position or one that we have, but never filled? How much more will we have to pay Tyrone?

Author

honey2me

Date

2007-10-30T23:15:15-06:00
ID

96598

Comment

How many chiefs is it normal to have?

Author

Michele

Date

2007-10-31T00:12:14-06:00
ID

96599

Comment

Right now the police department has two Assistant Chiefs. (on paper). I say on paper because one of the assistant chiefs has no qualifications other then being able to pucker his lips and smooch on Franks dumb a**. Then the department has two deputy chiefs. Both of which are qualified. I don't know if Frank plans on getting rid of one of the deputy chiefs to put in his other stool pigeon (Tyrone) or make a third deputy chief. Tyrone is qualified and he is a good person but a lot of people have lost respect for him since he has become the mayors bit**. I would love to know why making him deputy chief at a time the police department has such low morale is a good idea. Tyrone was already over everything the Chief, I'm sorry, Frank has appointed him to do anyway. All Frank did was give him another title with more money. FRANK YOUR AN IDIOT!!!!!!!!

Author

The truth

Date

2007-10-31T07:19:01-06:00
ID

96600

Comment

I' sorrying for my last statement in the paragraph above. I meant to write " FRANK YOUR'RE AN IDIOT"!!!!!!!!!!!!!!!!! It was bothering me that I misspelled that........

Author

The truth

Date

2007-10-31T08:01:17-06:00
ID

96601

Comment

Lewis said the new position will give him more autonomy in determining policy for the department. Just waiting for the rimshot. That IS a joke, right?

Author

Rex

Date

2007-10-31T09:47:23-06:00
ID

96602

Comment

lil guy melton did not accomplish what he so proudly stated in 90 days, what makes him think Lewis can do anything?

Author

JMK

Date

2007-10-31T10:48:19-06:00
ID

96603

Comment

Thanks for the explanation, The truth. Assuming neither of the other Deputy Chiefs is let go, I guess this is just another raise we can't figure a way to fund?

Author

Michele

Date

2007-10-31T11:12:38-06:00
ID

96604

Comment

Is a deputy chief below an assistant chief or are they the same? Who is bigger Lewis or Recio now? Lewis had better watch his eyes too. He's so sick of Frank's bullcrap that he can barely hide it. However, often the best way to silence or neutralize dissent is to hire or promote the dissenter.

Author

Ray Carter

Date

2007-10-31T11:13:12-06:00
ID

96605

Comment

Assistant Chief is one step above Deputy Chief. So Recio is over Lewis. You know that has got to be driving Lewis crazy that a big dumb ogre is over him.

Author

The truth

Date

2007-10-31T11:25:10-06:00
ID

96606

Comment

That's funny, Truth. It's a good thing you're not crazy enough to use your real name like I do. However, until Lewis has proven his undying loyalty even in the face of criminal prosecution, he hasn't earned the stripes that Recio has. Melton needs someone who has his back because he knows he might do something crazy as hell at any given moment. I figure Frank believes neutralizing/promoting Lewis will help his image with the police department because he knows or thinks the officers respect and look up to Lewis. Recio told him to do that. He's proving his leadership already.

Author

Ray Carter

Date

2007-10-31T11:35:58-06:00
ID

96607

Comment

I just figure that Melton is setting up his department with people that share his vision so when the federal indictments come out on him he won't have to worry about anything changing at the department. Ray I wish I was crazy enough to use my real name but sometimes you can say a lot more when people don't know who you are!!

Author

The truth

Date

2007-10-31T11:41:28-06:00
ID

96608

Comment

Some (not all) officers look up to Lewis. Respect is rapidly dwindling. The chain of command is: chief, assistant chief, deputy chief, commander, lieutenant, sergeant, then officer. Technically, Lewis is a sergeant, but so are several others in higher positions which are supposed to be "acting positions" in a temporary situation if there are not enough qualified personnel…until someone has passed the test then promoted to that rank. The highest test that is offered is the lieutenant test, so usually the commanders would be promoted from the list of "real" lieutenants. As things stand now, the police depart has a lot of officers (Recio) and sergeants (Lewis and others) in high ranking positions above actual "tested" lieutenants. Some of these people have little or no experience in a supervisor position. Compound this with a chief that will do whatever the mayor tells her to. Not to mention that the mayor doesn't care about the officers, city council, nor about how much of the taxpayer's money he is spending, nor if he uses city vehicles and police to baby-sit his friends… No wonder crime is up and the city is in the shape that it is in!! Thanks JFP for standing your ground and telling things that need to be told!

Author

Missy

Date

2007-10-31T14:55:59-06:00
ID

96609

Comment

Frank hires Tyrone Lewis as a peace offering to JPD. Now he has ONE Chief, ONE Assistant Chief and two little Indian Boys. Isn't it strange that frank expects nothing of Recio. Why wasn't this assignment given to him or better still, isn't that a part of the chief's job? Just asking. Don't believe for one minute that frank has found 6mil.$s. He sounds like he is playing polka at a casino and all of a sudden, he comes up with the winning hand. It sounds like "book cooking" to me. The next person who steps in the mayor's seat will face a nightmare. If the City had an internal and external audit, why didn't they find the error. The only way to discover money in an accounting scanerio is through error. It didn't happen. frank's foolishness is all over California. People in remote pockets were asking about the "Clown" in MS. Many had seen "THE WORST PERSON IN THE WORLD" piece on the Keith Overman Show. I'm with you Lori G, "LORD Help Us!"

Author

justjess

Date

2007-10-31T15:02:43-06:00
ID

96610

Comment

I'm just waiting to see where this all goes....

Author

pikersam

Date

2007-10-31T15:48:35-06:00
ID

96611

Comment

Actually, the department has one chief and 2 or 2 assistant chiefs. I am not sure if Roy Sanderfer is still with the department or not, but that still leaves 2 assistant chiefs (if you count Recio) if he is not.

Author

Missy

Date

2007-11-01T07:35:55-06:00
ID

96612

Comment

Any you are correct "The Truth", Lewis was already doing the job mentioned that he will be doing as a deputy chief... just a nice title and lots more money! (Since the City of Jackson has so much excess money these days)

Author

Missy

Date

2007-11-01T07:39:09-06:00
ID

96613

Comment

That was "supposed to be" 2 or 3 assistant chiefs. I need more coffee.

Author

Missy

Date

2007-11-01T07:42:13-06:00
ID

96614

Comment

I wasn't going to tell this, but I can't keep it to myslf. Anyway, I got a call last night about 3 a.m. thinking a client had gotten my home number and called me. The caller said "What up, player. I said who is this? Caller said man you know who this is. I finally said why are you still up, and he said man I can't sleep. Y'all keep blogging about me and the promotions, and the damn FBI won't leave me alone. He went on to say man they've looked everywhere but up my behind, yet they're still asking for stuff. I said man have you been dranking and he said yeah we had a few six packs of beers, and everytime we get to dranking the lil dude starts playing with the big guns. He then said, man, we do more ducking around here than a small but prosperous duck farm. He went on to say, can you believe a few minutes ago somebody stumbled and staggered in here saying boss what we gonna do about police morale. Ray, I hated to do this man, but I had to break it down to him. Though it hurt my feelings Ray, I said look here homefront if I thought you knew anything about police work or morale, I'd given you Tyrone's job. Come on player, we're just trying to ride out this turbulence. So, go on back in there and go to sleep. I then said player I gotta get some sleep, but what do you want me to do or say. He said just tell the people I love Jackson, and once I successfully ride out this episode of government intrusion and prosecution, I'm gonna do better. All I could say was alright and good luck.

Author

Ray Carter

Date

2007-11-01T08:38:02-06:00
ID

96615

Comment

"we do more ducking around here than a small but prosperous duck farm." Ray Carter, my G-Mother raised ducks and what I remember most was having to clean up all of that Sh!$. LOL. What a parallel!

Author

justjess

Date

2007-11-01T10:55:23-06:00
ID

96616

Comment

Regardless of the reasons why Lewis was promoted, we can't afford ANY promotions or newly created positions right now. The focus should totally be on hiring new officers so the city can get the federal funding. Nothing more, nothing less.

Author

LatashaWillis

Date

2007-11-02T08:33:22-06:00
ID

96617

Comment

L,W. your comment is both rational and reasonable; neither of which fits into the scheme of things for this administration.

Author

justjess

Date

2007-11-02T08:55:03-06:00
ID

96618

Comment

ANDERSON has been replaced by Lee Vance!!!!!!!!!!!!

Author

Cliff Cargill

Date

2007-11-02T16:27:09-06:00
ID

96619

Comment

Just reported on the Kim Wade Showw!!!

Author

Cliff Cargill

Date

2007-11-02T16:28:23-06:00
ID

96620

Comment

We know. Heard from WAPT. Is on the top of the site.

Author

DonnaLadd

Date

2007-11-02T16:31:05-06:00
ID

96621

Comment

The house of cards is creaking at little....

Author

Cliff Cargill

Date

2007-11-02T16:31:54-06:00
More like this story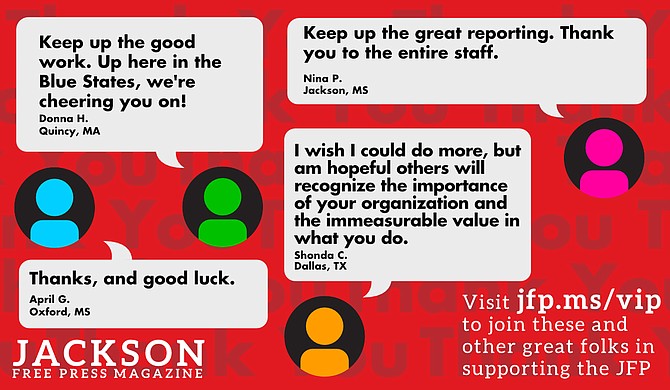 Thanks to all our new JFP VIPs!
COVID-19 has closed down the main sources of the JFP's revenue -- concerts, festivals, fundraisers, restaurants and bars. If everyone reading this article gives $5 or more, we should be able to continue publishing through the crisis. Please pay what you can to keep us reporting and publishing.