Here we go again folks. America just can't seem to do anything without going to the absolute extreme. As I expected the en-vogue pursuit to clean up objectionable lyrics is going to turn into an all out witch hunt. One where ALL of hiphop is going to suffer for the crusading of a few. Instead of eliminating the language that we all agree must progress. You've given hiphop haters worldwide a reason to try and eliminate the genre altogether. And poor Ludacris, probably one of the more docile of all the "language" culprits gets screwed again. Being removed from the 'Black Father's" edition of Ebony Magazine (June isseue). bumped for pretty boy boris Kudjoe. Now ladies won't be mad at all..but as a rapper Im steaming again. Is Ludacris not a good father? IS Ebony just going with the flow?
According to published reports Ludacris has been dropped by Ebony Magazine as their June cover guy picking Boris Kudjoe instead. It seems that the Hip-Hop controversy has become all but too much for the conservative magazine and they have just decided to play it safe and go with a squeaky clean family man.
In a statement obtained by Gyant this is what Ebony has to say regarding the matter:
The Don Imus-fueled controversy over misogynistic rap lyrics surrounds Ebony magazine's recent decision to pull rapper Ludacris from the cover of its June issue on "the New Black Fathers" and replace him with actor, Boris Kodjoe, reports Journal-isms. "Something has changed in America in the last few weeks," Bryan Monroe, editorial director of Ebony and Jet magazines, told Journal-isms, without disclosing the identity of the rapper. As president of the National Association of Black Journalists, Monroe led the movement to have Imus fired. "I think the media is being called to account in these areas," Monroe said.
This is going to lead us down a very slippery slope. If we are going to "clean things up" there needs to be some parameters. Otherewise you have given folks carte blanche to eliminate rap(all of it) from festivals, school dances, soundtracks, etc. The list can go on and on.
Previous Comments
ID

112838

Comment

Ironghost wrote: Why is your way the right way? How come "they" are always wrong? (Comment moved from different thread. - ed.)

Author

DonnaLadd

Date

2007-05-15T15:15:38-06:00
ID

112839

Comment

Kaze wrote: Ironghost, It's not a matter of right and wrong. Clearly some things need to be cleaned up. Clearly some things are going to change. Its just moreso a matter of MY opinion and YOUR opinion. And a knee-jerk reaction just because its the popular thing to do now is not a well thought-out response. It sets a precedent to where the less-informed and out of tune will take this as a call to shun ALL rap music or artists. Suppose some yahoo sees this news posted up and decides to raise a stink about it and ruin Jubilee Jam? (Where Luda is scheduled to perform and must give a clean show) or ahow about all the talk shows cancelling their music guests if they are rappers. How about magazines cancelling interviews with rappers. Across the board. That's messing with a man/woman's livelihood especially onethat may or may not have anything to do with all this rhubarb. And I say that as an authority and historian of this culture known as hiphop. I live it so to respond, that gives me a better frame of reference to point out such things.

Author

DonnaLadd

Date

2007-05-15T15:16:09-06:00
ID

112840

Comment

Ladd wrote: Kaze, there is no way to put "parameters" on what a private business like Ebony chooses to do. Misogynistic rappers (and other purveyors of anti-women propaganda) have gotten a very lucrative pass to date, and now it's time to pay the piper. The pendulum is swinging. The market is changing. I told you last year, the first time we had one of these conversations, that we were approaching the end of a certain line, and that the smart thing would be to lead us to the higher ground, rather than complain about being dragged there. Here we are. There is still a market for hip-hop, obviously. Now's the chance for smart rappers to stop acting like pigs about women and grab that new market. And don't bemoan the fate of "the kids"—those guys weren't thinking of "the kids" when they put anti-women crap out there.

Author

DonnaLadd

Date

2007-05-15T15:16:31-06:00
ID

112841

Comment

Kaze wrote: Of course there's still a market..Will always be. HipHop will NEVER die it just goes in circles (cycles). As an artist who does this for a living I get antsy when an aritst's opportunities i.e their livelihood is threatened there is no joy in unemployment. Not disagreeing with you but it obviously puts us on edge quicker. this makes two for Luda. and I see him being made the scapegoat more. Its sad because he's a great dad. I can empathize with him there. Dunno what the "smart" rapper thing was. Is that "if you're smart" you'll rap like WE want you to rap? And as you scolded me and wagged your finger previously you cant know what those rappers were trying to do. So saying they werent thinking about the "kids" is... how did you say...speculative possibly

Author

DonnaLadd

Date

2007-05-15T15:16:58-06:00
ID

112842

Comment

OK, I fixed your thread, Kaze. You're welcome. So, you're saying they are thinking of "the kids" when they rap about hos and bitches, many of whom are mothers? That seems speculative ... er ... at best. That said, I am officially resisting the temptation to go down this road with you again. ;-) All, the NAACP is holding a town hall meeting to discuss rap lyrics Tuesday, May 29, at 6 p.m. at the Jackson Medical Mall. I will be on the panel. Please attend.

Author

DonnaLadd

Date

2007-05-15T15:18:55-06:00
ID

112843

Comment

HMMMMM...town hall meeting? that's news to me. Is it our branch here? Need to try to get on that panel so this thing doesnt turn into Bash Rap Night 2007. and if Im just hearing a lot of artist in the commuinty may not have heard. ..as we've jousted several times before. I never try to even touch on what I feel is in a man/woman's heart. You simply cant know. So I dare not say. I know where mine is. Can't say where Luda's or Banner's etc is. (although I have a pretty good idea whee Banner's is). But i steer clear of judging those who always stand in judgement. My years as a struggling artist/student gave me a different perspective. So I no longer look at dope-boys, single moms, strippers, crackheads, weedheads, dropouts and the like with the same disdain that society sometimes deals them. In other words..you just cant say whats in mans heart.

Author

Kamikaze

Date

2007-05-15T15:31:28-06:00
ID

112844

Comment

ok mybad...LOL! Im goofy today. Ilene called me about this a month ago and I have it on my phone's calendar. I thought about it after the post. So disregard my hair trigger LMAO. I will be there and on the panel but havent been told the location yet. Donna? ...And I will put the word out to more artists too. I think it needs they're perspective

Author

Kamikaze

Date

2007-05-15T15:35:36-06:00
ID

112845

Comment

From sohh.com... The National Runaway Switchboard (NRS) recently announced that Ludacris will star in their new series of public service announcements aimed at raising awareness of the youth runaway crisis in America. Luda (born Chris Bridges) will be featured in two 30-second and two 60-second video PSAs. One set of the PSAs will focus on raising awareness about the runaway issue and NRS' hotline, 1-800-RUNAWAY. The other set of PSAs will focus on November's National Runaway Prevention Month. The Ludacris Foundation and the NRS joined forces last fall after the Atlanta bred rapper released his single "Runaway Love" featuring Mary J. Blige. The song addressed a number of situations that youth face every day, often leading them to running away. The NRS announced in February that they plan to award Ludacris and his foundation for their work with runaways. According to NRS records, since their partnership with Ludacris they have experienced more than a 50 percent increase in calls to their hotline from a year ago, and the number of visitors to their website has increased more than 60 percent. ..Good to see everyone's not knee-jerking. You can do a lot worse than Luda as a spokesperson.

Author

Kamikaze

Date

2007-05-15T15:49:45-06:00
ID

112846

Comment

You kneejerk, Kaze? Post without thinking? Nevvveeerrrr. ;-P And it's IRENE.

Author

DonnaLadd

Date

2007-05-15T15:57:23-06:00
ID

112847

Comment

Kaze, you rappers need to take some cues from Motown, STAX, TSOP in terms of lyrical content. Yeah, I know y'all can't sing like the Temptations, Smokey Robinson, The O'Jays, Marvin Gaye, Stevie Wonder, Patty Labelle, Glady Knight, Aretha Franklin, et al. I imagine, if you tried and dedicated yourselves, you can create and write like Holland, Holland and Dozier or Gamble and Huff or Cropper and many more great writer and arranger from these and other labels. What amazes me about you rappers are the variety of styles, vioces, sounds, grooves, and arrangements you guys and women present. Although Nelly soon went crazy he has a smoothness and charm about him that many great soul singer will envy. Even old crazy ass Mystical was unigue, funny and intriquing. No one can deny that y'all are vastly talented. The gutter or outhouse doesn't have to be the source of your lyrical content. Get beyond that and tell us what it ought to be, or should be, not just how it is. How about another message?

Author

Ray Carter

Date

2007-05-15T15:58:37-06:00
ID

112848

Comment

Oh, and I didn't say what was in a man's heart. It's his actions and words that matter, friend. The good ones have good hearts and allow those to influence their actions—rather than money and fame. Women, too.

Author

DonnaLadd

Date

2007-05-15T15:58:50-06:00
ID

112849

Comment

Ive BEEN preaching that there are other messages. Asked for some to seek them out. but the negative is always more racy, more saucy. Hiphop is a longstanding culture that has birthed some geniuses..and some fools by the way.. but what music hasnt. ..and Donna. Im sure those rappers are glad YOU'RE in the position to be able to make those choices of which you speak. Its a lot easier from your vantage point...all Im saying. I wish some of you could actually be in our shoes. Not using it as an excuse cuz some of it true. but dont speak so fast on "what should influence someone's actions" until you've walked a mile in their shoes.

Author

Kamikaze

Date

2007-05-15T16:05:40-06:00
ID

112850

Comment

my bad about the "Irene" thing. Ive known her and her sister a while. Our moms worked together and I always got their names mixed up.

Author

Kamikaze

Date

2007-05-15T16:06:41-06:00
ID

112851

Comment

.."The good ones have good hearts and allow those to influence their actions.." Exactly. Good hearts birthing good actions i.e Luda and Banner are some of the good ones. and there are plenty more.

Author

Kamikaze

Date

2007-05-15T16:10:48-06:00
ID

112852

Comment

And kudos to my brother on the new Cartoon on cartoon network this Sunday. Hope it gets picked up. I further hope a Jere Eaton or Ebony publisher dont call and try to get it pulled LOL..but I digress.

Author

Kamikaze

Date

2007-05-15T16:12:28-06:00
ID

112853

Comment

Every person living who has worked, fought and struggled to succeed has walked in your shoes. Everyone has to decide how they want to live. Do it Bernie Ebbers, Ken Ley, dope-dealer or other criminal-like or immoral manner and suffer the consequences that naturally emanate. There is no success like morally earned success obtained against the odds. It's surreal, life-altering and globally inspirational. Yes, I know most people seem to get in the line of succeeding quickly by any means necessary. These kind of people fail to see the fallout and sleepless nights, however, that follow.

Author

Ray Carter

Date

2007-05-15T16:16:16-06:00
ID

112854

Comment

I hear ya talking Ray and trust, I dont think I could endure another slugfest on this topic. However the one point that I want made in all this is...Don't be so quick to judge. Every person that has done what you said Ray STILL hasnt walked in my shoes. Because their MY shoes. And as one who used to judge such situations, Ive learned you cant be so quick to know someone's heart. or their background... or their circumstances. Bernie, and Ken..and some dopeboys as well didn't HAVE to do it. But for some, I can't know their struggle or their hustle. It still makes it wrong by our laws whether you want to say man's or God's but Ive gained a new understanding during my time in this biz.

Author

Kamikaze

Date

2007-05-15T16:24:37-06:00
ID

112855

Comment

Also, Kaze, how can you diss a magazine started by one of our greatest fraternity brothers? You should read his book, "Succeeding Against the Odds." Be sure to note what he had to go through. He can tell you something about starting out broke and making millions during his life time. Before Ebony and Jet and various black newspaers like the Chigago Defenders there weren't any publications showing the successes and humanity of black folks. If you diss Ebony again, I'll have you thrwn out of the fraternity and race. And I may even give you an old man ass whupping.

Author

Ray Carter

Date

2007-05-15T16:24:41-06:00
ID

112856

Comment

Kaze, you have proved you're a good person in my view, heart, mind and otherwise. I just want you to prove to yourself and others that you can succeed cleanly and morally.

Author

Ray Carter

Date

2007-05-15T16:27:07-06:00
ID

112857

Comment

..and Donna. Im sure those rappers are glad YOU'RE in the position to be able to make those choices of which you speak. Which position is that? Being white? Other than that, there isn't a lot to point to. Kaze, one of my earliest memories is going with my parents and my grandmother to the city dump in Neshoba County to pick metal out of the piles of garbage for my daddy to cash in in Meridian for money to buy us food. Or, do you mean the position of being a woman? On that one, I've been physically abused and watched my mother be abused. I've been called horrible things because I'm a woman, er, "trying to make it in a man's world." Too often, when a man wants to discredit my ideas and my standing, he tries to belittle me physically and tell lies about me. (Like Melton has done to Peterson.) I was even raped by someone I knew when I was a teenager and didn't believe I could do anything about it because I would be blamed. Could you remind me exactly which vantage point I'm unqualified to speak about—that of growing up poor, or growing up as a woman in a violent world? All of those experiences made me stronger, and more determined to make better choices about my treatment of other people. I don't whine about my past; I try to use it to help myself and others. I sure don't use it to try to hurt other people, or groups of people. All that said, I realize that being white gave me advantages over poor people of color. I've said it many times. But that fact doesn't help you here much. Its a lot easier from your vantage point...all Im saying. I wish some of you could actually be in our shoes. Kaze, I have empathy for the plight of black men, and say it over and over and over again. I understand that young black men have been the most persecuted in America, and all the violence is a reaction to being the hunted. I've repeated that incessantly (which you seem to ignore or tell me that I am trying to speak for y'all or some such crap). But at what point do YOU start acting like YOU care for people other than yourself and you buddies? Have you considered walking in the shoes of one of the "hos" that y'all so disparage? You act like it's some game, and it's only about you. That gets so tired.

Author

DonnaLadd

Date

2007-05-15T16:28:26-06:00
ID

112858

Comment

Again Ray. ill-placed humor is as bad as "bad" humor. Im waaaaay ahead of ya. Ive long since been disenfranchised with the frat. And I still find it odd to hear MYSELF say that cuz at one time I thought Id always rep..HARD. but its current state is embarassing. On a local level the undergrad and grad chapters are grossly negligent on their community service. too much focus on stomping the yard and acquiring as many dues of new members as they can. And then bragging on how much they have in the treasury but never using it. Don't get me started. The fact that a frat started Ebony (which i know by way) would have excited me a few years back now im just numb to it. Ive done more in my community without em on my own than they've done collectively. and thats not why I pledged (and was physically motivated LOL) ..But this is grossly off topic. We'd have to start a whole other thread for THIS discussion.

Author

Kamikaze

Date

2007-05-15T16:32:12-06:00
ID

112859

Comment

I also stand up for black men like Evans Welch, whose rights are trampled all over by our mayor as he goes around the city picking and choosing which young "criminals" he helps and which ones he attacks.

Author

DonnaLadd

Date

2007-05-15T16:33:03-06:00
ID

112860

Comment

We'd have to move THAT discussion back to another thread too Donna :-)...but as you said of Ebony...or take me and you for instance. We've both "helped" a lot of people. Does not one have the right to choose who he helps? Im sure there are folks both you and I missed. and I dont know about you..but Ive even been confronted and asked why I helped or spoke out for certain people or groups. and those confrontations got heated believe me. You help who you help and you miss some too. We're human....But again this is off the topic.

Author

Kamikaze

Date

2007-05-15T16:39:31-06:00
ID

112861

Comment

..."Kaze, you have proved you're a good person in my view, heart, mind and otherwise. I just want you to prove to yourself and others that you can succeed cleanly and morally." And there are many like me in our genre. Many who may be say...ummm..questionable at first listen. just dig deeper. And we will too. I thank you Ray...and your point is taken...That's ONE point I wanted to get across.

Author

Kamikaze

Date

2007-05-15T16:43:21-06:00
ID

112862

Comment

Kaze, you're a bit confused here. I'm not talking about "choosing" who we help. I'm talking about "choosing" not to disparage an entire gender of people, and excuse others who do it. You don't have to do a damn thing to help women if you don't want to, and your message seems to be that you don't—but you can also "choose" not to be part of the problem. With due respect, your rationalization reminds me of white supremacists who say they are "choosing" to help their own people. Meantime, what they are really doing is "choosing" to hurt those they don't respect as equals. No one's asking you to become an activist for women's rights. There's a helluva long way between doing that and pushing or defending misogynistic messages toward women. First, do no harm. And if you choose to do or rationalize such harm, nothing else you do to raise money for charity or anything can make up for it. An abuser can raise millions of dollars for charity, and he's still an abuser. I really think the days of rappers getting rich off the backs of women and then holding fund-raisers to assuage their guilt is over. Good riddance. It's time to walk the walk.

Author

DonnaLadd

Date

2007-05-15T16:43:58-06:00
ID

112863

Comment

(I meant to put this in the last post)...Donna...I do care about more than myself and my "buddies", And I show and prove on the daily. Cmon now...

Author

Kamikaze

Date

2007-05-15T16:45:50-06:00
ID

112864

Comment

I have similarly founded frustrations with the fraternity but we have raised 79,000,000.00 toward the King Memorial on the National Mall. And locally in many locations many things are being done to help the community. Read John H. Johnson book on "Succeeding Against the Odds." It will be inspirational.

Author

Ray Carter

Date

2007-05-15T16:46:00-06:00
ID

112865

Comment

that national pursuit is well and good Ray. Brother Martin has long deserved to be on the mall...But damn 79 million?????? And Alpha epsilon Lambda is watching kids go hungry in some parts of downtown. Kids dropping out and violence and disrespect in schools at an all time high. And ik dont even know if they still institute the "Go To High School...go To college program". We're supposed to be the beacons and these kids are more enamored with our step moves than what our mission is. Nowadays all they think frats do is step and fight at parties.

Author

Kamikaze

Date

2007-05-15T16:53:39-06:00
ID

112866

Comment

I know you try to help a lot of people, Kaze. However, your post right above that made it sound like you're not supposed to care about the concerns of women, including black women, about the harmful effects of misogynistic lyrics on our culture, and especially the minds and emotions of young black boys and girls: Does not one have the right to choose who he helps? You seem to be talking several directions at once. I appreciate that you're trying to work all this out, and in public, but I do want to challenge you to examine your own statements more often. The problem with rationalization is that it is ALWAYS going to back you into your own prisons of logic. There is no simply no way around the problem of defending people who are pushing hate—regardless of the group they're pushing it on. And make no mistake: The kinds of lyrics we're talking about here (NOT ALL RAP) is pushing hate. Not to mention self-hatred.

Author

DonnaLadd

Date

2007-05-15T17:31:43-06:00
ID

112867

Comment

Kaze, Fox Sports is reporting that Lasting Milledge, aka rapper L-Mills, also an outfielder with the New York Mets, is in trouble for participating in a vulgar or raunchy rap song demeaning women, using the N-word and containing sexually explicit lyrics and content. What up with this? Are rappers unable to rap about anything else? Are the New York Mets the latest rap hater?

Author

Ray Carter

Date

2007-05-16T09:39:38-06:00
ID

112868

Comment

Would like for you guys to check out this link to XXL magazine (a hiphop publication). Its footage of 50 cent and T.I. responding to recent criticisms. and T.I. absolutely sums up the sentiments of the hiphop nation. Its everything Ive tried to say in a nutshell. And peep the comment that 50 says about Master P, who last week said he was going to start a profanity-free hiphop label. (He said what everybody in the biz knows to be true about THAT situation). http://www.xxlmag.com/online/?p=10233

Author

Kamikaze

Date

2007-05-19T11:57:41-06:00
ID

112869

Comment

http://www.xxlmag.com/online/?p=10233..It works. :-) and Ray...Milledge's situation all depends on how vital he is to the Mets world series hopes...Period.

Author

Kamikaze

Date

2007-05-19T12:02:41-06:00
ID

112870

Comment

the sentiments of the hiphop nation So, does everyone in the "hip-hop nation" think exactly like? Or, do you have to agree with current members to become a member of the "hip-hop nation"? And, can it be true that one person could possibly "sums up the sentiments of the hiphop nation"? That would really surprise me, if so.

Author

DonnaLadd

Date

2007-05-19T12:46:07-06:00
ID

112871

Comment

"It starts in the home." OK. So if a white kid grows up as a bigot because that's what he learned "in the home," then he's not to blame for his actions as an adult, or his words slamming people of another race? Or, is the "starts in the home" excuse only reserved for the "hip-hop nation"? And only for slamming another gender, not another race? (Funny choice of words, being that y'all are co-opting the excuse used all the time not to help reverse the effects of white supremacy on your community. Funny not in a ha-ha way.) Kaze, this is a cop-out. Obviously, problems start in the home. But that can't suddenly give y'all an excuse for making money off ugly stuff you may have been taught at home. (And I don't believe that the worst rap misogynistics learned to treat women this way from their mamas, even though I believe that the absence of fathers has a negative impact. But that is no excuse for wholesale slamming another gender for profit.) Also, many rappers are also fathers. And your kids look up to your music, and doing ugly music will send them the message that it's OK to treat women this way. I think it's sad that many of y'all are holding yourselves to such low standards, assuming that the market wants the ugliest stuff you can put out. And I mean exactly what I said: sad. I really hope it won't take a couple generations to work out these very tragic remnants of our past, and help young black men rebuild the confidence and opportunities they've been robbed of in this country by our history. I tend to think these dialogues of late—ironically jumpstarted by Don Imus of all people—are going to speed up that process. It'll be bumpy, though. I also wonder what you think of Melishia's column this week. She makes some pretty compelling points that I don't hear T.I. addressing. It really would be a good time for y'all to put aside the defensiveness and to try a little walk in women's shoes.

Author

DonnaLadd

Date

2007-05-19T13:05:13-06:00
ID

112872

Comment

My PC doesn't like YouTube very much, so I thought I would scroll down to the comments to get the gist of what was going on. Yikes. Are they in love with the F-word or something? Couldn't take it...had to jet.

Author

LatashaWillis

Date

2007-05-19T13:27:54-06:00
ID

112873

Comment

I read the column donna. And will gladly do what you proposed as long as you elect to do the same for us. Or at least T.I. who so eloquently pointed out that most folks in that room were fortunate enough to NOT have experienced what he has or what 50 has. setting a lower standard? where do you get this stuff. We've long since realized that we are held to a higher standard. We must be twice as good to succeed in this society. Im just as passionate Donna about HipHop issues as you are with women's issues. I won't be silenced either even if I have to take on a sea of bloggers. As you have experienced things that have shapedyour vigilance on women's issues..so have I in the world of this treacherous music biz. Hiphop has been the cause of my most delightful highs and my most tragic lows. So Im that LOUD rapper thats going to continue to defend my brethren whether I chose to do it personally or not. ...See you scream for usto listen..or read Melisha's column but refuse to lend us the same courtesy by denouncing it as being "defensive" or "setting a low standard" and that reaks of self-righteousness. T.I. or no one else is saying that language is cool..They are giving you insight..Listen instead of condeming because they don't respond as YOU feel they should. the same thing you are doing to us is the same thing that you use to chastise bloggers who you are think are trying to "silence" women. You again dismiss it as "defensive" or say the men lack self-esteem or confidence which neither trait I saw in 50's or T.I.'s response. How about actually walking in our shoes, or frequenting the spots we frequent. We're listening..you just arent returning the favor. We see your argument..fine...Those gentlemen just offered you some insight.then you do theusual of interjecting the "racial" thing which has nothing to do with the price of tea in China. It DOES start at home and like T.I. said..my two dont have to worry about Snoop or 50 or anyone..they have to worry about me.

Author

Kamikaze

Date

2007-05-19T14:31:18-06:00
ID

112874

Comment

...and of course they didnt learn those things from their mamas Donna...ridiculous. they learned em from the streets. Listen to T.I. again. ...And I think 50 and T.I. made some equally compelling points that you and SOCIETY at large have not addressed. Its a two-way street Donna.

Author

Kamikaze

Date

2007-05-19T14:34:32-06:00
ID

112875

Comment

Kaze, I haven't yet seen *your* answer to Ray's question: Are rappers unable to rap about anything else? On the xxlmag site, 50 never directly answers the questions asked him either, just says that if there's violence in action films, he should be able to rap about violence as well (sidestepping the language question - which TI answers directly) - and his (50's) reason for not taking what we can call the "Master P' route is to ridicule the idea saying, well, he [Master P] doesn't sell any CDs anymore. If you read through the comments to the videos, though, most of it is self-justification saying 'that's how it is' - but in fact that's ***not*** how it is *everywhere* in the black community at all and, as one commenter ("Ace" - who someone else calls an Uncle Tom) says" I grew up in this shit. Why do I want to be reminded of the shit that I grew up in? Why do I want to celebrate the dudes who fucked up my block? Who got my cousin hooked on drugs? Who stuck up another member of my family when he was handling his biz? Who made the sirens fire off every night across from my house? Who took the lives of young, talented Black youth? Who made it dangerous for me to do anything at night? Who made it dangerous for me to go to a go-go or a concert? Why the fuck would I want to listen to someone celebrate creating such a lifestyle for Black people to live through? I don't care if it's art. It's fucking irresponsible. T.I. and 50 need to recognize this and realize that they are only adding to the problem. Deflecting blame on to other people is only adding more fire to the flame, as it is a clear acknowledgement that they are not willing to step up to the table and realize that their raps are detrimental to the Black community itself and its image with the rest of the world. I don't like the fact that people assume that because I'm Black that I'm going to jump them, steal from them, or know where they can get drugs. No, I didn't grow up in the black ghetto, thank God, but there's a comment from someone who did and he says that 'their raps are detrimental to the black community itself' - and I agree with him.

Author

lucdix

Date

2007-05-19T16:18:43-06:00
ID

112876

Comment

I read the column donna. So, what do you think then? Melishia said some powerful stuff there. And will gladly do what you proposed as long as you elect to do the same for us. Have you not noticed the fact that I'm doing this to the best of my white ability? (And when I do, and talk about it, you belittle me for trying to act like I know how it feels to be a young black man, but I digress.) I run vein-opening interviews with young African Americans (including rappers and accused criminals and gang members). I p!ss off white boyz all the time by bringing up the history of problems in this state and the effect they have on today's Mississippi (especially African American communities). I helped bring an exhibit of lynching photos here so that people could see what we have done to our black men. I wrote a column about it afterward, which included the following words: Walking away from Charles, I saw another photo I hadn't seen before. This one was of a line of young black men, dead, roped to a fence, their bodies overlapping each other's limply, disrespectfully tied together like dead animals. Wild animals. Wild tigers. Super-predators. Terrorized. Caught. Snared. Stopped. Brutalized. Used. I thought of all the crime rhetoric of then and today, the fears—subtle or blatant—of young black men in our society. The disproportionate number of them being stuffed into our increasingly private prisons. Young men profiled by police, mistrusted simply because they're present. People I'd heard complain about one-parent families (especially black ones) being the root of all evil and crime. The White Citizens Council using nearly identical words to warn "society" against the evils of black crime in the 1950s and '60s as many crime-"fighters" do today. Young men growing up with only a mother or grandmother because their fathers are in Parchman, amid crumbling houses and broken windows owned by absentee landlords. I thought of cycles and how we don't really seem that determined to break them. Meantime, you just want me to "walk in your shoes" by stating that y'all should be able to rap about "hos" and turn women into subhuman pieces of meat in your videos without anyone ever saying a word about it. No. Kaze, I have never said rappers should not address real issues such street violence and police brutality (in fact, I wish you seemed more interested in that issue). My issue is misogyny and self-hatred turned toward black women (and white ones, sometimes). And you or any of the others simply sound like defensive jerks when you try to defend those kinds of lyrics by saying you have it so bad "on the streets." Won't work. The party's over on that B.S. And I think it's very sad that you think that criticism of those kind of lyrics are attempts to silence your "hip-hop" voice. Do you even understand where hip-hop came from, Kaze? I, too, am a believer in hip-hop, but when y'all distort it into trash to make money off the backs of black women, you're a long way from its roots. And even this white girl knows that.

Author

DonnaLadd

Date

2007-05-19T17:39:22-06:00
ID

112877

Comment

I've read and listened to every word you've said here on this topic. You just seem to think that I and others should be good girls and just agree with what you're saying. I didn't just go along with the anti-black white men I grew up around, and I'm not going to do it with the anti-women black men I know now. I've listened, and I reject your wholesale defense of anti-women lyrics. You're making excuses for harmful music, pure and simple. You can keep doing that, but it won't change what I and others (not to mention the market) will continue to say in response. And I refuse to condescend to you by doing anything to indicate that I believe you and other rappers cannot make it without anti-women lyrics. BTW, I've been to many of the spots you frequent. You have no idea where I've been, nor have you ever asked. You make these obnoxious, uneducated proclamations about what other people "know" and do not know, what they've experienced and haven't. Meantime, you don't seem to care about anyone's experiences other than those of the "hip-hop nation," or the members of it whom you like at least. Fine, you don't have to, but don't insult me with all these half-backed proclamations about what you know and what I know. For instance, you seem to know, or care to know, very little about violence against and degradation of women. Which is what this discussion is about. For the record, I've also walked through a "black" club and been felt up by every man I passed along the way, as Melishia decribes in her column. It was disgusting and degrading, and I was shocked to learn that many black women experience that every time they go to a club. I've also been felt up in "white" clubs. The difference is that most people around me thought the white men doing it were a$$holes and jerks. And in case I haven't said this, a rough background does not give you an excuse to treat women that way. In fact, it should teach you how you should treat others. (Also, Kaze, I thought you grew up in a middle-class background and went to private schools. I know that wouldn't mean that you haven't experienced bigotry, but it would indicate that you wouldn't know as much about some of these issues as, say, Melishia. That's fine; you don't have to. But it also would make your proclamations about being an all-encompassing expert on "the streets" ring just a bit hollow. Frankly, this isn't a competition about who knows "the most" about the streets anyway—especially since that knowledge in no way justifies the kind of misogyny we're talking about here. This is about mistreatment of women.)

Author

DonnaLadd

Date

2007-05-19T17:39:59-06:00
ID

112878

Comment

The real irony here, Kaze, is that y'all have a chance to get out in front of this thing and lead the change, as some rappers are starting to do. You used to say that y'all only rap about some of this stuff because that's what the market demands. Well, now, the market is changing, so why are you complaining so much? It's your chance to make a clean break from the lyrics that even you have said you're not proud of. If you just continue the defensiveness, you guys are going to really make yourselves look bad. The problem here is that there is no excuse for the anti-women lyrics and any fool with half a brain knows it.

Author

DonnaLadd

Date

2007-05-19T17:58:29-06:00
ID

112879

Comment

...and of course they didnt learn those things from their mamas Donna...ridiculous. they learned em from the streets. Listen to T.I. again. Right. He starts out by saying "it starts in the home." If you don't know, that's the same excuse that bigots use to blame single black women for all of society's ills. (A strategy perfected by the Reagan administration.) Now, if y'all are saying that they are learning it on the streets because things are so bad at home that kids are on the streets (listening to rap?) all the time because there is no positive role model in the house ... then maybe you ought to start rappin' about the need for men to use condoms and stop the ho-ing around. So to speak. I couldn't agree more that the problems society is facing is bigger than rap lyrics—obviously these kinds of lyrics are a symptom of how the problems that have grown out of how black men have been treated since slavery in our country. In too many cases, self-hatred becomes disrespect for or violence against women, not to mention having careless sex, which turns into more single households with young kids growing up hearing about women being ho's and believing that the only options are crime (if not sports or rappin' about ho's), and the cycle continues. I'm down on the cyclical stuff. But smart people such as yourself have to stop it. I'll do whatever I can to enlighten people about the cycle, push for policies, challenge the bigots, provide y'all forums for conversations and calls to action—but at some point, you are right. I am limited in what I can as an "outsider" (although I'll keep trying). But one thing I will not do is stop talking about the disease of misogyny against women because it makes some of y'all boys uncomfortable. That sure won't help stop the cycle. It will only enable it. And am not an enabler. Wasn't with the bigots back home, and won't be with misogynists now, regardless of your race. I'm on your side here, even if it isn't clear to you just yet. It will be at some point, though.

Author

DonnaLadd

Date

2007-05-19T18:15:24-06:00
ID

112880

Comment

the old debate in art, should art reflect the masses/society or should it lead instead.

Author

Kingfish

Date

2007-05-19T19:35:33-06:00
ID

112881

Comment

The late and great Benjamin Mays, ex-president of Morehouse College, said, "I am disturbed, I am uneasy about men because we have no guarantee than when we train a man's mind, we will train his heart (too); no guarantee that when we increase a man's knowlwdge, we will increase his goodness. There is no necessary correlation between knowlwdge and goodness." Truer words have never been spoken. Thank God he died before rap music. He would floored by the current situation of the black male that he spent his life trying to mold and shape, as many of us are. However, this is not to say that most American business men got rich by being or doing good. Yet we good and decent people prefer the ones who got rich while doing something good and decent and in a decent and good way.

Author

Ray Carter

Date

2007-05-21T08:31:53-06:00
ID

112882

Comment

Ray, that quote could also apply to parents raising children. You can teach them, but when they leave the nest, it's all on them.

Author

LatashaWillis

Date

2007-05-21T10:25:53-06:00
ID

112883

Comment

Hip Hop is dead anyways. Only thing is, rappers do not bury their dead.

Author

dpsmith

Date

2007-08-16T20:04:35-06:00
More like this story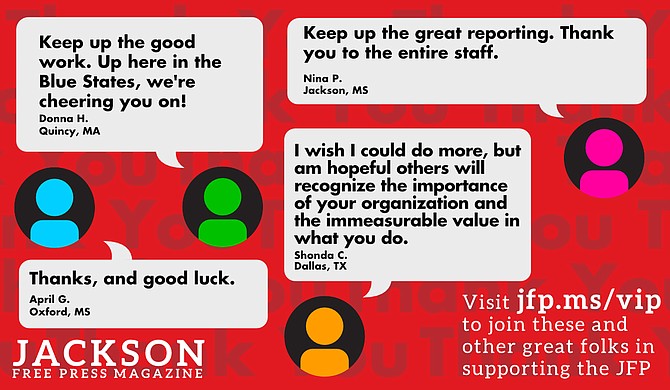 Thanks to all our new JFP VIPs!
COVID-19 has closed down the main sources of the JFP's revenue -- concerts, festivals, fundraisers, restaurants and bars. If everyone reading this article gives $5 or more, we should be able to continue publishing through the crisis. Please pay what you can to keep us reporting and publishing.