*Updated*
Defense attorneys started the morning off by raising objections to the testimony of Charles Marcus Edwards, the prosecution's star witness, based on footage shown on MSNBC this weekend of a Canadian Broadcasting Corp. television documentary about the case. In the afternoon, they used footage from the film to try to chip away at Edwards' credibility.
Public Defender Kathy Nester told the judge outside the presence of the jury that the film shows that Edwards was given a copy of FBI informant Ernest Gilbert's statements a year ago by Thomas Moore and David Ridgen. Defense also questioned U.S. Attorney Dunn Lampton's role in providing that statement to Edwards. The film indicates that Moore and Ridgen told Lampton about giving Edwards the document after the fact and implies that Edwards came forward to testify based on that encounter. Today, Edwards told the judge that he tore up the file without reading it; Moore told the judge that Lampton had told him and Ridgen not to give Edwards the statement—statements that helped negate possible damage from the fact that the two men gave Edwards the statement.
However, when Edwards and the jury returned after lunch, Nester asked Edwards if he had remembered speaking to Moore on the steps of his church last year. He said he did, and then she asked if had told them that he had nothing to do with the murders. He said he had not said that.
Then Nester asked the judge to allow the jury to see the portion of the documentary where Edwards had first told Moore that he did not kill his brother, following up with "I had nothing to do with that." That footage contradicted his testimony that he had not made such a statement.
However, the prosecution did damage control on re-direct, drawing out of Edwards that he meant that he had "nothing to do with" the murders, but not the kidnapping.
In the rest of her re-direct of Edwards, prosecutor Paige Fitzgerald read him a long list of facts from his testimony last week that had not been reported by any media, or that he had not seen or read in media reports, attempting to show that he did not take the details from media statements.
After Edwards' testimony, the government argued that they should be able to call Clarion-Ledger reporter Jerry Mitchell due to an article he published on Jan. 23, 2000 containing statements by Seale. Clarion-Ledger attorney Leonard Van Slyke argued that Mitchell should have qualified immunity protecting him from testifying and offered to stipulate for the record that the statements were made. He argued that compelling reporters to testify has a "chilling effect" on journalism, pointing to Mitchell's civil-rights work as an example.
"It's very likely that we wouldn't be in this courtroom today if it weren't for Mr. Mitchell's work," Van Slyke said.
The defense objected to the stipulation, though, with Nester saying that she wanted to question Mitchell on cross-examination. Several years ago, Mitchell had reported that Seale was no longer alive.
The judge was leaning away from The Clarion-Ledger's argument, but was ultimately convinced to not allow Mitchell to testify because he rejected U.S. Attorney Dunn Lampton's arguments that the vague statements Seale made to Mitchell in 2000 were not relevant to the government's case.
Previous Comments
ID

131632

Comment

The film does not show Edwards reading the document. I think he probably did destroy it.

Author

LatashaWillis

Date

2007-06-11T12:04:20-06:00
ID

131633

Comment

Right, L.W. I hope and pray that the judge (and any future courts) believe that, too. It's important at this point.

Author

DonnaLadd

Date

2007-06-11T12:09:12-06:00
ID

131634

Comment

Sounds like a good chess match. Fitzgerald and Nestor are smart and talented lawyers. Explanations when plausible and timely often clears up mistakes. Sometimes lawyers are so startled by the contradictions that they do nothing or too little to erase the apparent contradiction or possible lie. Why show the film during the trial?

Author

Ray Carter

Date

2007-06-11T15:42:41-06:00
ID

131635

Comment

OK, I've made updates. With any luck, Nester didn't squeeze too much benefit out of the documentary, and I do think it was good that Mitchell didn't get to testify because I suspect that Nester was loaded for bear. I'm a bit surprised that Lampton wanted to put him on, considering the media history of this case. It wasn't like Seale's comments in that article added anything, and it opened the door for Nester to criticize media coverage of this case by using the false reports about Seale's death against him. Of course, I always support quashing media subpoenas for the "chilling" grounds, but that wasn't the biggest issue on this one for me. Media-related lessons of the day: 1. Don't give suspects copies of FBI files and police reports, especially on film. 2. Don't put the prosecutor in a film and call him "Wyatt Earp." 3. Don't release said film during the trial, especially with the jury unsequestered. 4. Don't report a primary suspect is dead without factchecking. 5. Don't call a media witness who can be discredited on the same story because he had reported that the defendant was dead. Needless to say, this has been a nail-biting day.

Author

DonnaLadd

Date

2007-06-11T15:46:21-06:00
ID

131636

Comment

Ray, I suspect the defense wanted to show Edwards standing in front of his church lying about having something to do with the case, in order to set up their efforts this week to discredit him and make it sound like he was the one who planned it all. I don't think the portion of the film helped the prosecution any, considering people's built-in bias against the media coming on private to yell accusations at someone. It wasn't the most sympathetic part to show. I'm no lawyer, but that's my guess.

Author

DonnaLadd

Date

2007-06-11T15:49:15-06:00
ID

131637

Comment

And you're right about Nester and Fitzgerald. They're fascinating to watch. So far, though, I haven't been overly impressed with Lampton's parts (about insisting that Briggs' whole journal be entered and then trying to call Mitchell). Of course, he gets mega-credit for jumpstarting this thing in the first place. I would never downplay the importance of that. But the blonde chicks are fun to watch in action, merely from a chess standpoint. And Wingate is pretty interesting, too.

Author

DonnaLadd

Date

2007-06-11T15:51:37-06:00
ID

131638

Comment

I have found female lawyers to be often smarter and more talented than their male comrades especially the ones who aren't afraid. To overcome their amazing intellect and preparation I like to save or hide something big form them then ambush and surprise them with it. A very well known and able criminal trial lawyer wanted to curse me out during closing argument one time. I had to trick her to knock her off her game. She got frustrated, blew up, called my closing argument 'garbage' and went and sat down. She thought it was garbage, but the jury bought nearly all of it therby letting my client go free on four of the five charges. They convicted only on the charge that I conceded or admitted. It was an amzing and unexpected moment and the nice lady won't speak to me to this day, and that hurts my wittle feelings.

Author

Ray Carter

Date

2007-06-11T16:13:05-06:00
ID

131639

Comment

The above story is true but I shouldn't have told it. I didn't have any evidence to compete with the state's case and the prosecutor became arrogant. She thought I would lay down rather than become inventive and creative. This is not to suggest that woman don't respond well to unexpected events or pressure. We all respond the same in my view.

Author

Ray Carter

Date

2007-06-11T16:32:13-06:00
ID

131640

Comment

Needless to say, this has been a nail-biting day. Apparently. I'm sure everyone has learned a lot from every faux pas, and it would be in everyone's favor to avoid those since there are more cold cases left to investigate.

Author

LatashaWillis

Date

2007-06-11T18:49:39-06:00
ID

131641

Comment

Agreed, L.W. I mean, anyone can slip up, and you never know how lawyers are going to twist things. But there are some basics, I think.

Author

DonnaLadd

Date

2007-06-11T19:42:17-06:00
ID

131642

Comment

The true test of an outstanding lawyer is being able to put aside your disdaiin for your clients who commit (PC = alleged) heinous, inhuman crimes and who spew hate and filth and yet still be able to give them the representation they are entitled to. Kathy Nester is one of those as are Jim Kitchens & Merrida Coxwell, who represented Beckwith. I will always have the utmost respect for them for being able to put aside their personal feelings to insure that the justice system works properly.

Author

fbd2

Date

2007-06-12T07:54:42-06:00
ID

131643

Comment

I agree with this.

Author

Ray Carter

Date

2007-06-12T08:50:22-06:00
ID

131644

Comment

Merrida Coxwell represented Beckwith???????

Author

LatashaWillis

Date

2007-06-12T08:52:15-06:00
ID

131645

Comment

I continue to follow the case through ladd's reporting here in the JFP. She has really done a tremendous job and this is such a breakthrough for MS to have this level of coverage.

Author

justjess

Date

2007-06-12T13:45:22-06:00
ID

131646

Comment

I agree. I'm pleased at the information we've been able to get here that we wouldn't have otherwise gotten. As the trial wraps up, regardless of the outcome, we'll always remember the JFP's place in history when anyone brings up the Dee/Moore case. Thanks.

Author

LatashaWillis

Date

2007-06-12T18:56:16-06:00
ID

131647

Comment

i feel that mr. edwards is a liar, and this whole trial is a joke, i keep hearing about justice, where is the jutice in this case ? what happened to being innocent until proved guilty, i get the feel the judge, the press , and ect is out to hang mr seale

Author

mossman

Date

2007-06-13T14:05:30-06:00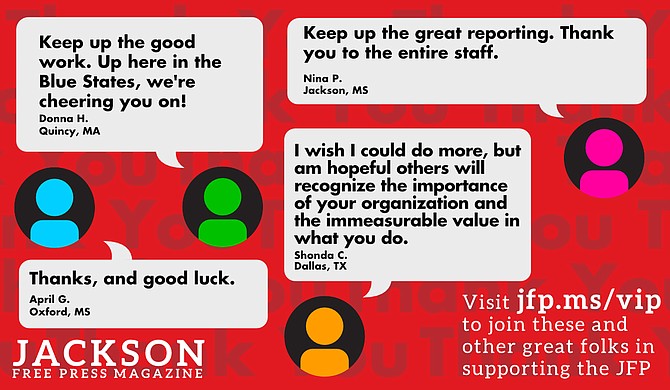 Thanks to all our new JFP VIPs!
COVID-19 has closed down the main sources of the JFP's revenue -- concerts, festivals, fundraisers, restaurants and bars. If everyone reading this article gives $5 or more, we should be able to continue publishing through the crisis. Please pay what you can to keep us reporting and publishing.