This morning, Judge Henry Wingate agreed to allow the government to show the jury a racial epithet-filled letter that James Ford Seale allegedly wrote to the Franklin Advocate on July 23, 1964—two and a half months after he is accused of abducting and helping kill Henry Dee and Charles Moore, and six days after then-Franklin Advocate Editor and Publisher David Webb was announced as the publicity director of the Americans for the Preservation of the White Race, a Natchez-based front organization for the Ku Klux Klan, according to Mississippi Sovereignty Commission files.
Franklin County Advocate Editor Mary Lou Webb—the wife of the now-deceased David Webb—testified today to the judge outside the presence of the jury to authenticate the letter. Webb, who was associate editor in 1964, said that the paper then required people to show up in person with their letters before they would run it. She also told the court that James Ford Seale had come to the Advocate office complaining that the paper was running too much about the other side—meaning, apparently, the pro-integration position—in the Advocate.
Preserving the White Race
Archives from the period, however, show propaganda in the paper and in David Webb's front-page column promoting views that members of the Ku Klux Klan might well have approved of. For instance, in his "Caught in David's Webb" column on Jan. 9, 1964, Webb wrote: "Members of the Americans for the Preservation of the White Race are requested by Secretary Lonnie Causy to meet Tuesday, Jan. 14 at 7:30 p.m. in the Courthouse."
The Franklin County Courthouse is where former Klansman Charles Marcus Edwards testified earlier this week that Klansmen went to meet up with Sheriff Wayne Hutto after the beating of Dee and Moore, while the two young men were being held at the farm of Clyde Seale, the father of James Ford Seale. Clyde Seale was a Grand Cyclops of the White Knights of the Ku Klux Klan, according to FBI files.
In that column, Webb promoted the APWR meeting between an announcement that Mr. A.D. Seale was collecting a Mt. Carmel cemetary fund for the Confederate dead and another about a Franklin County PTA program called "Television and Education," which was "under the direction of Mrs. Jack Davis of Roxie." On the same page was a photo of Sheriff Wayne Hutto, Deputy Kirby Shell and Office Deputy Janice Bilbo being sworn into office. R.R. (Jack) Davis was being sworn in as constable, district 1.
Both the names of Shell and Davis have emerged in testimony about alleged Klan activities and were mentioned in the journal of Rev. Clyde Briggs (PDF, 1.4 MB), which was entered into evidence earlier this week.
Also sworn in that month were District Attorney Lenox Forman and Justice of the Peace Willie Bedford, who a year later would drop murder charges against James Ford Seale and Charles Marcus Edwards.
On the last page of the Jan. 16, 1964, issue of the Franklin Advocate appeared an approximately 8-by-4-inch ad for the APWR. It read: "We believe in the preservation of the white race. We believe in the preservation of our way of life. We believe in the segregation of the races in schools, churches and public places. We do NOT believe in outside agitation, the NAACP, CORE or any other left-wing* organizations. If you believe as we do, we invite you to join us in this fight. Your freedom and your way of life is slowing being taken away. Wake up! Meet with us every TUESDAY night at 7:30 p.m. at the Franklin County Courthouse. Americans for the Preservation of the White Race: For your family's benefit, please attend!"
The ad appeared next to a Mississippi Power & Light ad and under one for Prichard Chevrolet.
Then on Jan. 30, 1964, the ad appeared again, this time on the editorial page on the top right, as would similar announcements in other issues.
Almost a year later, on Jan. 14, 1965, the Advocate reported the release of Seale and Edwards after Forman dropped murder charges. The paper reported that the prosecutor had indicated "others involved" in the piece, which quoted from Forman: "Your district attorney in conference with local, state and federal officials is informed that other parties than those defendants are involved and that additional time with be required to complete the investigation." Their $5,000 bonds would be returned, the paper said.
The reporter further stated: "No state or federal officials were evident anywhere near the courthouse, and none took part in the proceedings." The men's attorney, William Riley of Natchez, was quoted: "These boys have been treated badly. ... We don't care for the way they try to imply these little insinuations that they have something on them which would warrant further harassment of James and Charles." The paper cited Seale's "repeated claim" that law enforcement took him to a gravel pit and "beat me up" right after his arrest and while enroute to Jackson for questioning.
The piece ended: "Both are married and have several children."
On a High Moral Level
The Mississippi Sovereignty Files contain a July 31, 1964, letter from then-APWR National President Rowland H. Scott of Natchez, announcing "to all chapter presidents" that a Board of Governors meeting on July 16, 1964, had established a legal fund to help retain "competent legal council (sic) for APWR and its members," listing an APWR Headquarters address at a P.O. box in Natchez.
It also announced that a newspaper would be started by APWR; subscriptions would cost $3 a year.
Scott then announced that David Webb of Meadville was publicity director of APWR.
All materials put out by individual chapters had to "be on a high moral level, with particular emphasis on grammar, spelling, and clearness of intent ... all without resorting to back-biting, slander, or libel by innuendo, or otherwise indulging in politics, personalities, or petty local squabbles," Scott continued. This was so that "irresponsible" parties could not blame "nefarious activities" on the group. Only the Board of Governors or the publicity director would be allowed to make statements, Scott warned.
The next headquarters meeting would be held at the Lincoln County Courthouse in Brookhaven on Aug. 7, 1964, Scott stated. He ended: "BEST OF LUCK IN OUR WORK TO ALL OF YOU, United We Stand, Rowland H. Scott, National President."
The letter was stamped by the "State Sovereignty Commission" on Sept. 25, 1964.
Weeks after Thomas Moore, the brother of Charles Moore, returned to Mississippi looking for justice in July 2005, he had a disagreement of sorts with Advocate Editor Mary Lou Webb, who took the helm after her husband died. After U.S. Attorney Dunn Lampton said he would investigate the Dee-Moore murders, and a week after the JFP's story about Moore's visit appeared, Webb wrote a very short editorial, saying that her paper would not "'re-visit' the 1960s racial incidents which took place in this county and Southwest Mississippi."
She added: "The editor sees no new evidence—no reason—to put a new generation through painful memories. ... Halfway around the world our young people are dying because their young people were not allowed to forgive and forget. Let that not be the legacy we leave our children."
Moore wrote a letter to the Franklin Advocate in response, which she did not publish. He then asked the Jackson Free Press to publish the letter in its entirety. It read in part:
"Whether I was in Vietnam in 1965 or Franklin County in 2005, I was fighting to rekindle the spirit of the self-evident truths inscribed in our Declaration of Independence: that all men are created equal; that they are endowed by their Creator with certain unalienable rights; that among these are life, liberty and the pursuit of happiness. Mary Lou, I have the right to come to Franklin County, my home, and demand justice 41 years later for the brutal murders of my brother Charles Moore and my friend Henry Dee. I also have the right to ask the rest of Franklin County, blacks and whites alike, to join me in my quest for justice."
While in Meadville the weekend before the Seale trial began, the Jackson Free Press reached Webb at her home to request a sit-down interview. She refused, saying that she had been subpoenaed for the trial. When asked if she would talk to the JFP after the trial, she said in a friendly manner: "After they try it, I'd like to get on with my life."
Webb suggested viewing the archives of the Franklin County Advocate in the local library to view her husband's coverage of race issues and the Dee-Moore case in 1964. "Time and living has blocked all that out," she said.
As the trial resumed this afternoon, Thomas Moore, brother of Charles Moore, was set to take the stand, if time allows. Charles Marcus Edwards will give further testimony on Monday.
* When the JFP viewed the microfilm of the Franklin County Advocate from 1964 and early 1965, the printer was broken. As a result, one word of the handwritten notes of the APWR ad quoted above is unclear. The word above with the asterick appears to be "left-wing" or "leftist." The word will be clarified as soon as possible.
Previous Comments
ID

131607

Comment

The Moore/Dee documentary is on MSNBC right now.

Author

LatashaWillis

Date

2007-06-09T20:24:03-06:00
ID

131608

Comment

They will show the documentary again at 12 AM.

Author

LatashaWillis

Date

2007-06-09T21:38:27-06:00
More like this story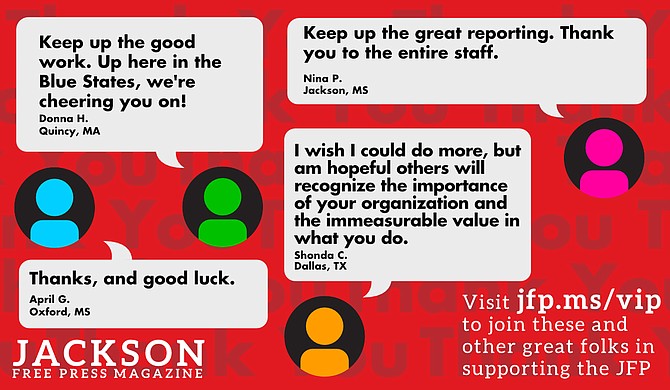 Thanks to all our new JFP VIPs!
COVID-19 has closed down the main sources of the JFP's revenue -- concerts, festivals, fundraisers, restaurants and bars. If everyone reading this article gives $5 or more, we should be able to continue publishing through the crisis. Please pay what you can to keep us reporting and publishing.