Brian Johnson, Matt Saldaña and I passed the pages of "We Are Family"—last week's cover story about Shirley Beach's journey from racism—between us last week, proofing and correcting them. Brian read them first, then passed the pages to Matt as he finished, and then Matt passed them on to me. Donna watched us all, inserting telling facts as we went, calling Shirley Beach to get just one more question answered, hovering like a new mother while we "doctors" corrected and polished and made it fit. What a story.
I couldn't help reflecting on my own family's experiences with bigotry and racism. And now, with Independence Day looming, I'm thinking, too, about what freedom and liberty mean to me.
My dad was a European immigrant living in Austria when World War II broke out. His country was annexed by Hitler's Third Reich in 1938. My dad wasn't a partisan working to overthrow Hitler. He, like millions of other young men in countries that Hitler took over, was drafted into the German army, and he spent seven years in the infantry fighting on nine fronts for a regime that he despised. He lived, and his mother lived, their survival the outcome of his silence.
Anti-Semitism has a long, bloody history in Europe, far longer than the U.S. has history at all. My grandmother did what she could to protect her Jewish friends from the racial fanaticism of the time, which turned out to be precious little in the face of overwhelming tyranny. My dad could only watch the insanity. He was told flat out that he would be turned in and his widowed mother thrown in prison if he continued to speak against Hitler's policies—and this by his best friend. He was 19, an only child of a single mother, and he shut up.
It was a decision that haunted him until the day he died.
Luckily for me, he brought his family to the U.S. when I was a baby, which he did in the face of abduction threats from communist Russia. My parents lived in Vienna before I was born, in the Russian zone. My dad was an engineer, with skills much sought after by the Russians following the war. He was on a list to be snatched, but was warned in time to escape, which he could do only if he went alone. My mother moved her belongings out of Vienna a suitcase at a time to avoid detection. She would visit my father in north Germany—ironically, now in the American zone—with a suitcase filled with clothes and belongings, and return with a case filled with paper. After months of these clandestine trips, when she had gotten everything out of Vienna that she could, she packed up the kids and, with no more luggage than an overnight bag, was able to get out and join my father. In 1957, after again sending my father ahead to America, she packed us up again, this time on an ocean liner, and moved us to the U.S.
In the aftermath of his experience, my father could speak his conscience once again. He taught his children that bigotry in any form is simply evil. What he witnessed haunted him, and he was determined to teach his children differently. Before he died, we talked often about those experiences.
I wonder, though, what would have happened if history had taken a different turn, and he was never given the opportunity to give us the benefit of his experience. What if he had been a father during the war instead of afterward? What would he have taught us? What if he had been faced with Mississippi's racism instead of Germany's?
Probably, he would have been just as cautious, protecting his children like he protected his mother. He would have gone along with it all for our sakes, too. I count my blessings that he didn't have to, and that he was able to teach openness and tolerance instead of watching his children succumb to bigotry and hatred.
But did teaching us what he lived through relieve him of his responsibility? Hell, no. He would have told you that himself. He was lucky to have survived it, but he wasn't part of any solution. He stayed silent, and he was "condemned to live" with the guilt, a phrase he later used to title his memoirs. And doesn't that just speak volumes? He could have hidden his past. He could have justified his actions by becoming hateful himself. It might have been easier.
Instead, what he did leave is three daughters who are damned if they'll go down the same hateful road. Daughters like me, with a fierce love of freedom and equality, and a deeply learned knowledge of what can happen when we fail to shine a light on ignorance and bigotry.
"Freedom," so the song goes, "that's just some people talkin'." That says it all for me. It's talking that keeps us free; it's the silence that locks up and kills our souls. This 4th of July, when fireworks are lighting the sky, I'll count my blessings that those benign explosions aren't bombs or flaming crosses.
Then I'll come back here and do what I need to do to put out another Jackson Free Press; making a difference, shining a light, just talkin'.
Previous Comments
ID

75051

Comment

Wow, Ronni, you have a fascinating background. Thanks for sharing, and it was a pleasure to meet you at the book party.

Author

LatashaWillis

Date

2007-07-06T08:32:34-06:00
ID

75052

Comment

Fascinating indeed, and you turned out a wonderful illustration or example. I kew I liked you for some reason although we never met.

Author

Ray Carter

Date

2007-07-10T11:26:01-06:00
ID

75053

Comment

Ronni, Thanks for sharing such a wonderful story. People like you have a strong position in the world because they are so well anchored. Hang in there and continue to share your stories. I have been deeply moved.

Author

justjess

Date

2007-07-10T11:51:04-06:00
More stories by this author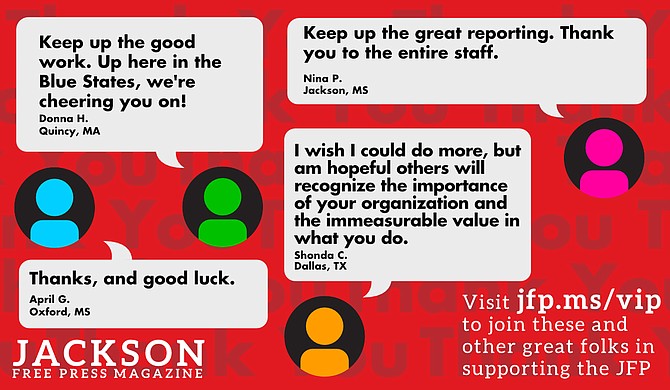 Thanks to all our new JFP VIPs!
COVID-19 has closed down the main sources of the JFP's revenue -- concerts, festivals, fundraisers, restaurants and bars. If everyone reading this article gives $5 or more, we should be able to continue publishing through the crisis. Please pay what you can to keep us reporting and publishing.